Runaway tortoise returns after 6-day adventure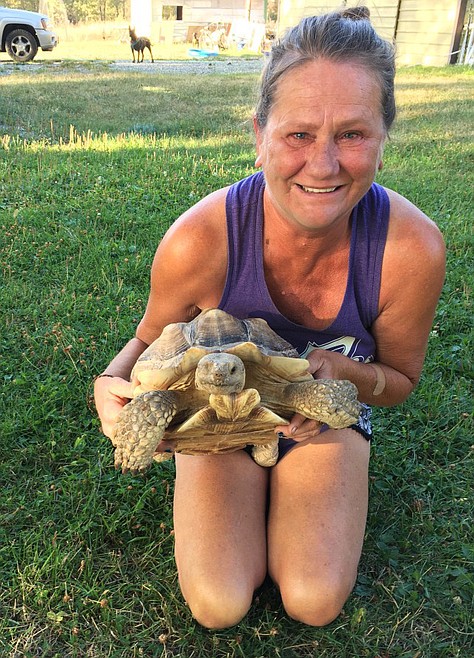 Luwana Black, who spends summers in North Idaho and winters in Arizona, cried tears of joy when she was reunited with her pet tortoise Rider, who broke out of his pen and was gone for six days. Neighbors found him and returned him on Sunday.
Courtesy photo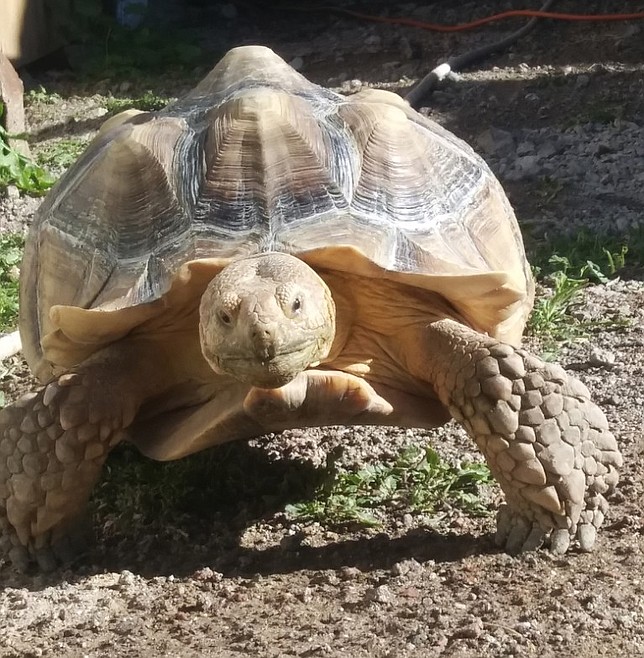 Rider, a roughly 8-year-old African sulcata desert tortoise, was returned by good Samaritans to his owner Sunday after a six-day stint in the North Idaho wilderness. These tortoises can grow to be more than 100 pounds and 120 years old.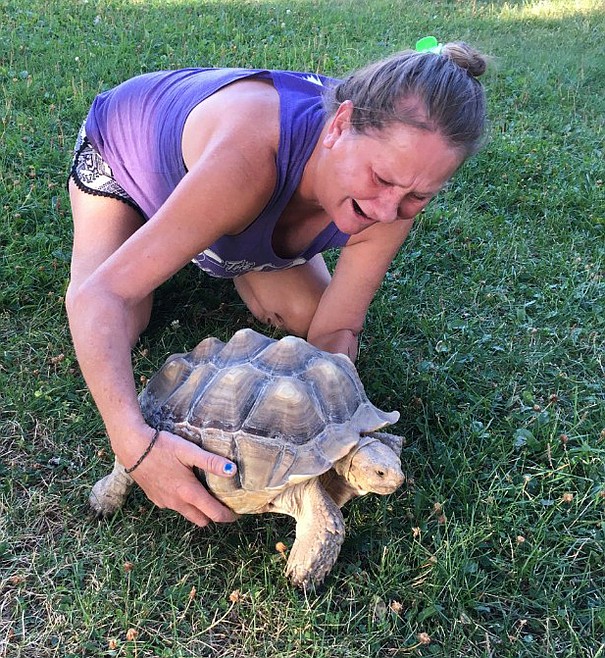 Rider the African sulcata tortoise was greeted with joy when he returned to owner Luwana Black on Sunday. He escaped his pen and was gone for six days but was found by kind neighbors who brought him home.
Previous
Next
by
DEVIN WEEKS
Hagadone News Network
|
September 16, 2020 1:00 AM
OLDTOWN — A runaway reptile has been returned to his heartbroken owner after he went on a six-day adventure in the North Idaho wilderness.
Luwana Black's African sulcata tortoise, Rider, broke out of his pen around Aug. 31 and disappeared into the woods off Freeman Lake Road in Oldtown.
"I've had him since he was a tiny gumball in my hand," Black said Wednesday. "He was a baby, and I acquired him because I helped a woman who rescues tortoises."
The 45-pound, roughly 8-year-old tortoise escaped because a dog leash got caught in his fence and tore it just enough for the rebellious reptile to strike out on his own.
Black, who lives in Arizona and spends summers with her husband Dean in an RV in North Idaho, realized Rider was missing and searched for hours. She prayed, put up signs, talked to neighbors and looked for the tortoise to the point of exhaustion. She knew if they went back to Arizona without him, he'd be gone forever.
"I didn't give up hope, but I gave up searching," she said.
Her faith encouraged her to keep hope alive.
"A Bible verse I read said, 'Godly woman sit down and rest and let me do my work,'" she said. "I tried real hard to let it go and trust Him."
At 6 p.m. on Sunday, her prayers were answered. Neighbors Ranny and Gaye Oscarson saw what they thought was an injured turkey on the side of the road.
It was Rider, the wanderlust tortoise, just strolling along.
"That truck turned around," Black said, adding that they swooped up Rider and came to their motorhome.
"He said, 'I've got something for you,'" she said.
He had a few scratches on him, but Rider survived the elements and made it home safely.
"He sure had a lovely Labor Day weekend doing whatever he wanted, frolicking in the grass," Black said. "This turned out to be some kind of miracle, but maybe he knew it was time to come home."
She shared her gratitude to the Oscarson family for returning him, and to everyone who was rooting for Rider's return.
"I want to thank the whole community and the church and my new friends and everybody that prayed," she said.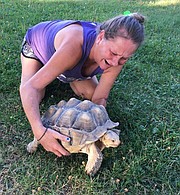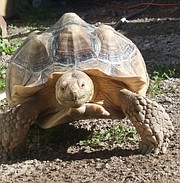 ---