Zoning commission postpones decision on University Park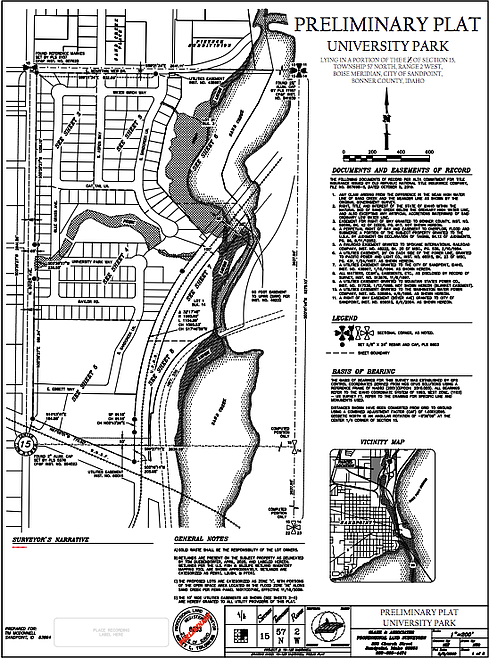 Preliminary plans for the proposed University Park development
Courtesy Sandpoint Planning and Zoning Commission
by
RACHEL SUN
Staff Writer
|
September 16, 2020 1:00 AM
Commissioners moved to continue deliberations over the proposed development in the University Park subdivision at the next scheduled Planning and Zoning Commission meeting following a public hearing Tuesday evening.
Public testimony primarily centered on concerns over public access to land and how the development might impact traffic on surrounding streets.
Jeremy Grimm, the representative for Tim McDonnel K-M Enterprises of Idaho LLC and Derek Mulgrew M & W withholdings LLC, the applicant for the development, said significant efforts had been made to meet the standards of an original plan outlined by city staff and community members in 2018.
This included a letter of intent by the developers to dedicate a portion of the land to public use. The developers also partnered with the Kaniksu Land Trust in this effort, Grimm said.
Katie Cox, executive director for the KLT, said the organization supports the approval of the development, and said the developers "clearly stated" their intent to preserve land and public access.
"This area has been recognized as an area in need of more parks and open space," she said.
Some Sandpoint residents who spoke during public testimony said they were relieved to hear of the developers' commitment to maintain portions of the land for public access.
"I signed up as neutral, but once they announced the Kaniksu Land Trust agreement I would have changed that to in support," said Rob Osborn, a Sandpoint resident living near the proposed development.
Several residents and commissioners noted concerns over how the additional homes and roadways might impact traffic, including already-present congestion on East Mountain View and North Boyer Avenue.
One potential solution to the added congestion could be to add a left turn lane to Mountain View, however Grimm said it seemed like an "exaction" to ask developers to foot the bill to fix already-present traffic problems.
The additional left turn lane would not be necessary to meet city requirements for acceptable use, said Dan Tadic, city engineer. However what is technically acceptable may not be seen as such for residents.
"A level of service of [a] D [rating] is acceptable according to city council ordinance," he said. "[But] we want to mitigate that as much as possible."
Residents and commissioners noted concerns over allowing the development without further road work.
"I would be concerned if I were living in these neighborhoods," said commissioners Jason Welker. "I think it's a relatively small ask, or 'exaction.'"
Chris Bassett, executive director of the Bonner Community Housing Agency, spoke in favor of the development.
"We have to increase the supply of affordable housing to create downward pressure on skyrocketing housing prices," he said.
Still other residents expressed confusion at the development being touted as affordable despite a limited number of the units being allotted for "affordable housing," and uncertainty at what the public access land would look like in practice.
"People working on this project, they won't be able to afford to live in Sandpoint, let alone their children," said one resident during public testimony.
The next meeting is scheduled for October 6 at 5:30 p.m. in the council chambers.
---