New fire reported in Talache area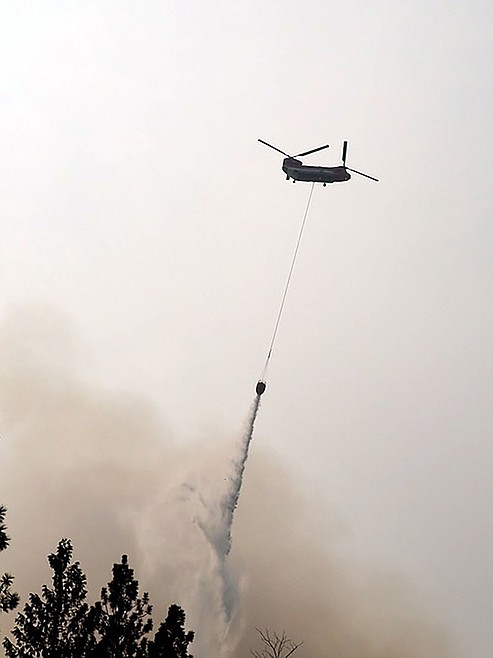 A helicopter pilot drops a bucket of water on a fire reported Wednesday in the Talache area of Sagle.
(Photo courtesy DICK VAIL)
by
CAROLINE LOBSINGER
Staff Writer
|
September 17, 2020 1:00 AM
SAGLE — In addition to a pair of nearby fires, Idaho Department of Lands firefighters are battling a new fire near the western shore of Lake Pend Oreille by Talache Landing and the 117 trail.
IDL officials said the fire was reported at 5 acres with structures threatened.
Early work by a Type 1 helicopter helped reduce the threat to structures but the helicopter has since set down due to heavy smoke in the region, IDL officials said in a press release.
No evacuations were needed. IDL officials said the road that leads to the 117 trail is open to residents only.
While dozer fire line is being dug a hose lay is also being installed around the fire to continue suppression efforts.
Four engines and one dozer are working the fire. The fire boats of Sam Owen and Selkirk Fire came out to assist but have since been released.
Bonner County Sheriff, Avista Power, and a fire investigator are also currently on scene, IDL officials said.
The Bernard Fire, overlooking Echo Bay on the south shore of Lake Pend Oreille, sits at about 880 acres with containment estimated at 20 percent. The fire is human-caused and is under active investigation.
According to InciWeb, an online fire information website, activity on the Bernard Fire continues on the north side of West Gold Creek drainage, where very steep terrain and heavy fuels hamper control efforts. The fire also moved west toward Bernard Peak on Tuesday.
Crews, engines, and heavy equipment are constructing and improving control lines and planning is beginning for possible burnout operations on the south side of West Gold Creek, officials said.
Regional smoke lingers throughout the region. Air quality is somewhat improved in places but haze and smoke are still severely limiting visibility and air quality near the fire, officials said.
Monday, a new rockslide developed on the cliff face below Bernard Peak. The slide is active, dropping rocks and boulders into the lake, and putting anyone on or near the shoreline at risk of severe injury and death. Campers and boaters are strongly advised to stay clear of the shoreline and lake near the fire area, InciWeb officials said.
Temporary flight restrictions are in effect around the entire fire area, including drones, and boaters are also asked to stay clear of firefighting aircraft that are using Echo Bay to fill buckets and scoop water.
The Callahan Fire, located about nine miles west of Troy near the Idaho/Montana border, is holding steady at 1,200 acres. The fire, which is burning in timbered, steep terrain south of Smith Mountain, was reported Sept. 8.
The Hunter 2 Fire near Blanchard is 100 percent contained and management of fire has been returned to the local fire protection district.
---