Sandpoint football gets unexpected bye week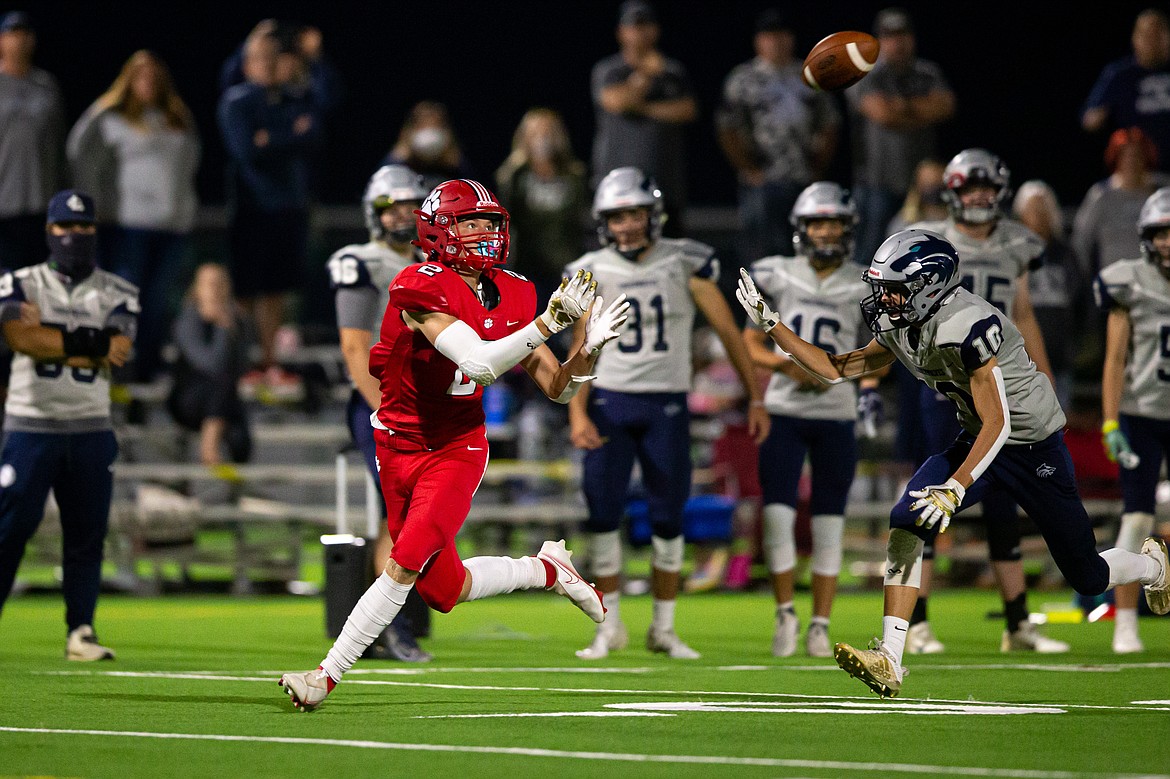 Sophomore wide receiver Cody Newhart catches the game winning touchdown from quarterback Parker Pettit on Friday night at War Memorial Field.
(Photo courtesy of JASON DUCHOW PHOTOGRAPHY)
by
DYLAN GREENE
Sports Editor
|
September 17, 2020 1:00 AM
SANDPOINT — The coronavirus pandemic has presented the Sandpoint football team with a number of different challenges this season and so far the Bulldogs have dodged them all. But Tuesday afternoon an unexpected curveball was thrown their way.
Minico announced they would not be making the 10 hour bus ride from Rupert to Sandpoint for Friday night's game at War Memorial Field due to expected poor air quality.
Sandpoint head football coach Ryan Knowles said he was disappointed by the decision, but he understands why it was made.
"We work pretty hard to get on the field and play games and to have something that we've been planning on since December canceled is frustrating," he said. "We had a quality 4A opponent coming in here and a really good matchup for us and now we're just sitting around waiting for a game."
Knowles said the team had already evaluated film on Minico from last year and the Spartans first three games this season prior to receiving word of the cancellation. He said the team spent all Monday preparing for Minico and now he feels like it was all for nothing.
Knowles made an interesting analogy when thinking about all the obstacles thrown the Bulldogs' way this fall.
"It's like in dodgeball when you're trying to catch someone's ball and you're hit with another one," he said. "We're dodging the COVID and we get hit by the smoke. What are you going to do?"
Now Sandpoint has a bye week they weren't planning on and they don't get to reap the full benefits of it because they can't get outside due to the smoke.
Knowles said the team will use the extra time off to stay healthy and get ready for next week's game at Lewiston.
The Bulldogs are fresh off a thrilling 20-15 win over Lake City and now the team won't be able to carry any of the momentum they built from that victory into a game this week.
Knowles said the Bulldogs tried finding a replacement team to play Friday night, but the announcement was so last minute it made it difficult.
"You want to get the kids on the field," he said, "but you also want them to have an idea of what they're supposed to be doing and what they are facing. That was kind of the dilemma."
Minico found a replacement and will be playing at Wood River on Friday.
Sandpoint has a bye the week of Oct. 5 to Oct. 9 and Athletic Director Kris Knowles said he's tried to find an opponent for that week but thus far he hasn't had any success.
"If I could find something, I would definitely put something in there," he told the Bee.
If the air quality is at a safe level, Lewiston will be playing at Lakeland on Friday and Knowles plans on being there to scout both teams.
"If it happens, we'll be there," he said. "My plans are open Friday night."
---