Bernard, Callahan fires continue to slowly grow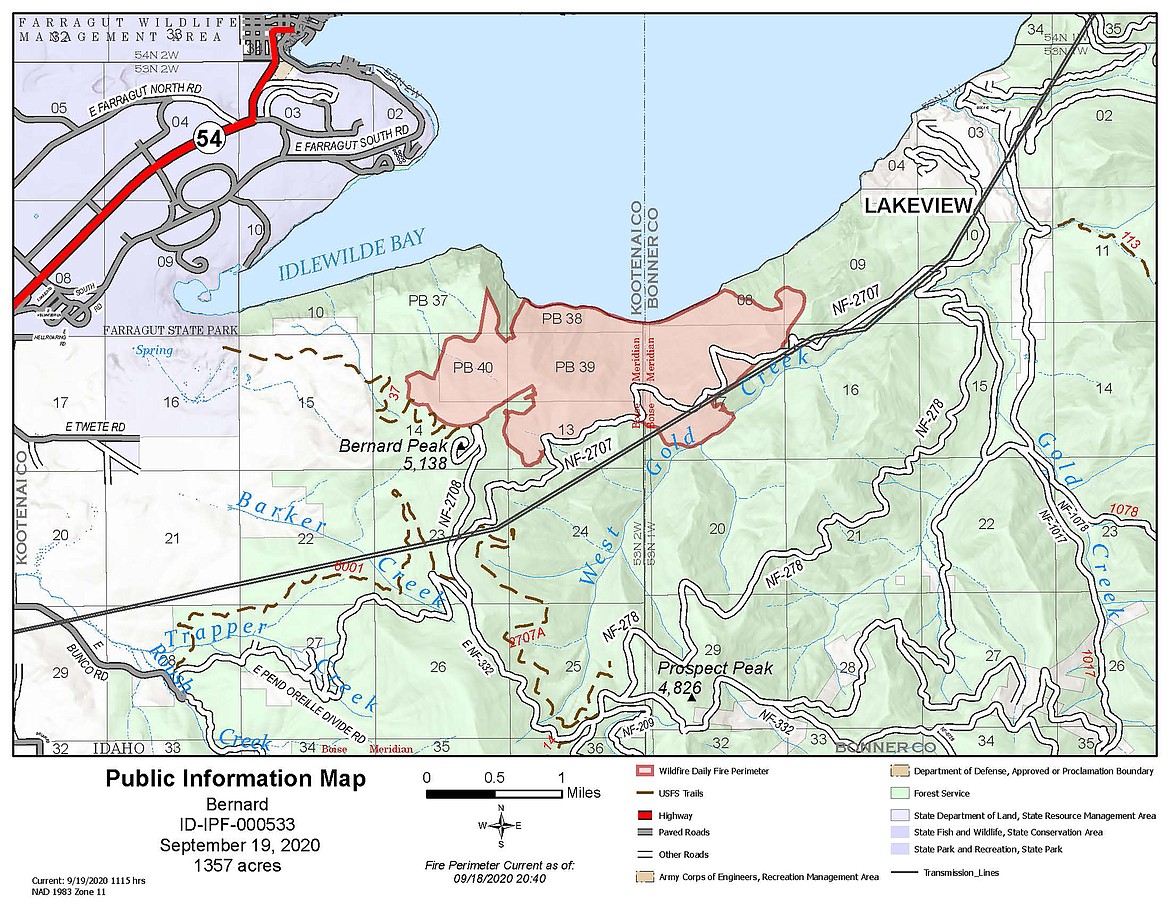 A U.S. Forest Service map shows the outline of the Bernard Fire, which straddles the border between Bonner and Kootenai counties
(Courtesy image)
by
CAROLINE LOBSINGER
Staff Writer
|
September 20, 2020 1:00 AM
BAYVIEW — The Bernard Fire continues to slowly move west in the area north of Bernard Peak, U.S. Forest Service officials said Saturday.
Crews, heavy equipment and engines are continuing to strengthen the existing fire line, remove snags and build dozer lines to ties in with one running north along one created by Stimson Lumber crews. An additional control line also is under construction as crews battle the 1,357-acre fire near Bernard Point overlooking Echo Bay.
The fire, detected Sept. 7, is human-caused and is under active investigation.
USFS officials said Panhandle Hotshots firefighters are working along West Gold Creek to keep the fire on the north side of drainage. In addition, engines and heavy equipment are improving control lines along USFS Road 2707 on the southeast and eastern flanks of the fire.
Boaters are advised to stay clear of Echo Bay as two helicopters are dipping buckets of water in the area to drop on both sides of the fire.
Crews are working to clear a shaded fuel break west of Lakeview as well finish structural protection, and install sprinklers at Gold Creek Resort, which is under threat from the fire.
While there are no evacuations associated with the fire, an area closure was put in place Sept. 9. In addition, Farragut State Park closed Trail 37 to Bernard Peak due to safety risks from the fire, USFS officials said.
Residents are advised to use caution if they use Bunco Road, Road 332 and Road 278 to Lakeview as the roads are being used by crews as their main access to the fire.
Over on the Idaho/Montana border, containment of the Callahan Fire has reached 10% as crews successfully cooled the fire's edge to the north of Road 4541 on the south end of the fire, USFS officials said. Firefighters plan to take advantage of the cooler, wet weather to work directly on the fire's edge to complete the containment line.
Minimal growth of the fire — estimated at 1,676 — is expected over the next couple days.
Smoke is impacting the ability to see what the fire activity is as well as how much the fire has increased in size, officials said on InciWeb, an interagency information management system. Currently, crews are directly attack along the fire edge and preparing contingency line in the event the direct attack fails, officials said.
The fire, located about nine miles southwest of Troy, is about 10% contained.
---