Crews continue to battle area fires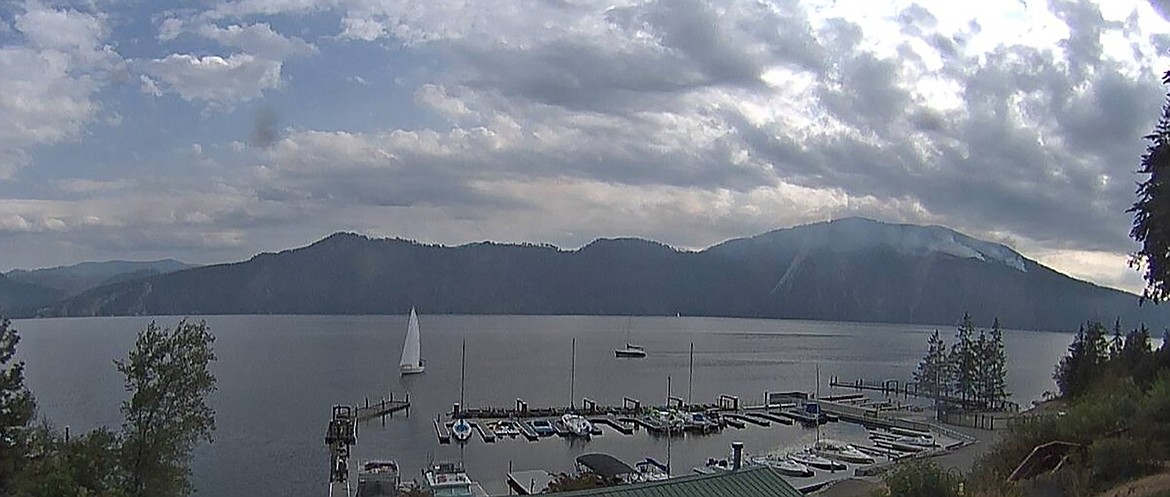 A view of the Bernard Peak Fire looking toward the south.
(Photo courtesy U.S. FOREST SERVICE)
by
CAROLINE LOBSINGER
Staff Writer
|
September 24, 2020 1:00 AM
BAYVIEW — Just because you see smoke, doesn't mean fire crews aren't hard at work or that the fire isn't contained.
There is a whole host of reasons why people might still see smoke from fires in the region.
And while people might see smoke from the Bernard Peak and Callahan fires, crews are hard at work on both fires with the 1,425-acre Bernard Peak Fire at 65% containment and the 1,276-acre Callahan Fire at 41% containment.
The Bernard Peak Fire, overlooking Echo Bay on the south shore of Lake Pend Oreille, was detected Sept. 7 rapidly burning in brush and timber up the steep slope from Echo Bay to Bernard Peak.
Located about nine miles west of Troy near the Idaho/Montana border, the Callahan Fire is burning in timbered, steep terrain south of Smith Mountain.
U.S. Forest Service officials said the Bernard Peak Fire has been checked along its perimeter. In addition, crews are monitoring and reinforcing along the control lines with a helicopter continuing to pull water from Echo Bay for bucket drops.
The Callahan Fire continues to creep and smolder with areas of heavy dead and downed fuel loads continuing to hold heat. Wednesday saw another day of drying with some potential for single tree torching in areas with dead and heavy fuels under closed canopy, USFS officials said.
While crews have made gains on the two fires, residents may still see smoke as firefighters continue to fight them, officials said.
"The overall goal of firefighting is, of course, putting out the fire. This sounds simple but the job is much more complicated than it seems," they said in a press release.
The first order of firefighting is to protect lives - public and firefighters alike. Fuels, topography, weather, wind, safety concerns, and other complex interactions then determine not only fire behavior but also firefighting tactics.
As firefighters fight wildfires, the typical method of securing a fire perimeter is to establish an anchor point to safely construct hand or equipment line around the edges of a fire to check its spread, officials said in the press release.
"Fire burns at varying intensities, and even in a patchy manner across different landscapes and fuel types," they added. "This quite often leads to pockets of unburned fuel within a fire perimeter. With small changes in wind or fuel moisture these pockets can burn, leading to the perception of new fire on the landscape.
"Even if the fire is 100% contained, it's difficult or impossible to see these on-the-ground accomplishments from a distance because stumps and other fuels within the fire perimeter will continue to burn and create smoke long after the fire has been contained."
---