Who is that masked dog?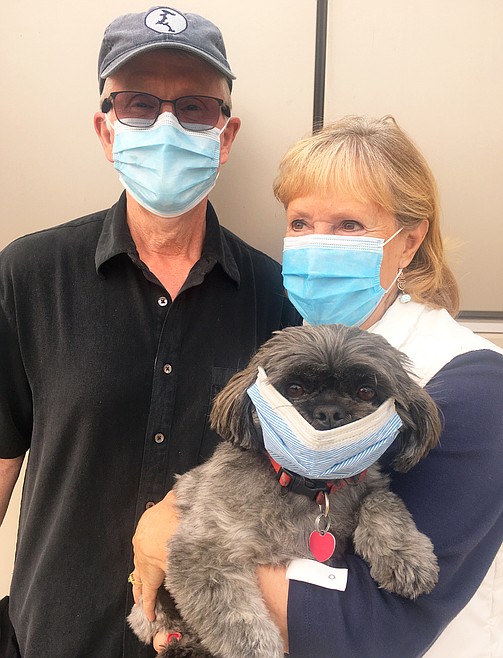 Don and Janie Kress and "Riley" wear their masks on Tuesday afternoon to protect themselves from the smoke in the air.
BILL BULEY/Press
by
BILL BULEY
Hagadone News Network
|
September 24, 2020 1:00 AM
COEUR d'ALENE — Since the smoke from regional wildfires blew into North Idaho, Riley has been wearing a mask.
And Don and Janie Kress have never been so popular.
"A couple came by and started laughing and said they wish they had their camera," Don said on a smoky Tuesday afternoon.
That's because Riley is their five-year-old Shih Tzu mix. The gray rescue dog fought the mask a bit at first a few days ago, then seemed to settle in with it as a temporary part of his life for the greater good.
"He just seemed to know he needed to be protected from this like everybody else," Janie said.
Riley has been part of their home for three years, since Don and Janie saved him from a hoarder situation in Arizona where he was abused.
He was adopted and returned several times before the Kresses took him in.
The 11-pound Riley has been a good friend, travels with his owners everywhere and even gets to pick his spot on the bed. He is a model of good behavior, his owners said, including when it comes to wearing a mask.
"He'a a laid back guy," Don said.
The mask on Riley is not to fight off the coronavirus, nor is it an attempt at mocking those who wear masks, which the Kresses do.
It is an effort to have a little fun, provide a few laughs for folks and yes, even safeguard Riley's health.
"The smoke was pretty strong," Janie said.
Reaction to the small dog wearing a mask over his mouth generates smiles and laughs, adding a bit of light to tension between mask and non-mask wearers.
"Maybe we'll wear a mask now," one person told the Kresses.
---