Nonprofit rallies community for firewood donations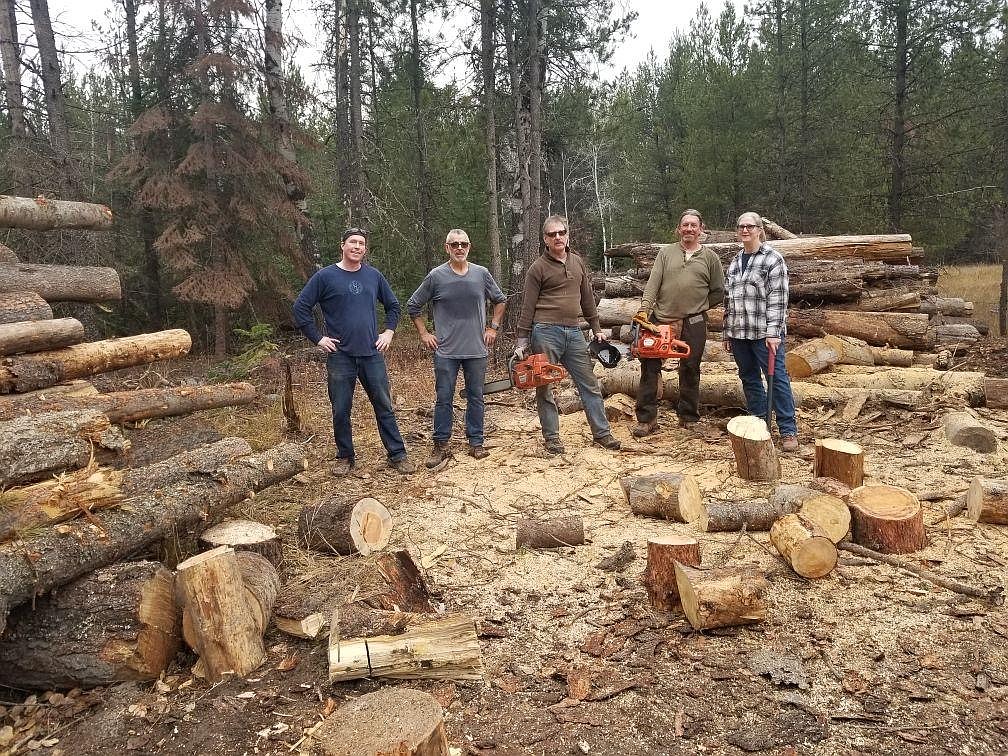 From left: Rotarians Dallas Cox and Mel Dick, Paul Krames, Mike Nunke and Kathy Kelly pose while working on a location in Sagle.
Courtesy of Paul Krames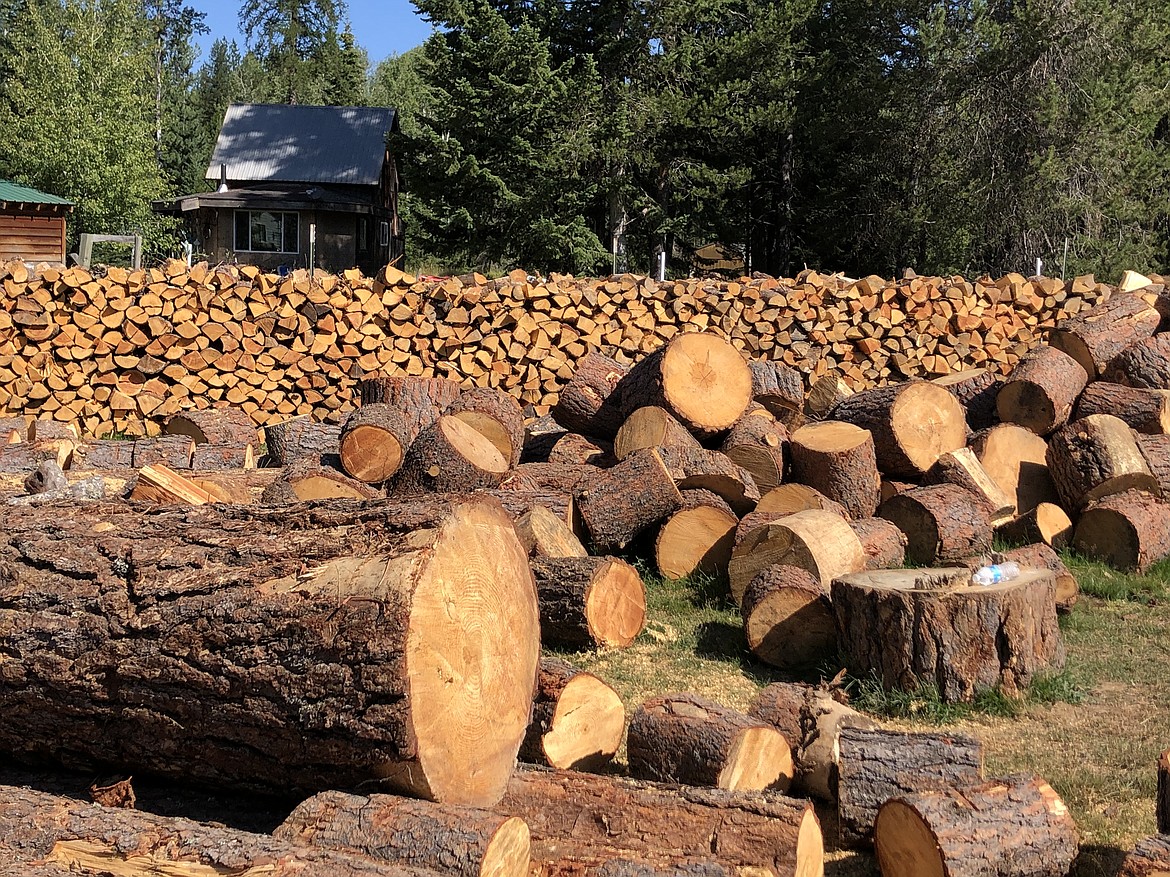 Firewood stored at one of the two firewood storage locations for Firewood Rescue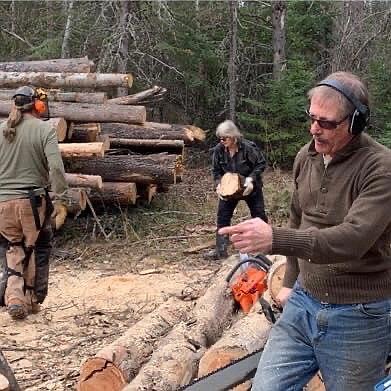 From left to right: Mike Nunke, Claudia Carrier and Paul Krames work cutting logs.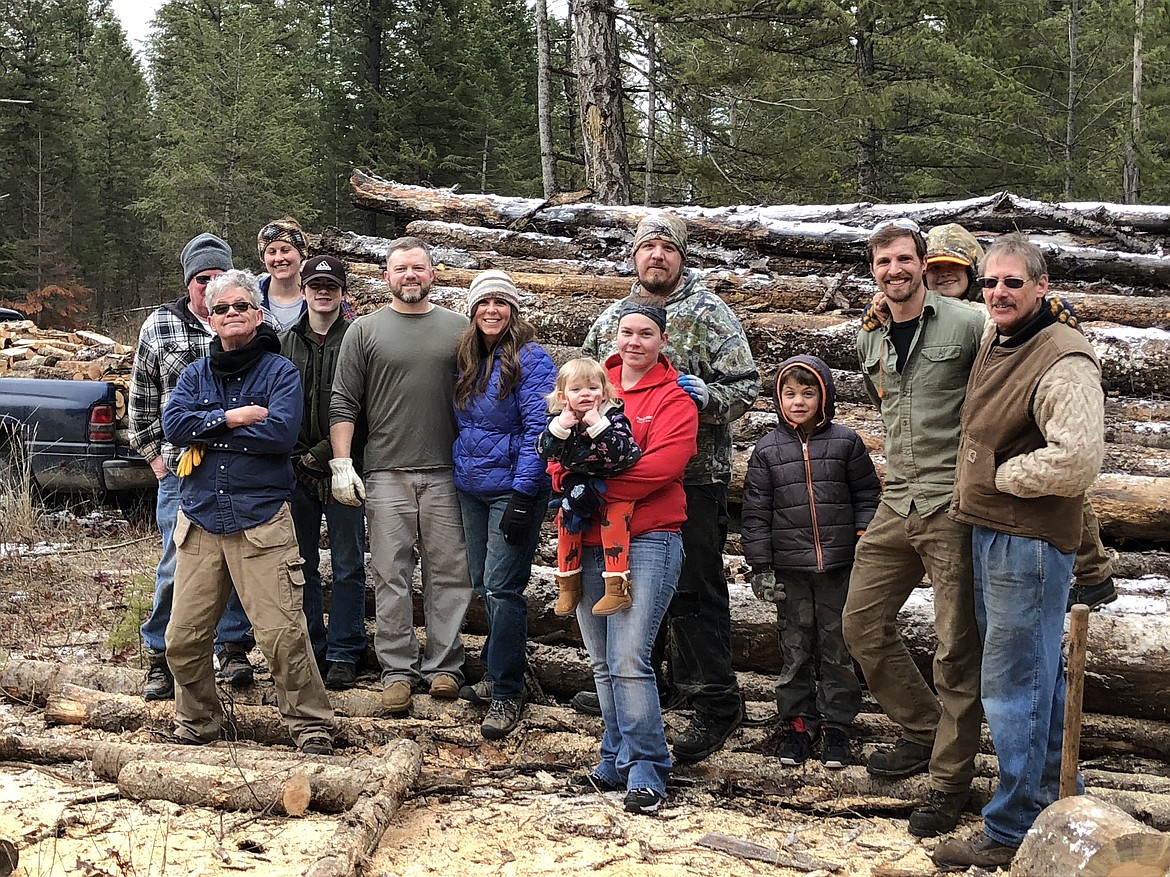 Firewood Rescue volunteers pose at a log deck donation in Priest River.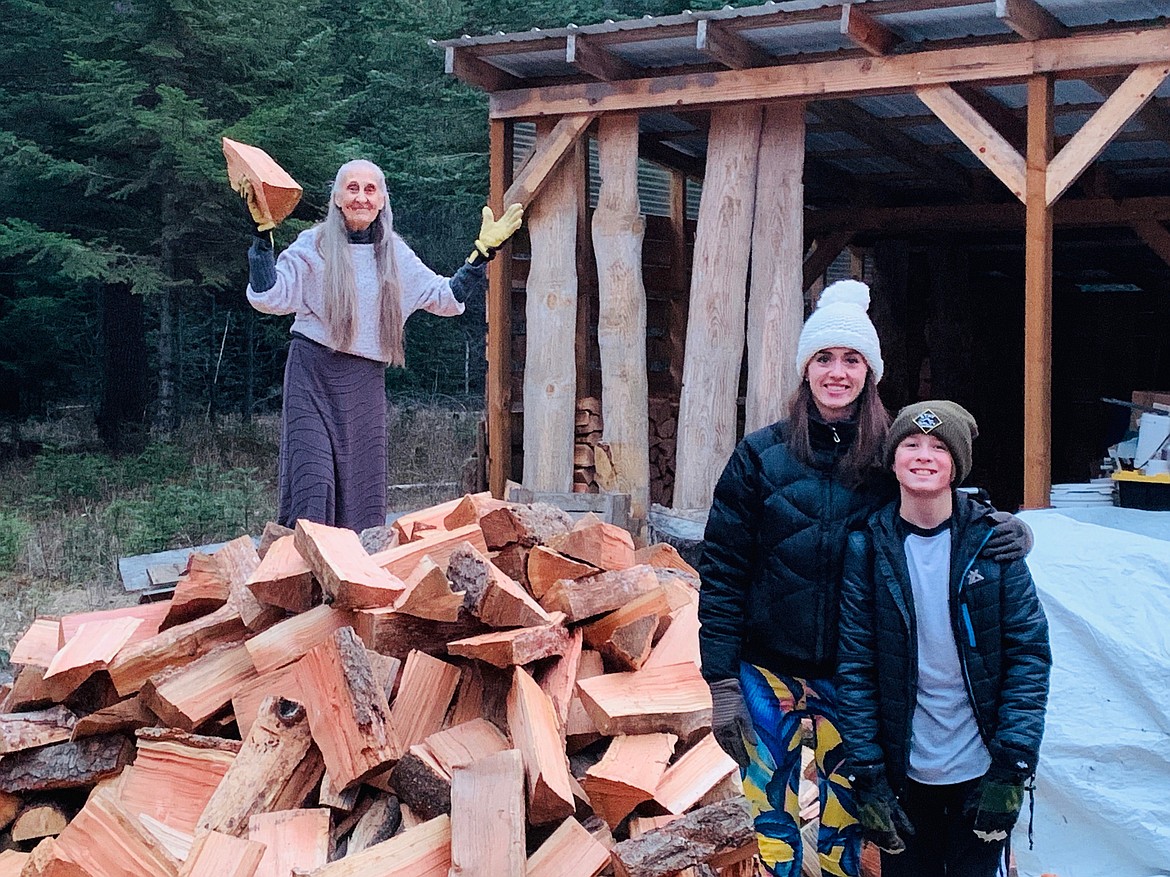 A 70-year-old Newport woman poses with Mel Dick's grandchildren and her firewood from Firewood Rescue.
Previous
Next
by
RACHEL SUN
Staff Writer
|
September 29, 2020 1:00 AM
It was about a year ago when donations from strangers helped Jesse Ross keep his home warm when the power went off, he said.
A resident of the Hoodoo Valley, Ross was injured in a motorcycle accident during the 1960s.
"I've been disabled since," he said. "It makes it hard for me to get my own wood. I used to, but I'm 79 years old now."
Ross lives far away from town, about halfway between Spirit Lake and Lake Cocolalla. In "the boondocks," as he calls it, and he prefers it there. But sometimes, he said, the power will come and go.
Usually, Ross uses an oil heater to keep warm, he said. But when the power shuts off the oil heater doesn't work, and he relies on woodfire.
So when Ross started running out of wood and was unable to collect more himself last year, he turned to Firewood Rescue, a nonprofit that delivers firewood to those in critical need.
Within a few days, Ross said, volunteers brought close to a cord of wood, and more after that. Walt Detrick, one of the volunteers, brought his personal wood splitter to help.
"We would have had some cold days last year if they didn't help us out," Ross said.
Later on, Ross said, he called FWR on behalf of his grandson who was injured in a car accident.
"They immediately went and helped him, too," he said. "I call them the wood angels."
How it began
Paul Krames, the founder of FWR, said he never imagined how much his little operation would grow when, in 2018, he started delivering firewood to locals in need.
At first, Krames said, he had been helping a friend, Larry Pederson, with firewood deliveries for veterans. But he soon learned of more people in need who didn't meet that criteria.
"People who knew me contacted me [and] were in desperate need of firewood," Krames said. "We arranged a couple deliveries, and I started to think -- I wanted to expand the outreach to seniors and disabled and seriously ill and people that were in dire shape."
Now a registered nonprofit, Firewood Rescue has over 50 volunteers and about 20 regulars who show up every week to help, Krames said.
"This year the operation grew 10, maybe 20 fold," he said. "When someone is down and out, this community just rallies. You don't find that everywhere."
Every Saturday, and some weekdays, Krames and the other volunteers at FWR meet to prep the wood stores that will be delivered to locals in need.
In one video Krames took at the operation, the sound of sawing and clatter of wood being stacked fills the air. About a dozen people cut, split and stack wood, with multiple cords already piled behind them.
All this summer, that's what Krames did every Saturday, he said. He and the other volunteers would work from morning until around 1 p.m., when it got too hot to continue. That work has continued into fall as the volunteers prepare for the winter.
The volunteers
Despite the manual nature of the work, many volunteers at FWR are retired seniors, Krames said. Most of the core crew are in their 60s or 70s.
Ralph Merrick, a retired nurse, said he likes having a hands-on way to help in addition to making donations.
"I have some charities I throw money at," he said. "I was looking for something to actually physically do."
Several volunteers said they appreciate the chance to give back, and the camaraderie they share. And for those that deliver, dropping of needed firewood makes a lasting impression.
Brenan Dunn, who volunteers with his wife Renee, said as a veteran he's often charged with dropping off loads for other veterans.
"Sometimes folks can be proud," he said. "I've been kind of known to just drop it off."
In one case, Dunn said, he had to work to convince a Vietnam veteran who had no wood left to accept the delivery.
"After a cup of coffee and talking to him a little bit," Dunn said, "this gentleman was very insistent on helping, even though it slowed the process a little bit."
In another case, a man had been injured in a mill accident and was having trouble making ends meet.
The man had young daughters, Dunn said, and roughly half a load of wood for one fire.
"I was able to bring a couple week's worth," he said. "It felt really good being able to make sure those little girls didn't get cold."
Dunn said he and his wife often bring their three youngest sons to help volunteer.
"[Kids are] either the best of us or the worst of us," he said. "Being able to foster that in my kids is very, very important to me."
FWR volunteer Kathy Kelly said she understands personally how hard it can be to collect firewood.
"I have been in a home where we heated with wood in the past,"she said. "I know how labor-intensive collecting your firewood can be."
The work has a way of bringing out the best in people, she said. On one delivery with Detrick, some neighborhood boys came by and offered to help with the wood. After, she said, Detrick took some dollar bills from his wallet and handed them to the boys.
"We're volunteering, and that gentleman took out of his own pocket to give to these young men," she said. "That struck me."
The organization
Eileen Esplin, a board member, volunteer and coordinator for FWR, began working with the organization a year and a half ago splitting and stacking wood.
Because of her expertise in administrative work, Esplin, now 71, is the coordinator in charge of keeping updated lists of volunteers and equipment, coordinating drop-offs and vetting potential recipients.
Some criteria the program considers is whether the household has children, a person with a disability, public assistance and food assistance the household currently receives, whether firewood is a primary heat source, and, this year, whether the household's income has been impacted by COVID-19.
FWR works on a case-by-case basis, Esplin said, and will generally deliver as far as volunteers are willing and able to do.
"We've delivered to Newport and Oldtown, and we've delivered south to Athol and everywhere in-between," she said. "We're much more interested in meeting people's needs than where they live."
FWR receives donations from the Rotary Club of Sandpoint, Krames said, whose members often volunteer.
The nonprofit also works with Community Action Partnership, and often gets referrals for residents who fall just outside criteria for the organization's energy assistance and firewood programs, Krames said.
Because FWR focuses on emergency firewood supplies, it's also common for volunteers to also refer firewood recipients to CAP to make sure their needs are met long-term.
"What happens after?" Krames said. "I think we're failing a bit if we don't [provide that resource]."
Ongoing needs
FWR gets continual offers for wood donations, Krames said, although sometimes they must turn down offers of wood that is too difficult to cut or collect. Log decks of seasoned wood that are accessible to trucks and trailers are preferred, he said.
Right now, FWR is also in dire need of tarps as the rainy season approaches, Krames said. A single large tarp can cost about $50, and much of the organization's funding goes back into maintenance and repair of equipment, or reimbursing volunteers' gas money.
"A lot of volunteers just say, 'I'm good, no, thank you.' But some of the volunteers just they're they're on fixed incomes," he said. "So we want to make sure that we reimburse them."
The organization is also always looking for more volunteers, and is in need of those with insured trailers in good condition to haul wood, Esplin said.
Almost anyone can help in some way, Dunn said.
"If all that you got is a strong back, there's someone with a truck. If you've got a truck, there's someone with a strong back," he said.
Those wishing to volunteer or learn more can email Firewood Rescue at firewoodrescue2020@gmail.com.
---