Inside Edge: SARS takes all the glory at PNSA U12 Championships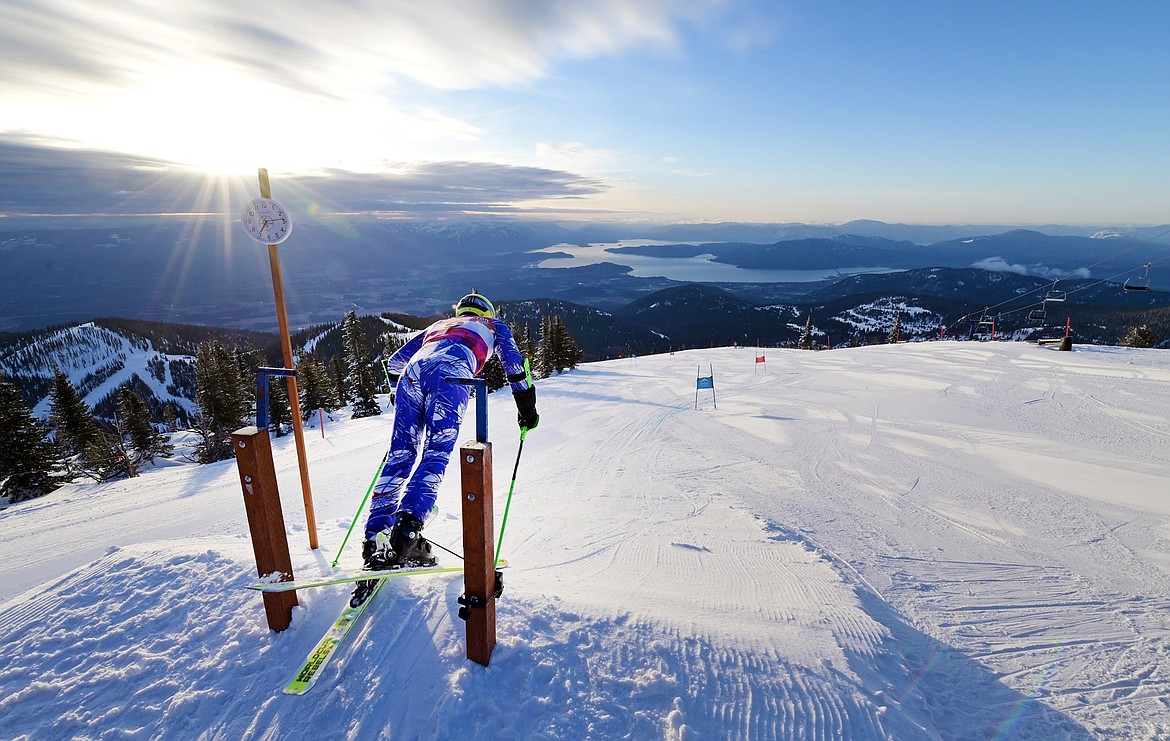 A racer takes off to compete in the 2400 feet of Schweitzer hosted by 24 Hours for Hank on Saturday. The fundraiser has evolved into the longest giant slalom race in the U.S.
(Photo courtesy of SCHWEITZER MOUNTAIN RESORT)
by
SHEP SNOW
|
April 1, 2021 1:00 AM
Schweitzer Alpine Racing School Sweeps Buddy Werner — In a demonstration of depth the Edge hasn't seen anywhere before, SARS swept everything at the Pacific Northwest Ski Association U12 Championships. Named Buddy Werner after the U.S. skiing legend, the event doubles as a transition point for young racers as they enter the world of scored USSA races.
The best 10-and-11-year-old skiers from Oregon, Washington and Idaho competed in the four day event consisting of giant slalom, slalom and skills quest at Stevens Pass. SARS collected all six podium spots on the boys side, four out of the six in girls and took first place in the boys and girls skills quest.
SARS also won the men's team overall, the women's team overall and the 2021 BWC Team Overall. This was a 100 percent team effort which grew from years of passion and dedication for ski racing from this group of kids (and families). Individual podiums or not, each of these athletes played a significant role in the team's success. Way to go SARS YSL team!
Individual results for local athletes (Top 15): Boys giant slalom — Gidley Jeru second, Dakota Landwehr third, Wyatt Lemon eighth and Landon Buoy 11th. Boys slalom — Gidley Jeru first, Dakota Landwehr second, Wyatt Lemon eighth and Landon Buoy ninth. Girls giant slalom — Halle Wyman sixth. Girls slalom — Halle Wyman ninth. Boys skills quest — Jeru Gidley first, Landon Buoy ninth, Dakota Landwehr 10th. Girls skill quest — Halle Wyman first. Boys overall — Jeru Gidley first and Dakota Landwehr second.
Hampton Cup — Mission Ridge hosted Evergreen Cup slalom action this past weekend. Nearly 170 athletes competed. Avery Edmundson disqualified in the first race, but finished a solid 12th in the second race on Saturday. On Sunday, Crosby Schmidt had a good old time, finishing fifth and sixth in the two races, and shaving a whopping 80+ points off his profile. Hannah Stiller also competed in the event.
2400 feet of Schweitzer — 24 Hours for Hank held the 2400 feet of Schweitzer on Saturday. The popular fundraiser has evolved into the longest giant slalom race in the U.S.
Competitors start at the summit and race clear down to the Outback Lodge. "INDY" retained its four-person team title with another win. The "B Lot Boys" won the two-person team title.
Individual results: Overall men — George Frazier first, Baden Brenner second and Dan Sheckler third. Overall women — Anna Nystrum first, Hannah Hislop second, Melinda Rossman third. Boys under 15 — Crosby Schmidt first , Klein Fragoso second, Royce Sharp third. Girls U15 — Sydney McFerrin first, Samantha Matthews second, Caroline Messinger third. Snowboard — Pat Holland first, Duncan Weisbrod second, Heath Weisbrod third. Telemark — Hislop William first and only ...
Back to the basics — this event is a fundraiser and many of us who wanted to donate were unable to due to failures at the processing website. This link will give you another chance to donate towards the cure for Cystinosis.
Potpourri — Any comments, recommendations or contributions to this column may be sent to Shep Snow by email at shep@thesnowschool.com. Negative feedback should be sent to someone else.
---