Sandpoint shuts down Spartans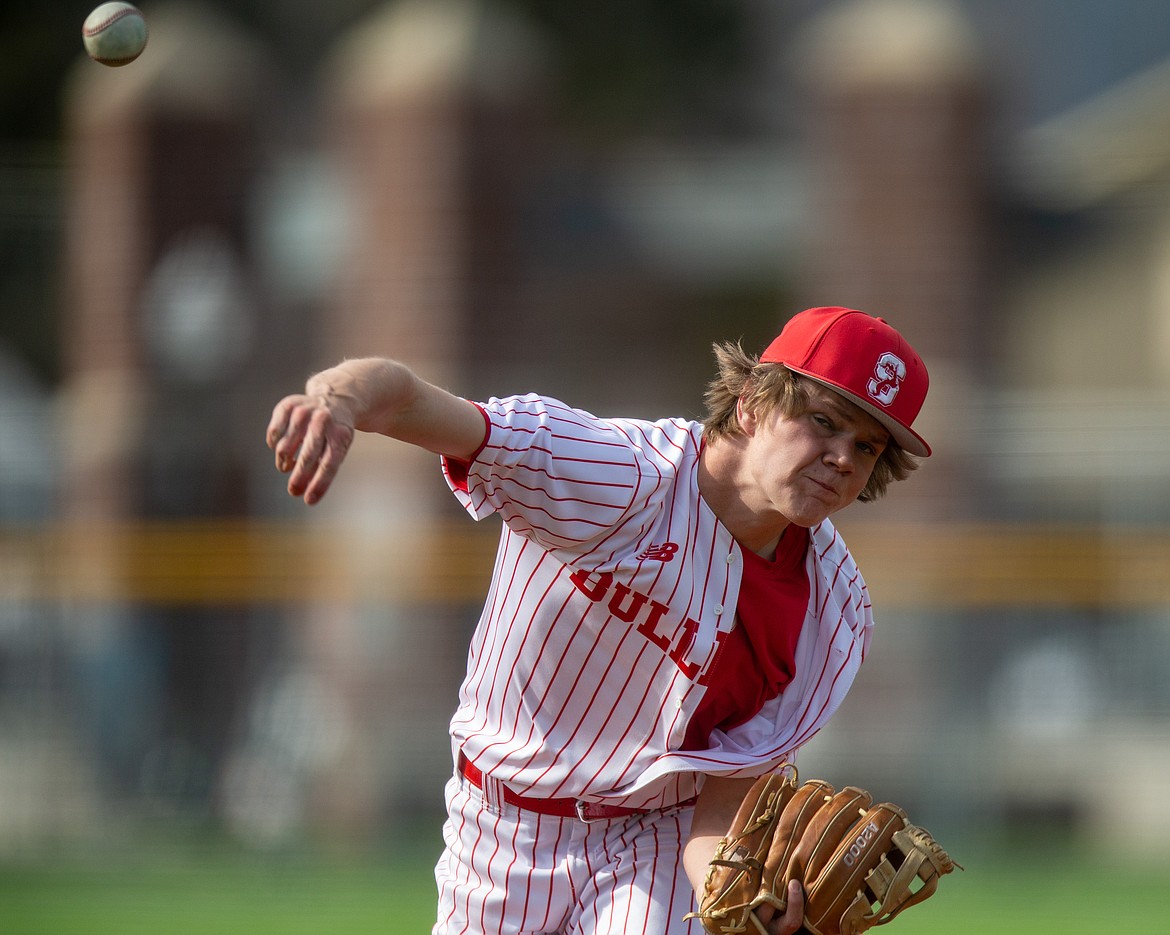 Sophomore Cody Newhart pitches during the first game of Thursday's doubleheader against Priest River.
(Photo courtesy of JASON DUCHOW PHOTOGRAPHY)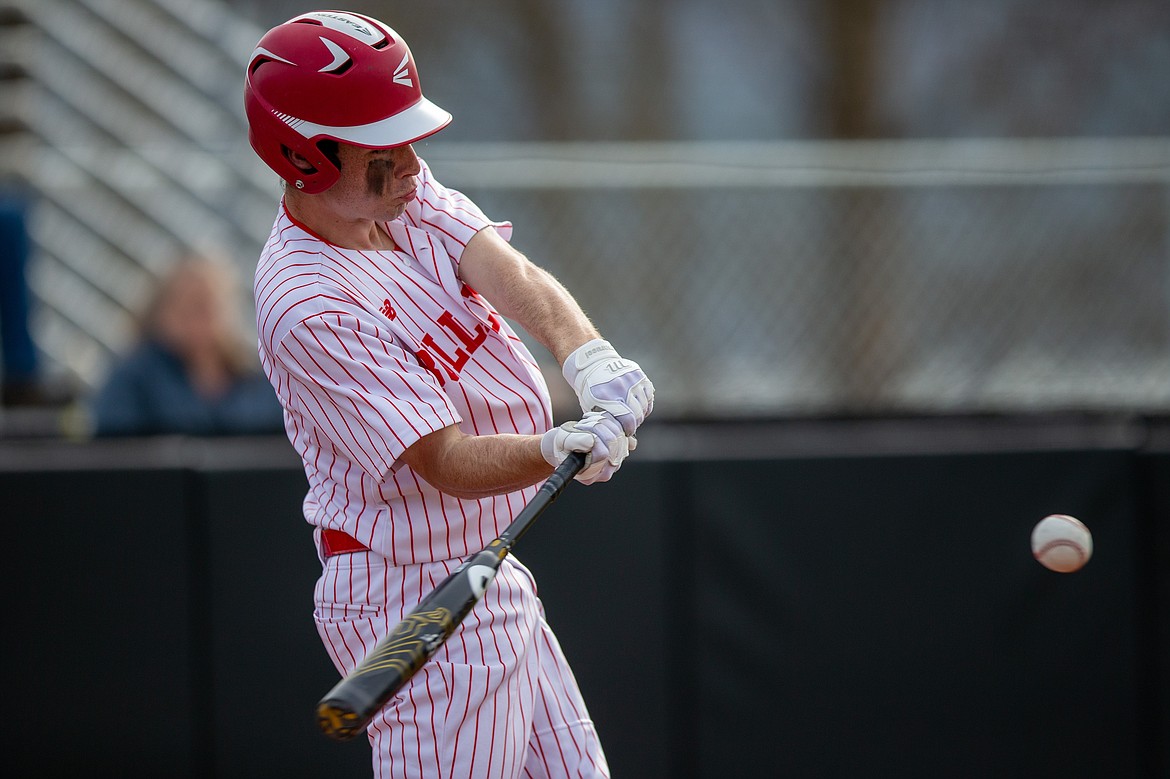 Cameron Garcia gets a hit on Thursday.
(Photo courtesy of JASON DUCHOW PHOTOGRAPHY)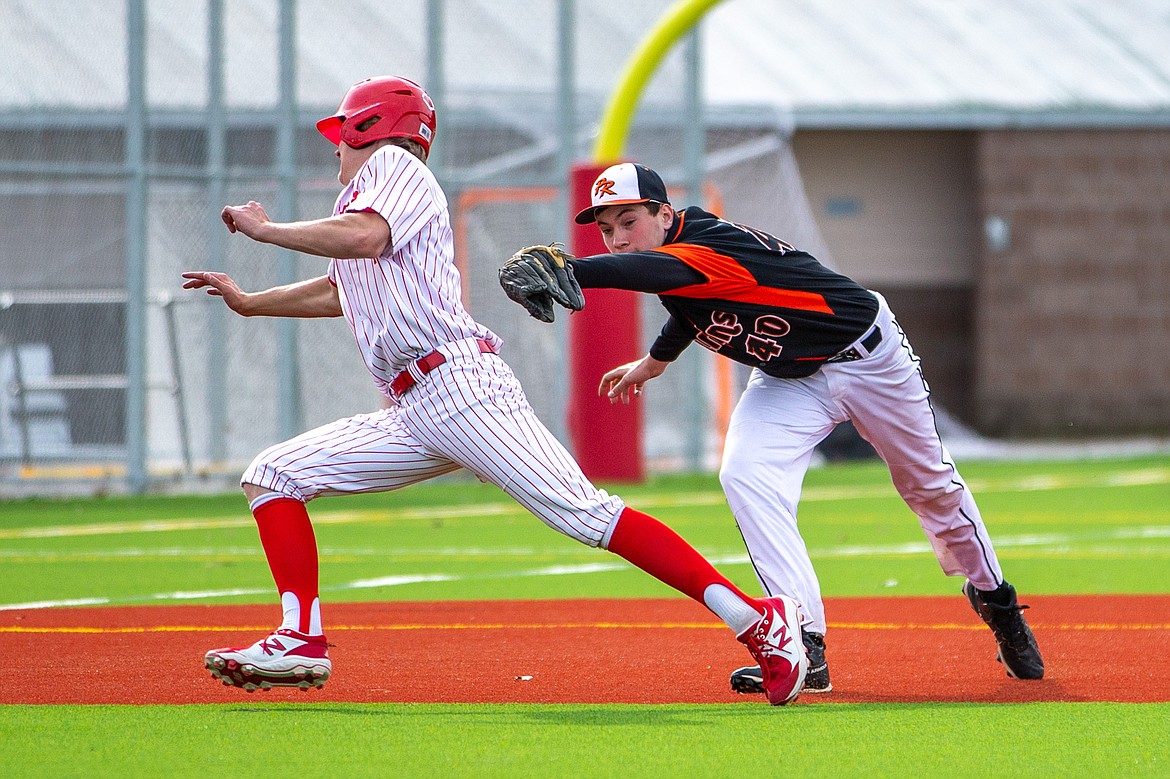 Sandpoint's Cody Newhart (left) avoids being tagged by Priest River's Landon Reynolds on Thursday.
(Photo courtesy of JASON DUCHOW PHOTOGRAPHY)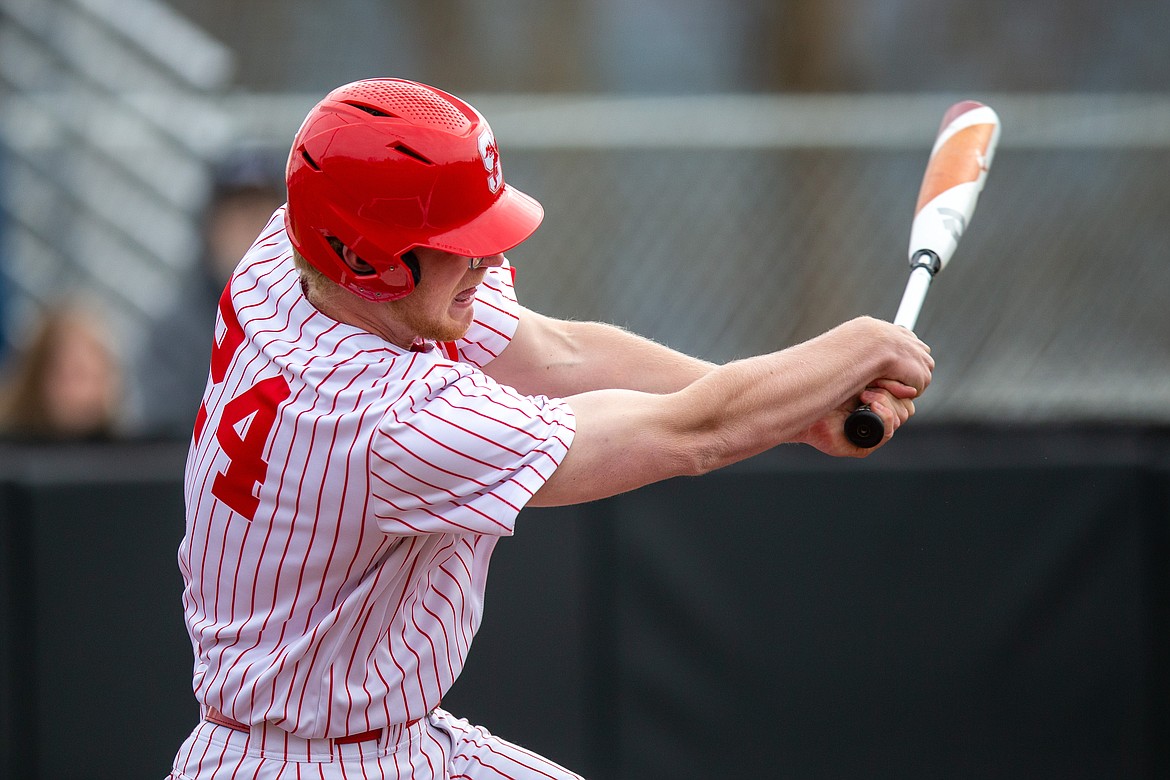 Ethan Butler swings at a pitch on Thursday.
(Photo courtesy of JASON DUCHOW PHOTOGRAPHY)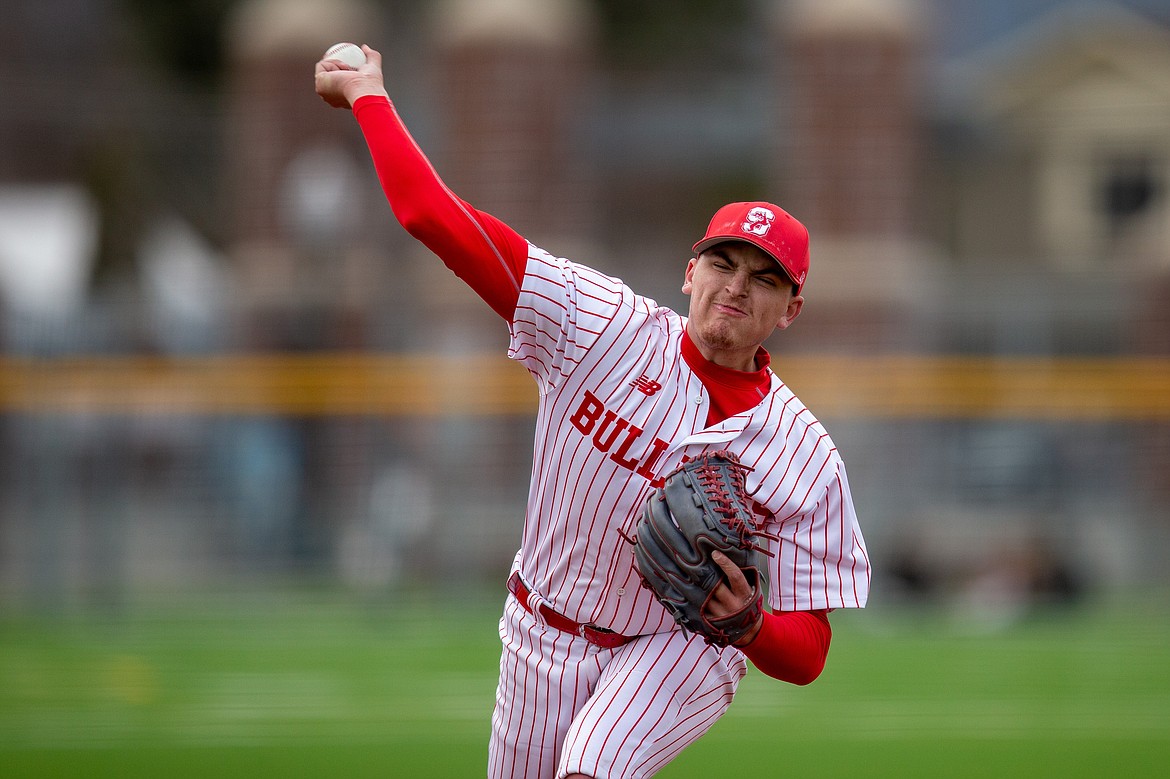 Evan Williams pitches on Thursday.
(Photo courtesy of JASON DUCHOW PHOTOGRAPHY)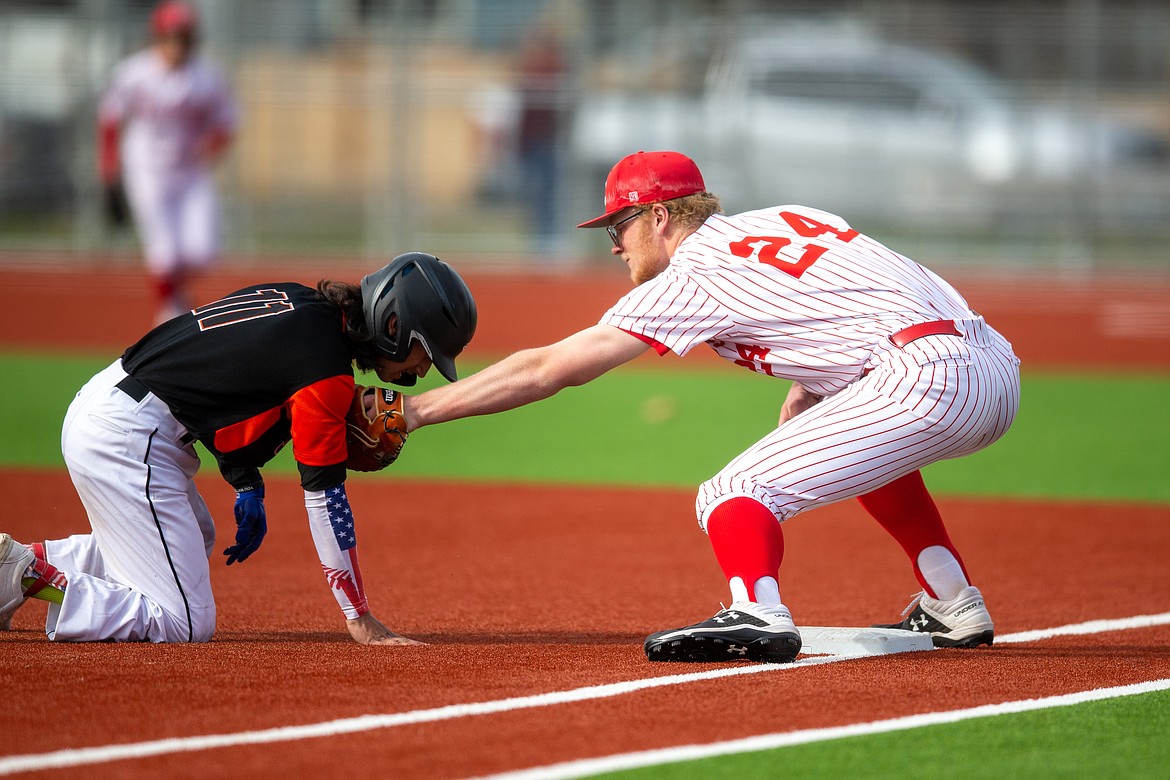 Sandpoint's Ethan Butler tags Priest River's Gavin Doster at first base on Thursday.
(Photo courtesy of JASON DUCHOW PHOTOGRAPHY)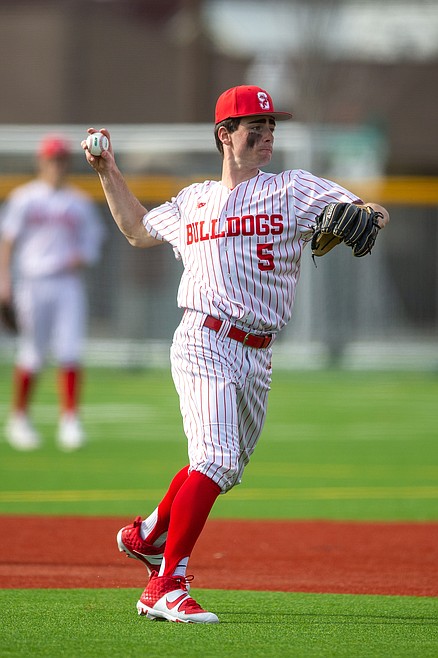 Cameron Garcia makes a throw to first on Thursday.
(Photo courtesy of JASON DUCHOW PHOTOGRAPHY)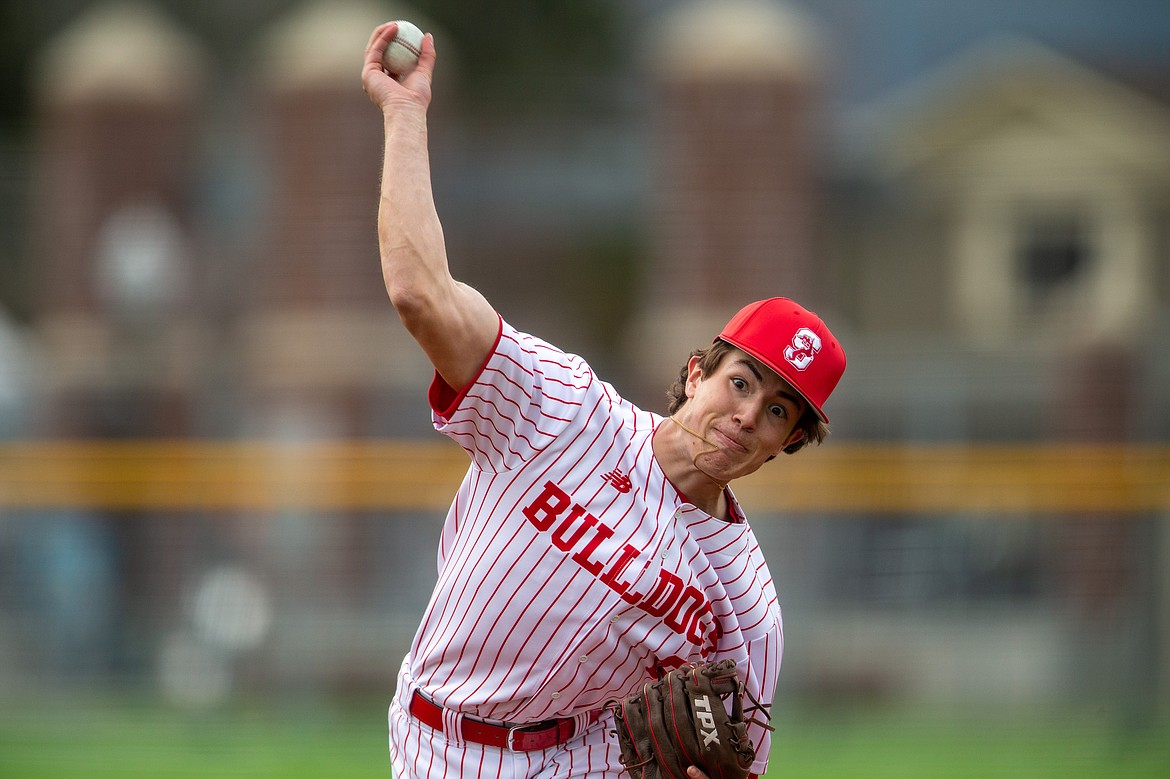 Auggie Lehman pitches on Thursday.
(Photo courtesy of JASON DUCHOW PHOTOGRAPHY)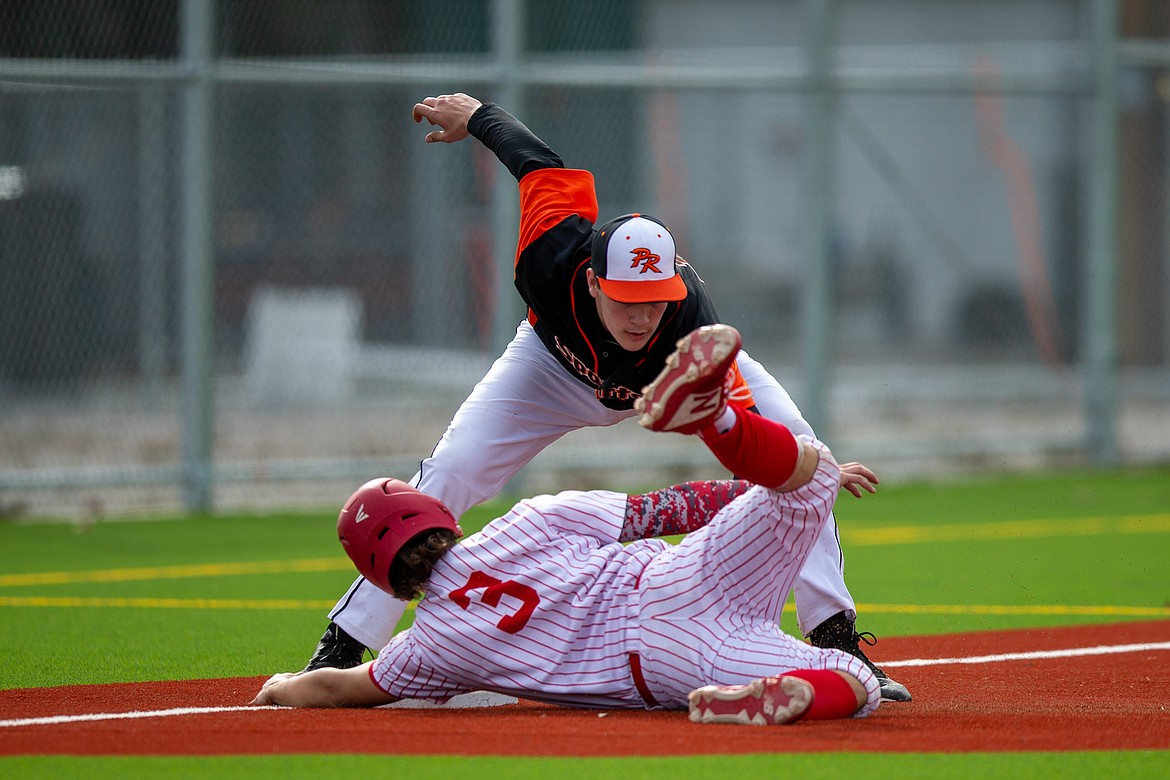 Priest River's Landon Reynolds tags Sandpoint's Trevor Brackett before he reaches third base on Thursday.
(Photo courtesy of JASON DUCHOW PHOTOGRAPHY)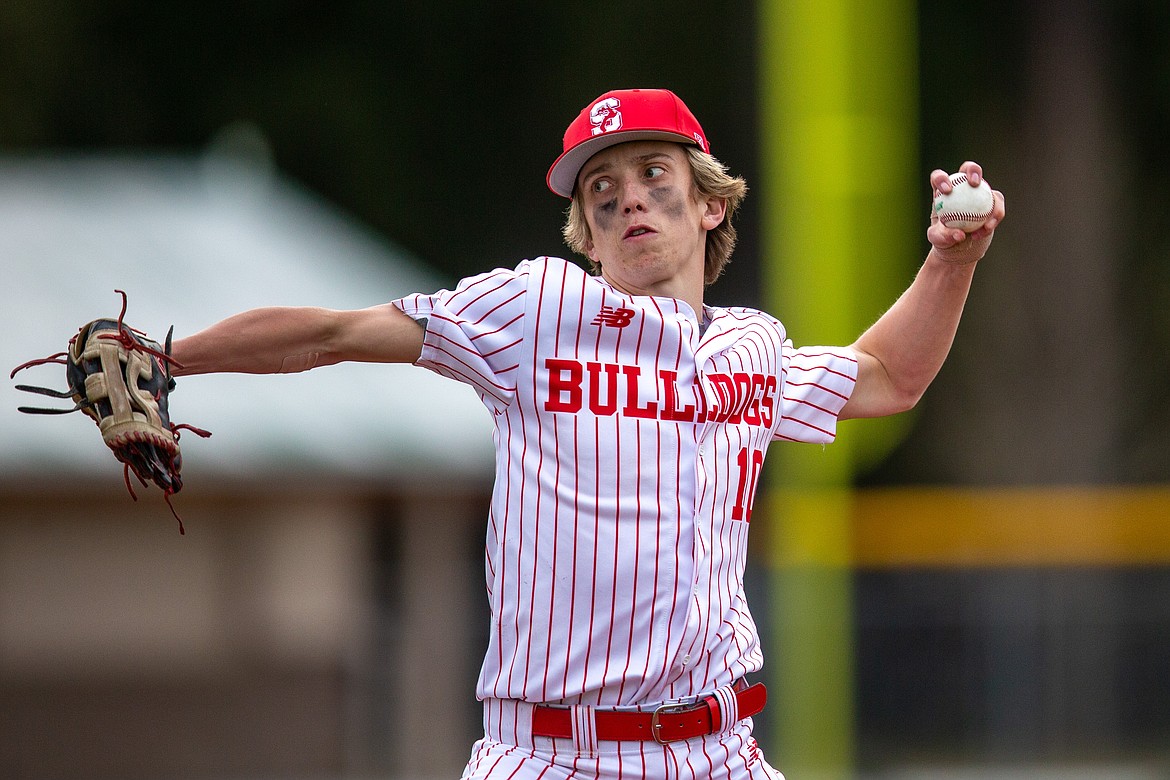 Senior Max Thielbahr pitches during the second game of Thursday's doubleheader against Priest River.
(Photo courtesy of JASON DUCHOW PHOTOGRAPHY)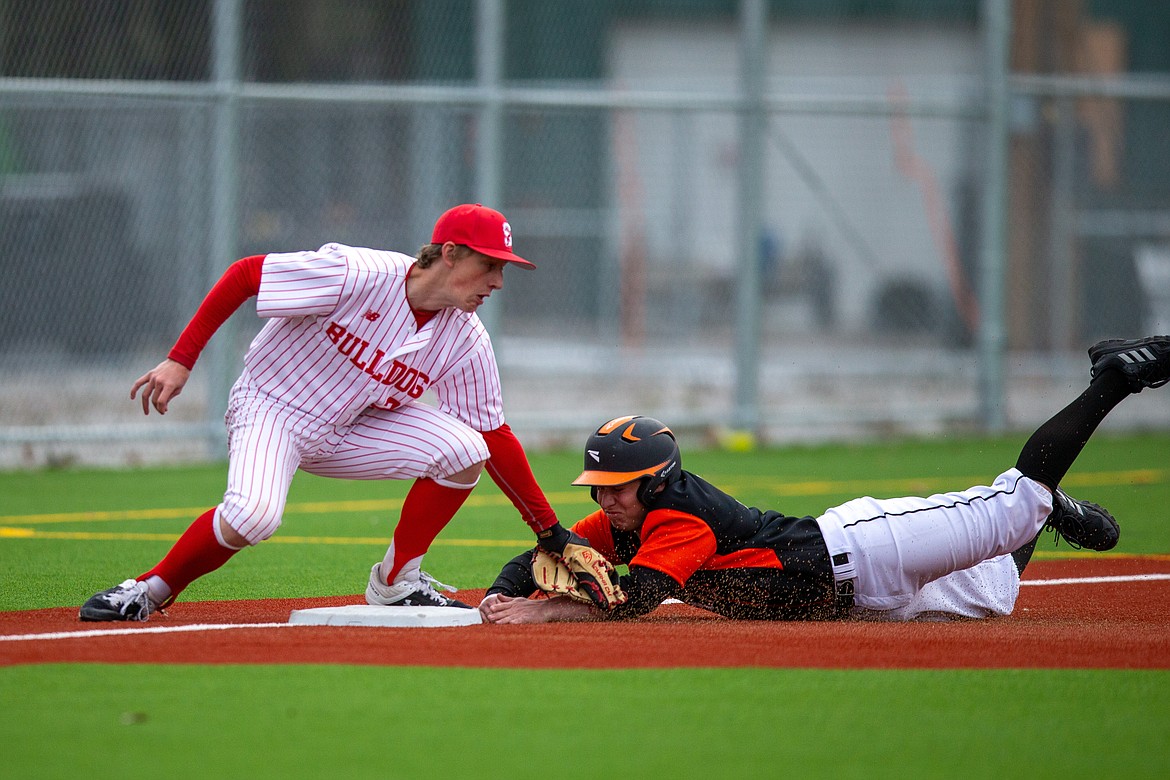 Junior Zeke Roop tags out a Priest River runner at third base on Thursday.
(Photo courtesy of JASON DUCHOW PHOTOGRAPHY)
Previous
Next
by
DYLAN GREENE
Sports Editor
|
April 1, 2021 11:45 PM
SANDPOINT — Bulldog baseball had no problem dismantling a young Priest River team on Thursday at War Memorial Field.
Sandpoint grabbed a pair of 10-run rule victories in a doubleheader with the Spartans.
It was the Bulldogs third straight doubleheader sweep and their pitching staff stole the show. Across the two games, SHS only allowed six hits and two runs.
It was a dominant display of command on the mound and head coach Chase Tigert said it was amazing to watch.
"I'm super impressed and really proud of the pitching staff for what they were able to do today," he said. "It was great all the way around; everyone that got on the bump executed."
Priest River head coach Mark Schultz also acknowledged the challenges Sandpoint's pitchers presented for his squad.
"Sandpoint's loaded," he said. "That's some of the fastest pitching, if not the fastest, that we'll see until — if — we get to state."
In Tuesday's doubleheader at Bonners Ferry, Tigert didn't feel the Bulldogs played their brand of baseball. Thursday, it was a different story and Tigert was really pleased with the way his team attacked the second game against the Spartans.
"That's something we've been talking about is the second game of a doubleheader and trying to avoid that lull that's just kind of a natural, lack of energy thing," he said, "and I thought we came out and we kept putting the pressure on the entire time."
In the first game, sophomore Cody Newhart and junior Auggie Lehman teamed up to pitch a shutout and Sandpoint secured a 15-0 victory.
Newhart pitched four innings and struck out five while only surrendering two hits to earn the win.
The Bulldogs led 3-0 after two innings, but in the bottom of the third they took off. Cameron Garcia hit a two-run single to spark a five-run inning for Sandpoint. The team added seven runs in the fourth to put a bow on the game.
Garcia went 2 for 3 at the plate and drove in four runs for the Bulldogs. Evan Williams finished with two RBIs.
Williams started on the mound in the doubleheader finale and got in a jam early. After hitting a pair of batters and allowing a single, the bases were loaded with only one out in the top of the first inning. But Williams settled in and struck out the next two batters to get out of trouble.
His offense backed him up in the bottom of the inning, scoring eight runs to silence the Spartans. Max Thielbahr got the rally started with an RBI single.
The Bulldogs also tallied nine runs in the third inning and Priest River showed little resistance until the top of the fifth. Konner Johnson hit an RBI double to bring in the Spartans first run of the season and then Tyson Brooks smashed an RBI single to score another.
It was too late for a rally as Zeke Roop struck out Priest River's Nadin Thompson to close out the game, but Schultz was proud of his team for battling until the very last out.
"I think that's going to do a lot for us because the inning before we talked about going down with some pride and fighting through this, and they did," he said.
Williams lasted two innings on the mound in the second game and struck out five. Roop also pitched two innings and recorded five strikeouts.
Roop went 3 for 4 at the plate and had three RBIs. Newhart went 2 for 4 and drove in two runs. Ethan Butler added two RBIs.
Tigert said the Bulldogs did a great job of capitalizing on runners in scoring position.
"We barreled up the ball a lot more today and made a lot of really good contact," he said.
Sandpoint enters spring break with an 8-1 record and Tigert likes where his team is at.
"This is probably the hardest working team that I've ever had the pleasure of coaching," he said, "so we just need to make sure they keep that energy up, and their focus and intensity for the rest of the season. I'm excited to come back from spring break because we hit the ground running."
Sandpoint returns to action Tuesday, April 13 at Lake City. Priest River (0-5) hosts St. Maries at 4 p.m. on that same day.
FIRST GAME
PR 000 00 — 0 2 5
SHS 125 7X — 15 6 1
Game called in 5th inning due to 10-run rule
Cody Newhart, Auggie Lehman (5) and Trevor Brackett; Everett Hannah, Konner Johnson and Tyson Troudt. W — Newhart. L — Hannah.
HITS: PR — Hannah, Brooks 2. SHS — Newhart 2, Garcia 2, Butler, Bocksch. 2B — Brooks, Newhart, Garcia.
SECOND GAME
PR 000 02 — 2 4 6
SHS 829 1X — 20 12 0
Game called in 5th inning due to 10-run rule.
Evan Williams, Max Thielbahr (3) and Zeke Roop (4), Trevor Brackett and Kody MacDonald; Brendan Reeves, Tyson Brooks (3), Nadin Thompson (4) and Tyson Troudt. W — Williams. L — Reeves.
HITS: PR — Brooks 2, Hannah, Johnson. SHS — Roop 3, Newhart 2, Butler 2, Thielbahr, Williams, Sherrill, Brackett, Riley. 2B — Johnson, Hannah. 3B — Newhart.
---