Solution to Kootenai Bay dilemma floated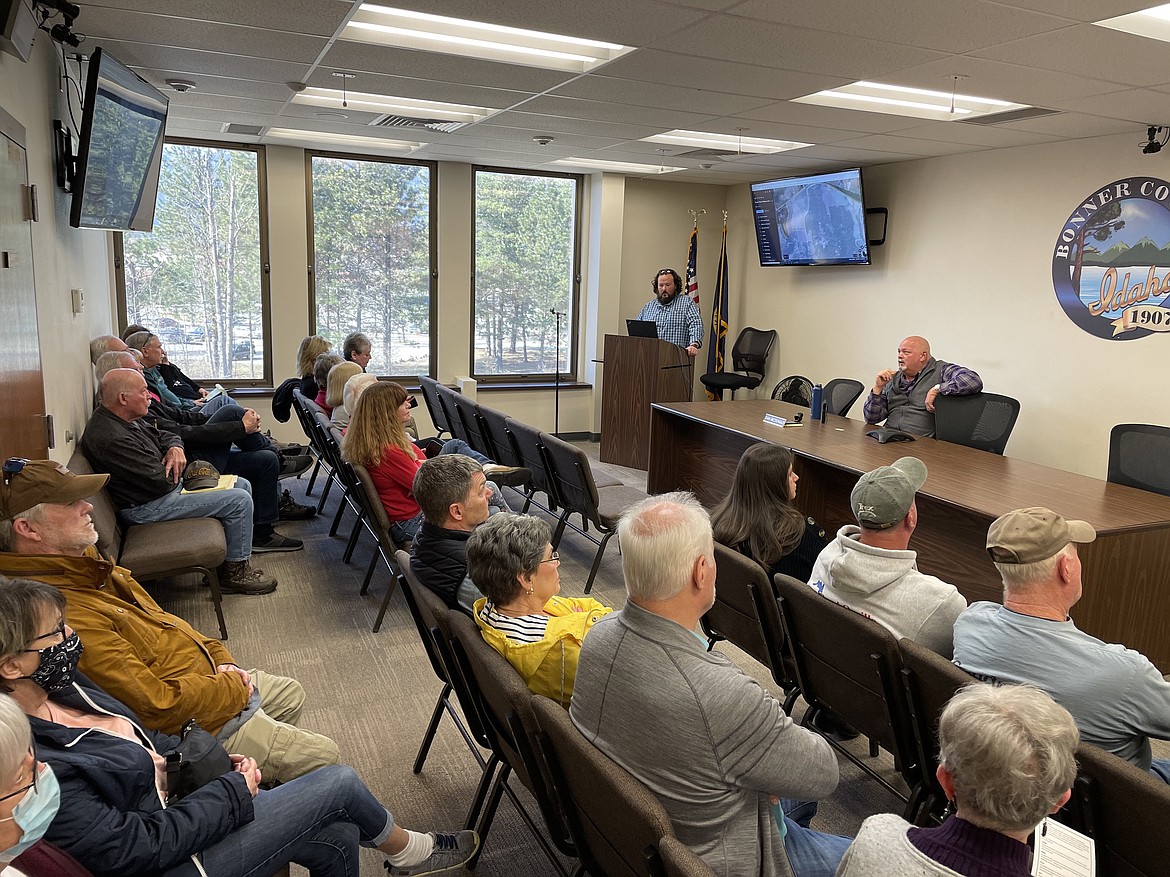 Josh Pilch of the Bonner County Planning Department (at podium) and county Commissioner Dan McDonald address Ponder Point and Whiskey Jack residents on Wednesday.
(Photo by KEITH KINNAIRD)
by
KEITH KINNAIRD
News editor
|
April 1, 2021 1:00 AM
▶️ Listen to this article now.
SANDPOINT — There may be a light at the end of the tunnel in the Kootenai Bay Road access dilemma and Bonner County officials don't believe it's an oncoming train.
Bonner County commissioners and the planning department have roughed out a potential solution to the singular ingress/egress predicament at Kootenai Bay Road, a problem that has vexed county officials and landowners for decades.
The intersection off Highway 200 is the only way in or out for landowners at Ponder Point, Whiskey Jack and Kootenai Point on the northern side of Lake Pend Oreille. Kootenai Bay Road has an at-grade railroad crossing, which can effectively seal off those areas when trains pass through or are idled there.
Trains block motorists, including emergency responders, from accessing the small peninsula and residents are barred from evacuating in the event of disasters such as a catastrophic fire or train derailment.
"It's got to get fixed," Commissioner Dan McDonald said on Wednesday. "It's time to stop kicking the can down the road."
The county unveiled a proposal which involves improving Whiskey Jack Road, replacing a bridge over Boyer Slough with a prefabricated span and building approximately one mile of new road. The new county road would extend north from Whiskey Jack Road east of the bridge and meet up with the Montana Rail Link line. From there it would parallel the railroad tracks and proceed east, where it would tie in with West Oden Bay Road.
"It kills two birds with one stone," said Josh Pilch of the Bonner County Planning Department.
West Oden Bay Road also struggles with a singular ingress/egress point. The new route would allow them to use Whiskey Jack Road to escape if a calamity severs their access.
McDonald estimated the project could cost more than $2 million.
"The question, as always, is how do we pay for it," said McDonald.
McDonald proposed the formation of a local improvement taxing district, also known as an LID. The district, which can be implemented by the county commission, would tax a thousand or so landowners — and counting — who would benefit from the improvements.
"We'll also capture all of the new development that's coming in," McDonald said.
Nearly 30 landowners turned out on Wednesday to view the proposal.
Some asked if developers could be subject to impact fees to pay for the project, but McDonald described the state's program as cumbersome and costly. He said it could cost up to $100,000 to implement the program and take three to four years to begin receiving revenue.
Others, meanwhile, wondered what impact widening Whiskey Jack would have on their property.
"There's only so much width we're going to get," McDonald said.
A survey would provide precise answers on the right of way width on Whiskey Jack and the location of the new route. Construction, McDonald said, could begin next year.
"This is going to be one of our priorities," he said. "To me, it's a workable plan."
McDonald added that Montana Rail Link has signaled its approval with the plan's concept. It would also close three at-grade crossings serving individual parcels, which would please the company.
McDonald acknowledged there is a small handful of residents who are opposed to the proposal, but it did not encounter any gales of opposition during Wednesday's sit-down.
"This is a great solution," landowner Steve Temple said.
---