Foster Lynn Mayo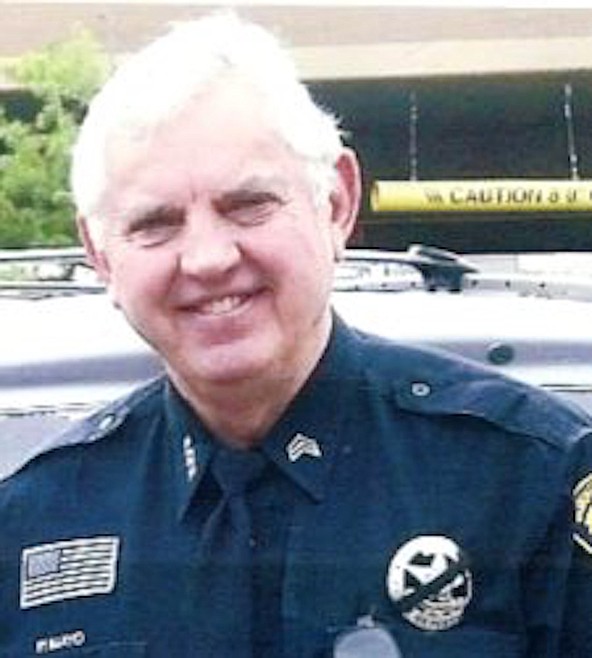 Foster Lynn Mayo, retired deputy police chief of Bonners Ferry, Idaho, died Sunday, May 24, 2020, of complications from cancer surgery at Sacred Heart Medical Center in Spokane, Wash. A Celebration of Life gathering will be held on April 24, 2021, at 11 a.m. at the Mountain Springs Church in Bonners Ferry.
Foster leaves his loving wife of 53 years married, Patricia Mayo, son Kevin of San Antonio, Texas, his pride and joy, and his daughter-in-law L.J. Foster. He also leaves his two loving granddaughters, Chelsea Jo of San Antonio, and Brittany Elyse, from Palermo, Italy. Foster has a caring brother in Laguna Beach, Calif., a sister in Longmont, Colo., and a brother-in-law in Independence, Mo. Foster also has a loving mother-in-law Katie (95 years young), cousins, nephews, and nieces.
Foster also extends his love to his adopted grandson Colton Moore, currently serving for the U.S. Air Force, stationed in Germany, and his adopted family Willie, Amanda and grandson Grayson Cowell. Lastly, Foster leaves his two loving fur babies, Cowboy, who still awaits his daddy to come home at the balcony, and Cooper named for one of Foster's favorite western movie stars, Gary Cooper.
Foster was a native of New Mexico and had a bachelor's degree in police science, and a master's degree in public administration from New Mexico State University. Foster also completed a master's degree in business administration and management from the University of Phoenix.
Foster moved from Albuquerque, N.M., to Salt Lake City, Utah, to attend the Salt Lake City Police Department's Police Academy, where he graduated number one in his class. During Foster's 25-year tenure at the SLCPD, he was Sergeant over patrol officers, SWAT team, and firearms instructor for the department and the police academy. Foster's firearms instruction including teaching shooting classes at the renowned Gunsite Academy in Arizona and had a personal friendship with the school's founder and author, Lt. Col. Jeff Cooper.
The family suggests memorials be sent to the cancer fund of their choice.
While serving for the Salt Lake City Police Department, Foster was proud to of been an active leader of the Utah Peace Officers Association and to compete nationally for the department's pistol team.
During his years in Salt Lake City, foster loved to teach and to share with the community in subjects he was considered an expert. Foster conducted a training class for the FBI Academy at Quantico, Va., and taught college classes part-time in business administration.
After relocating to Bonners Ferry with his wife Patricia, he served as a police officer for the Bonners Ferry Police Department. Foster had the tremendous pleasure to work with the fantastic law enforcement community in Idaho, including Idaho police departments across the state, Idaho sheriff departments, and the U.S. Customs & Border Patrol. After proudly serving the Bonners Ferry community for ten years, he retired from its police department as deputy chief of police.
After retiring from police work, Foster worked part-time for Bonner County and Boundary County sheriff departments transporting prisoners. Foster believed passionately in the U.S. criminal justice system. He was a proponent of prisoner rights to due process, ensuring that the prisoners Foster transported arrived safely to be in front of their judge, and in front of their physician.
Foster performed many volunteer activities for Bonners Ferry, Boundary County, and the communities across Idaho. As a member of the National Association of Mental Illness, Foster lectured to numerous police departments, fire departments, and first responders in helping responders to secure the mentally ill without harm, and then help break down the communication boundaries to coach, mentor, and seek treatment for those who have a mental illness.
For pleasure and to maintain his champion spirit, Foster shot competition pistol, trap, and skeet, and loved to work in his woodshop. Foster loved law enforcement, but as the SLCPD chaplain recently stated, "he loved his officers more" and would assist in any way for them to excel in their careers. He loved his family, friends, dogs, shooting, Dallas Cowboys, Utah Jazz, Seattle Mariners, Gonzaga Bulldogs, and his law enforcement family that he knew he could always count on when lives were on the line. He was very proud to serve on the council at Trinity Lutheran Church and loved to worship with the pastor and congregation that he so admired.
The Mayo family misses their hero tremendously and wants to thank the friends of the family, Bonners Ferry Police, Bonner and Boundary sheriff's offices, Salt Lake City Police Department, and the whole first responder community for its tremendous support and assistance during this loss.
Foster Mayo was a proud citizen of the United States and made the committed choice to serve others before serving himself. Never needing praise or even a "thank you," he proudly helped others in their time of need, always serving with distinction. Foster was never a better or stronger person than when he served with his fellow comrades – lights flashing and sirens blaring, with his brothers and sisters in blue, first on the scene.
Trish Mayo and the family is suggesting that memorials be sent to cancer funds of their choice.
---