Sandpoint golf takes down Moscow in 9-hole match play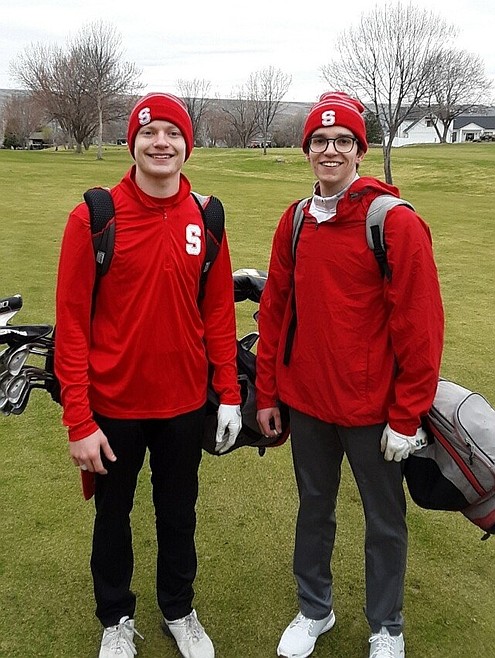 Darren Bailey (left) and Connor Bird pose for a photo at the Lewiston Invite on March 15.
(Courtesy photo)
by
DYLAN GREENE
Sports Editor
|
April 3, 2021 1:00 AM
COEUR d'ALENE — The Sandpoint golf team was able to squeeze in one more competitive round of golf before hitting spring break.
The Bulldogs took on Moscow in a nine-hole match play event Wednesday at the Coeur d'Alene Public Golf Course.
After having a challenge match with Coeur d'Alene on March 25 canceled due to weather, head coach Mike Deprez was determined to find a way to put together an event for his golfers to keep the competitive juices flowing heading into spring break.
He was able to make it happen with district rival Moscow.
"For Moscow and us, this was really an opportunity to continue to see the progress and who is playing the best on our teams," he said.
The No. 1-9 players on the teams battled each other in match play and the Bulldogs coasted to a 42-14 win.
Points were awarded based on the number of holes each player won in match play. For example, Dawson Owens won three holes during his match, so he scored 3 team points for Sandpoint.
"I wanted each kid to basically learn the ability to recalibrate and refocus each and every hole no matter what happened on the previous hole," Deprez said about the format.
Moscow only brought nine players, eight boys and one girl, so not every Sandpoint golfer got to take part in match play. But each golfer played nine holes on a course with speedy greens, and the Bulldogs got a closer peek at what the Bears have to offer this season.
"Those greens are on the faster side," Deprez said, "and they usually come out of the winter a lot better than most of the other golf courses and so we spent a lot of time on the short game ... and those greens reflect what most of the golf courses will be like in four to six weeks."
Jake Samuels and Connor Bird led the way, winning eight holes in their matches. Samuels competed as the six seed and shot a 43 across nine holes, while Bird recorded a 49 as the eight seed.
Harley Wilks earned the honor of the No. 1 seed and shot a 40. He was unable to win any holes in his match, but he carded the lowest score of the day for Sandpoint and gave Moscow's No. 1 quite the fight.
"Harley held his own against their No. 1 player," Deprez said.
Darren Bailey, the five seed, shot the second lowest score of the day for SHS, a 42, and claimed five holes. As the second seed, Owens shot a 46.
Deprez said Bailey and Samuels have really stepped up their play in the first few weeks of the season and somewhat solidified their spots inside the top five on the boys side.
The fifth and final varsity spot for the boys is still up for grabs though, and the likes of Bird, Merek Bauck and Jacob Gove all want it.
"The three or four players that want that fifth spot, every single one of them is hungry and that's kind of what you want," Deprez said.
Gove, the nine seed, claimed five holes and tallied a 55, while Bauck didn't participate in match play, but shot a 50. Andrew Hernandez recorded a 55.
On the girls side, CeCe Deprez carded a 45 and secured five-hole victories as the third seed, and Hattie Larson, the No. 4, won four holes and recorded a 46.
No. 7 Annaby Kanning earned a 48 and 4 points for the Bulldogs.
Audrey Sheffler (50) and Lyndie Wilks (59) also had strong showings, and Deprez said he's been impressed with how quickly those two have dropped strokes this spring.
The Bulldogs will compete in the Moscow Invitational on Wednesday, April 14 at the Red Wolf Golf Club in Clarkston, Wash.
Results
Coeur d'Alene Public Golf Club, nine holes, Par 36.
Total match points: Sandpoint 42, Moscow 14.
Sandpoint scores (holes won in match play): No. 1 Harley Wilks, 40 (0). No. 2 Dawson Owens, 46 (3). No. 3 CeCe Deprez, 45 (5). No. 4 Hattie Larson, 46 (4). No. 5 Darren Bailey, 42 (5). No. 6 Jake Samuels, 43 (8). No. 7 Annaby Kanning, 48 (4). No. 8 Connor Bird, 49 (8). No. 9 Jacob Gove, 55 (5). Other SHS scores: Merek Bauck, 50. Audrey Sheffler, 50. Andrew Hernandez, 55. Lyndie Wilks, 59.
Moscow scores (holes won in match play): No. 1 Brown, 36 (3). No. 2 Mack, 48 (3). No. 3 Strong, 52 (2). No. 4 Boebe, 49 (3). No. 5 Vetter, 53 (0). No. 6 Kitchel, 53 (1). No. 7 Willis, 56 (1). No. 8 Taylor, 61 (0). No. 9 Griswold, 62 (1).
---