Hope Preschoolers get up-close and personal education with firefighters, EMTs
by
RACHEL SUN
Staff Writer
|
April 4, 2021 1:00 AM
HOPE — Students at the Hope Preschool were visited by local firefighters and EMTs Tuesday to learn about safety and how to interact with first responders.
Nine children ages 3 to 5 got firsthand experience learning from firefighters at the Sam Owen Fire Department and Clark Fork EMTs.
Students talked with first responders and got live demonstrations, including getting to look inside a Clark Fork ambulance, see how stretchers work and climbing inside the fire trucks.
"We were focusing on people who helped us," said Jennie Jett with Hope Preschool. "One of our main goals was to, you know, make sure that the children weren't scared if the firemen came or if they have to go into an ambulance. We did have one child that was scared of the ambulance. And you know, we just let them watch all the other kids go in. And then by the time they had gone in, he was ready."
The preschoolers loved it, Jett said.
"It was just a really good educational experience," Jett said. "They were excited."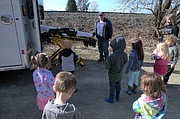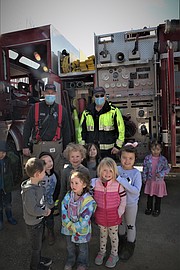 ---