Ponderay City Council approves impact fees, oversees citizen, officer commendations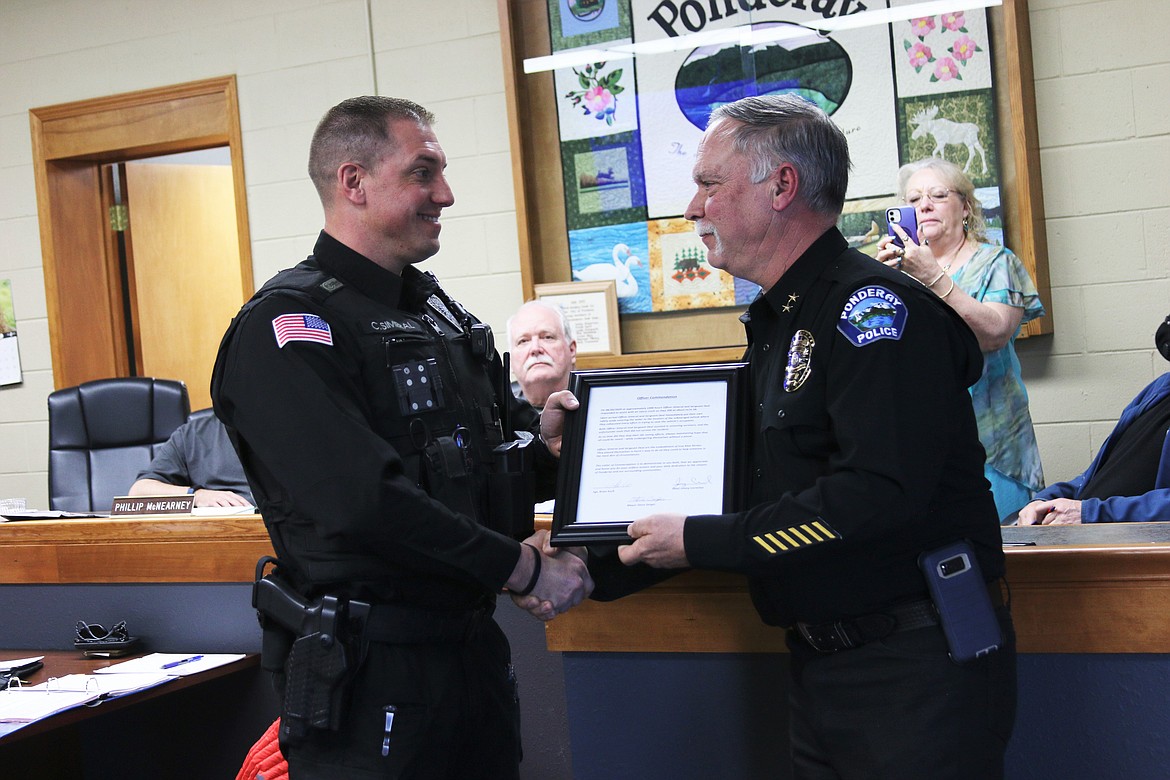 Chief Jimmy Cornelius awards Officer Cameron Simeral for his life-saving efforts in response to a car crash last year.
Photo by RACHEL SUN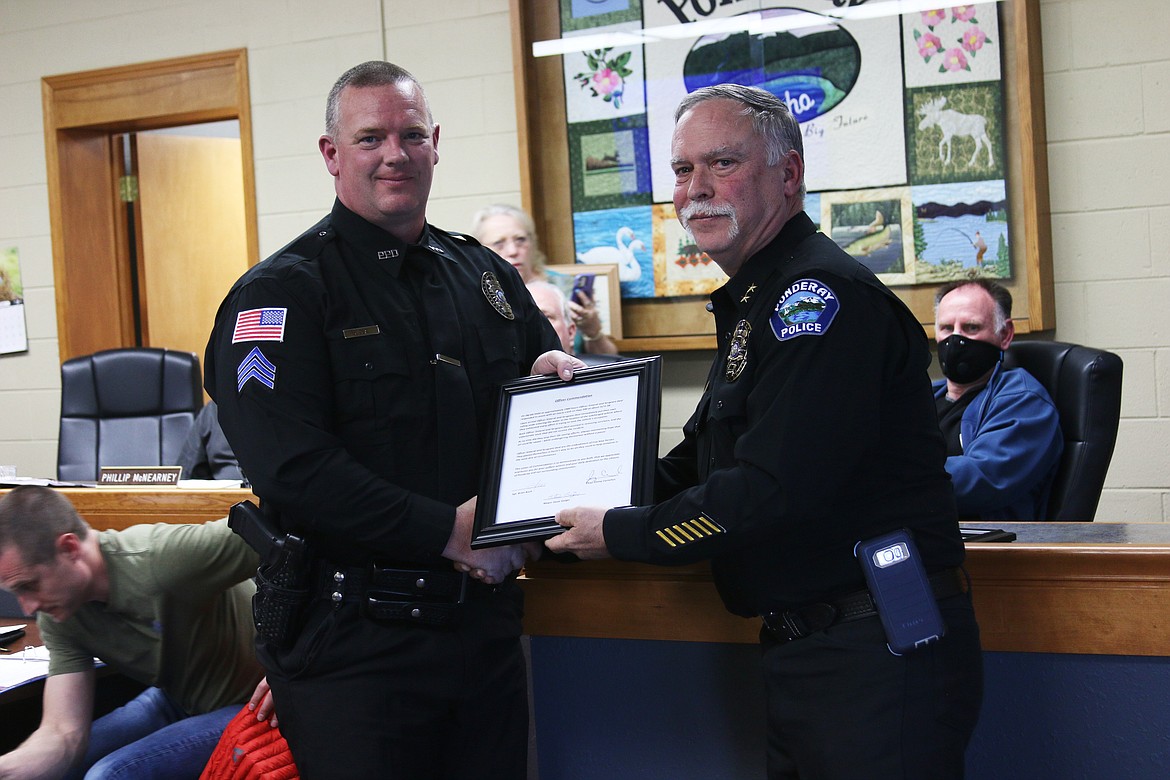 Chief Jimmy Cornelius awards Sergeant Jeremy Deal for his live-saving efforts in a car crash last summer.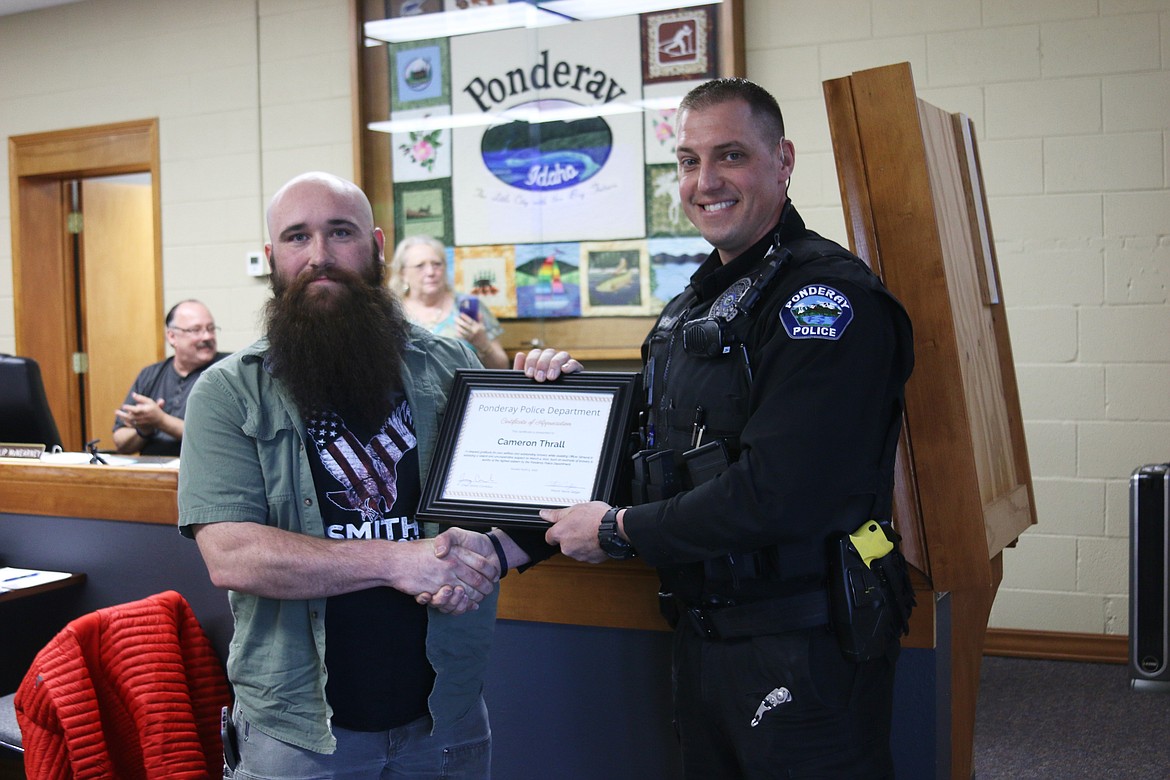 Officer Cameron Simeral awards a citizen commendation to Cameron Thrall in his efforts to Simeral in making an arrest with a man who was resisting and verbally agressive.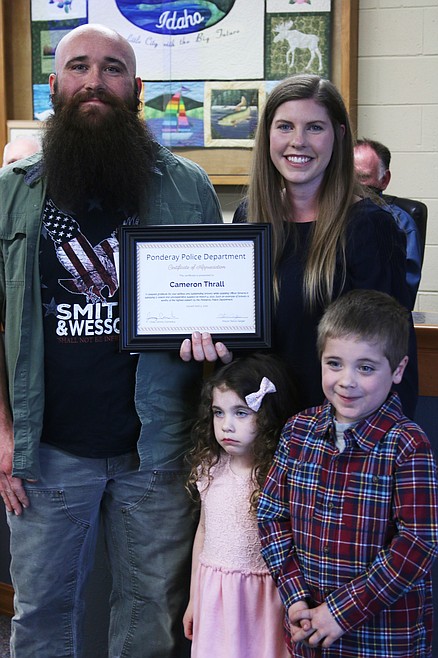 Cameron Thrall poses for a photo with his family Monday night at the Ponderay city council chambers.
Previous
Next
by
RACHEL SUN
Staff Writer
|
April 6, 2021 1:00 AM
PONDERAY — Council members approved impact fees for the Northside Fire District at a Monday night meeting in consideration of an increased population and growing needs within the district.
The impact fees are necessary as the area has been seeing a dramatic increase in population, said Anne Westcott, a consultant for the city.
"Within the entire district is about 8,600 people, and we're anticipating an almost 35% increase in that number over the next 10 years," she said. "That would mean about another 1,200, almost 1,300 new households in the district and about a million non-residential square feet."
Right now, 90% of Northside Fire calls are responded to within five to seven minutes, she said. To maintain that level or service the district needs impact fees that grow with the population.
Another need for the fire district is a ladder truck. That was already necessary, she said, but the increasing population makes it more urgent.
Around $1.37 million in funding for the district will come from impact fees, with a cost of $785 for every new home built, she said. There will also be a 39-cent-per-square-foot fee for new non-residential buildings.
The council also moved to approve the Lakeshore Connection project.
The cost of the project is estimated to be $1.749 million, said Erik Brubaker, city planning, parks and development director. Of that, a grant from the Idaho Transportation Department will pay for $1.4 million. In addition to that, the city has a local matching fund for its portion of the costs.
"It's a lot of money, but we're getting an awful lot of money for this project," he said.
Also that evening, Ponderay Police Chief Jimmy Cornelius awarded Sergeant Jeremy Deal and Officer Cameron Simeral commendations for their response to an injury crash on the Pike River Bridge on Highway 200 on Aug 9, 2020.
Upon arrival, Officer Simeral and Sergeant Deal immediately put their own safety aside, entering the water to the location of the submerged vehicle where they exhausted every effort in trying to save the vehicle occupants," Cornelius said. "Both Officer Simeral and Sergeant Deal assisted in removing survivors and the unfortunate souls that did not survive the incident. At no time that they stopped their life-saving efforts, always maintaining hope that all could be saved while in danger themselves without a pause."
Officer Simeral also had his own commendation to award Monday night — this time, to Cameron Thrall, a local citizen who assisted during an arrest.
On March 4, Simeral had responded to a hostile man outside the Fairbridge hotel in response to the man's actions in the middle of the highway, he said. The man was being verbally hostile and physically threatening, Simeral said, and resisted when he attempted to handcuff the man a few minutes later.
After witnessing from inside the hotel where he was covering a friend's shift on top of his own job, Thrall came out and assisted when he saw the man resisting arrest, Simeral said. "Thrall fluidly assisted me in restraining him to the ground, controlling his arms and safely getting him into handcuffs. His quick and effective actions kept the situation from escalating further, and helped prevent injury to myself and the offender."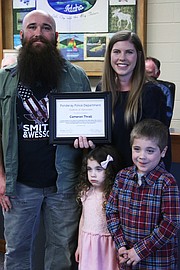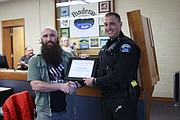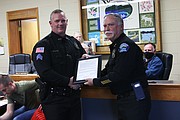 ---