Patricia Ann Cavanaugh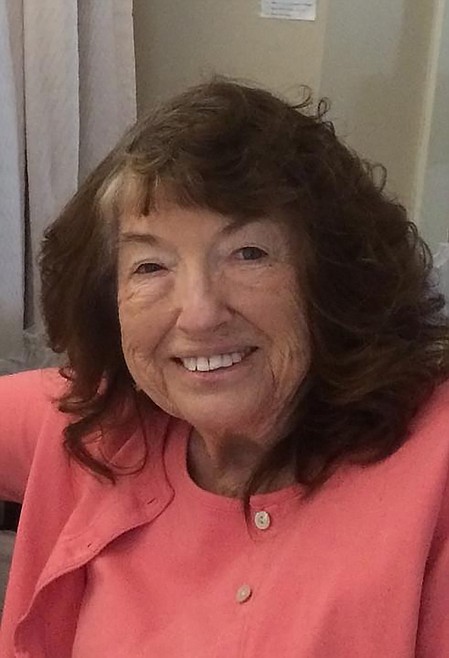 The almighty gates of heaven above opened on Good Friday, April 2, 2021. Patrica received her golden angel wings and soared the blue skies from Sandpoint, Idaho, to enter the gates of Heaven to meet the Lord himself and her late husband. God received a "treasured angel," Patricia Ann Cavanaugh. She is resting in peace with God, her husband, and passed loved ones in heaven.
Pat was born at Southwest Maternity Hospital on July 19, 1937, in Los Angeles, California to, Hawley and Beatrice Hillerman. As a young child, Pat was raised in Whitewater, Wisconsin, where she attended public school. She graduated from Whitewater High School and moved to Los Angeles to become a switchboard operator. She was a strong, proud, independent young woman who learned how to survive on her own and ate one meal a day (lunch) to get by.
Pat returned to Whitewater to become a secretary for an accounting firm. She met the love of her life, James Richard Cavanaugh, at work and became involved in a long-distance relationship with him. Pat was hired by the firm Jim was employed at as a traveling accountant for Jacobson, Severson, & Jones, CPAs, in Boise, Idaho. Pat and Jim were married in Las Vegas, Nevada on February 16, 1963, and began building their family. She moved to Thousand Oaks, California to be a housewife for their children and became actively involved in the community. Pat was a Girl Scout leader, Boy Scout leader, and Little League organizer. She volunteered at the Catholic church and the public schools regularly. She was an avid bowler who belonged to a Conejo Valley Bowling League and helped organize bowling tournaments.
Pat and Jim moved back to Idaho in 1978. They owned and operated Rainbow Resort on beautiful Lake Pend Oreille in Hope, Idaho. After selling Rainbow Resort, Pat worked for the CO-OP Gas & Supply in the little corner gas station in Sandpoint until it closed. She spent 10 years with Jim traveling up and down the Baja. In the winter months, they lived in their small, beautiful Mexico home on the Sea of Cortez fishing, four-wheeling, collecting seashells, and entertaining friends. At the beginning of the summer, they would return to North Idaho to spend summers with their family. In 2008, Pat and Jim returned to North Idaho to live permanently. In 2011, they purchased a home in Samuel, Idaho to live out the rest of their lives.
Pat was very talented with embroidery, crocheting, quilting, cross-stitching, and beaded cross-stitching. She enjoyed fishing, riding four-wheelers, going on scenery drives, and traveling. Pat loved gardening, bowling, and, most of all, shopping. She could out shop anyone anytime, day or night. Pat enjoyed playing games (especially card games) and always loved to participate in "Wild" cribbage tournaments with family and friends. She loved to entertain family and friends with beautiful table settings, decorations, and the most homemade delicious meals on the holidays and all year long. On the dance floor, Pat loved to jitterbug with her husband, Jim, and they would light up the dance floor together.
Pat's entire life was devoted to her family, especially her husband, Jim. He was her rock and she loved him by her side. Family gatherings, family trips, friends, and events were her priorities as a wife and a mother. As a mother, she was in charge with her wooden spoon and taught her children to have manners, be respectful, and polite. She taught her children and grandchildren to be independent, strong, honest, positive, and to love everyone. Pat always strived for the best, and she was a golden treasure full of kindness for all!
Pat was a devoted Catholic who worshipped and loved the Lord In North Idaho. She attended masses at the Sacred Heart Chapel (Catholic Church) in Clark Fork, Idaho, and later participated in all masses at the Saint Joseph Catholic Church in Sandpoint. Father Timothy O'Donovan decided to baptize Pat into the Catholic church because she was the best non-Catholic Catholic member at the church.
Pat is survived by her three children, Abigail Macumber, Kathleen Rounsville, and Peter Cavanaugh; her grandchildren, Spencer Wilson, Shelby Maciolek, Bradley Macumber, Shanelle Sines, Jessica Wickard, Katrina Cavanaugh, Jason Calderone, Kyle Cavanaugh, Sara Cavanaugh, Hunter Rounsville, Christopher Cavanaugh, Cody Cavanaugh; her great-grandchildren, Kayden Macumber, Bryce Calderone, Jaxen Calderone, Mason Calderone, Serenity VanEtten, and Kyzick Cavanaugh; second cousin, Linda Flood; best friends, Gayle Schwellinger, Sue Vankleek; and many nephews, nieces, and cousins.
Pat is preceded in death by her parents, Hawley Hillerman and Beatrice Hillerman; her brother, Mike Hillerman; her husband, James Richard Cavanaugh; her son, Christoper Paul Cavanaugh; her son-in-law, James Macumber; loved family member, Jim Gunter; and close friends, Darrell Vankleek and Mike Schwellinger.
Funeral services will be held at Saint Joseph Catholic Church, 601 S. Lincoln Ave., Sandpoint. On April 8, 2021, Rosary Prayer at 7 p.m. with open viewing. Funeral for Patricia Ann Cavanaugh on April 9, 2021, at 11 a.m.
Family and friends are invited to sign Patricia's online guest book at www.coffeltfuneral.com.
Arrangements are under the care of Coffelt Funeral Service.
---