Clark Fork track hopes competitive spirit leads to league trophy for boys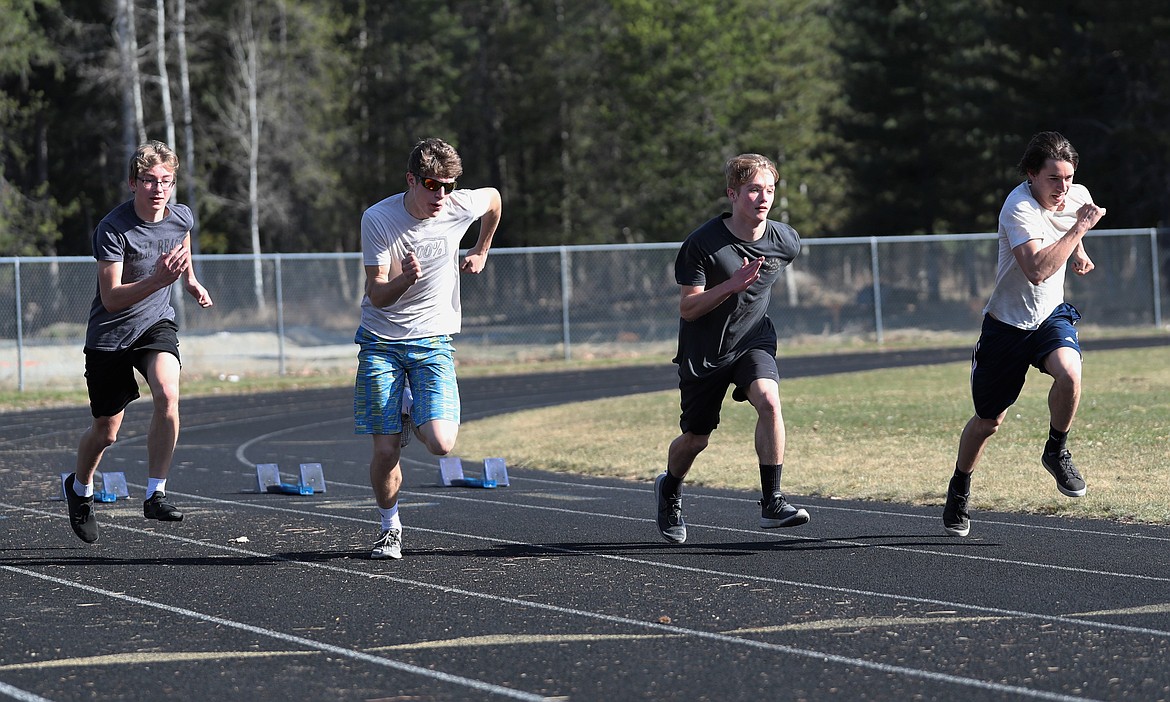 From left: Ryan Matteson, Nathan Shelton, Wyatt Mintken and Joe Bopp practice taking off from the blocks last Friday at the CFHS track.
(Photo by DYLAN GREENE)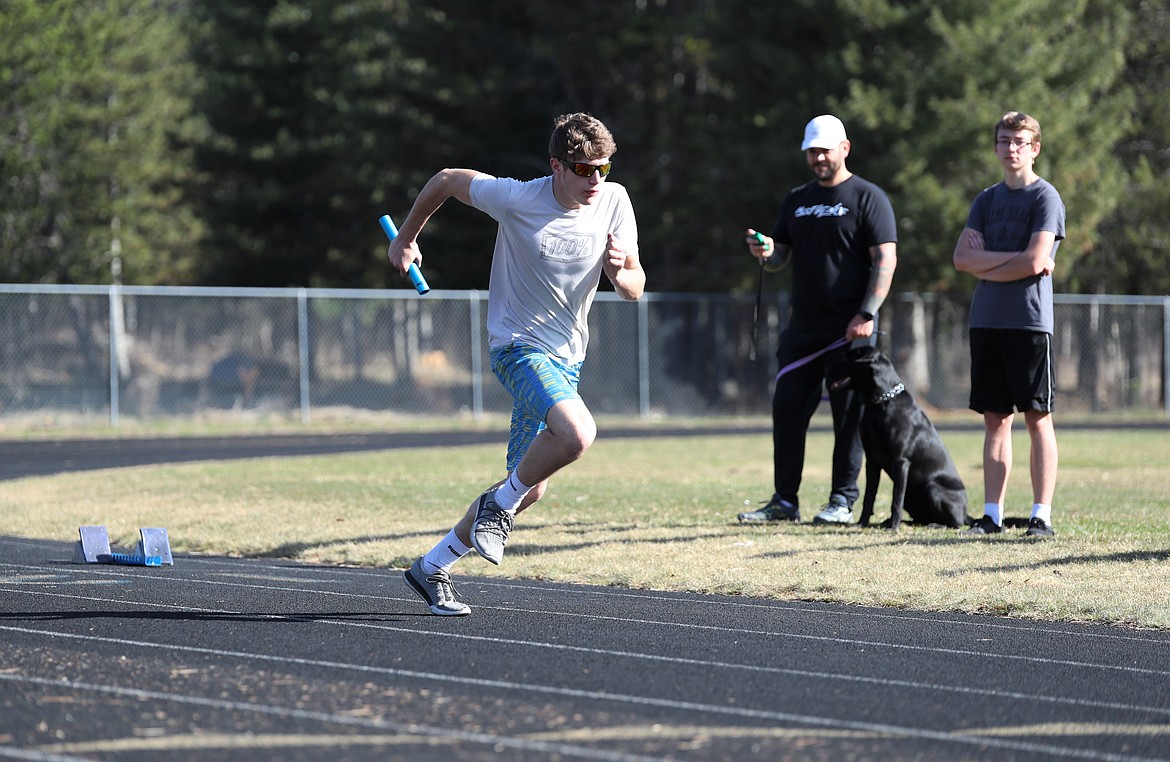 Nathan Shelton sprints with the baton during a drill last Friday at CFHS.
(Photo by DYLAN GREENE)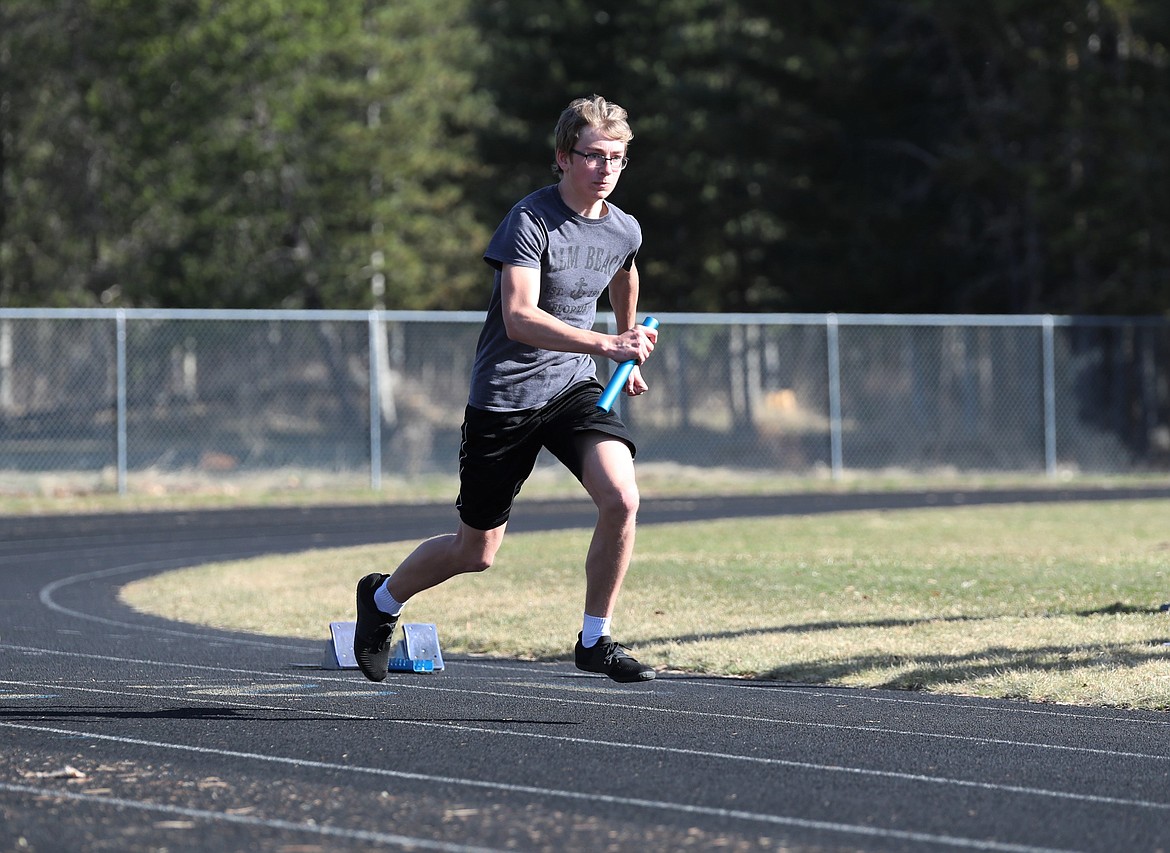 Ryan Matteson runs with a baton during a drill last Friday.
(Photo by DYLAN GREENE)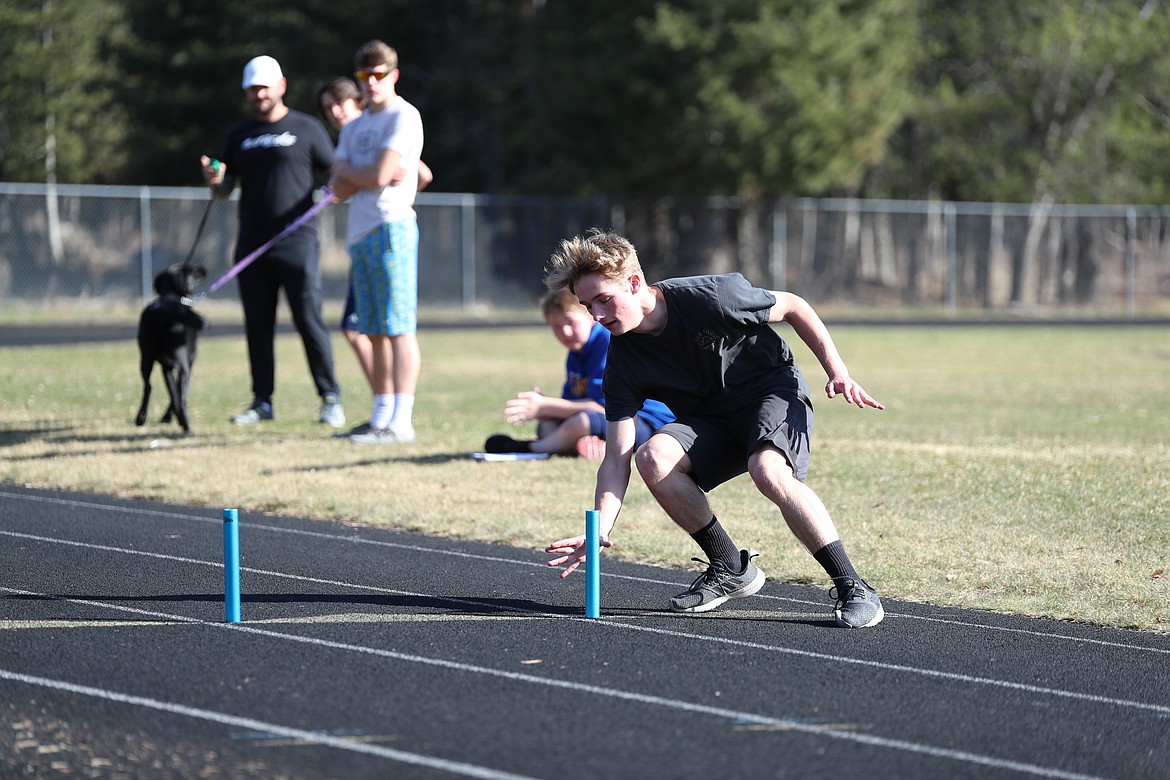 Wyatt Mintken gets down low to grab a baton during a drill last Friday at CFHS.
(Photo by DYLAN GREENE)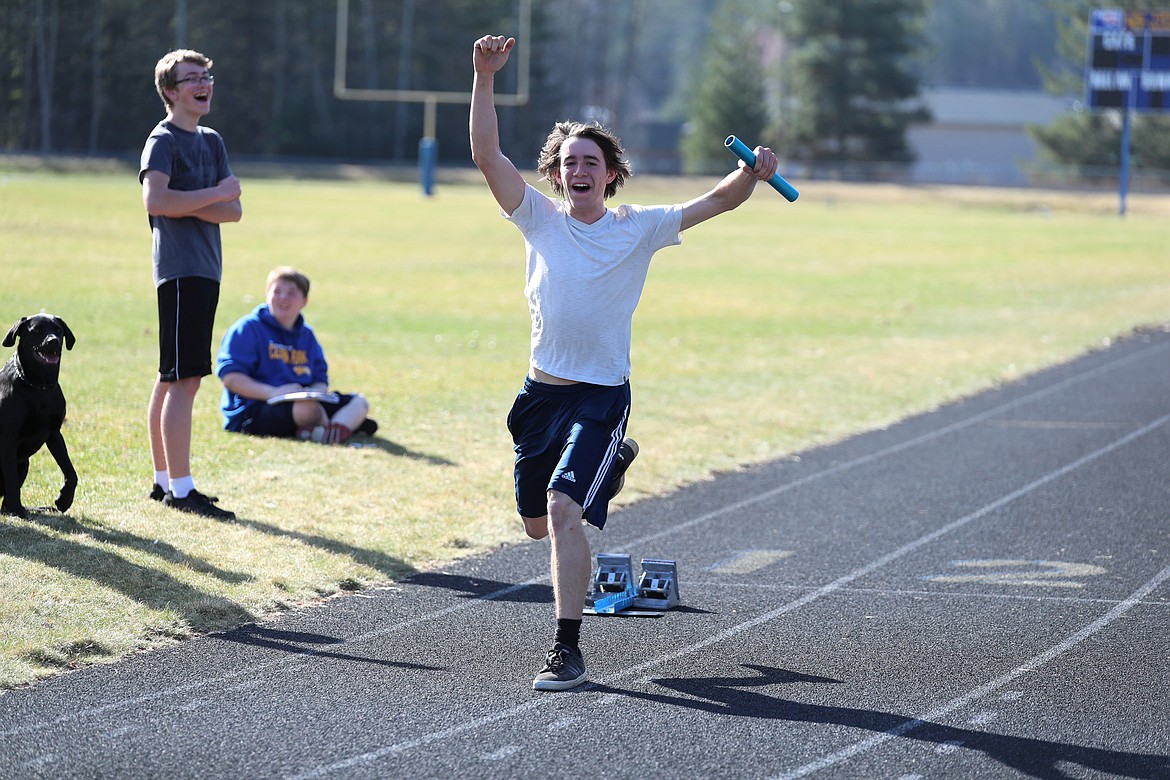 Joe Bopp celebrates after beating Wyatt Mintken in a race at practice last Friday.
(Photo by DYLAN GREENE)
Previous
Next
by
DYLAN GREENE
Sports Editor
|
April 8, 2021 1:00 AM
CLARK FORK — Despite only having eight kids this season, practices for the Clark Fork track team remain filled with immense emotion and intensity.
That's due to the friendly competition percolating through the squad.
"We're all buddies and we've all grown up together," sophomore Nathan Shelton said, "so it's really tight knit and we're always in competition with each other."
With such a small group, even the simplest drills can turn into an all-out race. For junior Joe Bopp, that's his favorite part about track — being able to prove with a stopwatch or a measuring tape that you are truly better than someone else at an event.
And what's great, Bopp said, is that the Wampus Cats can have that level of energy in practice and no one gets rubbed the wrong way because at the end of the day, they're all friends.
"I enjoy it," he said. "If you mess up or miss something, we'll joke but most of it is constructive. It makes for good competition because you can beat someone and feel good and know that they're not going to hate you or anything like that."
Shelton said the intrasquad competition makes him push his limits and, in the long run, that extra effort pays off at meets.
"On workout days, having your buddy running right behind you and trying to pass you is a huge thing to keep you going," he said.
Bopp and Shelton are two of the more experienced members of the team this season. The rest of the squad is made up of four freshmen — Lukas Birdsell, Ryan Matteson, Wyatt Mintken and Carson Yetter — and the two Barnett brothers, Hank and Sam.
That's right, the team has no seniors and no girls.
But that hasn't dampened Matt Majors' excitement and expectations for this season. The third-year head coach said this is the first time during his tenure that the Wampus Cats will be able to fill out not one, but two relays — the 4x200 and 4x400.
Majors said the team also has a great mix of sprinters and distance runners, which will allow them to contend for plenty of points at meets.
Given the versatility and athleticism this year's team possesses, Majors believes the boys could grab the league championship this spring.
Bopp said the sky's the limit for this group and their potential.
"I feel like it's going to be an excellent team," he said. "Everyone has their strong spots and we all work well together."
Shelton is the only returner from a team that didn't get to compete last year due to the pandemic.
Majors said the hardest part about the 2020 season being wiped away was watching his athletes not get a chance to see the results of all their hard work and dedication.
"As a coach, you get so excited because the practices are tough," he said. "We make it difficult on them and push them and the reward is the meets, and so that was kind of heartbreaking."
With the amount of inexperience Clark Fork boasts this season, Shelton will certainly serve a significant role on and off the track.
Majors said Shelton, who also plays on the football and basketball team, is someone who never quits and he hopes his commitment rubs off on others.
"Nathan is definitely an amazing hard worker," he said. "He never takes a day off and he's a leader out here where he gets everyone else going and keeps them in line ... He's extremely strong-willed."
Shelton will be competing in the shot put, discus, 4x400 relay and 800 this spring. Shelton has been throwing the shot since he was in junior high, but this spring he added the discus to his repertoire and it has quickly become his favorite event.
Shelton said throws coach Nona Young encouraged him to give the discus a try and he hopes to toss over 100 feet by the end of the season. Young, a 2017 CFHS grad, took 16th in the shot put at the 1A state championships as a senior and won the 1A District 1 title in the event. Majors said he is really excited to have her help this spring.
Shelton is also slowly inching closer to his goal of running his leg in the 4x400 in under a minute.
Bopp has always thought about joining the track team, and this year he finally decided to go all-in. He will compete in 100, 200, 4x200 and long jump.
When you watch Bopp fire out of the starting blocks, it's apparent he's a natural sprinter. But he's quickly learned the craft requires much more than speed.
"Half of it is strength, but the other half is all technique and how you start," he said.
Because Bopp has never taken part in a meet before, he doesn't have any marks he'll be shooting for this season. However, once he gets a couple events under his belt and sees what his competitors have to offer, he plans on setting some goals.
The opportunity to strengthen relationships with his friends played a major part in Bopp's willingness to compete on the team this spring.
Yetter is another sprinter that Majors is expecting big things from this season, along with the Barnetts. Sam is more of a distance runner, Majors said, while Hank does short to mid distance.
Majors is also optimistic about the future of the track program. His wife, Jennifer, coaches the junior high team and they currently have 17 kids.
With a significant number of those kids reaching Clark Fork High soon, and everyone on this year's team coming back in 2022, the seasons to come certainly look bright for the Wampus Cats.
"I think we're starting to build something pretty cool here," Majors said.
The Wampus Cats open the season Saturday at the Kootenai Invitational in Harrison, which will feature about a dozen teams from the area.
This week Clark Fork High is on spring break, so the Wampus Cats won't be heading into the meet with a week full of practice.
Before the break, Majors said he stressed the importance of not losing a step to his team.
"I've been twisting their arm to make sure they get outside and actually run a few times because we don't want to waste all that hard work that we've put in over the last month or so," he said. "Hopefully, they get out a couple times at least, stretch the legs and get a couple workouts in."
Majors said he is looking forward to this weekend.
"I'm just so pumped for these kids," he said. "Getting to see them in their element and see them be successful is really fulfilling for me."
---