Blasting to begin on Granite North project
by
KEITH KINNAIRD
News editor
|
April 9, 2021 1:00 AM
▶️ Listen to this article now.
SANDPOINT — Blasting is set to begin next week on a project to improve safety on U.S. Highway 95 at Granite Hill.
A test blast for the $36 million project is scheduled for Tuesday, according to Megan Jahns, District 1 spokeswoman for the Idaho Transportation Department.
Thereafter, the project could see a blast per day, resulting in delays of approximately 15 minutes so debris can be cleared from the construction zone at the north side of Granite Hill, said Jahns. Blasting will not occur during peak traffic times.
"It shouldn't be too impactful," Jahns said.
The project aims to improve safety by expanding the highway over Granite Hill, building frontage roads to consolidate access points to the highway and realigning the Trails End Road intersection, according to ITD.
Northbound and southbound left and right turn lanes will be added to the highway at the Trails End intersection. Street lighting will also be installed.
This season's work will focus on building a frontage road named Mineral Ridge on the east side of U.S. 95 and expanding the highway, ITD said.
The project will ultimately lead to the closure of highway intersections at Mara Meadows Road, Granite Loop, Old House and Homestead roads, in addition to North Williams Lane at the Bonner/Kootenai county line. Those routes will be spliced into frontage roads that will parallel both sides of the highway and tie into highway intersections at Highway 54 or Trails End Road. East Williams Lane will be left as is.
"It's really about directing people to the frontage roads," said Jahns.
Jahns said the frontage roads will result in slightly increased drive times for some motorists, although it will improve safety in the highway corridor.
The schedule for closing those intersections is still pending, although those details will be released when they are provided by the contractor, M.A. DeAtley Construction.
Drivers can generally expect two lanes of highway during most of the construction. In mid-July, motorists can anticipate a traffic revision which will take advantage of the newly built frontage road, Jahns said.
Additional highway expansion and construction a frontage road to the west — dubbed Vintage 95 — are expected to be complete in 2022.
Additional projects to improve the highway north of Granite Hill are planned but currently lack funding.
"There's still more work to be done in the corridor," said Jahns. "Everybody agrees on that."
Info: itdprojects.org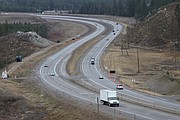 Keith Kinnaird can be reached at kkinnaird@bonnercountydailybee.com and followed on Twitter @KeithDailyBee.
---