Sandpoint native awarded prestigious Goldwater scholarship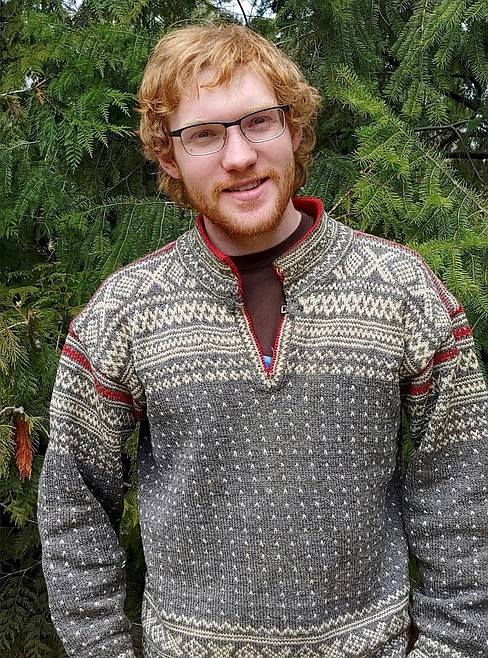 Courtesy UNIVERSITY OF IDAHO
by
RACHEL SUN
Staff Writer
|
April 11, 2021 1:00 AM
▶️ Listen to this article now.
MOSCOW — For the past year, Sandpoint native Peik Lund-Anderson has been working on research to help better understand COVID-19 spread, how to prevent future outbreaks, and potential treatments.
This month the University of Idaho undergraduate was honored with the Barry Goldwater Scholarship and Excellence in Education Foundation for his work in molecular biology and biotechnology at the school's College of Science.
Lund-Andersen, a junior, is one of two University of Idaho students honored with the Goldwater scholarship — the other being junior biological engineering student Nicholas Pancheri.
The two were among 400 recipients of the scholarship nationwide for the upcoming year. The scholarship is dedicated to sophomores and juniors in natural sciences, mathematics and computer science and engineering.
"The day I knew it was going to be announced, I'd ended up waking up way earlier than I intended to. And then I was, you know, working on some homework and some research trying to distract myself. But I just couldn't stop going to the Goldwater page and seeing if they posted anything yet," Lund-Anderson said. "The few minutes before they posted the winners I was sweating bullets, I was nervous. Finally, at like, 9 a.m., I refreshed the page. And they had their announcement announcing the winners. And so I clicked on that link, searched for my name, and I was in there. It was a great feeling."
After finding out he had received the scholarship, Lund-Anderson walked over to his mentor, research assistant professor Jagdish Patel's office, to tell him the good news. Then he went home and called his mom.
"I can't remember [what she said], but she was excited," he said.
In the next year, Lund-Anderson's scholarship will help fully fund his studies — and allow him to focus on his research with mentors Patel and professor Marty Ytreberg.
Along with Patel, Lund-Anderson is currently doing research to predict the susceptibility of animal species to COVID-19, and potential COVID-19 therapies.
The first project looks at how a protein on the surface of the virus that causes COVID-19, known as a spike protein, interacts with cells known as ACE2 receptors.
If the spike protein interacts favorably with the ACE2 receptors, it indicates the potential for infection, Ytreberg said.
That research is important for informing public health decisions in the future for two reasons, Ytreberg said. One is that it helps determine the risk for the people working with the livestock. On a broader scale, the research could help predict the potential for new variants.
"It could be passed around between the livestock, accumulating more mutations, which can then end up making it more dangerous if it was this come back to humans," Ytreberg said.
The research is extremely relevant, Patel said, because it allows researchers to identify and monitor animal "reservoirs" of the virus and potentially prevent future outbreaks.
"Failure to identify domestic, peridomestic, and wild animals that are susceptible to SARS-CoV-2 virus opens to the possibility that animals could prolong the current pandemic and cause future unexpected outbreaks in human and animal populations," PAtel wrote in an email. "Peik's research is significant because it will be a first step towards addressing this issue and will help make informed policy decisions on animal surveillance."
Another related project Lund-Andersen is working on aims to produce a COVID-19 therapy by binding peptides to the ACE2 receptor, thus blocking the interaction between the cell and the virus.
In total, Ytreberg said, he expects Lund-Anderson will have his name on at least three papers by the time he graduates next year. He usually expects an undergraduate might help with one.
"Peik will very likely be the lead author on one paper and then a secondary author on two other papers. So that's really outstanding. At the University of Idaho, I'd say that's exceptionally rare to be on that many papers as an undergrad," he said. "As far as my students, that would be a record."
One of the most noteworthy things about Lund-Anderson as a student, Patel said, is his initiative, creativity and productivity.
"I am especially taken by Peik's creative mind and independent work ethic. He regularly reads the literature independently and generates interesting hypotheses," Patel wrote. "Peik also has a remarkable problem-solving ability. During the pandemic, when many people became less productive, Peik became even more productive. He was very enthusiastic about doing what he could to help fight the pandemic."
Lund-Anderson has been working in the lab since 2019, he said. His original interest was studying protein engineering and enzymes that degrade plastics.
That was put on hold to study COVID-19, he said. However, he hopes to study protein engineering more in the future and enter a PhD program — hopefully, he said, at the University of Washington's Institute for Protein Design.
"I got really interested in the, you know, biochemical and molecular side of biology. But I still want it to design things. And I discovered this pretty new science called protein engineering. And it just has huge, huge potential," he said.
One example of that, he said, is that often chemical synthesis requires expensive metal catalysts and high heat.
"[With] an enzyme, you can catalyze the same reaction at room temperature," he said. "So that requires way less energy."
If anyone deserves the scholarship, Ytreberg said, it's Lund-Anderson.
"He's easily one of the best [students] I've ever had. is extremely productive, extremely bright," Ytreberg said. "We're really proud of him for winning a scholarship. It's well deserved. He's an exceptionally talented student in every regard."
Recent Headlines
---