Waterkeeper seeks volunteers to monitor water quality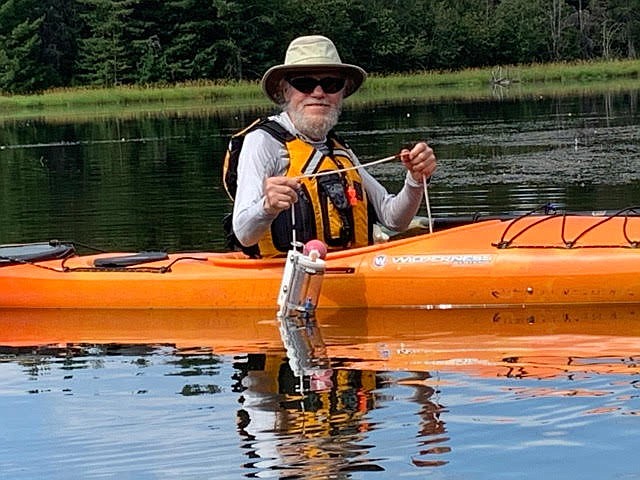 Volunteer citizen scientist Preston Andrews collects water quality data at Morton Slough in 2020.
Courtesy LAKE PEND OREILLE WATERKEEPERS
by
RACHEL SUN
Staff Writer
|
April 15, 2021 1:00 AM
Lake Pend Oreille Waterkeeper is seeking new volunteers for its water quality monitoring program.
The group has been monitoring 15 sites on the lake since 2012, including deepwater areas such as the Pend Oreille and Cocolalla river channels, and the Boyer and Morton sloughs, which serve important roles for wetlands.
That monitoring serves to provide a baseline for the lake's normal quality in terms of things like pollution, nutrient load and other water quality indicators, said Associate Director Carolyn Knaack. It also helps to identify outliers in that data that can indicate problems.
If problems arise, LPOW is able to notify the Idaho Department of Environmental Equality for closer observation and intervention.
To be eligible, volunteers must have access to their own boat and attend the hour-and-a-half-long training session held by LPOW.
"The main requirement is a way of getting out on the lake," said Gray Henderson, LPOW president. "Whether that be a canoe, a kayak, a yacht, whatever."
The program has allowed the group to identify problems including harmful algae blooms and, in one case, an increased nutrient load and related issues near a water treatment plant.
The sites are monitored spring through fall every year on the third Tuesday of every month. Each is evaluated for 11 different biological, chemical, and physical markers including water temperature, dissolved oxygen, pH, transparency, total nitrogen, nitrate+nitrite, total phosphorus, orthophosphate, total organic carbon and total coliform bacteria and E. coli.
"It's really open to anyone who's interested in learning more about how they can do their part to monitor our waterways," Knaack said. "It could be a family, it could be someone new to the area."
Volunteers come from all walks of life, Henderson said. What's important is the dedication to maintaining those waterways for swimming, fishing and drinking for future generations.
"For the most part, the volunteers recognize that it's their lake to recreate in and swim in," he said. "We as an organization want to maintain that, so we appreciate any volunteer work."
Volunteer training will be on April 20 at 5:30 p.m. and monitoring starts in May and goes until
September. For more information, contact LPOW at (208) 597-7188 or email them at
info@lakependoreillewaterkeeper.org.
Recent Headlines
---