New business to sell chocolates at Miller's Country Store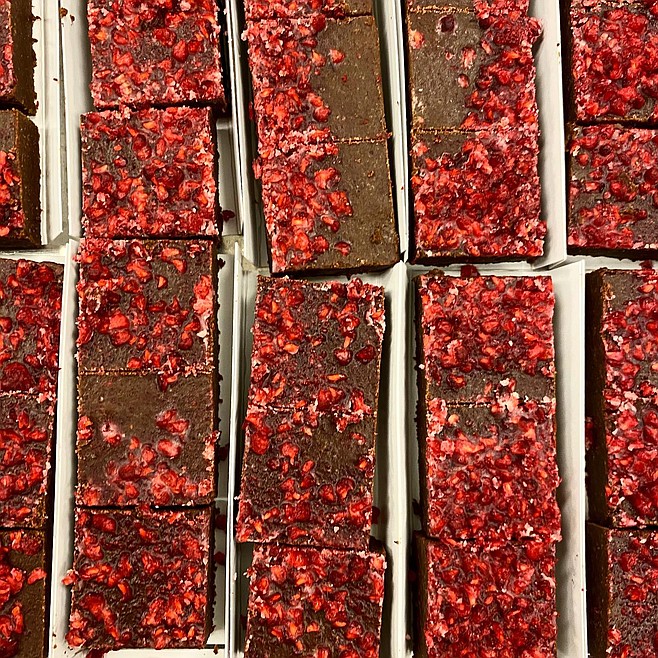 Raspberry cacao bites are shown being prepared for packaging.
Courtesy KELSI PETERSON
by
RACHEL SUN
Staff Writer
|
April 20, 2021 1:00 AM
A new business based in Idaho Falls will begin selling healthier chocolates at Miller's Country Store next week.
Kelsi's Kitchen, which makes "KK's cacao bites" refrigerated chocolates, will be debuting their peanut butter, raspberry and dark chocolate flavors Thursday.
The chocolate base is made with almonds, coconut oil, honey, cacao powder and pink Himalayan salt, said co-founder Casandra Hume.
The company was started a year and a half ago, and is run by Idaho Falls native Kelsi Petersen and Hume.
Petersen first started the company after traveling the country and training in raw food preparation to help her mother, who was suffering from health problems.
"Unfortunately, right when Kelsey got into her first store her mom was diagnosed with ALS," Hume said. "But she got to see some of our bites before she passed away. And because of that, we now donate 10% of our profits to ALS organizations."
More information is available at kelsiskitchen.com or their Facebook (@kelsiskitchen) and Instagram (kelsis__kitchen) pages.
---