Elmore, Quigley lead Spring Derby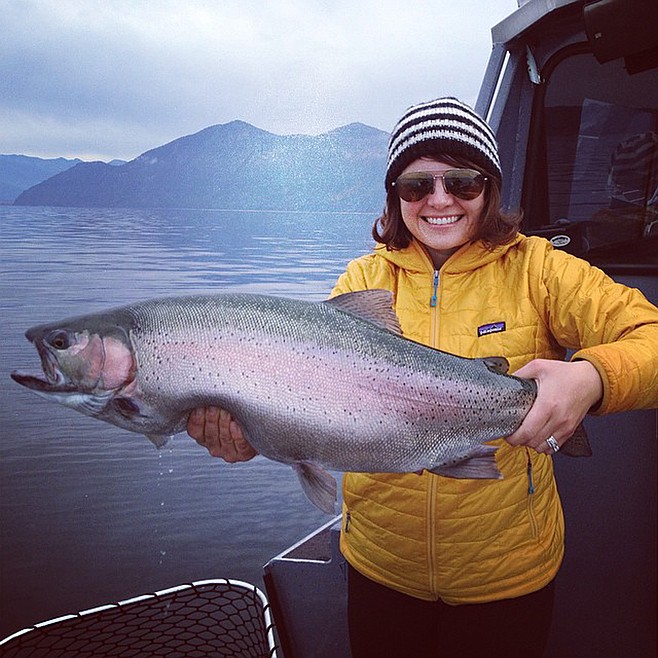 (Courtesy photo/FILE) Angler Camille Fuller displays a derby catch.
SANDPOINT — It was a wet start to Lake Pend Oreille Idaho Club's Spring Derby, but some nice fish have been pulled out of the lake, club officials said.
That trend has continued with some beauties being pulled in, with some of the fish released unharmed.
Opening day leaders were Susan Houk, who pulled in a 20-pound, 34.5-inch rainbow. On the Mackinaw side of the derby, Steve Wolfe pulled in a 14.96-pound, 36-inch Mack to take top honors on opening day. And in the youth divisions, Kole Kramer, 8, nabbed a 32-inch rainbow to lead the Youth B category on opening day.
On Day 2 of the Spring Derby, it was another great day on the lake with Pete Quigley pulling in a 25.30-pound, 35-inch rainbow to hook the top of the leaderboard in the division.
On Day 3, Kevin Elmore moved into first place in the adult mackinaw division with a 16.15-pound Mack and Mary Marienau caught a 22.5-pound rainbow to move into third place in the adult rainbow division.
In second in the adult rainbow division is Doug Sheldon, who caught a 23.5-pound, 36-inch rainbow on Day 2, followed by Marienau, Houk is in fourth, with Denya Spielman fifth with a 18.05-pound, 33 2/4-inch fish. Marineau Houk, and Spielman and all opted to release their fish.
On the Mackinaw side on Day 3, Elmore is followed by Steve Wolfe in second, and Donny Endicott, with 10.4-pound, 32-inch Mack for third, Gale Belgarde with a 10.2-pound, 31-inch fish for fourth, Marc Hull is fifth with a 9.86-pound, 29 1/2 inch Mack; Lisa Greene caught a 6.9-pound, 27-inch for sixth, Zac Taylor caught a 5.65-pound, 24-inch for seventh, David Lucus caught a 5.36-pound, 24-inch for eighth, Kurt Artner caught a 5.28-pound, 25-inch for ninth, and Dale Greene with a 5.16-pound, 24-inch for tenth place to finish off the leaderboard.
Ashlynn McCorkle is leading the Junior Division with an 11-pound, 29 3/4 inch fish.
In the Youth B Division, Kole Kramer continues to lead the way with a 32-inch rainbow caught on on opening day. In second is Owen Belgarde, 3, who caught a 29-inch rainbow for the honors; followed by Savanna Long, 7, who nabbed a 25 1/4-inch rainbow to claim third place in the division.
Ticket outlets for the 2021 derby can be found in a number of businesses from Sandpoint to Bayview as well as several in Coeur d'Alene. Those interested in joining the club and signing up for the derby can do both at these locations. Ticket outlets can be easily identified because they display the LPOIC derby poster at the front of the store.
Information: lpoic.org
2016 Lake Pend Oreille Idaho Club
Spring Derby
April 26 standings
Adult Rainbow Division
Pete Quigley, 25.30 pounds, 35 inches; 2. Doug Sheldon, 23.5, 36; 3. Mary Marienau, 22.5, 34 1/2 (released); 4. Susan Houk, 20, 34.5 (released); 5.Denya Spielman, 18.05, 33 3/4 (released).
Adult Mackinaw Division
Kevin Elmore, 16.15 pounds, 35 inches; 2. Steve Wolfe, 14.96, 36; 3. Donny Endicott, 10.4, 32; 4. Gale Belgarde, 10.2, 31; 5. Marc Hull, 9.86, 29 1/2; 6. Lisa Greene, 6.9, 27; 7. Zac Taylor, 5.65, 24; 8. David Lucus, 5.36, 24; 9. Kurt Artner, 5.28, 25; 10. Dale Greene, 5.16, 24.
Junior Division (14- to 17-year-olds)
Ashlynn McCorkle
Youth A Division (9- to 13-year-olds)
No fish caught yet.
Youth B Division (8 and younger)
Kole Kramer, 8, 32-inch rainbow; 2. Owen Belgarde, 3, 29-inch rainbow; 3. Savanna Long, 7, 25 1/4-inch rainbow.
Adult German Brown - Dale Greene, 0.93 pounds, 14 inches.
Winner of Frisky Jenny Challenge
April 25 — Doug Sheldon
Mackinaw of the Day
Apri 24 – Steve Wolfe
April 25 — Marc Hull
April 26 – Kevin Elmore
---