This kitten season, don't be a kit-napper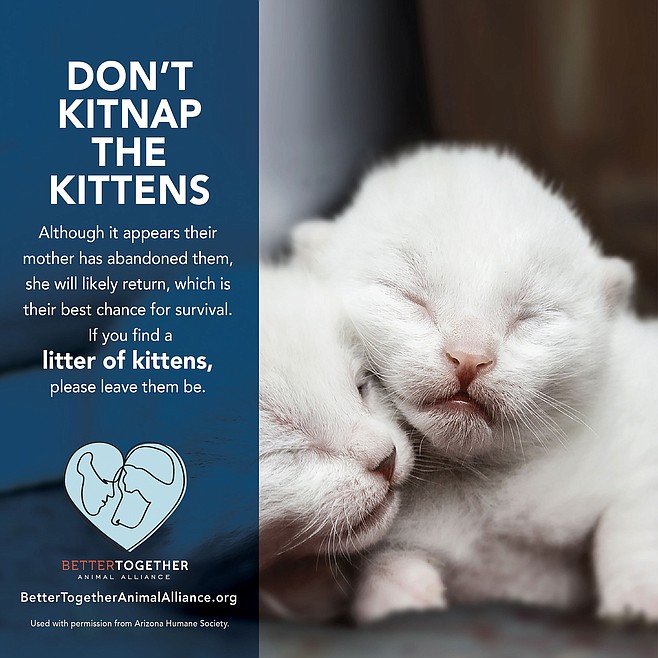 As we enter kitten season, the time of year when most cats are born, you might come across a litter of tiny, adorable felines outdoors and want to help. But in most cases, the best thing you can do is leave them where they are. Even if it appears the kittens are orphaned, their mother is probably just out hunting and will return.
(Courtesy illustration)
by
BETTER TOGETHER ANIMAL ALLIANCE
|
April 28, 2021 1:00 AM
Spring is here. This means longer days, flowers in bloom — and kittens.
As we enter kitten season, the time of year when most cats are born, you might come across a litter of tiny, adorable felines outdoors and want to help. But in most cases, the best thing you can do is leave them where they are. Even if it appears the kittens are orphaned, their mother is probably just out hunting and will return.

In other words: Don't kitnap the kittens!
The second you take healthy, unweaned kittens from their mom, you decrease their chances of survival. National animal welfare organizations, like Best Friends Animal Society, and countless local animal shelters across the country are spreading this message.
At Better Together Animal Alliance (BTAA), we've seen the damage that creating orphan kittens can cause. Kittens are one of the most fragile and vulnerable animal populations we serve.
No one can care for these little lives like their mom can. Neonatal kittens (those under about 4 weeks old) require constant care and need help to eat, clean themselves and even go to the bathroom. Imagine having multiple babies that need to be fed every few hours! Most animal shelters, including ours, don't have the staff, time or resources to support that. For this reason, we must send all our young kittens to foster homes, where dedicated caregivers raise them until they are old enough to be adopted.
Despite the wonderful care our fosters provide, kittens are still healthier when they stay with their mom. Orphaned kittens must eat kitten formula, which can upset their stomachs and doesn't have the antibodies that mom's milk gives them to fight disease.
Plus, whether they are in an animal shelter or foster home, kittens are more vulnerable to illnesses that can spread from other animals. The younger the kittens, the higher the chance that diseases can be fatal.
Finally, kittens separated from their mother too early may develop behavior issues. This isn't even mentioning the emotional distress for a mother cat to return and find her litter gone.
Here's what to do if you see a litter of kittens:
Determine if they are healthy and uninjured. Kittens with mom caring for them will be clean and dry. They will have full, rounded bellies. They should also be in a safe location with no immediate dangers, like cars.
Look for their mom. If mom is with them, great! As long as they are healthy and not in immediate danger, you don't need to intervene. Once they are older and weaned, they can be spayed/neutered and either returned outdoors as part of our trap-neuter-return (TNR) program or socialized and adopted.
Wait for their mom. If you don't see mom, leave the area completely and come back at least three hours later to see if she returns. Sprinkle flour on the ground nearby and look for her paw prints later. If you see paw prints, you will know the mom has been caring for the kittens.
Foster the kittens. If — and only if — mom doesn't come back after a few hours (or if the kittens are sick, injured, or in immediate danger), these fragile babies need someone to care for them.
Better Together Animal Alliance can give you resources to help raise kittens and find adopters for them when they are older. If you can't dedicate the time and attention that kittens need, bring them to us and we will place them in a foster home. But remember, foster homes are a last resort — don't be a kitnapper!
Find more details about what to do if you find kittens at bettertogetheranimalalliance.org or call us at 208-265-7297, ext. 100.
---