Sandpoint Lacrosse Club hosting Lax on the Lake this weekend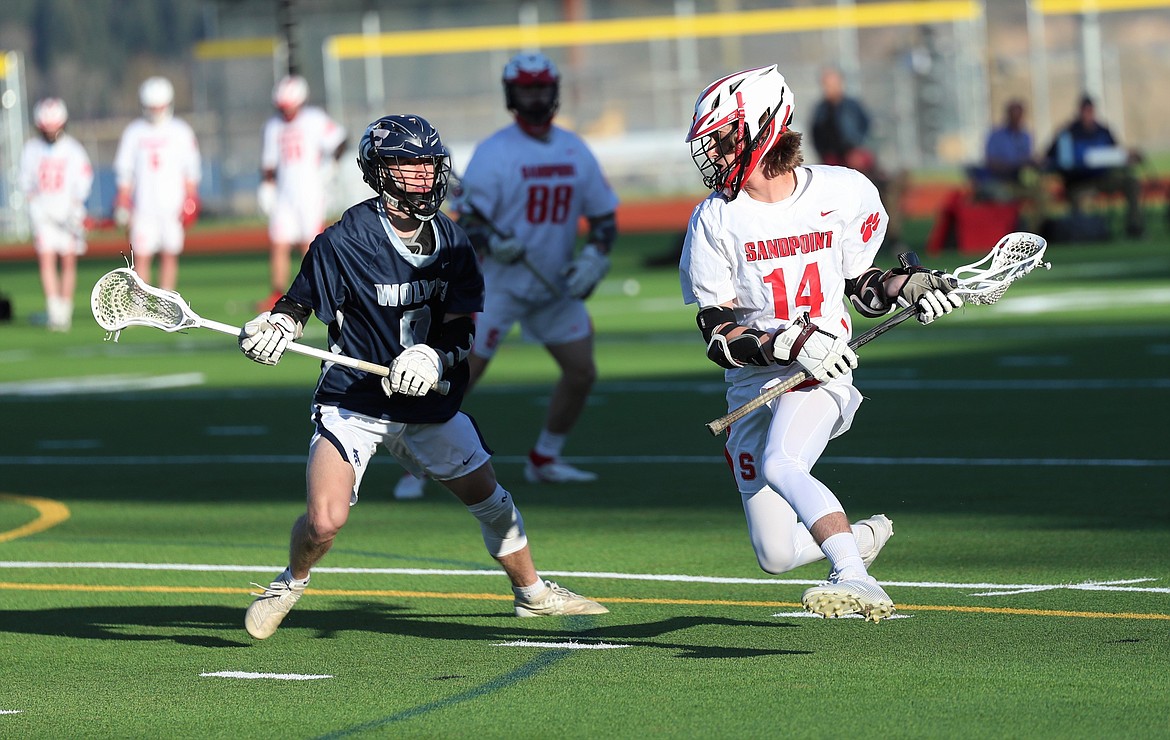 Joseph Aexel looks to make a move and attack the net during a game against Lake City on April 21 at War Memorial Field. In connection with the Lax on the Lake tournament this weekend, the Sandpoint boys and girls high school varsity teams will play a doubleheader at War Memorial Field on Saturday starting at 6 p.m.
(Photo by DYLAN GREENE)
SANDPOINT — Over 40 lacrosse teams from across the Pacific Northwest will be in town this weekend to participate in the Lax on the Lake tournament hosted by the Sandpoint Lacrosse Club.
A high school girls varsity game between Sandpoint and Missoula Wild at 6:30 p.m. Friday at War Memorial Field will kickoff the event.
The two-day tournament will run from Saturday to Sunday. Teams ranging from third to eighth grade will compete in the tourney and games will be played at War Memorial Field and the Travers/Centennial/Great Northern Sports Complex.
Sandpoint Lacrosse has hosted youth tournaments in the past under the name SanJam Jamboree. However, in 2017 and 2018 the tournament was canceled due to wet fields.
Well with the new artificial surface at War Memorial Field, that problem no longer exists and it has Sandpoint Lacrosse and the community excited about the revamped tournament and what's to come.
Nancy Dooley, Sandpoint Lacrosse Club board member and girls varsity coach, said the response from teams to participate in this year's event was overwhelming.
"The turf field is a real game changer and we are grateful for the vision of all the people who helped make the turf field a reality," she said. "Not only is it allowing clubs from all over the region to feel confident about signing up for our tournament — rain or shine — to compete in lacrosse games, but it has allowed our high school teams to get in some much needed practice time on lined, dry fields before their first games and to host home league games."
On Saturday night at War Memorial Field, a doubleheader will be played. The Sandpoint girls high school varsity team will battle the Spokane Big Cats at 6 p.m., followed by the Sandpoint boys taking on the Glacier Wolfpack at 7 p.m.
Admission to the doubleheader is free and all members of the community are invited to the event. Pizza and concessions will be sold and a 50/50 raffle will take place.
For more information on Lax on the Lake and the Sandpoint Lacrosse Club visit sandpointlacrosse.org.
---