SHS baseball secures walk-off win in series finale against Lewiston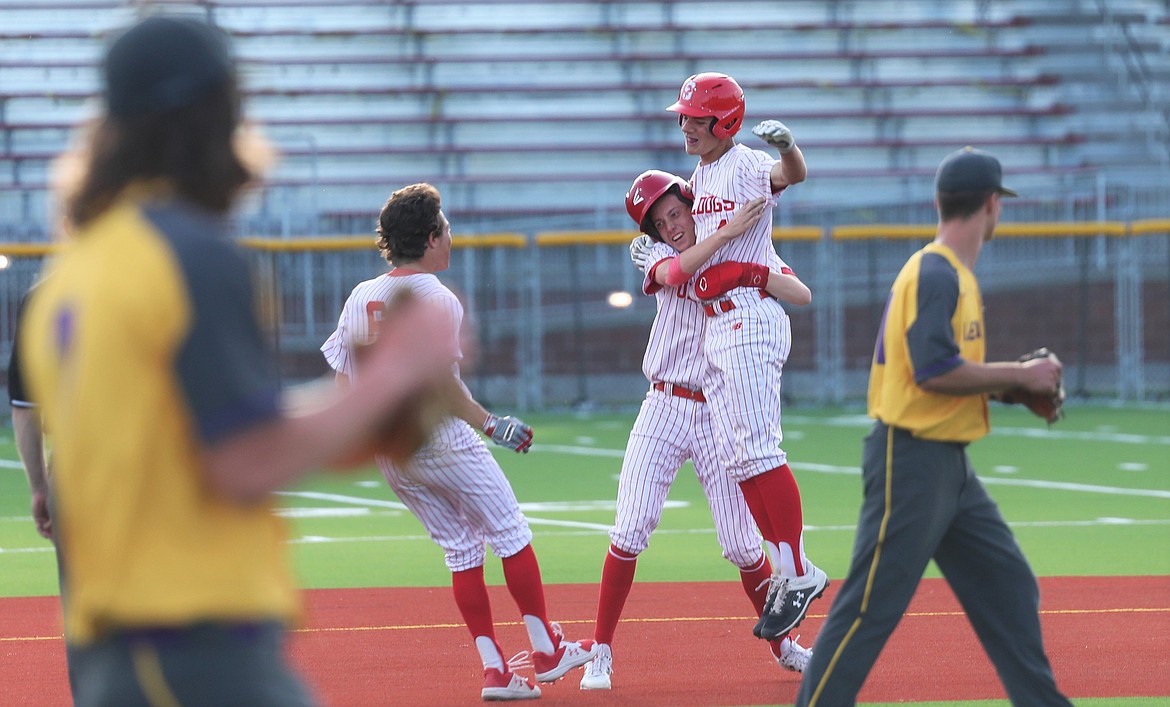 Max Thielbahr picks up teammate Avery Bocksch after Bocksch earns a walk-off hit in the second game of a doubleheader against Lewiston on Thursday at War Memorial Field.
(Photo by DYLAN GREENE)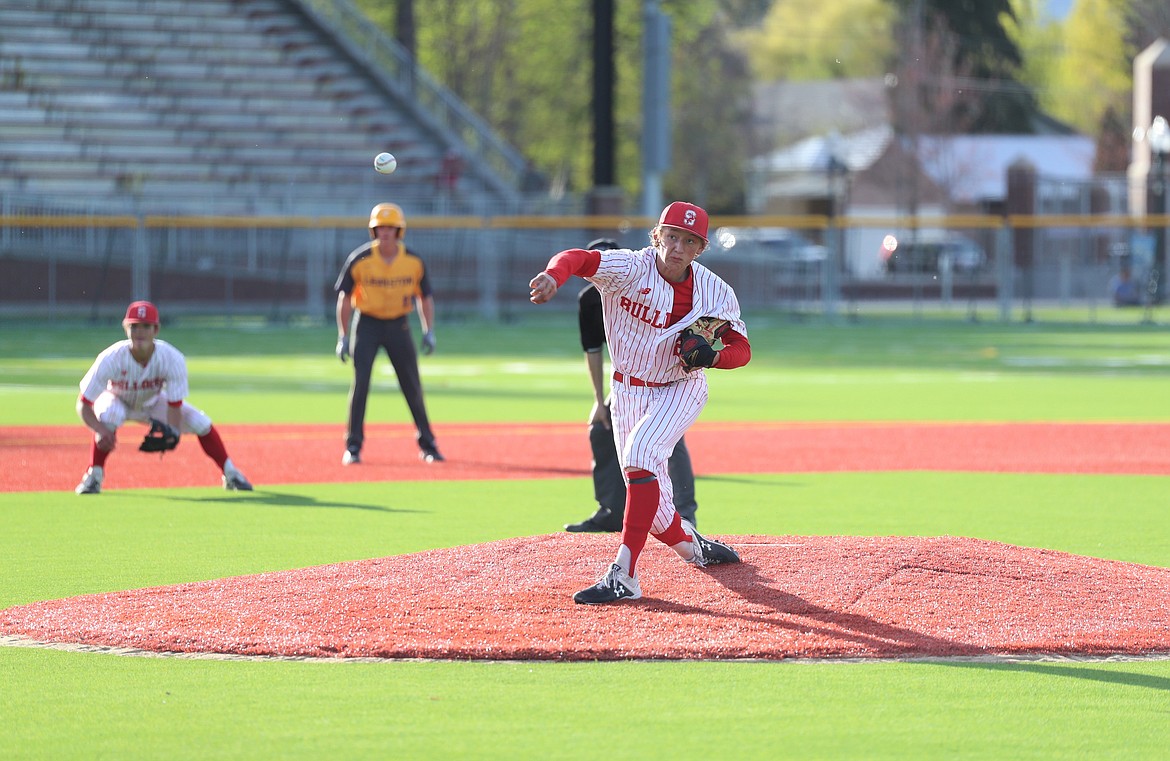 Zeke Roop pitches on Thursday.
(Photo by DYLAN GREENE)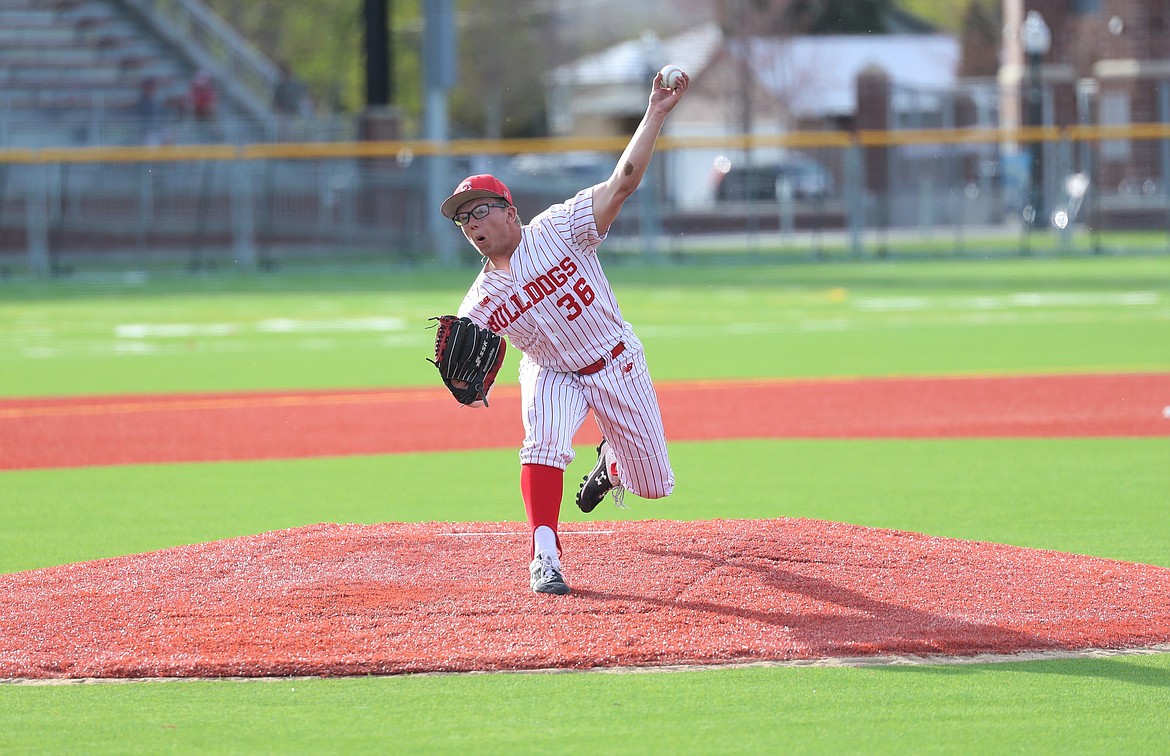 Blake Sherrill pitches on Thursday.
(Photo by DYLAN GREENE)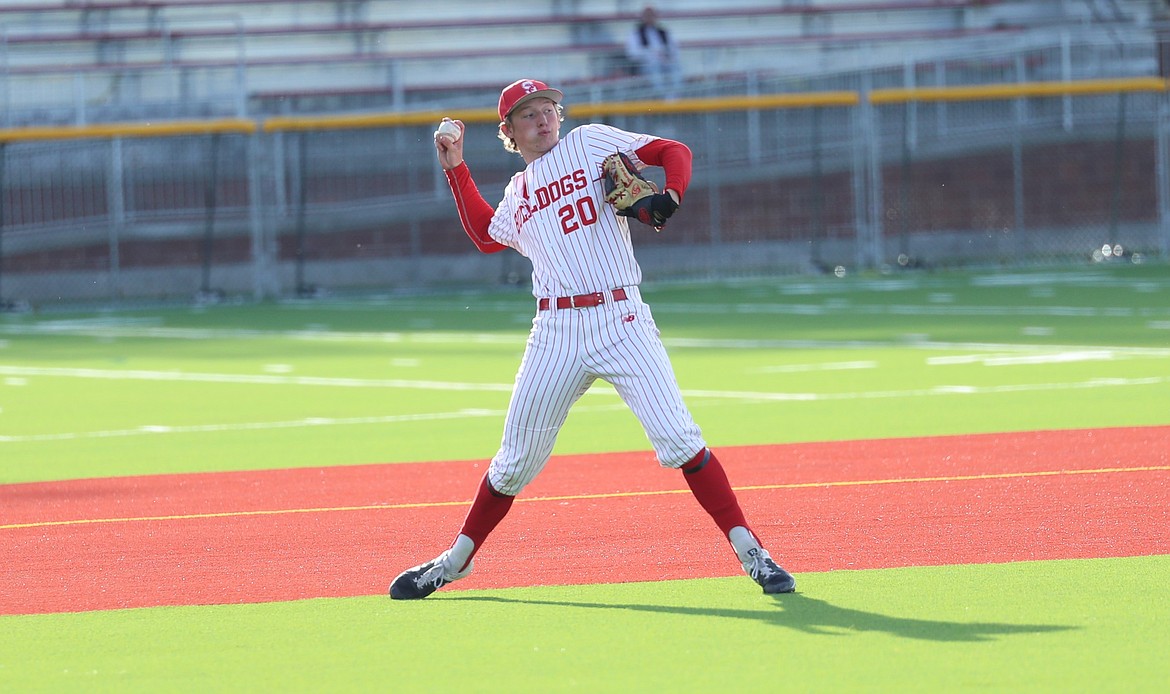 Zeke Roop throws to first on Thursday.
(Photo by DYLAN GREENE)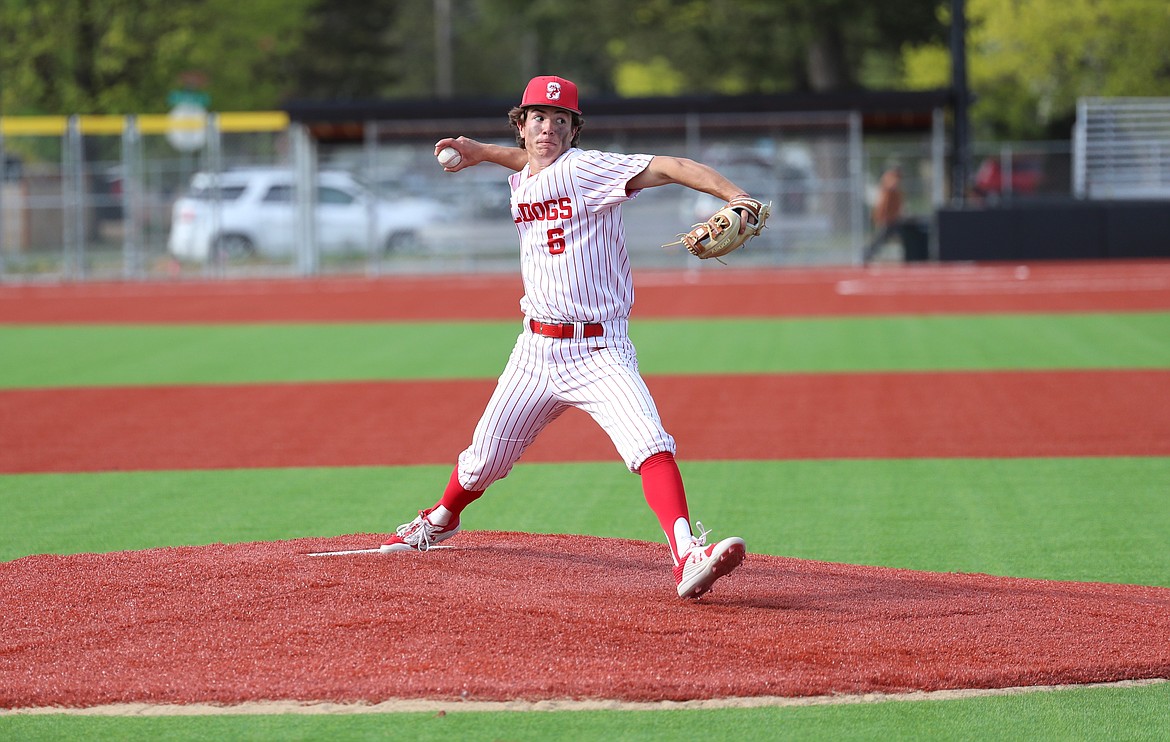 Auggie Lehman pitches on Thursday.
(Photo by DYLAN GREENE)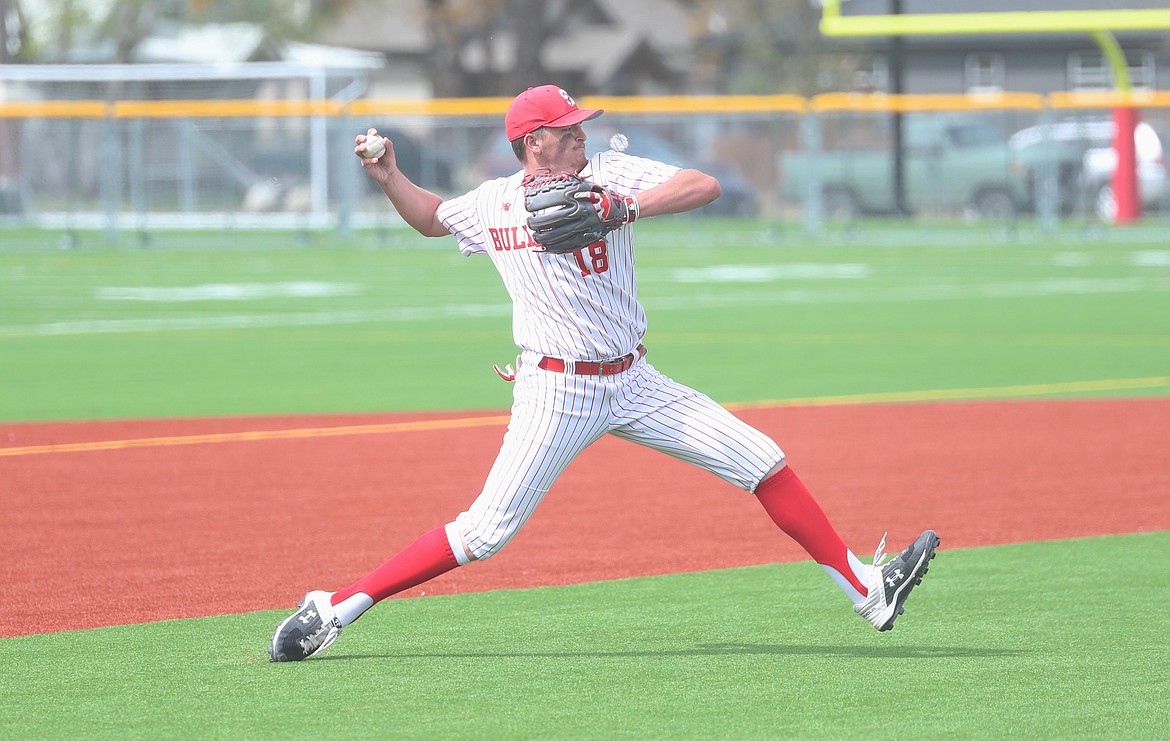 Evan Williams makes a throw to first base on Thursday.
(Photo by DYLAN GREENE)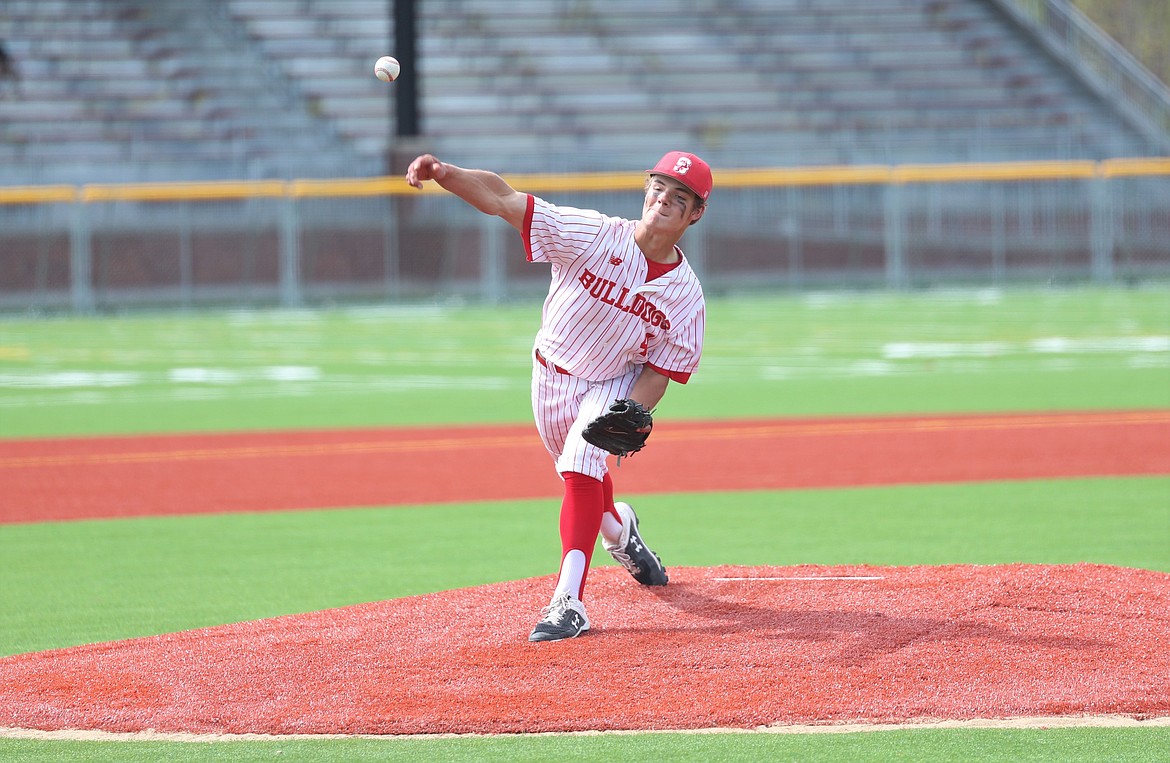 Avery Bocksch pitches during Thursday's doubleheader.
(Photo by DYLAN GREENE)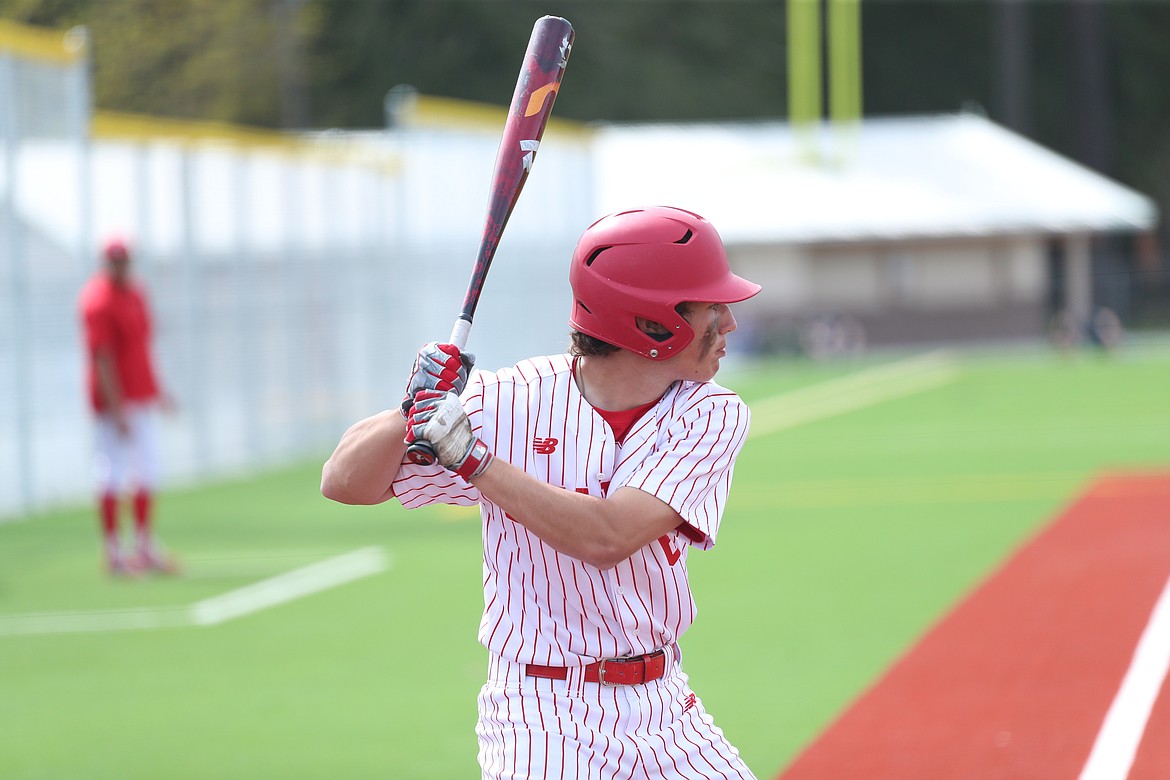 Auggie Lehman stares down a pitch on Thursday.
(Photo by DYLAN GREENE)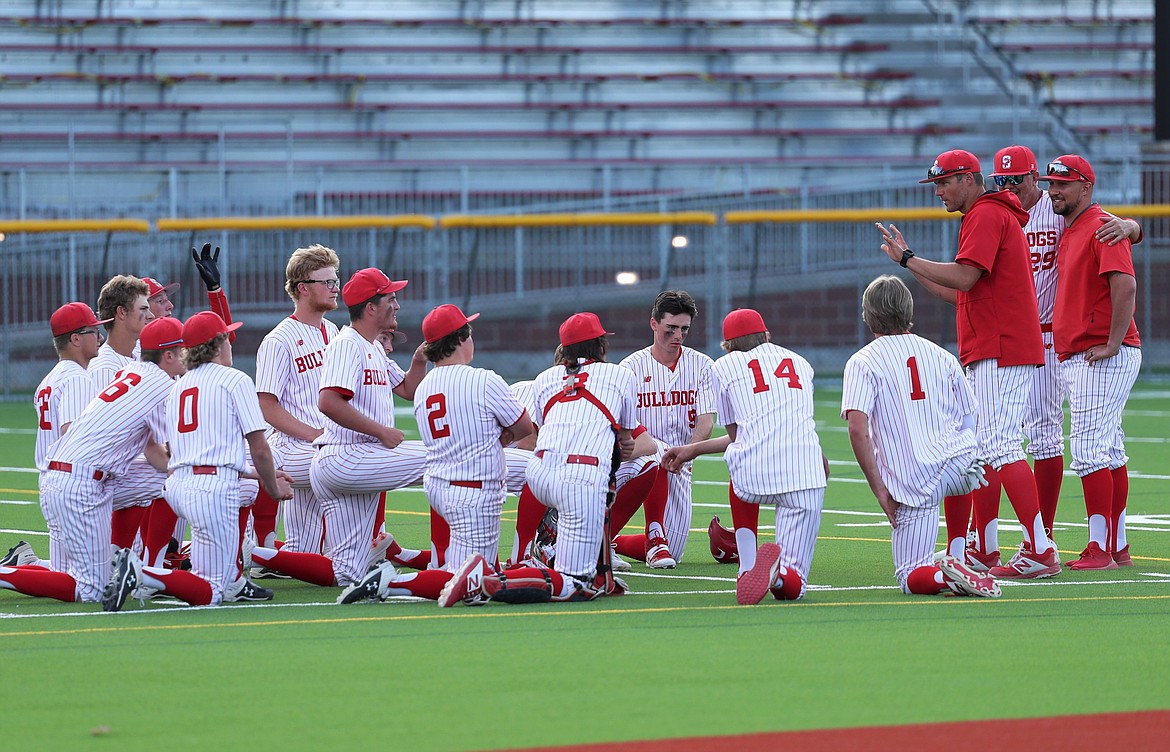 Head coach Chase Tigert talks to the team following Thursday's doubleheader against Lewiston.
(Photo by DYLAN GREENE)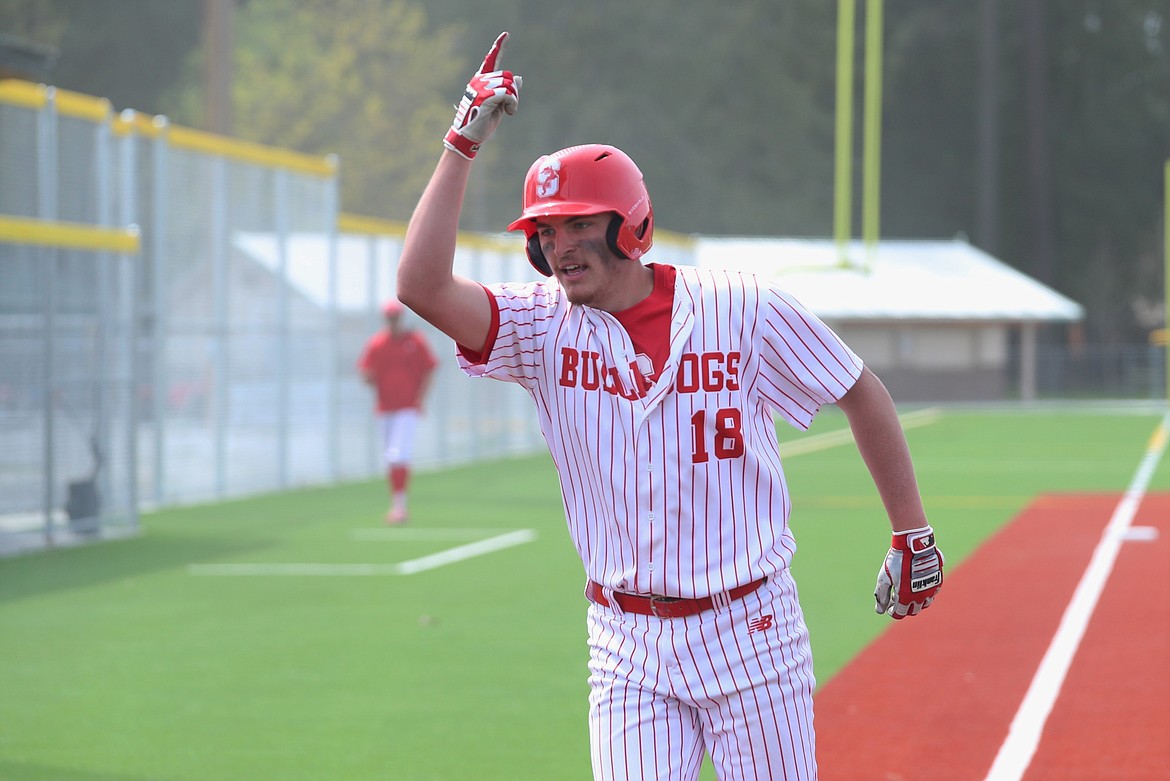 Senior Evan Williams crosses home plate after hitting a two-run homer in the second inning of the first game against Lewiston.
(Photo by DYLAN GREENE)
Previous
Next
by
DYLAN GREENE
Sports Editor
|
April 29, 2021 11:22 PM
SANDPOINT — With one out and the bases loaded in the bottom of the seventh inning, Avery Bocksch stepped to the plate hoping to push Sandpoint baseball to a comeback victory over Lewiston in a doubleheader finale on Thursday.
The game was tied at 9-9 and all the Bulldogs needed to win was a sacrifice fly or a base hit — and Bocksch delivered. He hit a ball to left field that dropped and scored Cameron Garcia to secure a 10-9 walk-off win and a series split with the Bengals.
It was the perfect way to end a thrilling back and forth doubleheader, and head coach Chase Tigert said the walk-off "felt so good."
"I'm thrilled for the kids," he said. "This game is a testament to all of the hard work that they've put in, and our practices are no joke, it's a grind ... and this is why we do it. I'm so proud of them. They fought, they battled and they were never out of it, and they continued to believe."
The Bulldogs stormed the field and mobbed Bocksch after his walk-off hit. Tigert said Bocksch is someone he trusts to come through in those pressure-packed situations.
"This is just a kid that has been grinding all year long," he said. "He got a walk-off hit against Lewiston, he's going to remember that forever."
To capture the victory, Sandpoint rallied back from a 6-0 deficit. The Bulldogs started cutting into the Bengals lead in the bottom of the fourth inning. Evan Williams hit a single that scored Bocksch and Ethan Butler and brought SHS within four runs.
The Bulldogs continued to chip away in the bottom of the fifth by scoring three runs. Butler drove in a pair of runs in the inning and SHS trailed 6-5.
But the Bengals responded with three runs in the top of the sixth to stretch their advantage to 9-5.
However, in the face of adversity, Sandpoint answered once again. Cody Newhart hit an RBI triple, and Max Thielbahr, Auggie Lehman and Butler grabbed RBI singles to tie the game at 9-9 in the bottom of the sixth.
Zeke Roop pitched a shutout in the top of the seventh to give SHS a chance at a walk-off win.
Butler went 3 for 3 with three RBIs in the second game.
In the first game, the Bulldogs also fell behind early with the Bengals building a 4-0 lead in the top of the second.
Williams cut into the deficit in the bottom of the inning with a two-run homer, Lewiston stretched its advantage to 7-3 after four innings.
The Bulldogs continued to show plenty of resiliency, scoring three runs in the bottom of the sixth. Unfortunately, SHS was unable to complete the comeback, falling 8-6 to the Bengals.
Williams and Bocksch both recorded three hits in the game and Thielbahr drove in three runs.
Thielbahr also came on and relieved Bocksch on the mound in the fifth inning. He only allowed three hits and one run over three innings while striking out three.
Throughout both games Thursday, the Bulldogs were never bothered by the score and battled every at-bat. Tigert said that's the mentality he expects from his team.
"We never gave up," he said. "We just continued to fight and we've been preaching all year the most important pitch is the next pitch and I feel like they're buying into it."
In the doubleheader, Sandpoint tallied 24 hits against some of the best pitching they've seen all season. Tigert said the Bulldogs are really starting to turn the corner at the plate.
"I wouldn't say we're fully there yet but this was our best showing all year," Tigert said about the hitting. "I tip my cap to Lewiston, those were good arms all day long. They didn't throw anyone at us that wasn't quality."
Tigert said it took a team effort to earn an Inland Empire League split with the Bengals.
"We executed and did everything we needed to do," he said.
Sandpoint (14-4, 7-4 IEL) heads to Coeur d'Alene at noon Saturday.
FIRST GAME
Lewiston 222 101 0 — 8 13 1
Sandpoint 020 103 0 — 6 10 2
Killian Fox, Christopher Ricard (7) and Austin Kolb; Avery Bocksch, Max Thielbahr (5) and Trevor Brackett.
HITS: L — Kolb 3, Ricard 2, Fox 2, Shoults 2, Taylor, Hepburn, Massey, Lombard. SHS — Bocksch 3, Williams 3, Thielbahr, Lehman, MacDonald, Garcia. 2B — Massey, Taylor, Hepburn, Bocksch, Williams. 3B — Ricard, Thielbahr. HR — Ricard, Williams.
SECOND GAME
Lewiston 302 103 0 — 9 10 3
Sandpoint 000 234 1 — 10 11 1
Cruz Hepburn, Elliott Taylor (5), Christopher Ricard (6) and Austin Kolb; Auggie Lehman, Blake Sherrill (4), Zeke Roop (6) and Trevor Brackett.
HITS: L — Hepburn 3, Shoults 2, Fox, Ricard, Kolb, Edmison, Lombard. SHS — Butler 3, Bocksch 2, Newhart, Thielbahr 2, Lehman, Williams, Garcia. 2B — Kolb, 3B — Newhart.
---