Community embraces return of the Long Bridge Swim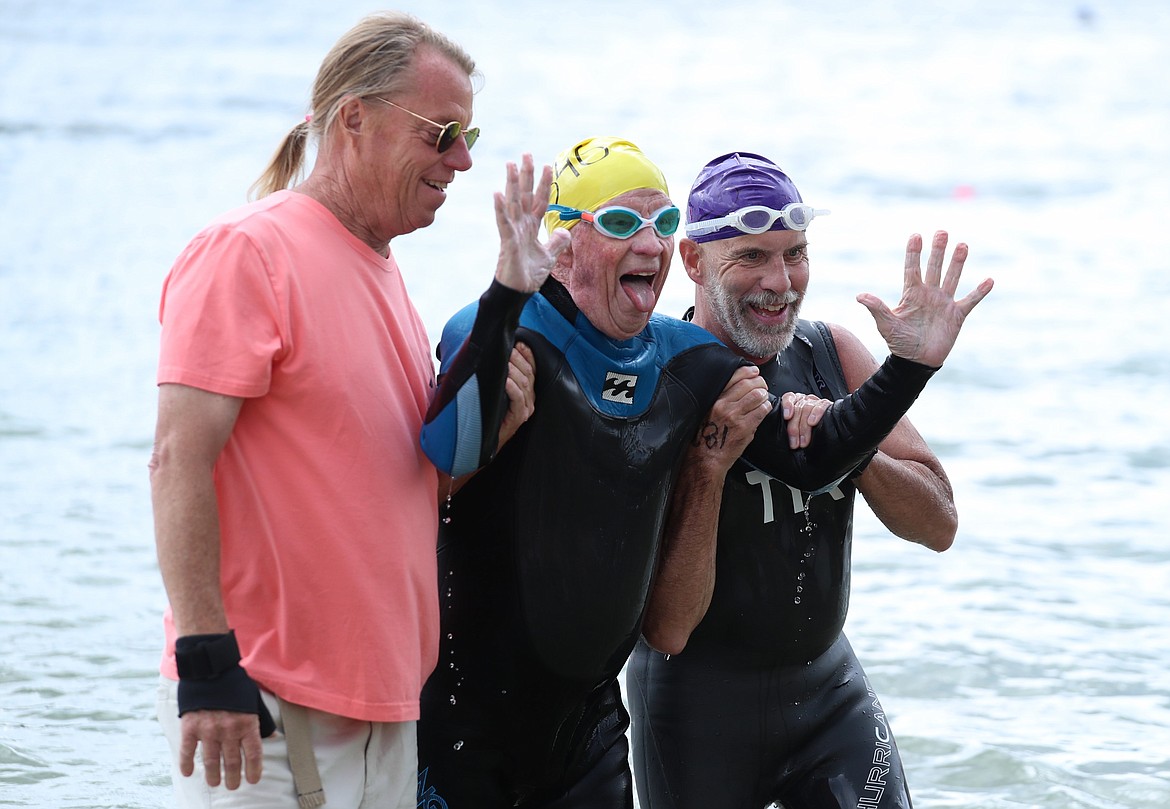 92-year-old Charles "Chuck" Milton (center) celebrates as his son, Charles Jr. (left), and Jim Zuberbuhler, race director, help him out of the water to cross the finish of the 26th annual Long Bridge Swim. Milton is the oldest person to complete the race. The 27th annual race takes places this Saturday, Aug. 6.
(File Photo/DYLAN GREENE)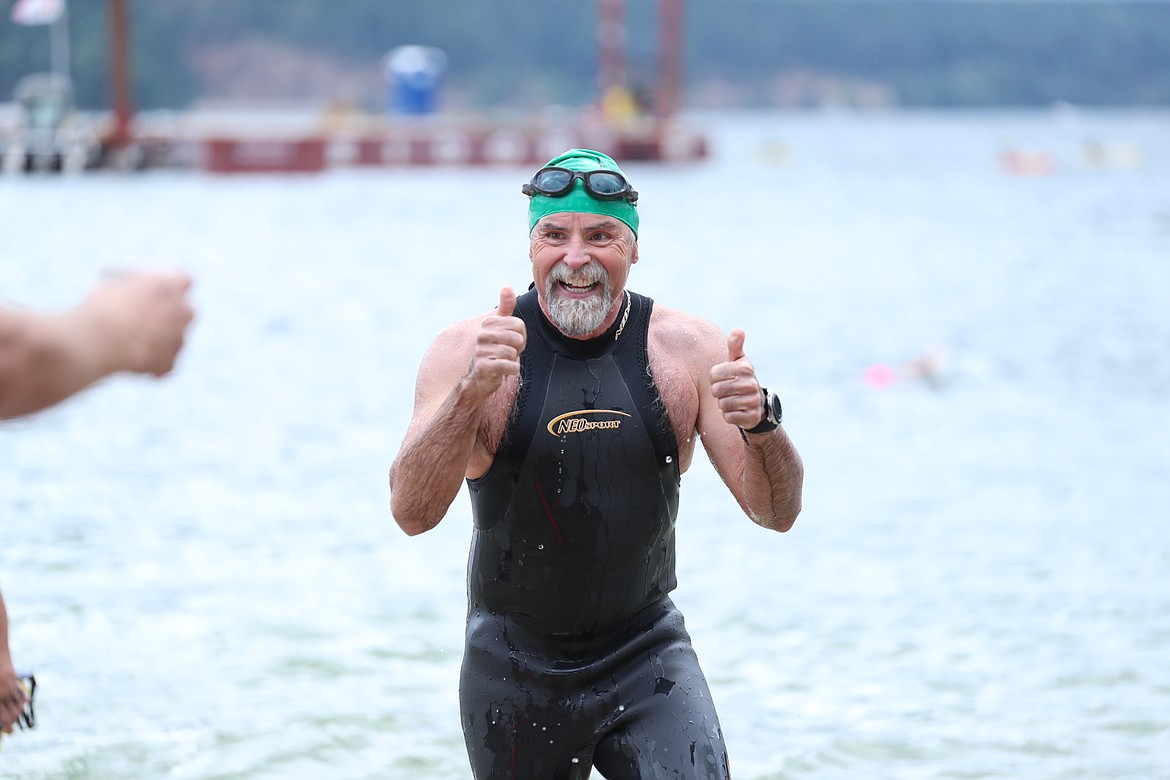 A swimmer celebrates as he crosses the finish line on Saturday.
(Photo by DYLAN GREENE)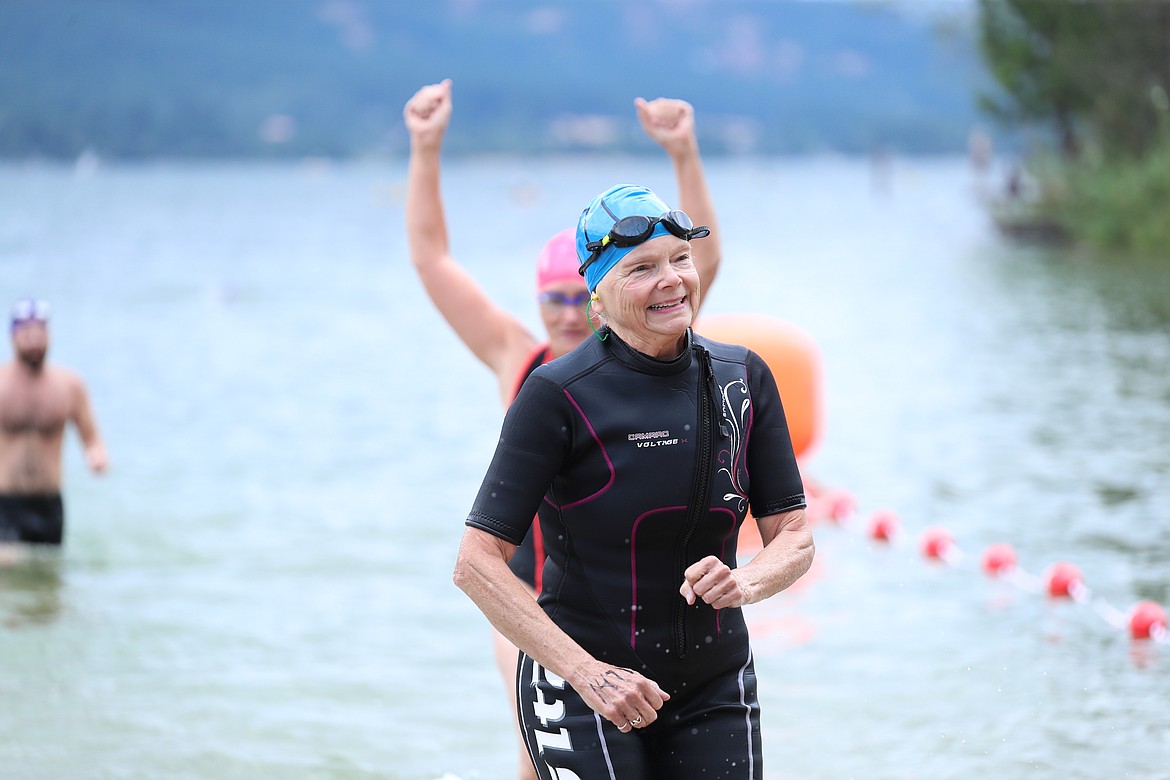 Jean Fisher crosses the finish line on Saturday.
(Photo by DYLAN GREENE)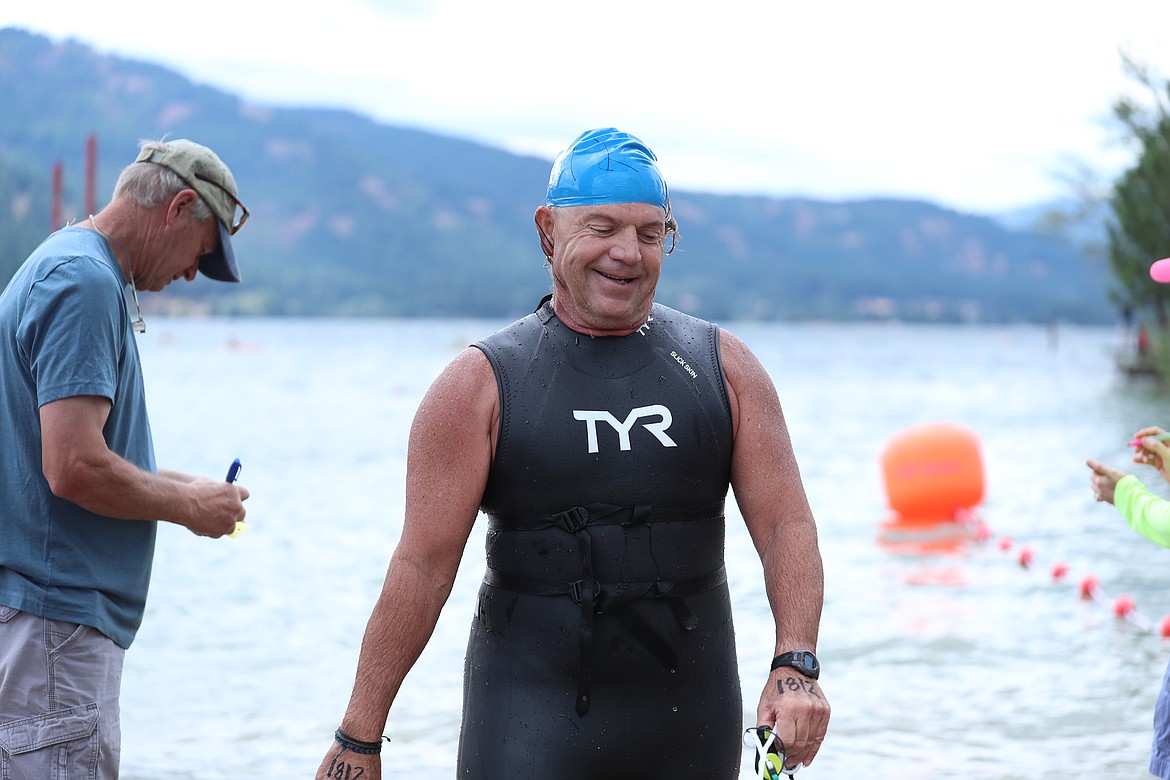 The shark (Kim Woodruff) crosses the finish line on Saturday.
(Photo by DYLAN GREENE)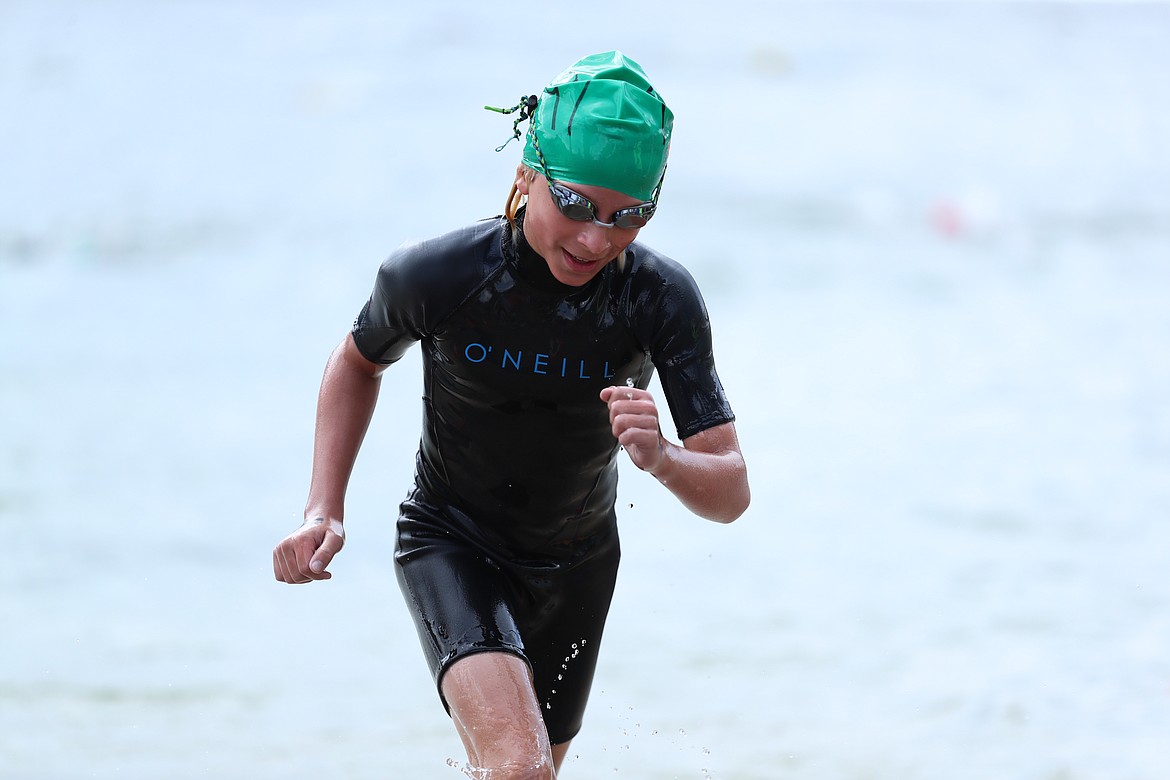 A youngster nears the finish on Saturday.
(Photo by DYLAN GREENE)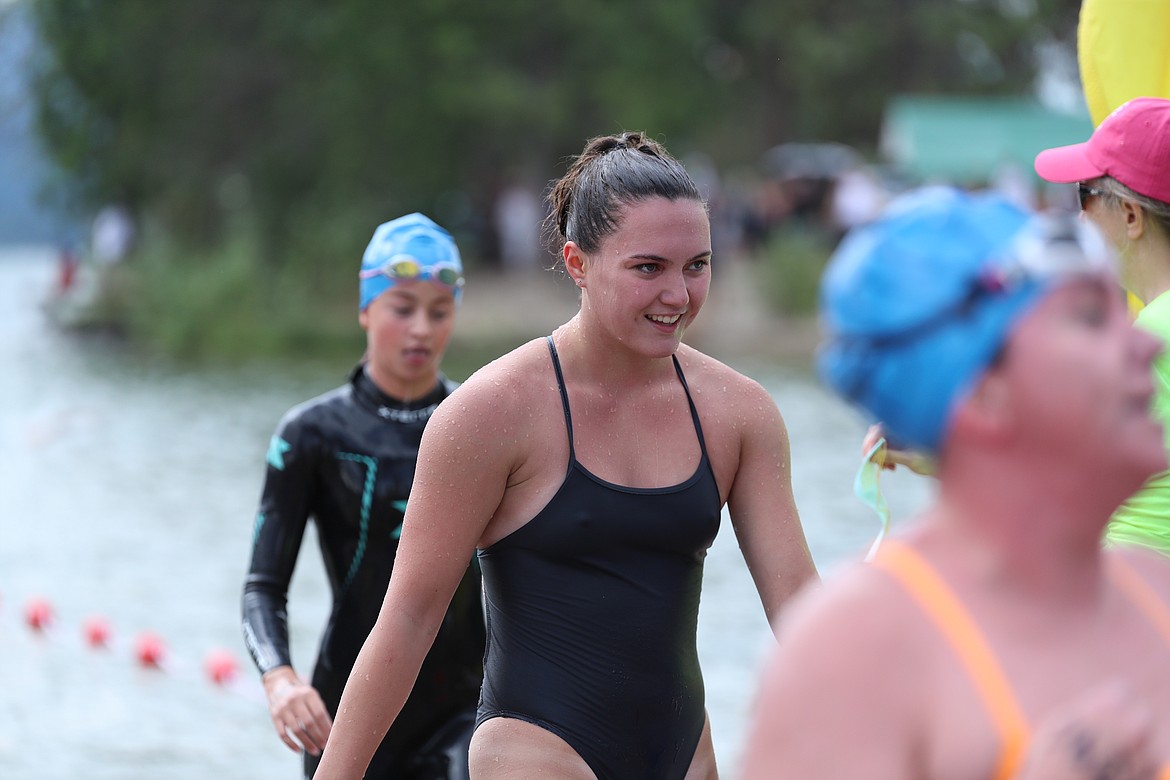 Kate Bokowy crosses the finish line on Saturday.
(Photo by DYLAN GREENE)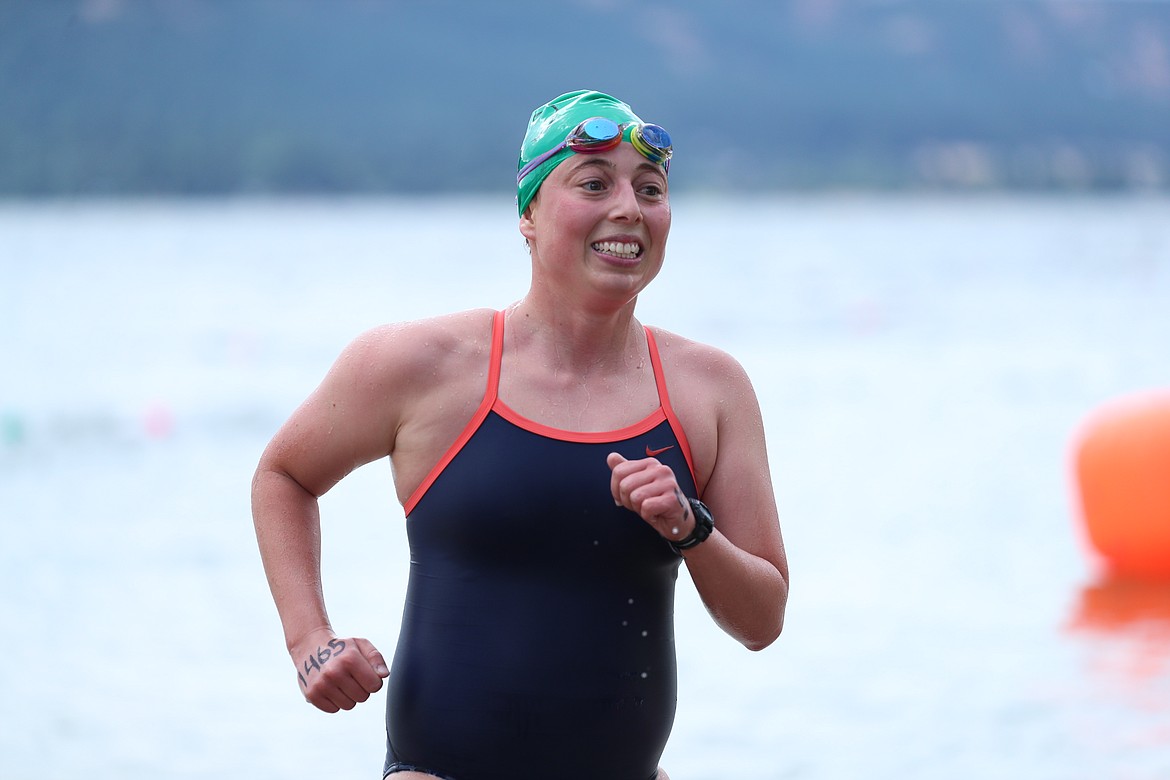 Mary Everett smiles as she crosses the line on Saturday.
(Photo by DYLAN GREENE)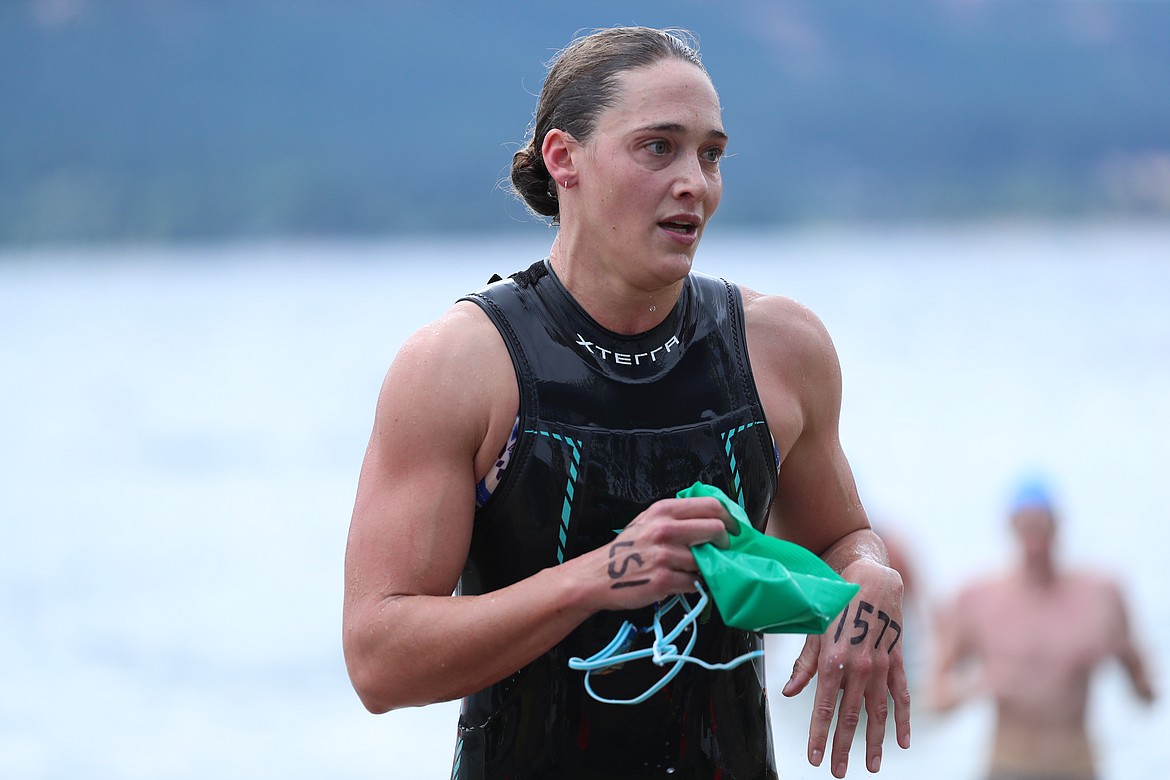 Lana Lawrence crosses the finish line on Saturday.
(Photo by DYLAN GREENE)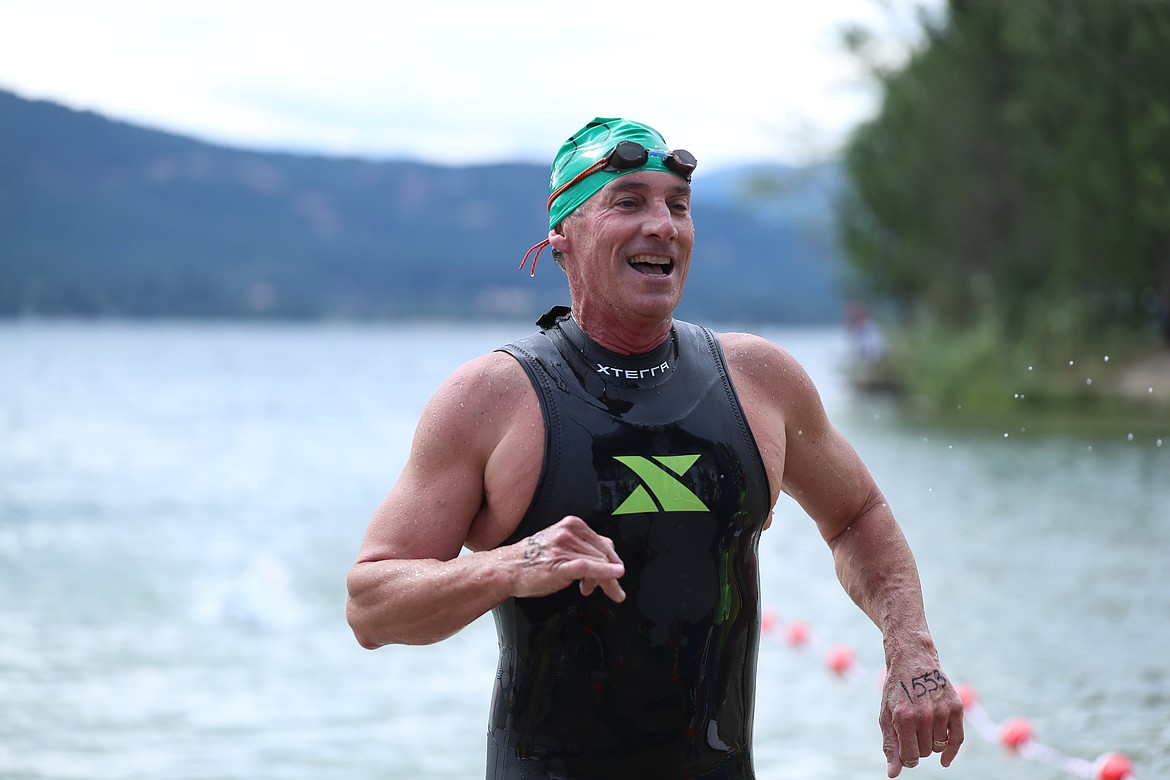 Frank Jester crosses the finish line on Saturday.
(Photo by DYLAN GREENE)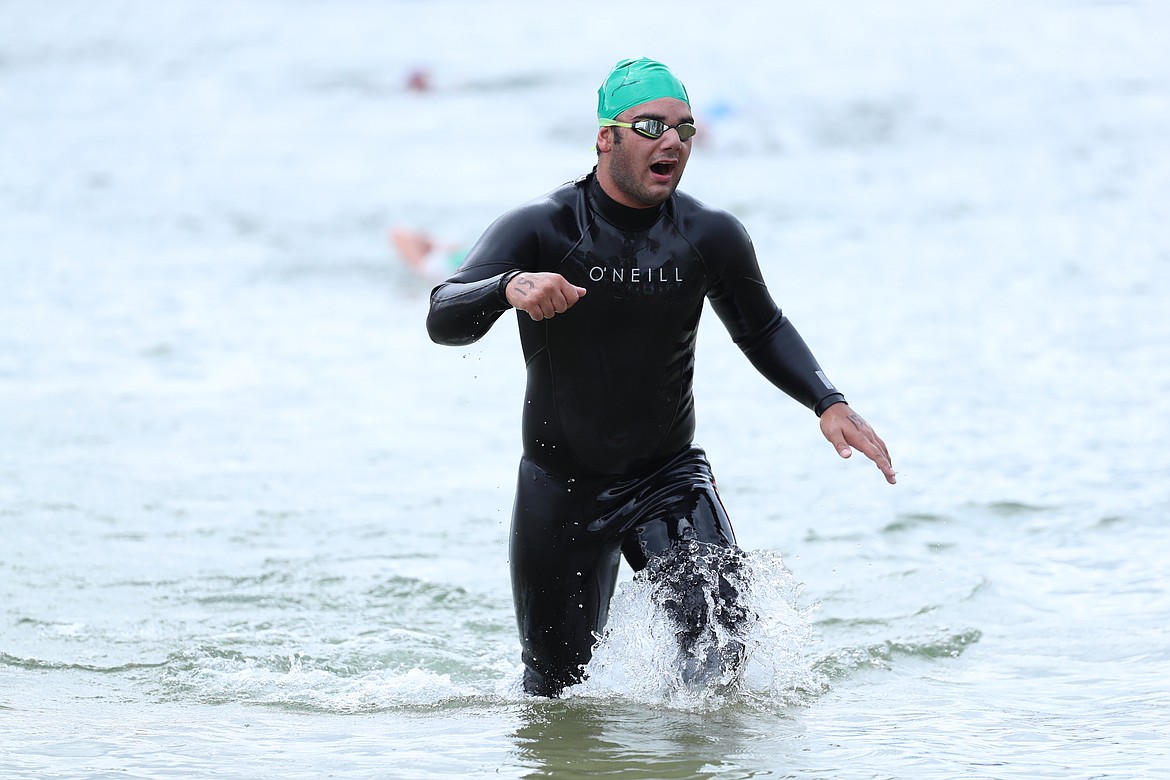 Jarron Kremin nears the finish on Saturday.
(Photo by DYLAN GREENE)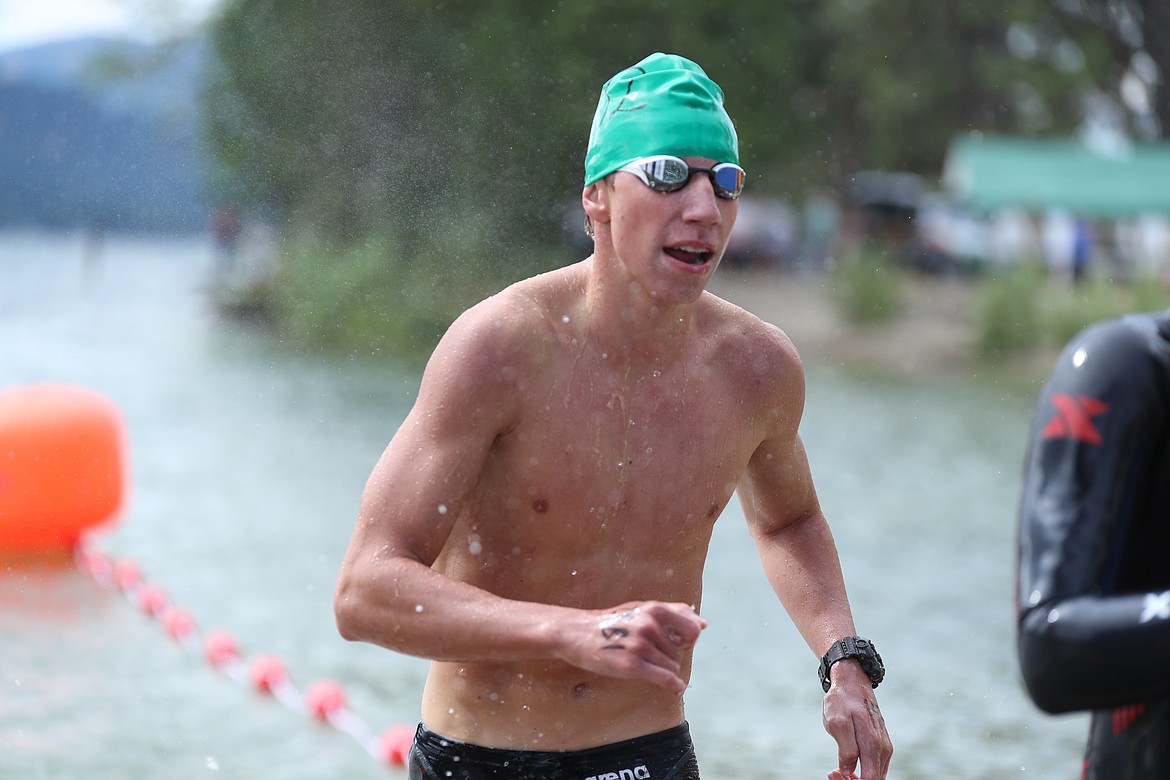 Hayden Leavitt crosses the finish line on Saturday.
(Photo by DYLAN GREENE)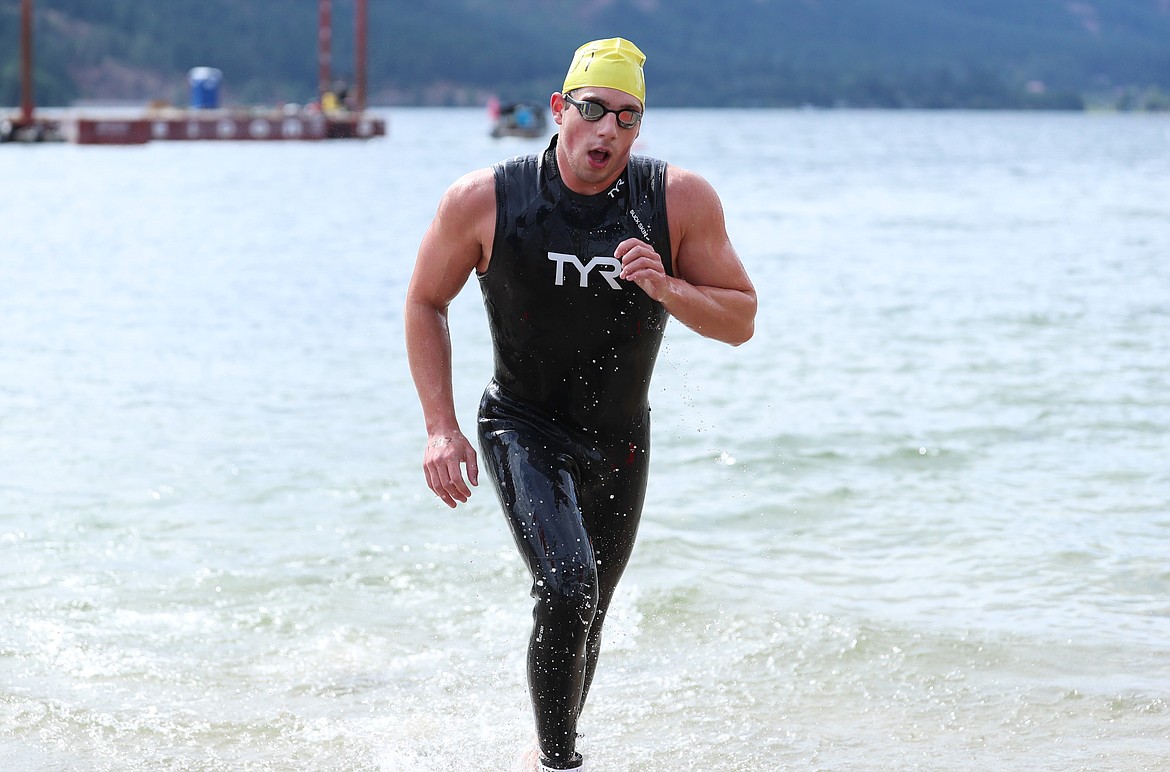 Logan Robillard gets out of the water and heads toward a first place finish on Saturday.
(Photo by DYLAN GREENE)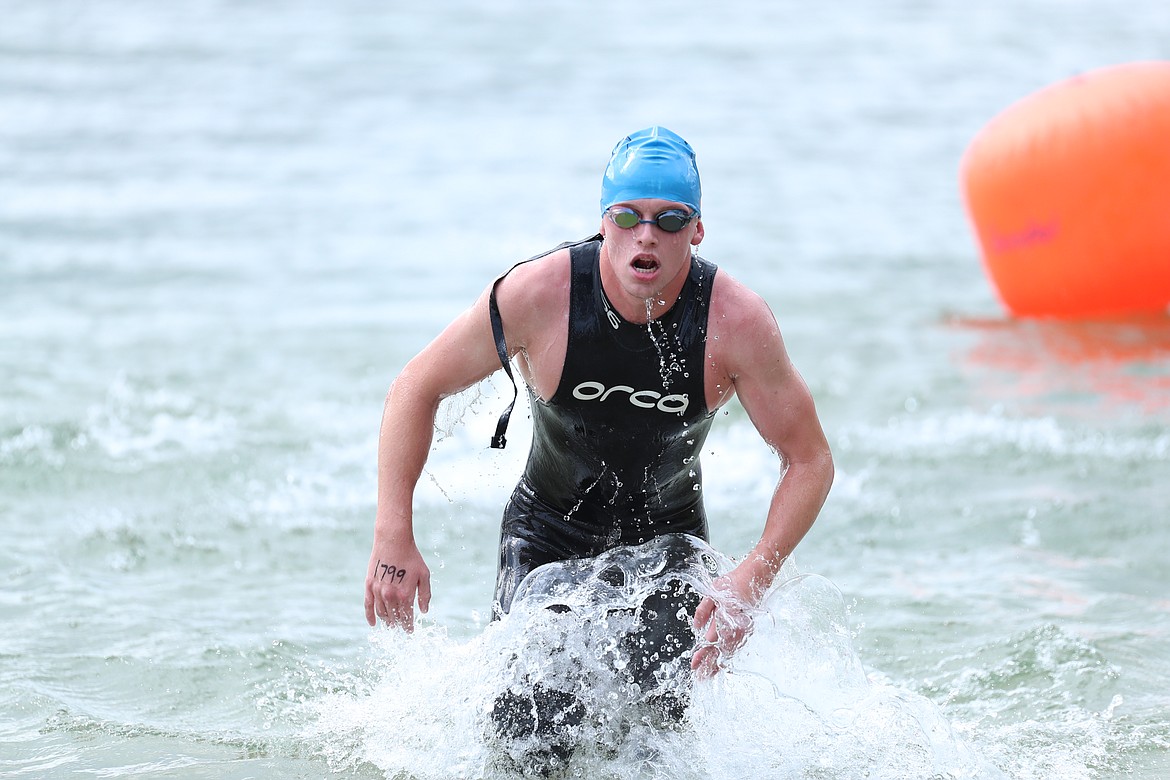 Tristan Whiting nears the finish on Saturday.
(Photo by DYLAN GREENE)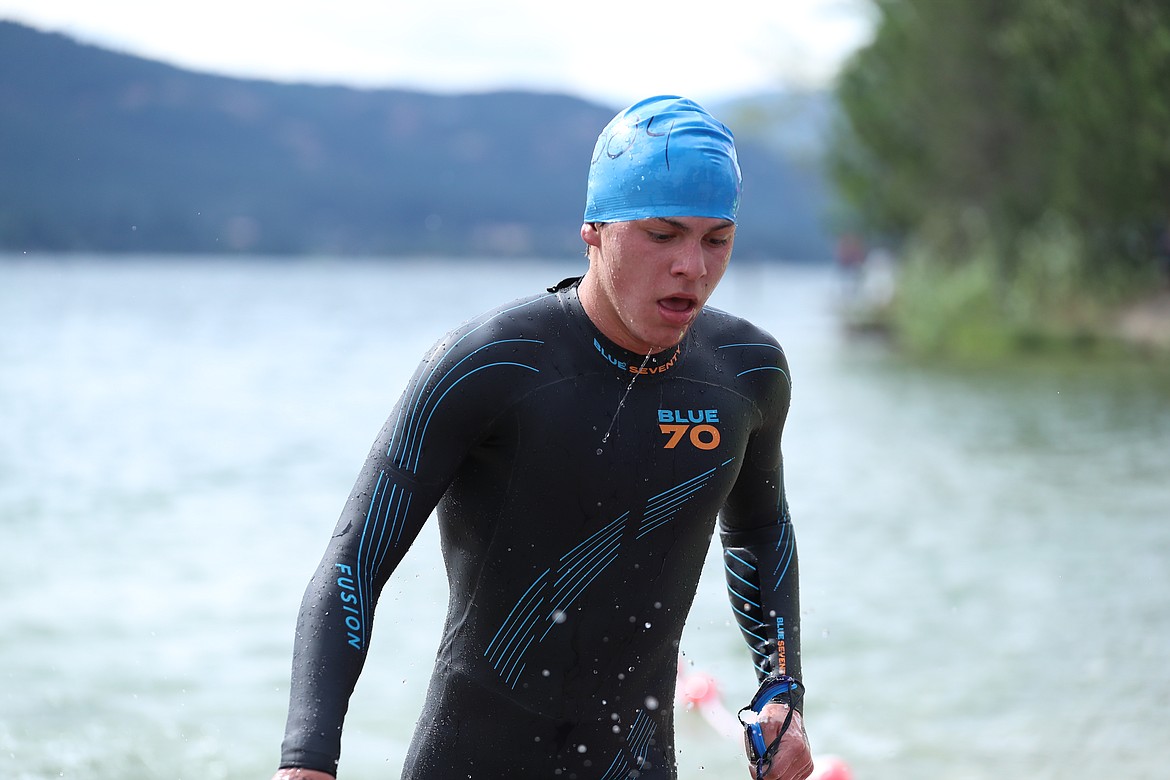 Matthew Mantz crosses the finish line on Saturday.
(Photo by DYLAN GREENE)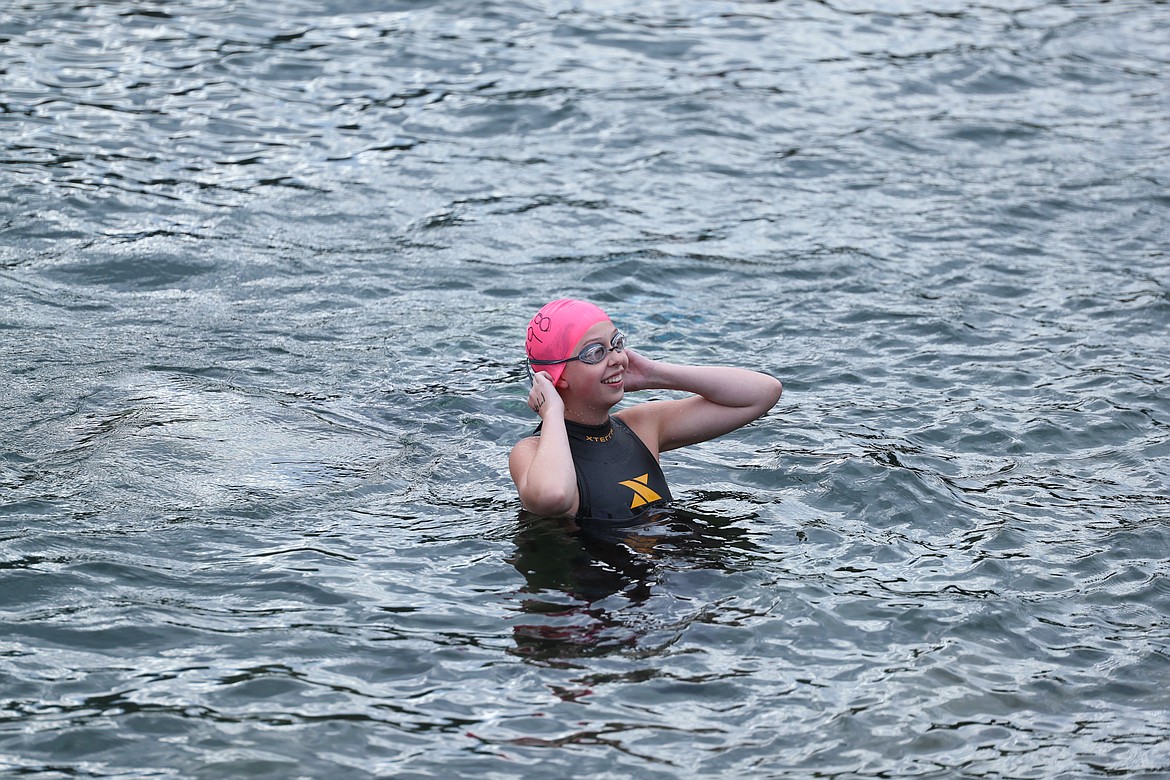 Abbey Whiting prepares for the start of Saturday's Long Bridge Swim.
(Photo by DYLAN GREENE)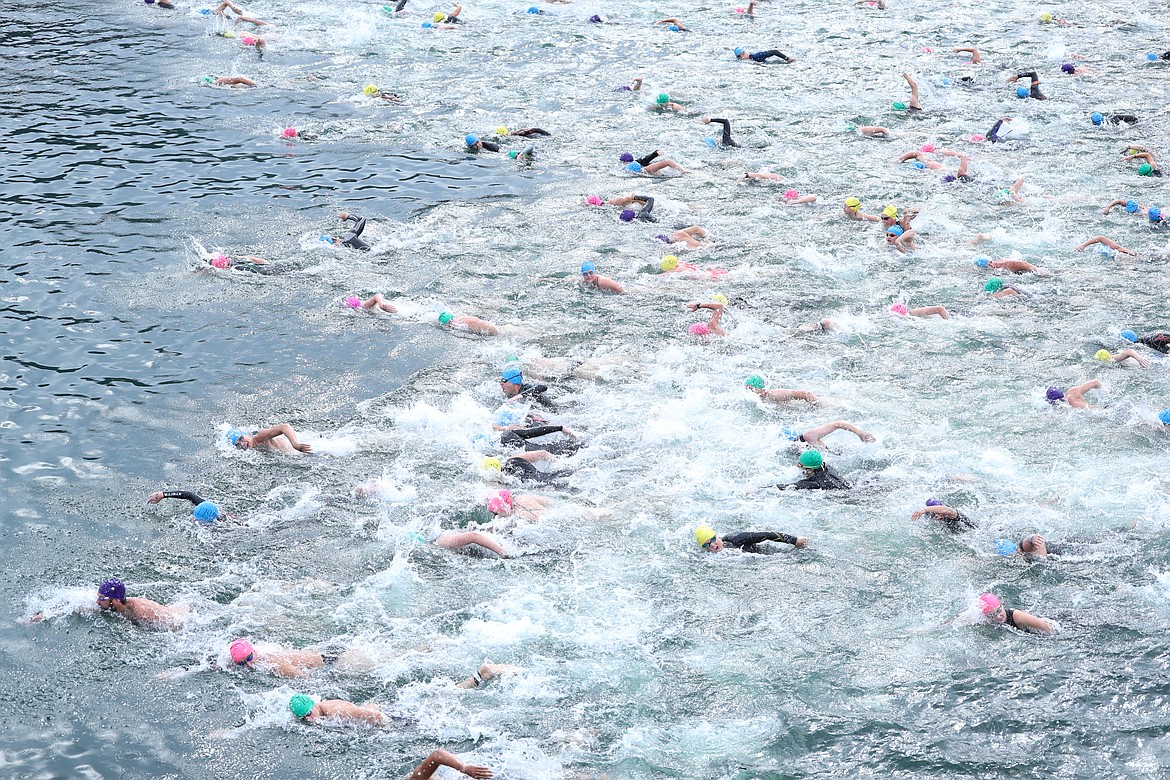 Swimmers start the 26th annual Long Bridge Swim on Saturday.
(Photo by DYLAN GREENE)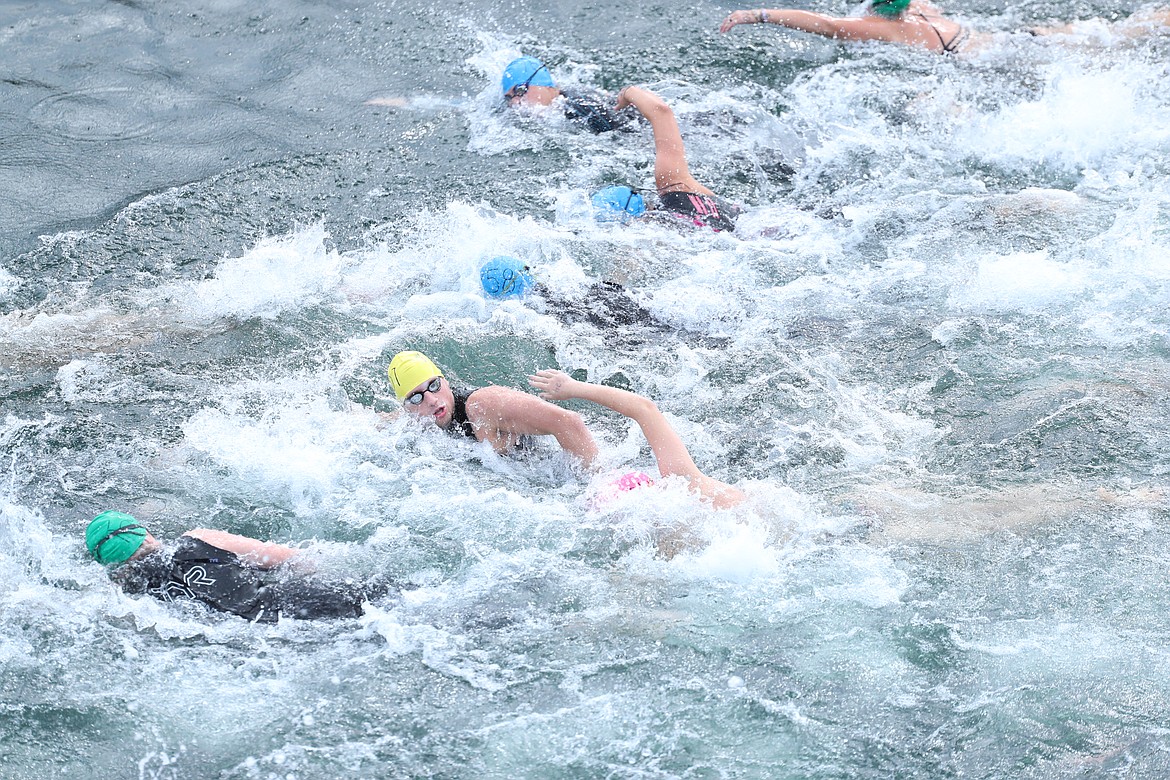 Swimmers take off from the start line on Saturday.
(Photo by DYLAN GREENE)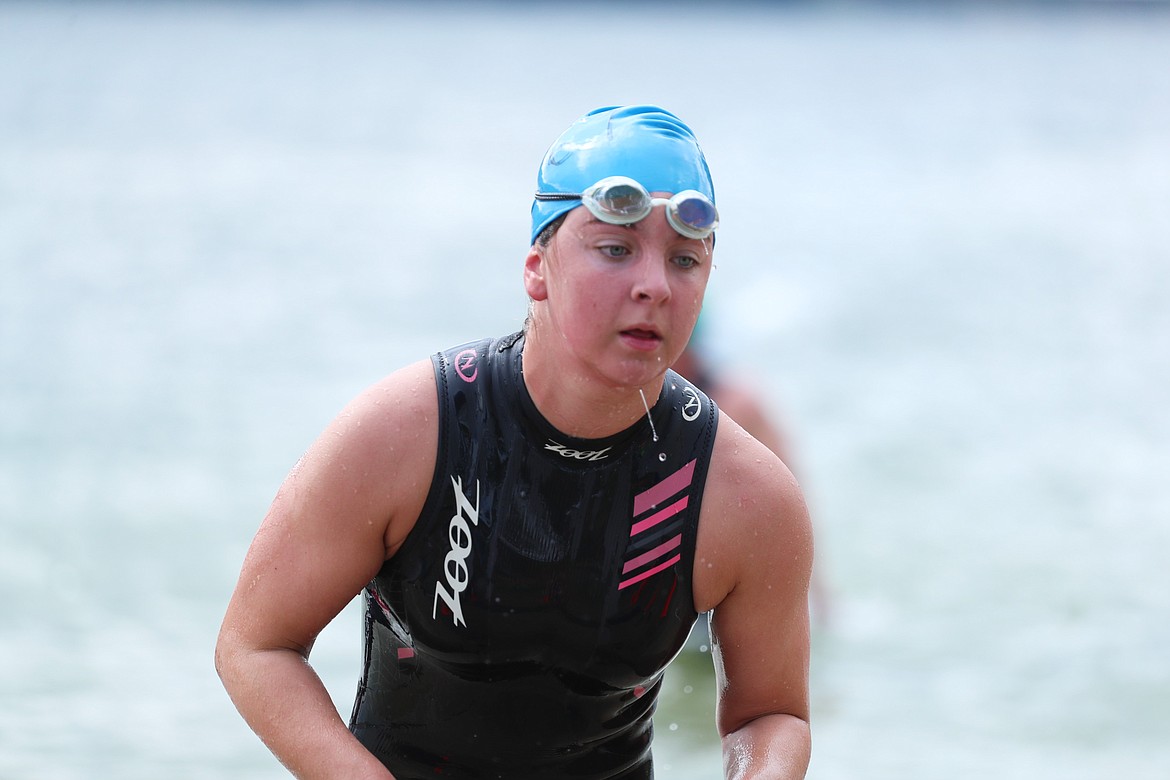 15-year-old Riley Taylor was the first female to cross the finish line on Saturday.
(Photo by DYLAN GREENE)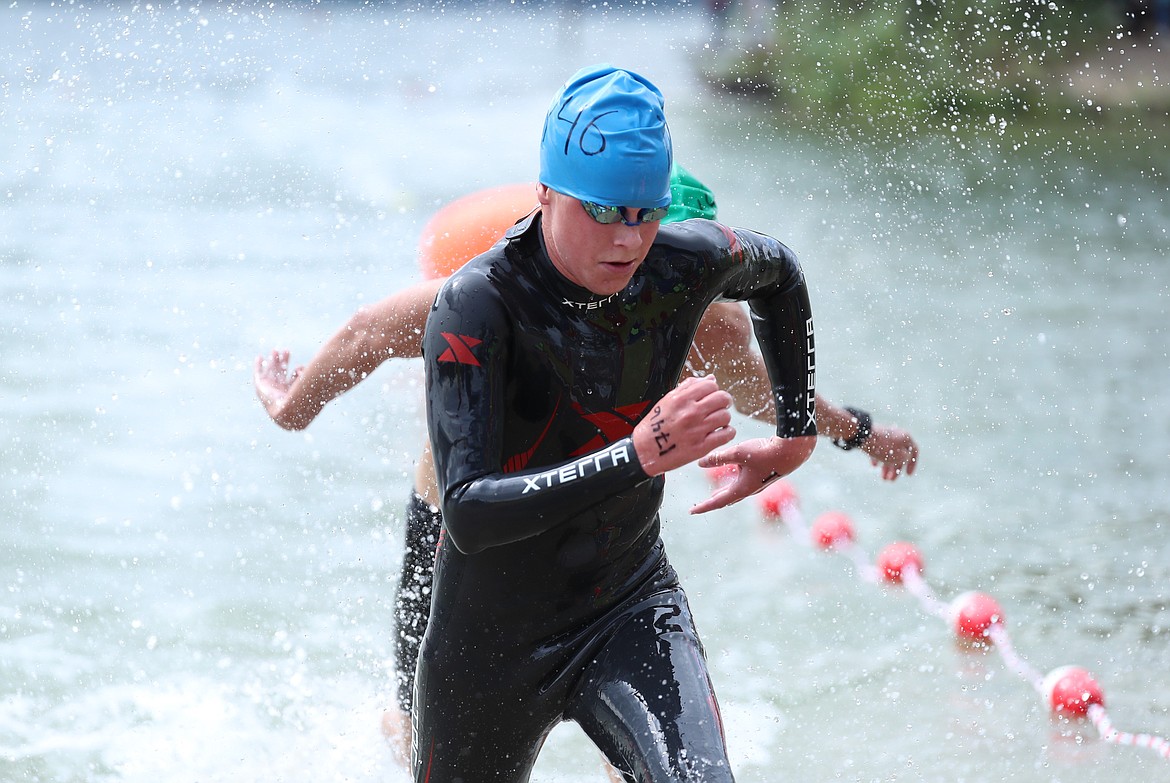 Parker Smith digs deep as he nears the finish Saturday.
(Photo by DYLAN GREENE)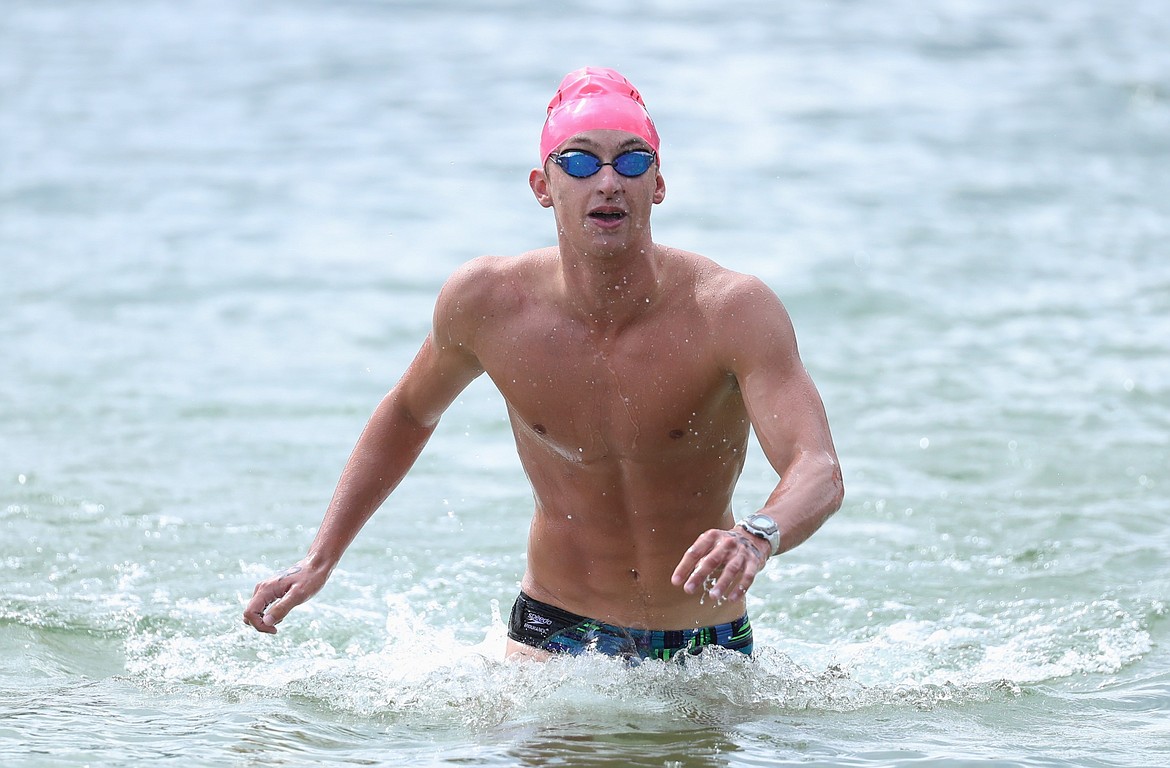 Caleb Norling nears the finish of the 26th annual Long Bridge Swim on Saturday. He was the top finisher from Sandpoint, placing ninth overall.
(Photo by DYLAN GREENE)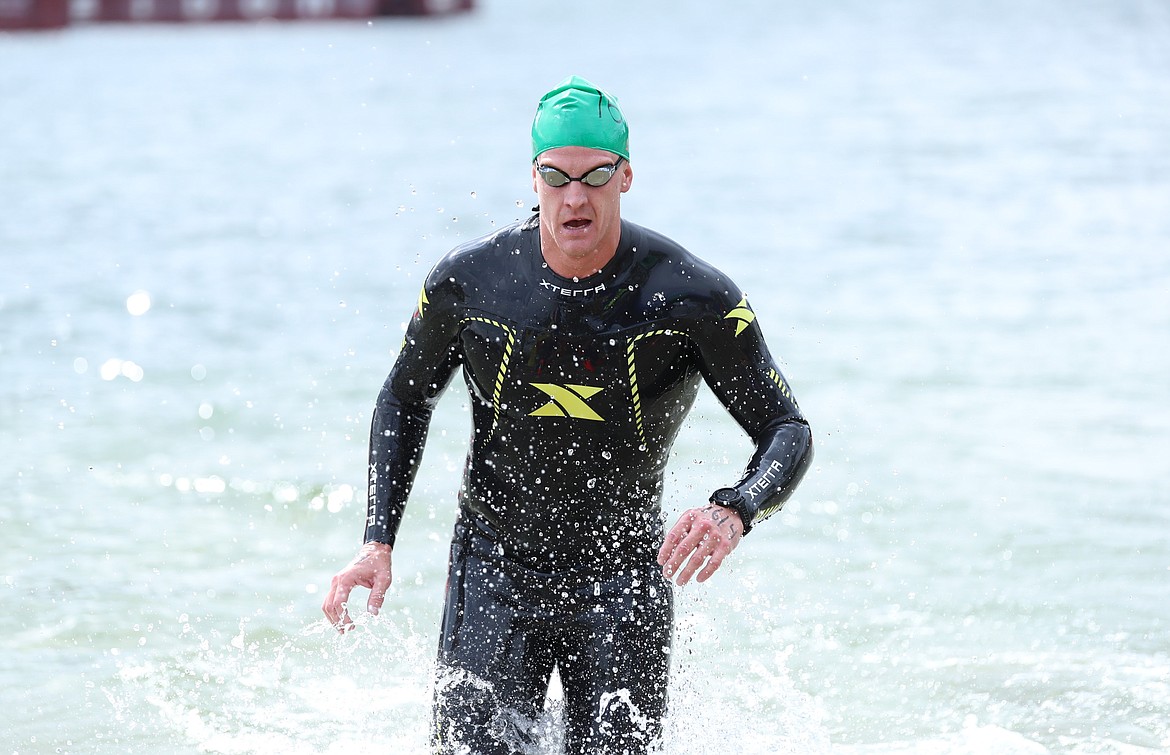 Adam Mayer rises out of the water and eyes the finish of the Long Bridge Swim on Saturday. He finished fifth overall.
(Photo by DYLAN GREENE)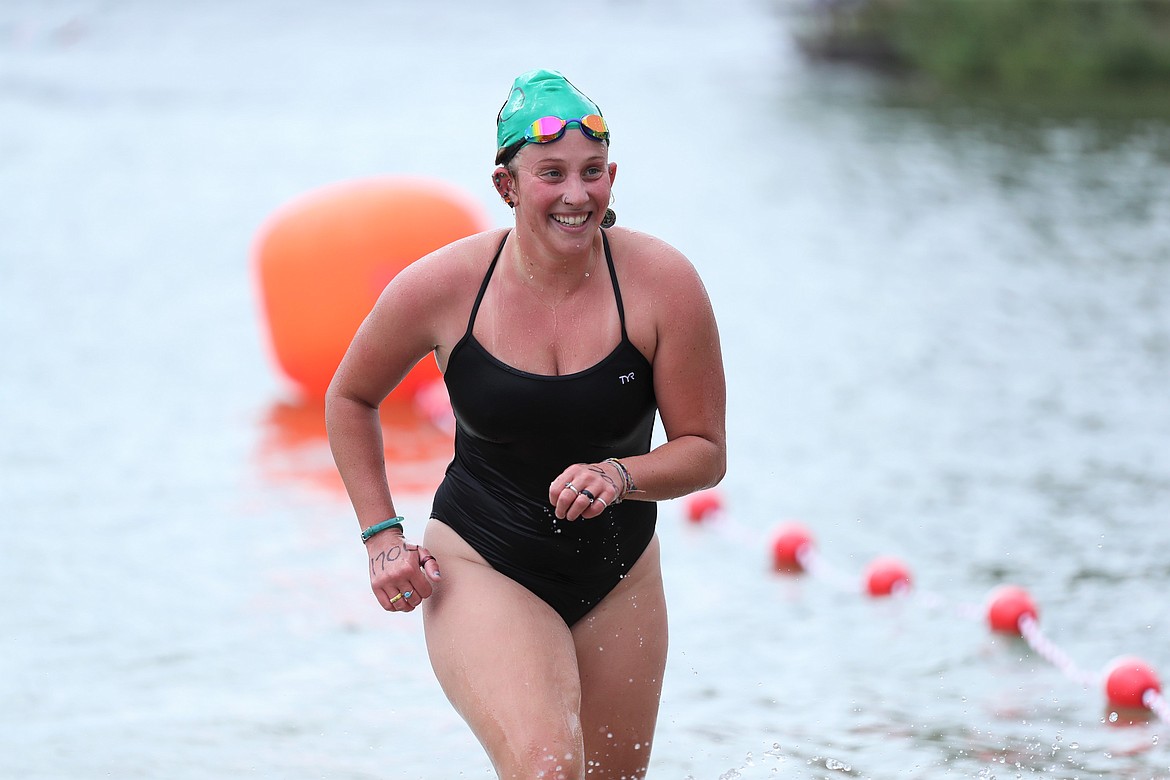 Emily Renzini smiles as she closes in on the finish line of the 26th annual Long Bridge Swim on Saturday.
(Photo by DYLAN GREENE)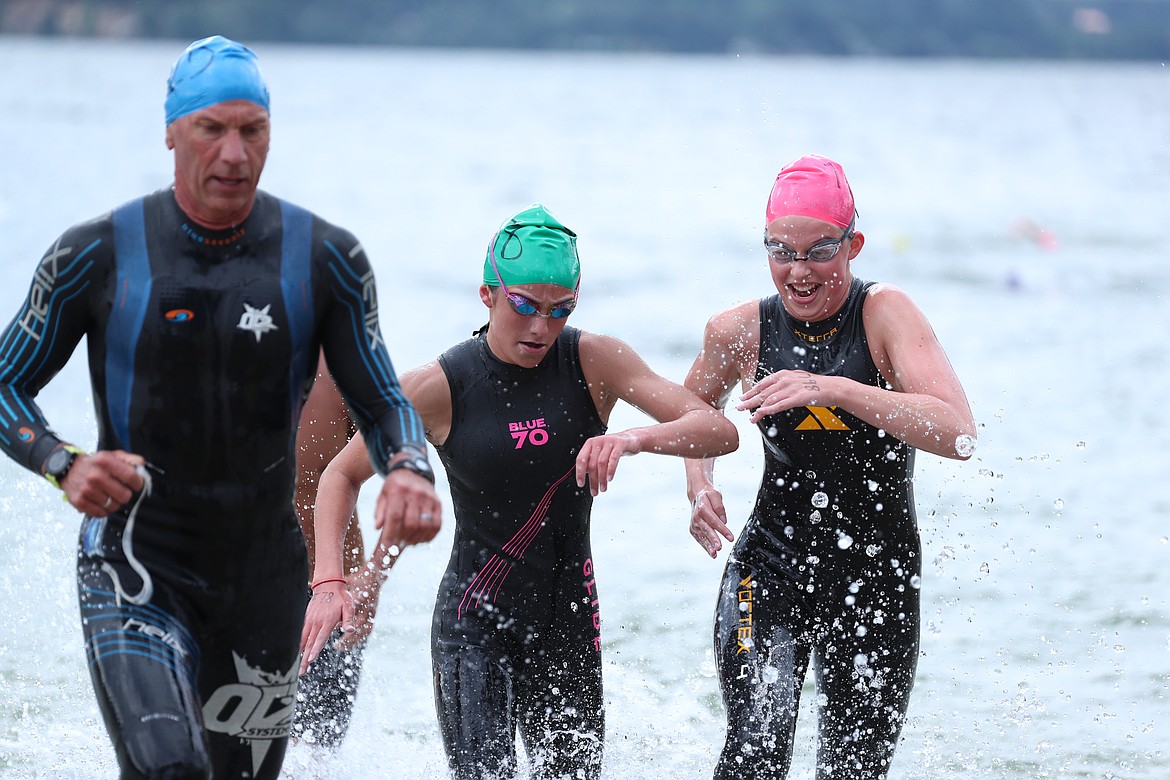 A group of swimmers battle for position as they near the end of the Long Bridge Swim on Saturday.
(Photo by DYLAN GREENE)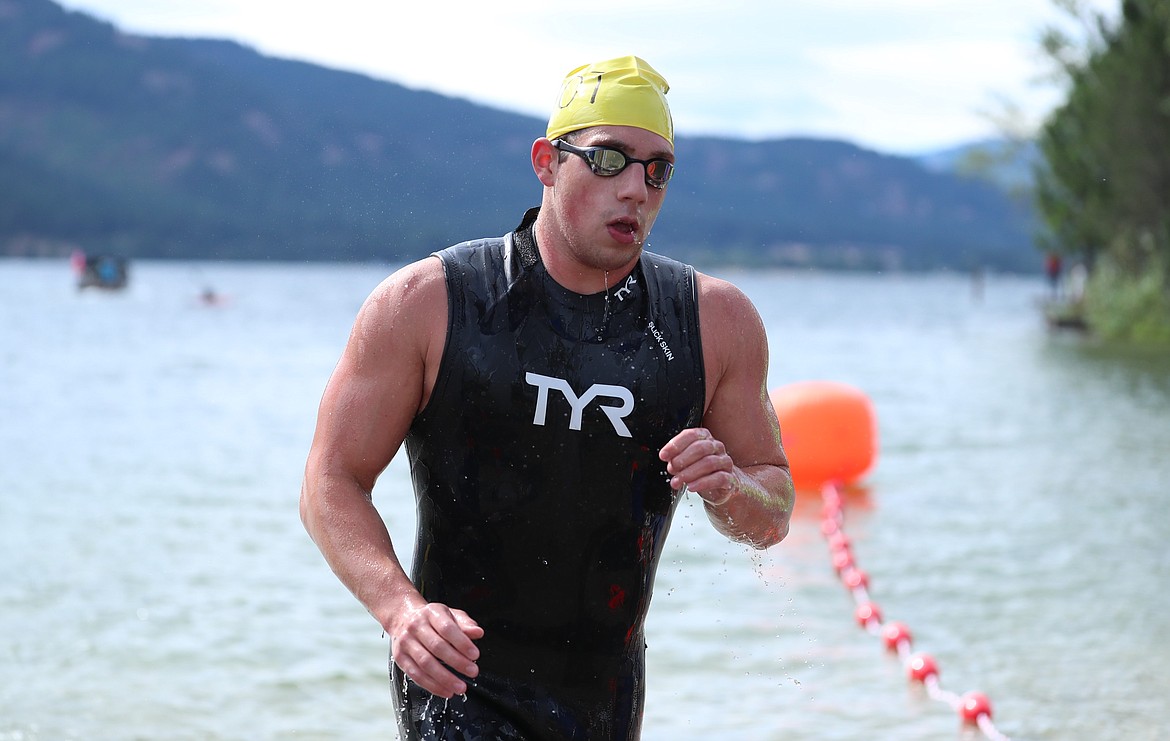 Logan Robillard, a 17-year-old from Lake City High School, runs across the line to capture first overall in the 26th annual Long Bridge Swim on Saturday. He finished with a time of 34:01.
(Photo by DYLAN GREENE)
Previous
Next
by
DYLAN GREENE
Sports Editor
|
August 8, 2021 1:00 AM
SANDPOINT — A familiar sight returned to Lake Pend Oreille on Saturday as over 500 swimmers hit the water for the 26th annual Long Bridge Swim.
The event has been a local favorite ever since Eric Ridgway founded the swim in 1995. Swimmers of all ages and from all over are attracted to the 1.76-mile challenge. It's a special event, but this year felt a little bit different. In 2020, the swim was taken away due to the COVID-19 pandemic.
But the participants made up for lost time by putting on a show for the hundreds of onlookers lining the Long Bridge who cheered them on from the first stroke to the final push over the finish line. The skies overhead were overcast, but that didn't dampen the mood one bit.
Logan Robillard from Coeur d'Alene was the first swimmer to reach Dog Beach with a time of 34:01. This was the fourth Long Bridge Swim for the 17-year-old from Lake City High School and he was determined to take home all the glory.
"I've been getting real close to that first-place spot every time, but there has always been someone faster," he said, "so it feels good to finally get to that top spot. I know I had some competition at the beginning, so that was great."
Robillard didn't just win, he finished over two minutes ahead of his next closest competitor, fellow 17-year-old Matthew Mantz. Robillard felt confident in his ability to pull away in the last half mile of the race and he did just that.
"All the training that I've put in finally paid off," he said.
The first female to cross the line was also from Coeur d'Alene. Riley Taylor, 15, took 14th with a time of 41:20.
Caleb Norling, 16, was the first swimmer from Sandpoint to reach the finish, grabbing ninth with a 40:03. He will be a junior on the SHS swim team this fall.
57-year-old Myla Houlihan earned 21st and was the second local and fourth female to finish. Overall, seven of the top-11 finishers were under the age of 18.
One thing that the Long Bridge Swim has shown over the years is that age is just a number. Nobody encapsulates that message more than 92-year-old Charles "Chuck" Milton.
In 2019, he became the oldest swimmer to finish the event at 90 years old. After the swim was canceled in 2020, Milton decided to come back for another year. He wasn't going to pass up an opportunity to do it again.
Jim Zuberbuhler, the Long Bridge Swim race director, was side-by-side with Milton during the entire swim Saturday. He helped guide him through the water all the way to the finish.
With his son, Charles Jr., next to him as he stepped over the line, Milton raised his hands in the air to celebrate breaking his own record. He finished in 1:44:44.
After the race, Charles Jr. was overheard telling his father "to stop whining like a 93-year-old." The joke was fitting for a feat that is truly remarkable.
Milton has swam a mile nearly every Monday, Wednesday and Friday since he was 67. He's only missed a handful of days and when he's broken routine, he's had a good reason for doing so. Over the years, lightning has prevented him from touching the water three times.
COVID-19 has disrupted Milton's routine quite a bit, but nothing seems to stop him from swimming.
During Saturday's race, Milton said his legs started to cramp about a third of the way in. His legs were gone, but not his spirit.
"There's no sense in stopping when you're out there," he said. Milton then looked at Zuberbuhler and said, "This guy here, he was a lifesaver out there."
Zuberbuhler said he felt privileged to help Milton to the finish and he'd love to see him in the water again next year.
For some people, the Long Bridge Swim is a bucket list thing, Zuberbuhler said, but for Milton it's just part of who he is.
"While this is a great accomplishment, it's really about his lifestyle and why he is how he is," Zuberbuhler said. "He's this fit 92-year-old with the physique of a 65-year-old and everything that goes with that … Sure I helped him, but he did it and there was no complaining out there."
After such an up and down year, Zuberbuhler said he was thrilled to see so many people in the lake and he was glad they could bring the event back to the community.
It takes over 250 volunteers to put on the Long Bridge Swim each year and Zuberbuhler thanked all of them for their dedication.
This year, the organizers of the event had to figure out how to navigate the construction of a second BNSF railroad bridge next to Dog Beach and across Lake Pend Oreille. Fortunately, Zuberbuhler said BNSF representatives were extremely flexible and wiped away any perceived challenges.
Due to the work, the area is restricted but Zuberbuhler said officials opened up access so they could get all their necessary race equipment in without a hitch.
"They've been outstanding at accommodating us," he said.
The Long Bridge Swim has raised funds to support swim lessons in the area for over a decade and through their water safety program they hope no kid in Bonner County gets past the third grade without learning how to swim. That's what the event is all about, Zuberbuhler said.
20 years ago, Ridgway convinced Zuberbuhler to participate in the Long Bridge Swim and now he's served as the race director for the last nine years. The race seems to pull people in, and it's hard to let go.
"I like to say that I knit [the event] together, raise the money and stay out of the way," he said.
2021 Long Bridge Swim
Top 10 overall times — 1, Logan Robillard, 34:01. 2, Matthew Mantz, 36:12. 3, Gavin Dustin, 36:26. 4, Spencer Alpaugh, 36:28. 5, Adam Mayer, 37:20. 6, Benjamin Linford, 38:44. 7, Tristan Whiting. 38:52. 8, Jay Calhoun, 38:59. 9, Caleb Norling, 40:03. 10, Parker Smith, 40:16.
Male 10 to 14 — 1, Zachary Linford, 41:40. 2, Ben Schlehuber, 47:44. 3, McCoy Jensen, 48:40.
Male 15 to 19 — 1, Logan Robillard, 34:01. 2, Matthew Mantz, 36:12. 3, Gavin Dustin, 36:26.
Male 20 to 24 — 1, Tristan Whiting, 38:52. 2, Cameron Marsh, 56:39. 3, Joseph Nye, 59:18.
Male 25 to 29 — 1, Spencer Alpaugh, 36:28. 2, Marcus Tonsmann, 46:36. 3, Gaelan Evans, 1:02:23.
Male 30 to 34 — 1, Adam Mayer, 37:20. 2, Tanner Gudauskas, 45:05. 3, Kevin McNeil, 57:51.
Male 35 to 39 — 1, Dan Blee, 44:47. 2, Joshua McCallum, 48:07. 3, Matt Gillis, 50:37.
Male 40 to 44 — 1, Kevin Boercker, 45:34. 2, Michael Carter, 52:54. 3, Todd Bristow, 57:40.
Male 45 to 49 — 1, Jeff Rigg, 41:20. 2, Trever Gray, 42:48. 3, Hudson Graham, 44:53.
Male 50 to 54 — 1, David Lien, 47:44. 2, Scott Krajack, 50:29. 3, Don Stone, 50:35.
Male 55 to 59 — 1, Frank Jester, 41:27. 2, Keith Hertel, 47:13. 3, Robert Milligan, 48:20.
Male 60 to 64 — 1, Jay Calhoun, 38:59. 2, John Blair, 53:25. 3, David Thompson, 56:37.
Male 65 to 69 — 1, Kelly Sterling, 40:48. 2, Larry Krauser, 42:20. 3, Holger Caban, 44:51.
Male 70 to 74 — 1, Robert Owens, 55:04. 2, John Phillips, 56:22. 3, Jackson Crutsinger, 58:27.
Male 75 to 79 — 1, Lee Peterson, 1:05:55. 2, Pete Thompson, 1:21:06. 3, David Owens, 1:31:05.
Male 80 and over — 1, Charles Milton, 1:44:44.
Female 9 and under — 1, M. Jensen, 55:35.
Female 10 to 14 — 1, Ava de Leeuw, 43:43. 2, D. Whitney, 44:33. 3, Kamiah Leach, 47:16.
Female 15 to 19 — 1, Riley Taylor, 41:20. 2, Emily Ballard, 43:43. 3, Ayiana Prevost, 45:45.
Female 20 to 24 — 1, Payton Bokowy, 44:09. 2, Mary Everett, 46:49. 3, Sierra Speakman, 59:24.
Female 25 to 29 — 1, Anna Sharpe, 43:28. 2, Emily Renzini, 45:41. 3, Mia Goodwin, 45:48.
Female 30 to 34 — 1, Christine Mabile, 47:43. 2, Sara Zwink, 50:44. 3, Hilary Smith, 52:57.
Female 35 to 39 — 1, Courtney Chase, 43:22. 2, Kelsey McCarthy, 44:45. 3, Kim Bowler, 52:17.
Female 40 to 44 — 1, Amanda Meredith-Dunlop, 41:23. 2, Christine Dustin, 48:39. 3, Rebecca Dussault, 49:17.
Female 45 to 49 — 1, Tricia Delgado, 59:00. 2, Karen Sachs, 1:02:46. 3, Rebecca Eaton, 1:08:45.
Female 50 to 54 — 1, Kristin Beyersdorf, 55:12. 2, Catherine Schini, 59:52. 3, Kris Hilliard, 1:03:00.
Female 55 to 59 — 1, Myla Houlihan, 43:25. 2, Rebecca Martin, 45:13. 3, Marlayna McNeil, 51:05.
Female 60 to 64 — 1, Brenda Craft, 52:06. 2, June Hussey, 53:15. 3, Susanne Blair, 53:22.
Female 65 to 69 — 1, Debbie Hulbert, 1:08:01. 2, Lynn Loverine, 1:08:12. 3, Sally Pritchard, 1:13:59.
Female 70 to 74 — 1, Gloria Waggoner, 58:49. 2, Sunny Blende, 1:08:52. 3, Susan Hales, 1:09:43.
Female 75 to 79 — 1, Leta Delurgio, 1:18:40.
Recent Headlines
---