"Oiled: A Fisherman's Journey"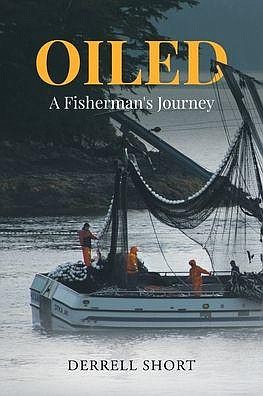 Cover of "Oiled: A Fisherman's Journey" by Derrell Short.
(Courtesy photo)
by
EMILY BONSANT
Staff Writer
|
August 17, 2021 1:00 AM
Editor's note: This story has been updated.
SANDPOINT — Derrell Short, a former fisherman, has released his memoir, covering everything from the Exxon Valdez oil spill to his adventures at sea in Kodiak Island, Alaska.
Short covers not just the mishaps of working on a crab boat, but also how he worked on the Exxon Corporation oil spill in 1989.
A Exxon tanker had run aground on Bligh Reef in Prince William Sound, an inlet in the Gulf of Alaska, Alaska. The tankard had been transporting crude oil from Valsez, Alaska, to California, according to a report on online encyclopedia Britannica.
Short covers the spill in his memoir and criticizes Exxon on the cleaning up of the oil spill.
"I wanted to exemplify what a stupid thing that was to spill all that oil. They [Exxon] didn't make a lot of strong efforts at cleaning it up. They just wanted to show a good face, spend a lot of money," said Short.
Other sections of the memoir focus on Short's building his remote cabin, hunting, his many encounters with bears and his time as a fisherman.
Short, a self-proclaimed adventurer, recounts the big catches he had and the struggles that come with fishing in Alaska. It is one of the most dangerous jobs in the world, said Short.
"You could make lots of money real fast, but then there's the times where you're bored and not making any money," said Short.
At one time, Short owned three different salmon boats over 29 years.
"Once the price of fish got so bad, I couldn't make a living", said Short.
After leaving Alaska, and spending time on the Washington coast, Short moved to Sandpoint.
"Sandpoint reminds me a lot of Kodiak. It's the mountains and the water, the snow-capped peaks. I always want to protect the plant because I really love the environment here," said Short.
Short dedicated the memoir to all the fishermen in Alaska who have lost their lives at sea.
"Oiled: A Fisherman's Journey" can be bought in paperback or eBook format at Barnes and Noble or Amazon.
---