Fire restrictions end Friday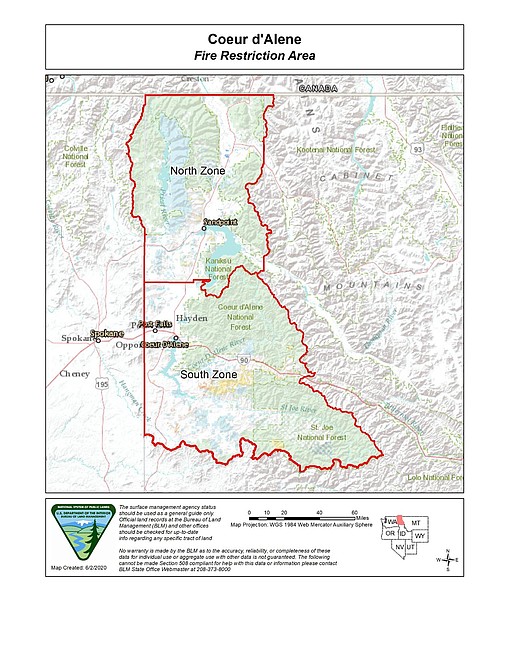 by
KAYE THORNBRUGH
Hagadone News Network
|
August 25, 2021 1:00 AM
COEUR d'ALENE — Recent weather conditions have prompted public, state and tribal land managers to rescind all fire restrictions in the Coeur d'Alene Dispatch Zone.
Restrictions will end Friday at 12:01 a.m.
The Coeur d'Alene Dispatch Zone is comprised of all state, state endowment, federal, tribal and private forestland and rangeland in Benewah, Bonner, Boundary, Kootenai and Shoshone counties.
This also includes National Forest System lands in Washington and Montana that are administered by the Idaho Panhandle National Forests.
Though several large fires are still burning in the Idaho Panhandle, recent rainfall and cooler temperatures have reportedly lowered fire danger that inform the need for restrictions.
The average fire danger rating across the zone has been lowered two levels, from extreme to high.
Campfires will be allowed starting Friday.
Still, the Idaho Department of Lands (IDL) urged people to use caution while hunting or recreating.
The region is still experiencing drought conditions. Above-normal fire potential is predicted through September.
All kinds of plants can act as fuel for a wildland fire, including trees, grasses, shrubs, dead leaves and fallen pine needles.
Even with widespread rain, lightning sparked several fires during recent thunderstorms — an indication that fuels are still receptive to fire.
Never leave a campfire unattended. Make sure it's cold to the touch before walking away.
Possession or use of fireworks is always prohibited on federal public lands.
Burn permits are required for debris burning through Oct. 20.
At this time, no burn permits are being issued for the Coeur d'Alene Fire Restriction Area.
Area closures associated with the Deceitful and Prichard fires burning north of the Silver Valley remain in affect, as well as IDL closures for access roads off the North Fork Coeur d'Alene River Road.
The Deceitful fire was 40% contained as of late Tuesday. The blaze has torched more than, 12,200 acres so far.
The Prichard fire remains 100% contained.
The following roads are now open:
• Coeur d'Alene River Road
• Old River Road
• Prichard Creek Road
• Thompson Pass Road
• Beaver Creek Road
King's Pass Road remains closed.
Level 2 evacuation orders remain in place for Murray and Eagle.
Residents in these areas should be prepared to evacuate, with supplies gathered and vehicles fueled and ready to go.
---