Sandpoint cross country sweeps home dual with Lake City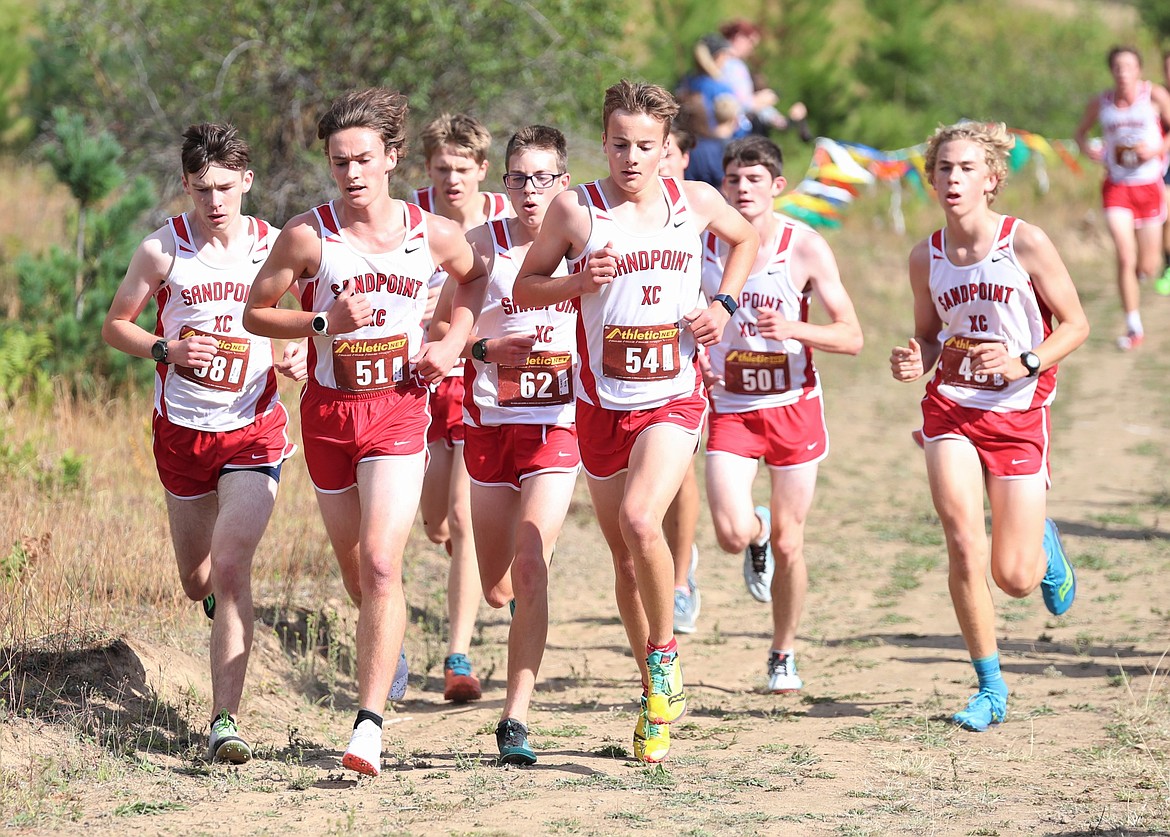 A pack of eight Bulldogs run side-by-side during Friday's dual at Pine Street Woods.
(Photo by DYLAN GREENE)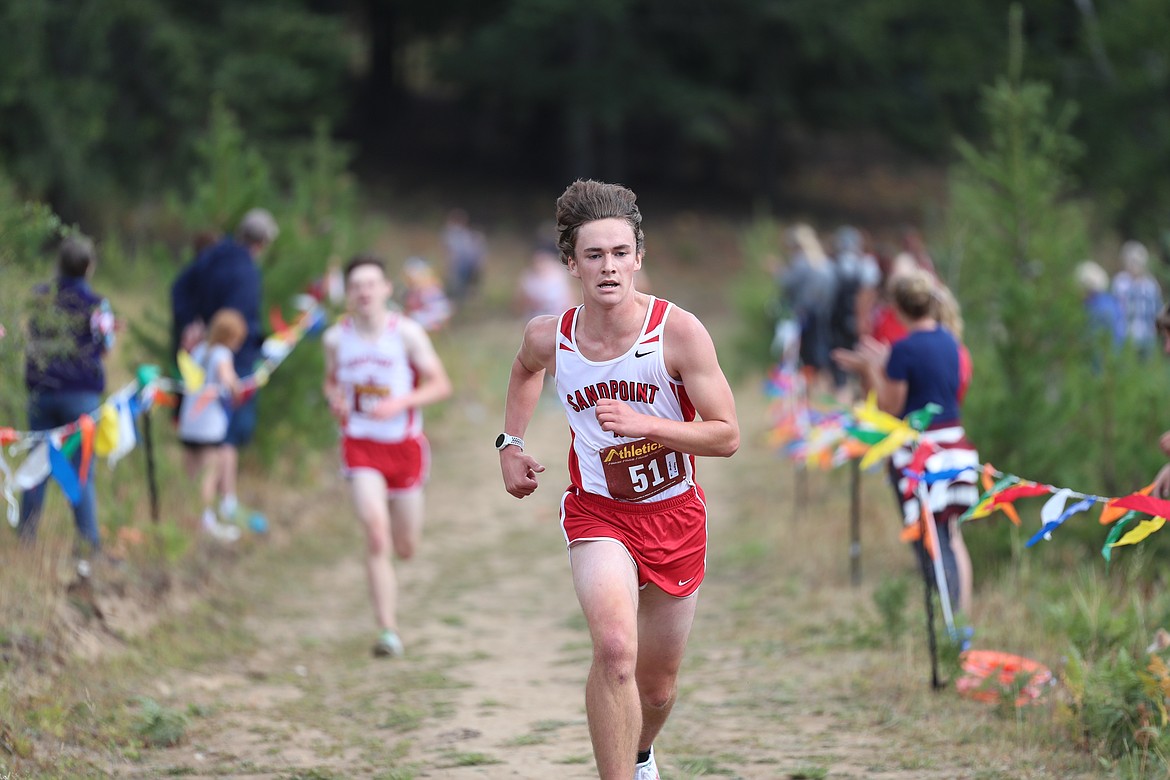 Anders Eastley nears the finish line.
(Photo by DYLAN GREENE)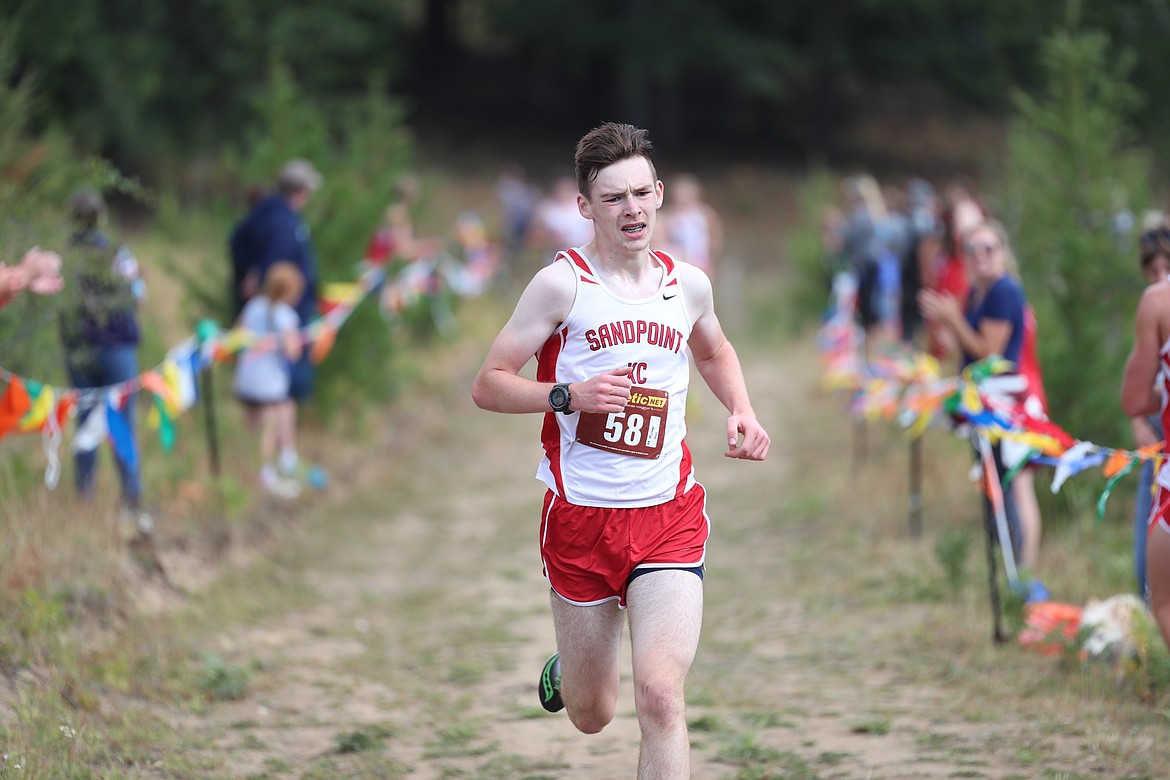 Michael Hall competes in Friday's dual.
(Photo by DYLAN GREENE)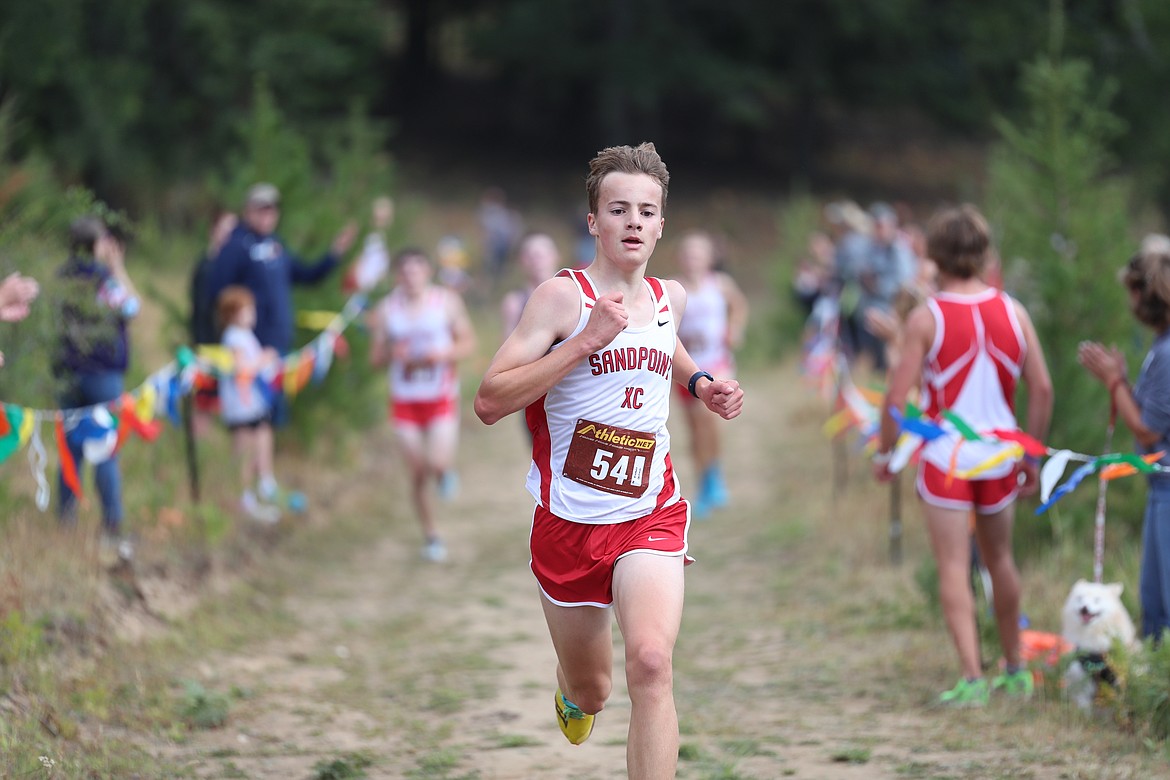 Kasten Grimm nears the finish line.
(Photo by DYLAN GREENE)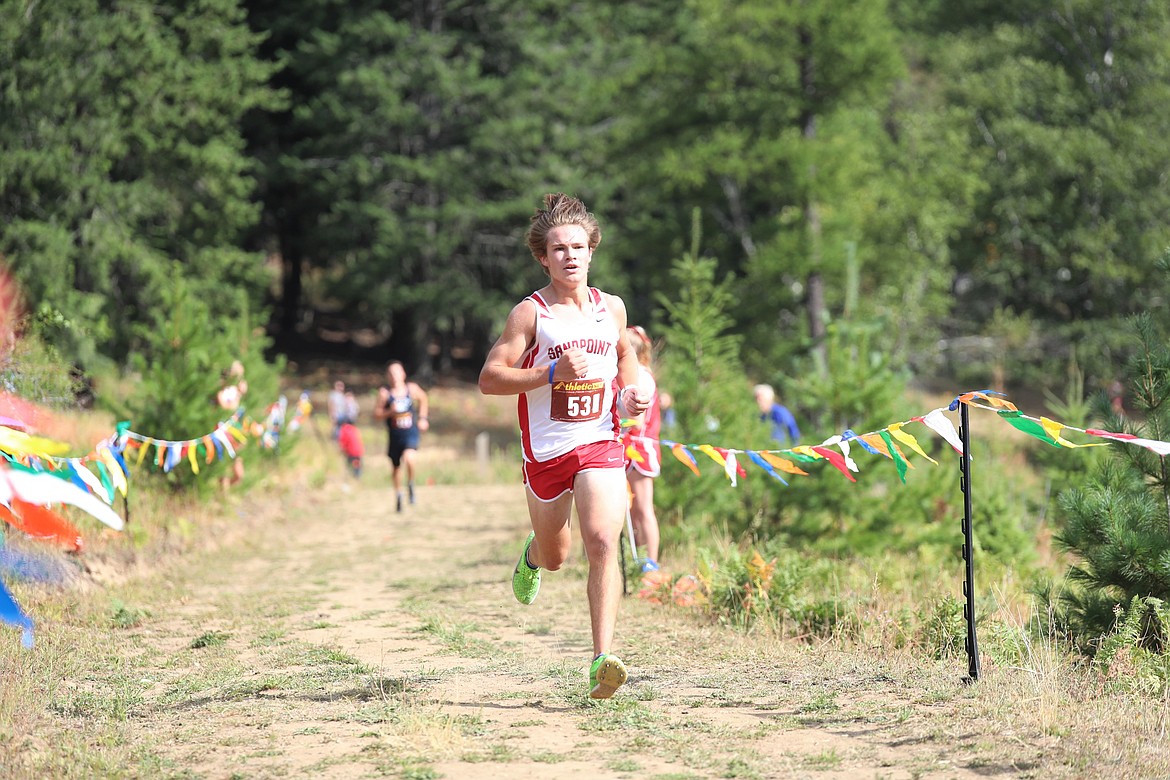 Slate Fragoso nears the finish of Friday's dual.
(Photo by DYLAN GREENE)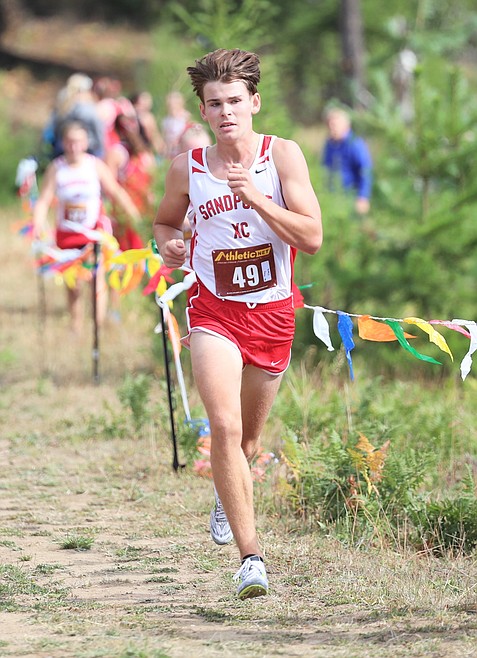 Trey Clark nears the finish line.
(Photo by DYLAN GREENE)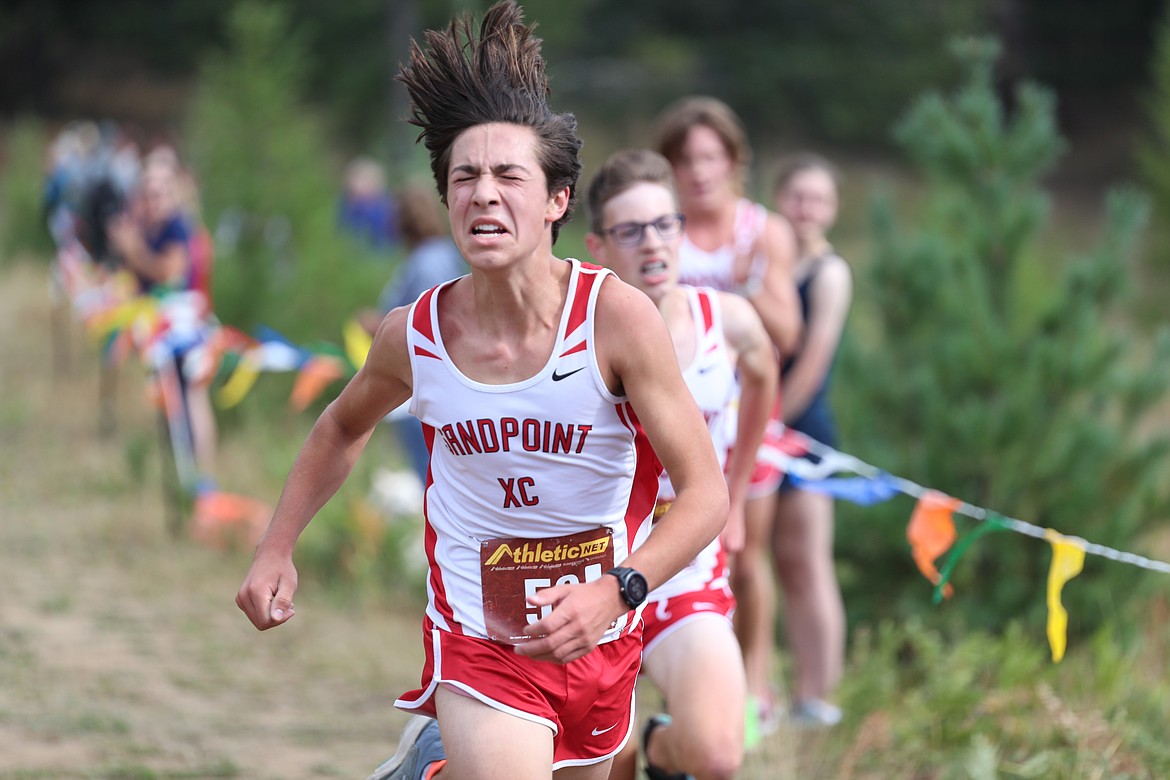 Klein Fragoso grits it out as he crosses the finish line.
(Photo by DYLAN GREENE)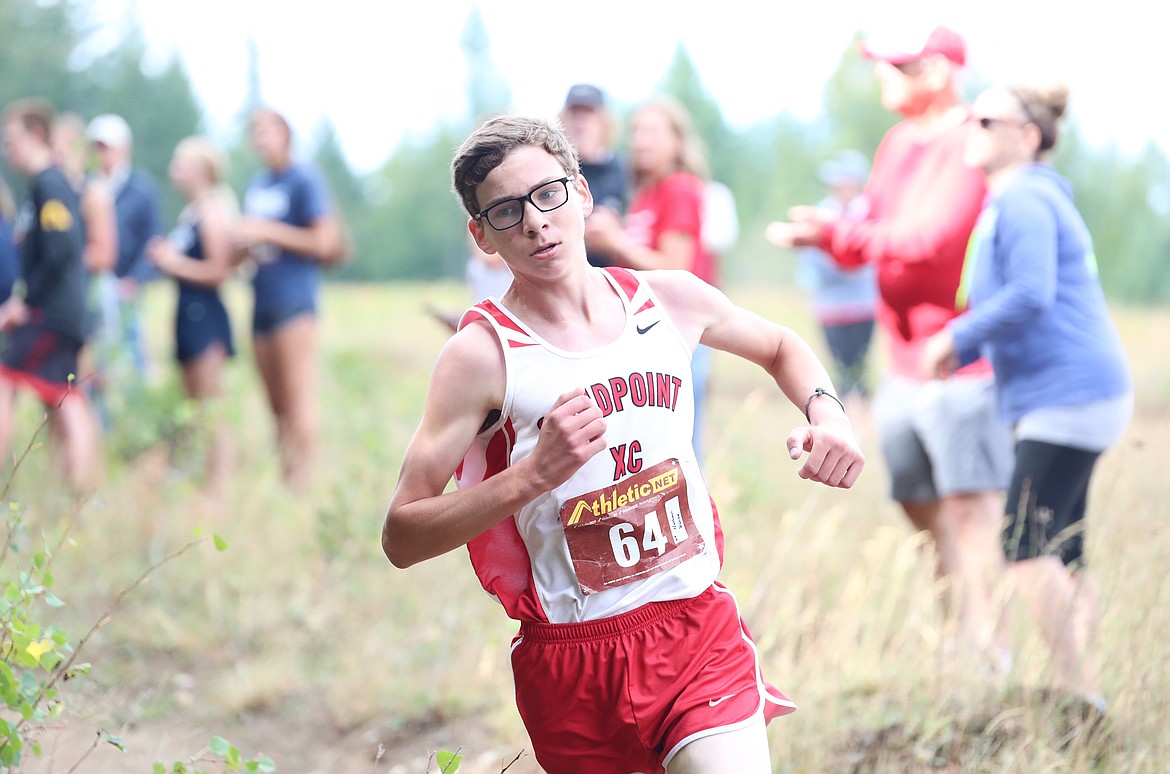 Nathan Roche competes in Friday's dual.
(Photo by DYLAN GREENE)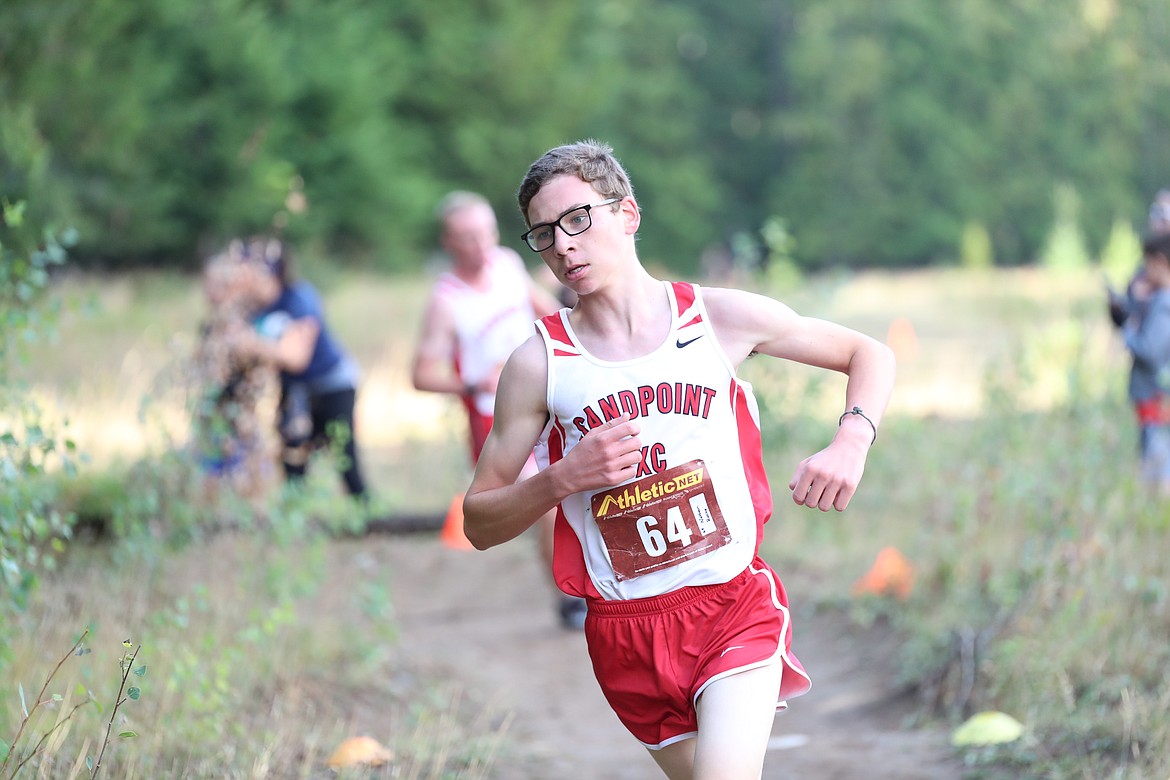 Nathan Roche rounds a corner on Friday.
(Photo by DYLAN GREENE)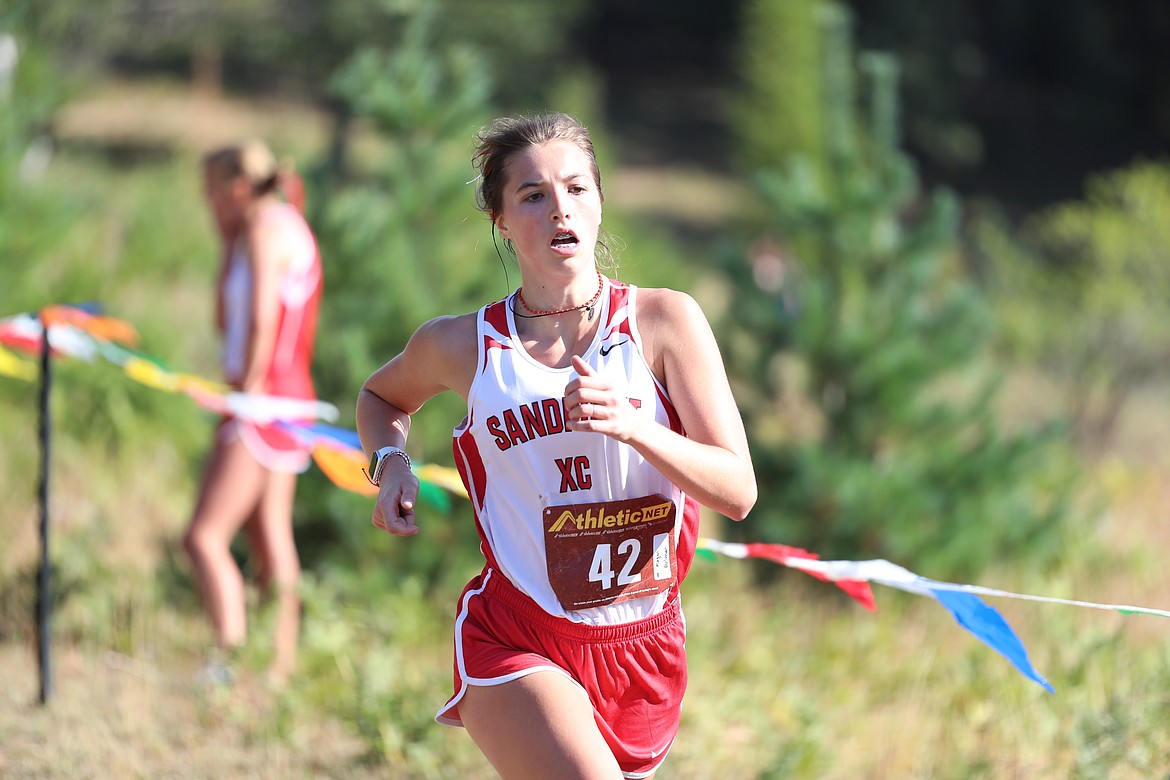 Megan Oulman crosses the finish line.
(Photo by DYLAN GREENE)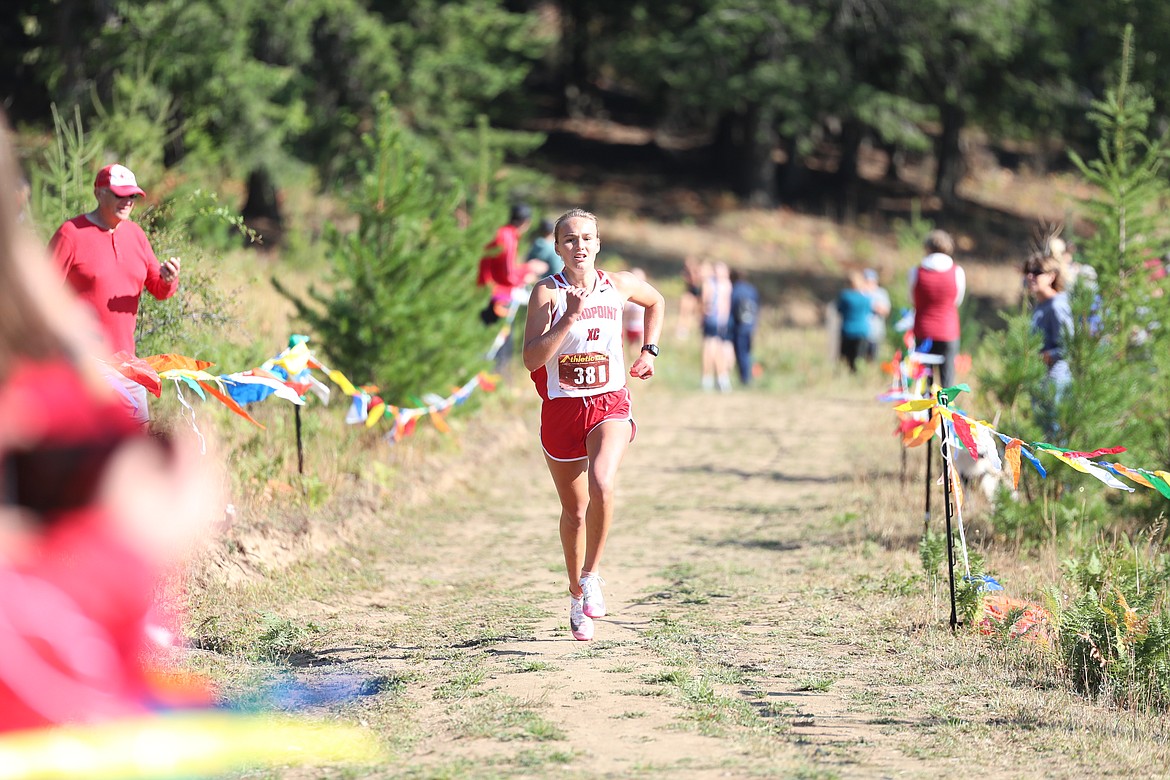 Ara Clark nears the finish line on Friday.
(Photo by DYLAN GREENE)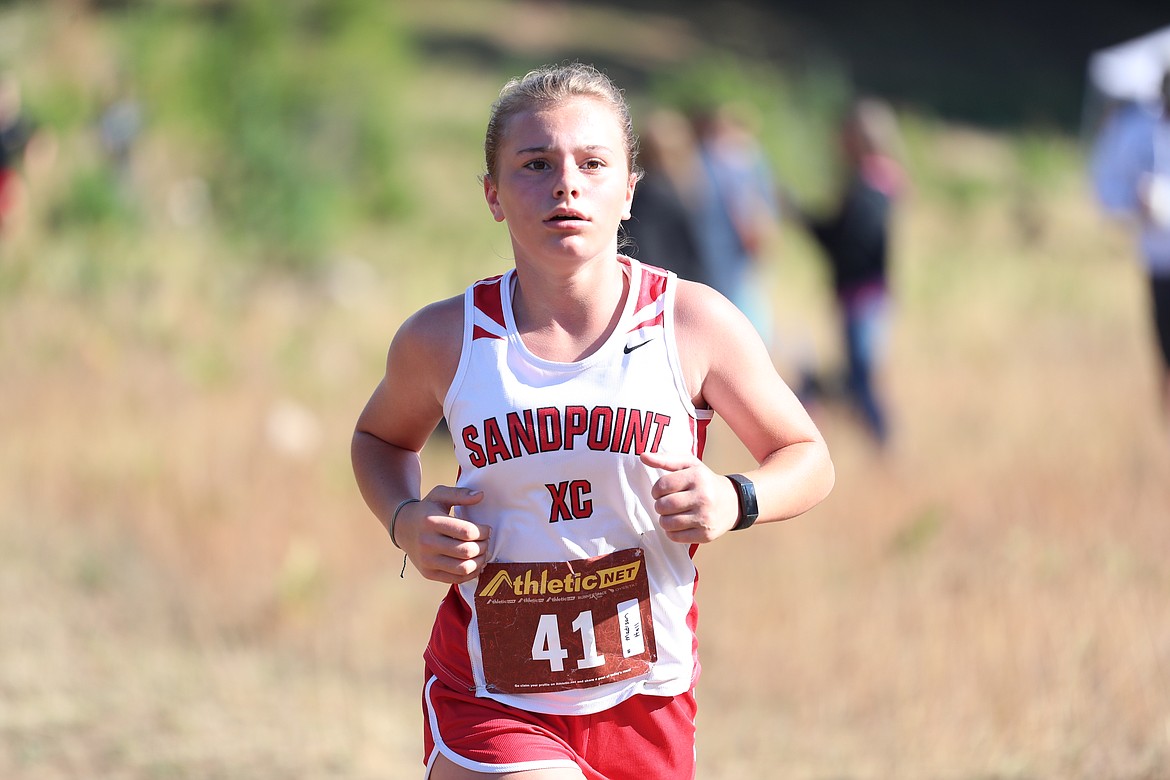 Madison Hall digs deep on Friday.
(Photo by DYLAN GREENE)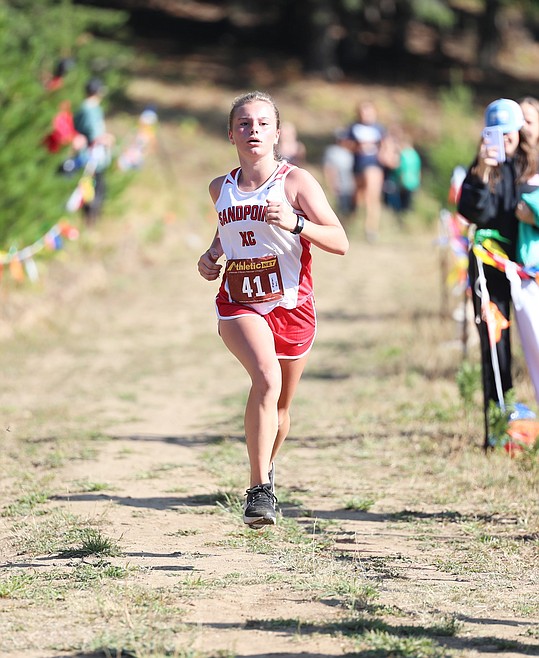 Madison Hall nears the finish line.
(Photo by DYLAN GREENE)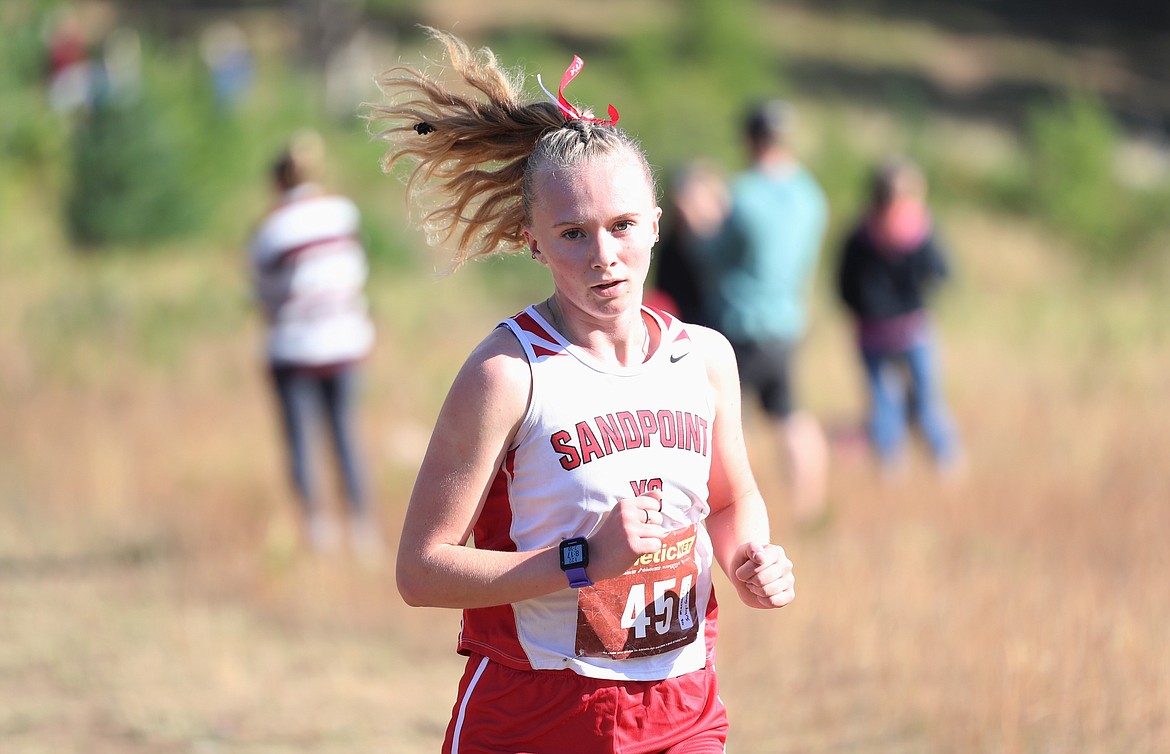 Mackenzie Suhy-Gregoire competes in Friday's dual.
(Photo by DYLAN GREENE)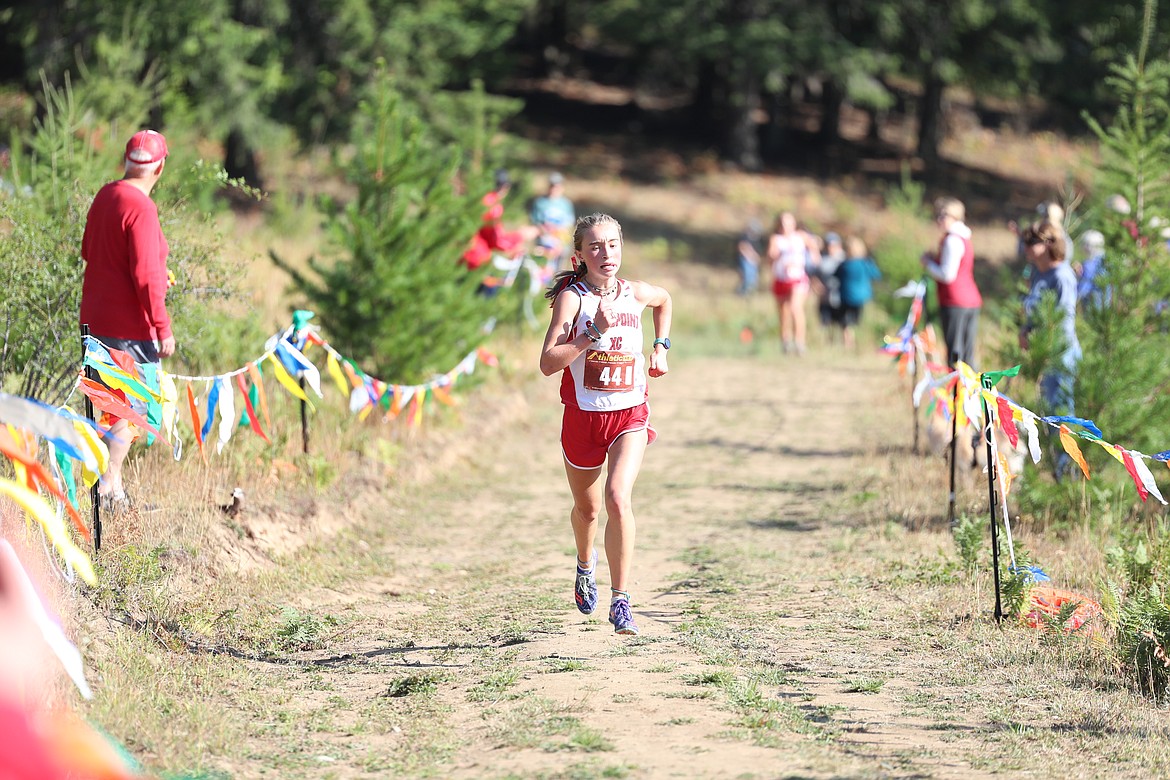 Grace Rookey digs deep as she nears the finish line.
(Photo by DYLAN GREENE)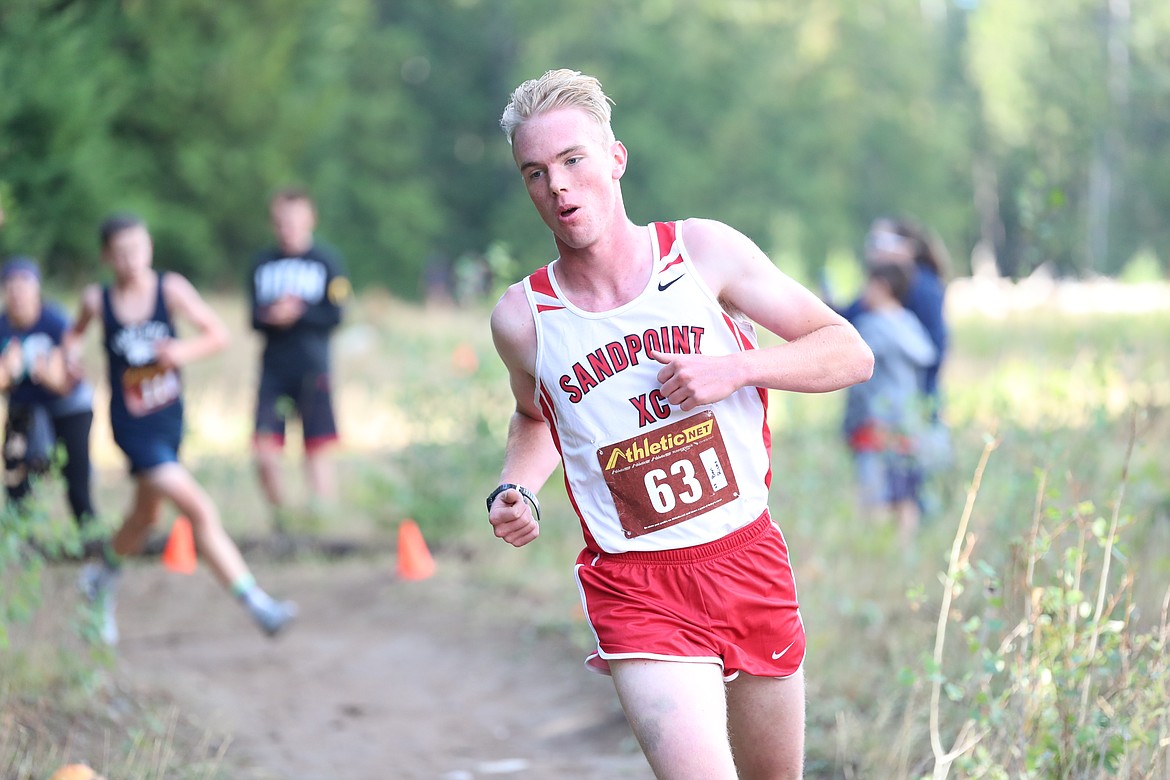 Ben Ricks competes in Friday's dual.
(Photo by DYLAN GREENE)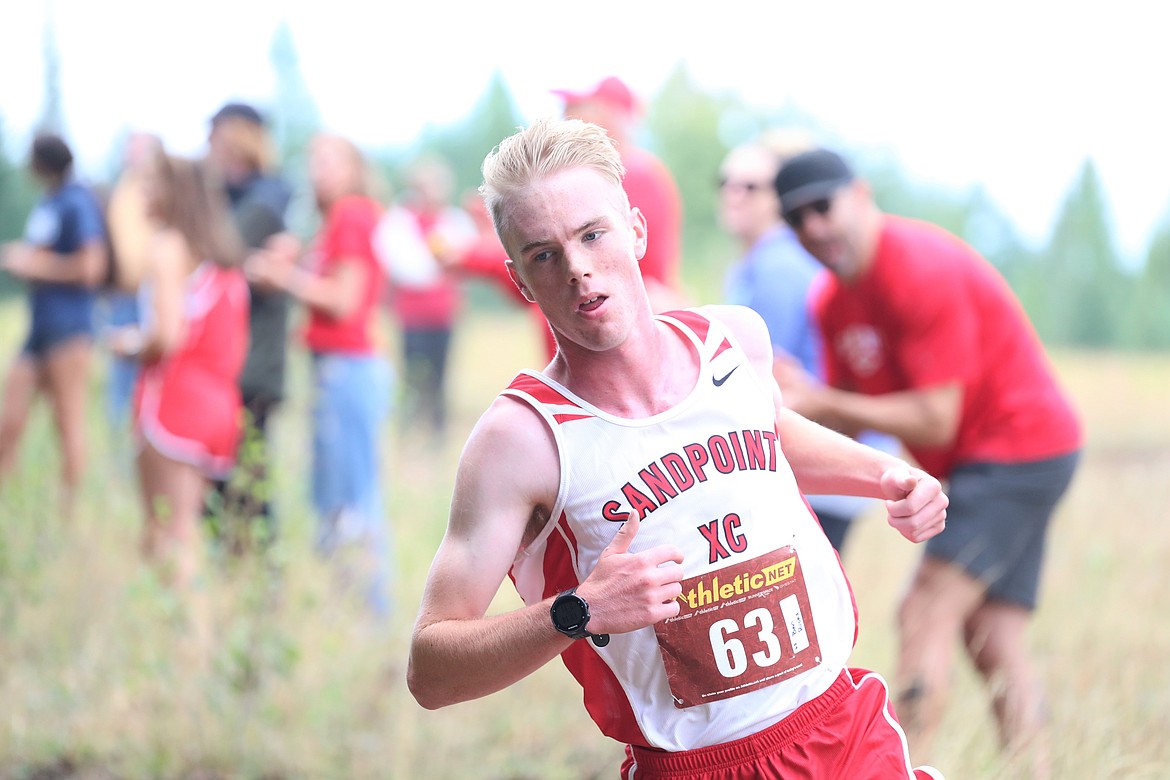 Senior Ben Ricks rounds a corner during the Pine Street Woods Invite on Aug. 27.
(Photo by DYLAN GREENE)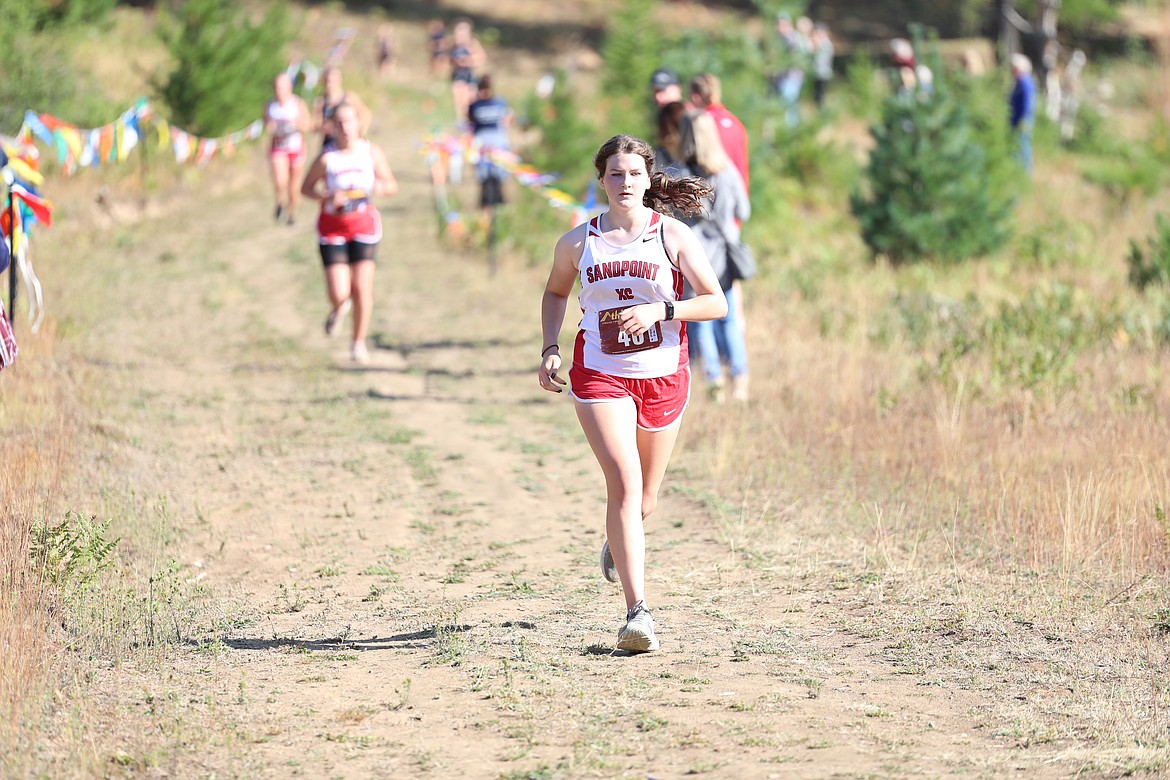 Alyssa Fite competes in Friday's dual.
(Photo by DYLAN GREENE)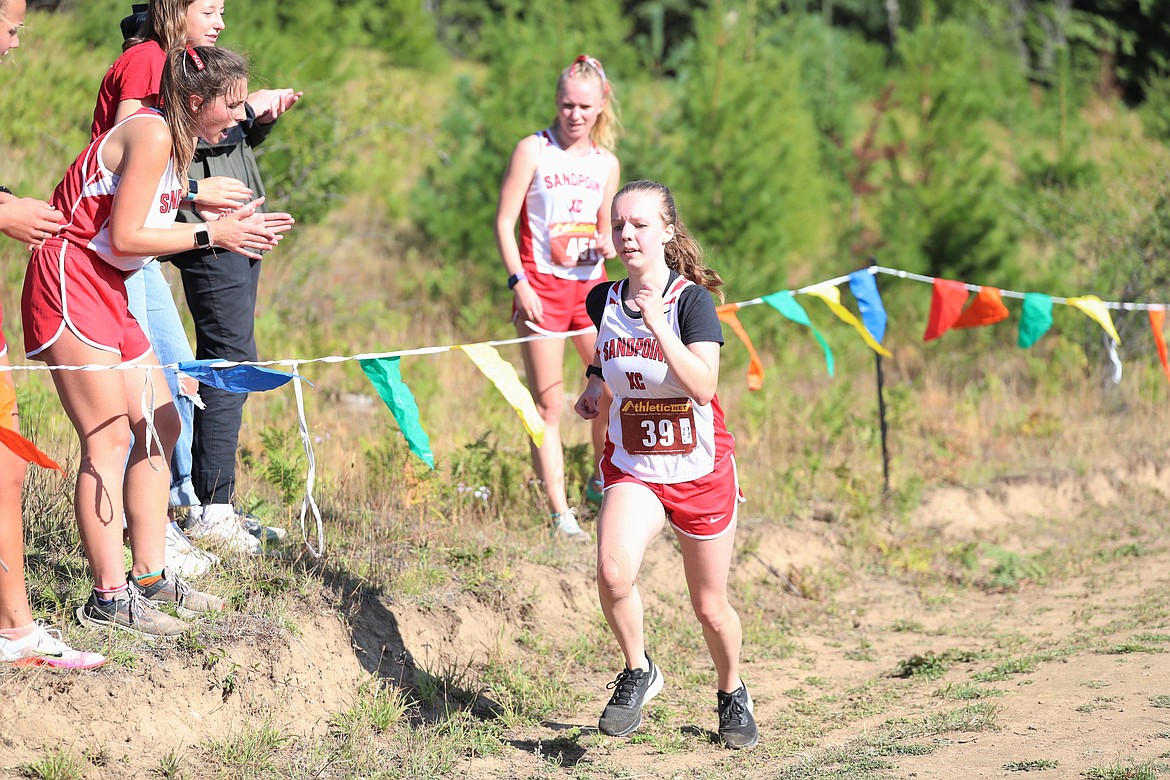 Alice Davison nears the finish line.
(Photo by DYLAN GREENE)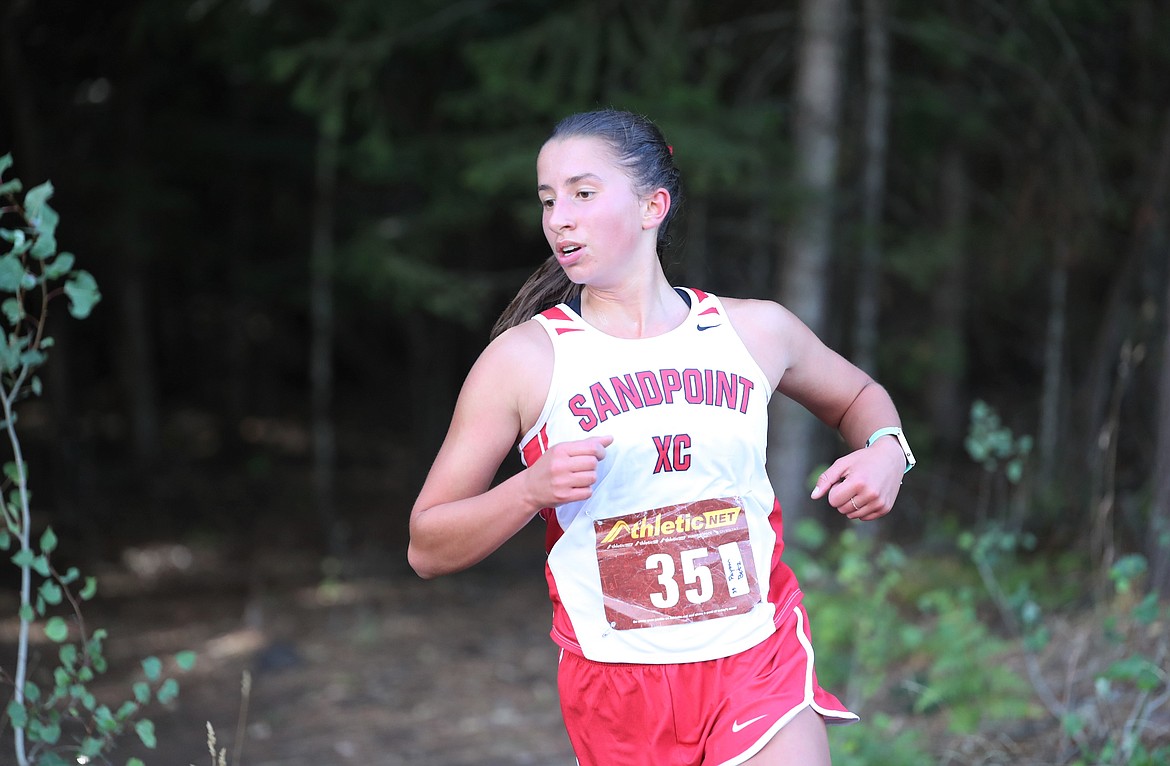 Payton Betz competes in Friday's dual.
(Photo by DYLAN GREENE)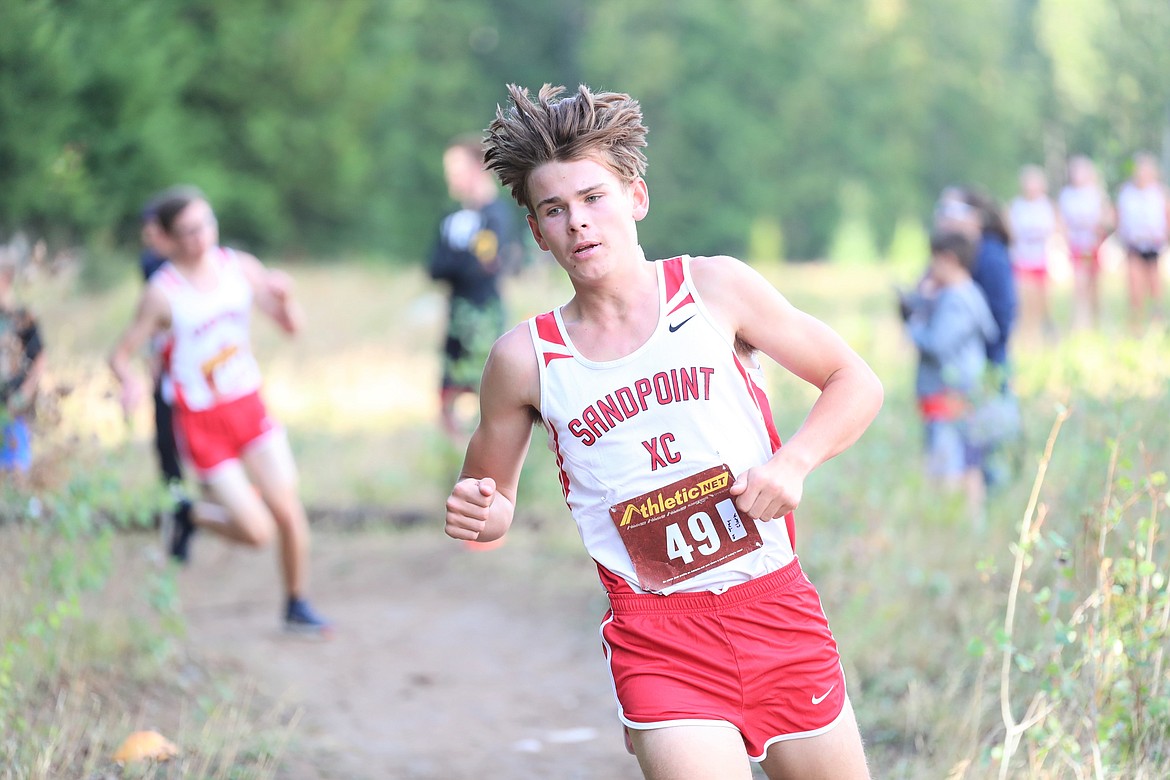 Trey Clark competes in Friday's dual.
(Photo by DYLAN GREENE)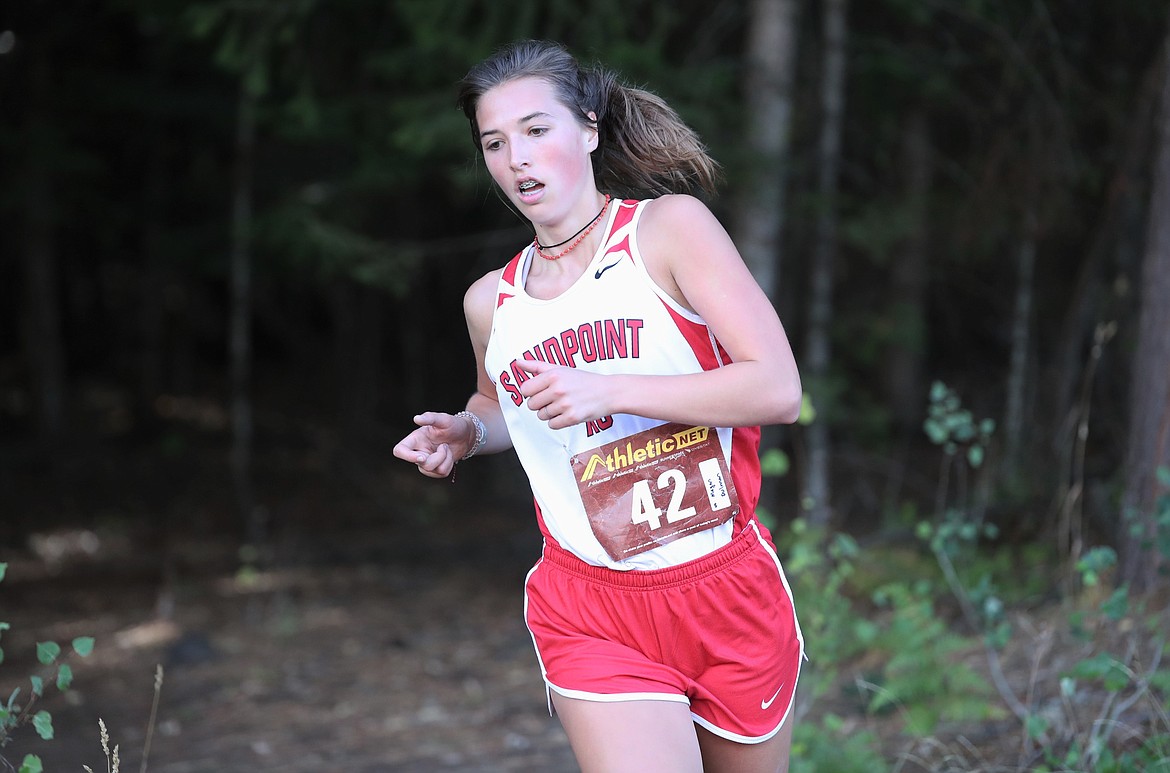 Megan Oulman competes in Friday's dual.
(Photo by DYLAN GREENE)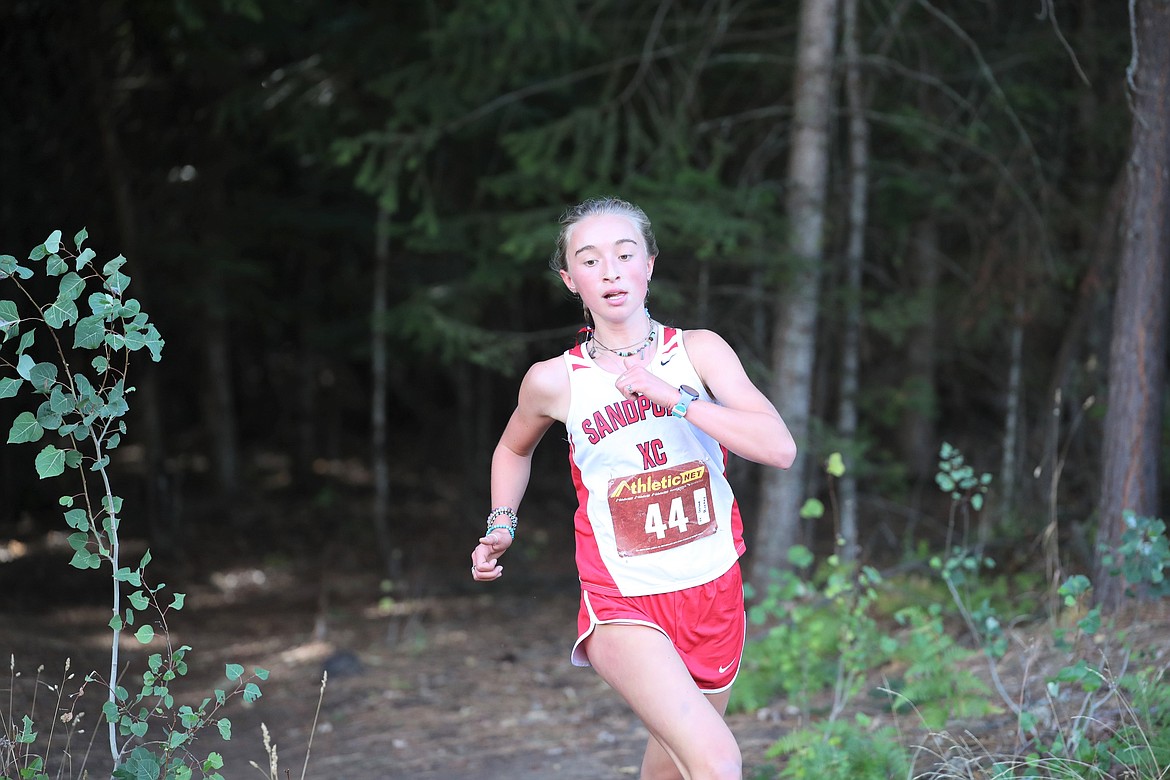 Grace Rookey competes in Friday's dual.
(Photo by DYLAN GREENE)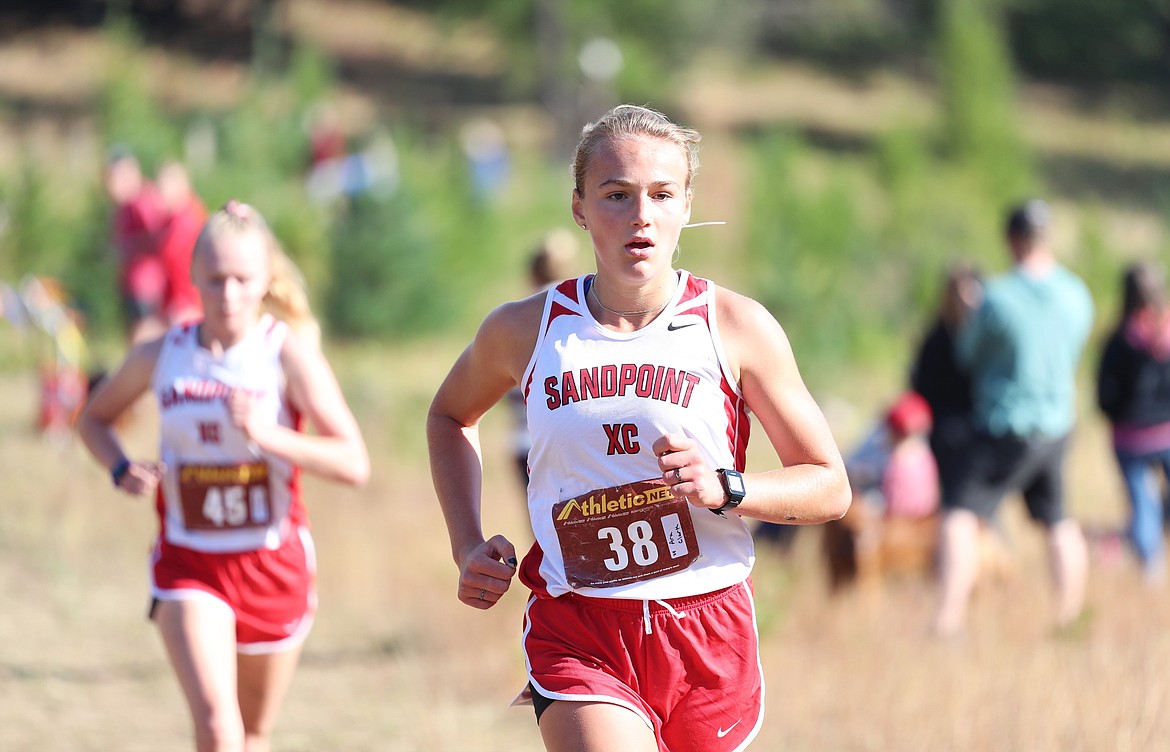 Ara Clark leads the way during Friday's dual.
(Photo by DYLAN GREENE)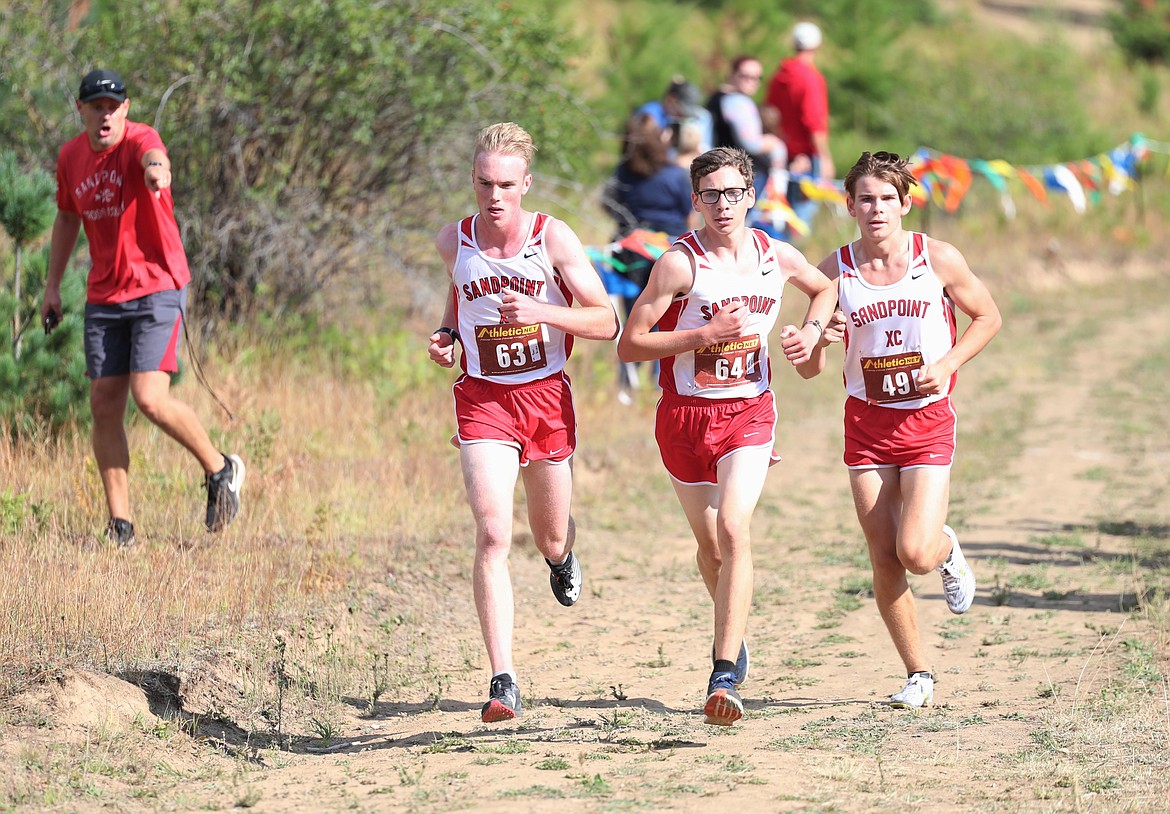 Ben Ricks (left), Nathan Roche and Trey Clark run side-by-side near the halfway point of Friday's dual.
(Photo by DYLAN GREENE)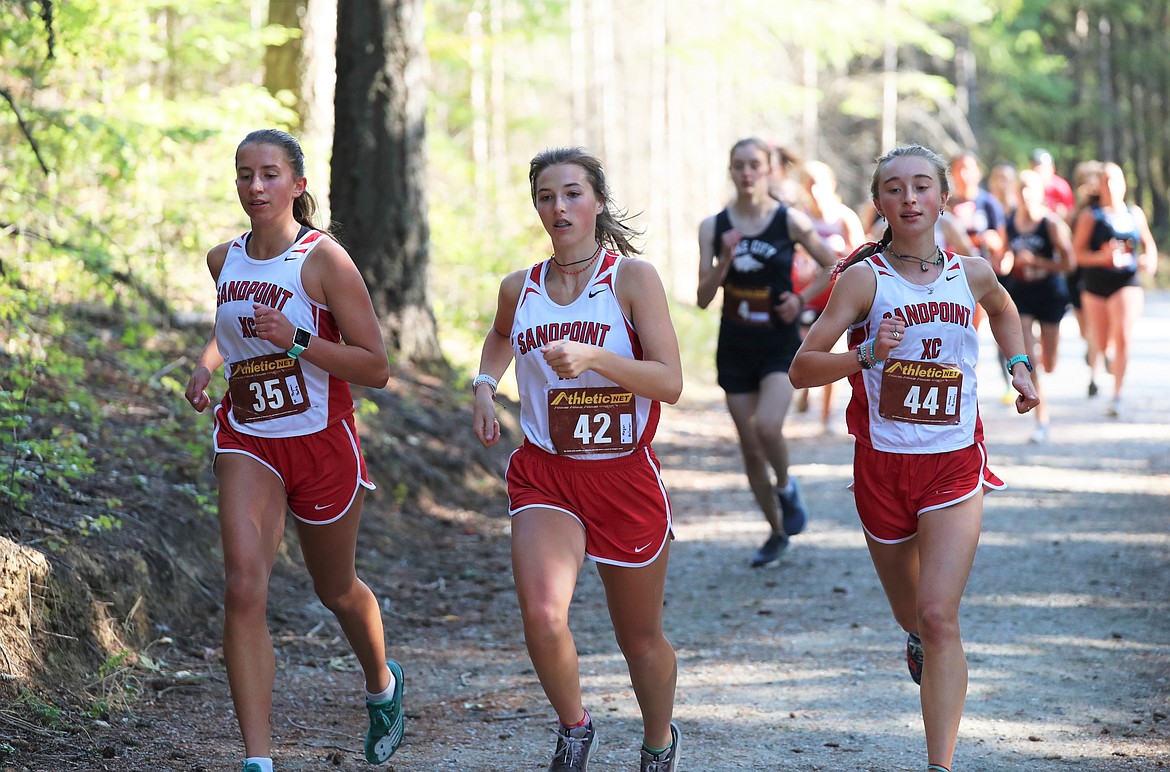 Payton Betz (left), Megan Oulman and Grace Rookey run side-by-side at the start of Friday's dual.
(Photo by DYLAN GREENE)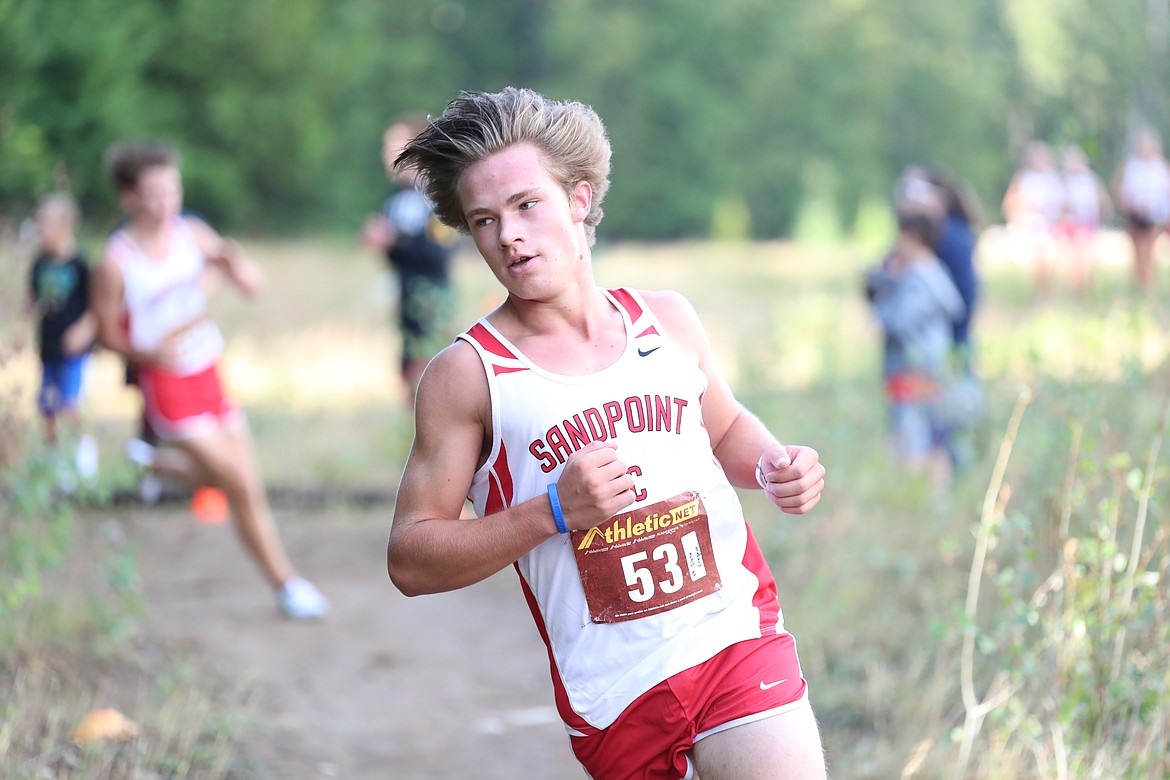 Junior Slate Fragoso rounds a corner during the Pine Street Woods Invite. He won the boys race at the dual with a time of 15:04.
(Photo by DYLAN GREENE)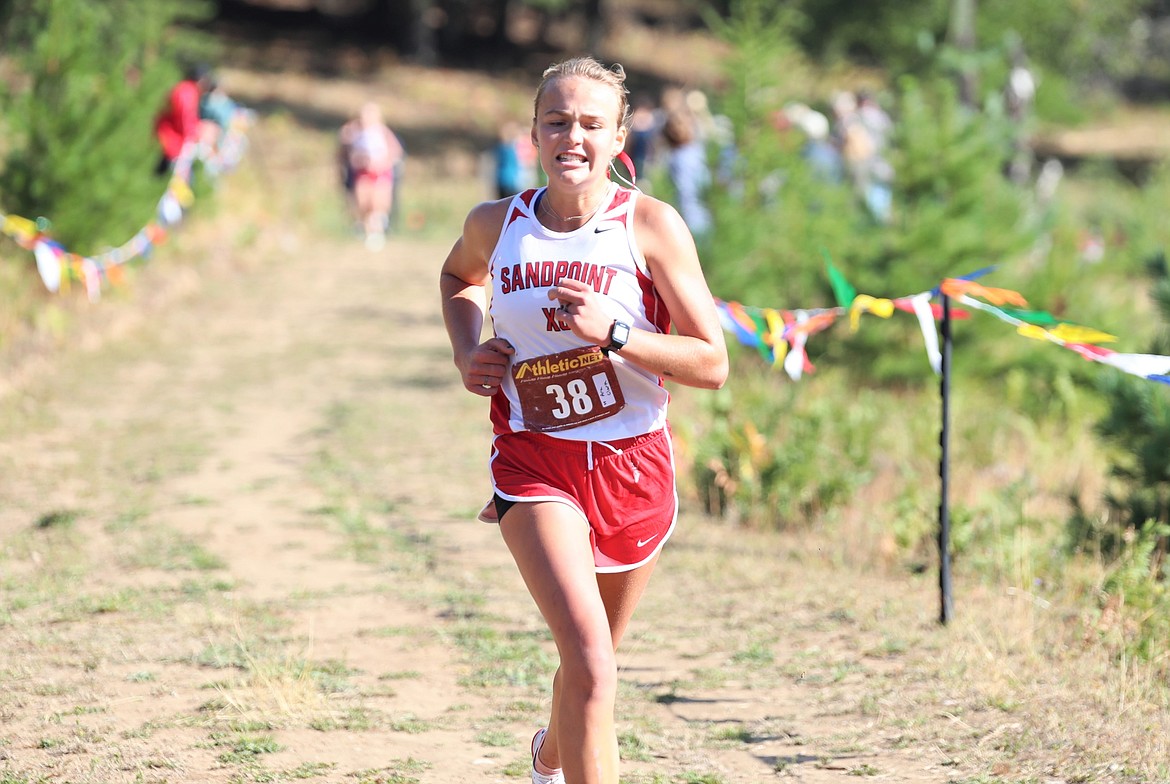 Junior Ara Clark grits her teeth as she crosses the finish line in first during the Pine Street Woods Invite.
(Photo by DYLAN GREENE)
Previous
Next
by
DYLAN GREENE
Sports Editor
|
August 28, 2021 1:00 AM
SANDPOINT — The Sandpoint cross country team opened its 2021 season on Friday morning in the perfect setting — the Pine Street Woods.
The venue gives runners a taste of a true cross country course filled with tight corners, challenging hills and a wide range of terrain. It also allows spectators to watch a significant portion of the race without moving a muscle.
This is the second straight year the Bulldogs have opened the season at Pine Street Woods, and girls cross country coach Angie Brass said the team loves competing in an environment so familiar to them.
"They were excited to run up here," she said. "We get a lot of opportunities to be up here training in the offseason, so it's really fun to be able to have a meet up here."
SHS faced off with Lake City in a dual on the 2.6-mile course and the boys and girls both displayed their strength, sweeping the Timberwolves.
Across the board, the Bulldogs posted personal bests on the course. Junior captain Ara Clark led the way for the girls with a 18:00, improving on her time from last year by over a minute to place first.
Ara recently won Sandpoint's annual hill climb at Farragut State Park for the second consecutive year and her power on hills shined through on Friday.
"Hills are definitely one of her strong suits," Angie said, "and it's good for her to be able to utilize that on the courses we have because we don't get a lot of hill testing on some of the other courses."
Senior Mackenzie Suhy-Gregoire, who won the race last fall, wasn't far behind, placing second with a 18:12.
Ara and Suhy-Gregoire stuck together throughout the entire race and formed a tight pair at the front.
"They always work well together and they did awesome," Angie said.
Sophomore Grace Rookey was the next Bulldog over the line, finishing in 19:03 to place fifth. Senior Megan Oulman (19:13) grabbed sixth and Payton Betz (19:36) took home seventh.
As expected, the top five runners for the girls were on point following a great offseason.
"They slayed it," Angie said.
Terra Bode in eighth and Alyssa Fite in 10th rounded out the top seven runners for Sandpoint. The girls beat Lake City by 18 points.
The boys took down the Timberwolves by nearly the exact same margin, winning by 19.
Junior captain Slate Fragoso captured first with a 15:04. Just like Ara, Slate was the champion in the hill climb for the boys and he showcased that grit in the final stretch of the race to outlast Lake City's Maximillian Bazler.
Boys cross country coach Matt Brass said Slate ran an extremely calculated race.
"It's a strength course and he's a really smart pacer," Matt said, "and he knows this course well, so at the beginning when [Bazler] took off in the lead I wasn't worried."
Ben Ricks, Trey Clark and Nathan Roche came in third, fourth and fifth respectively.
Matt said those top four runners were solid, but he'd like to see them hold on as a pack a little farther into the race.
Caleb Roche secured seventh with a 16:22, Klein Fragoso was ninth and Daniel Ricks earned 10th.
On the boys side, there is a competition brewing for the sixth and seventh spots on the varsity team and that was on full display during Friday's dual. At the halfway point of the race, a pack of eight Sandpoint runners vying for those varsity spots were neck and neck with each other.
Leading into the dual, Matt said he talked to his runners aiming for a varsity spot about working together as a pack and they executed the plan to perfection.
"They got the message and they also really pushed each other to do much better today," he said. "We have an established five and it's time to start battling out for the sixth and seventh spot and pushing everyone forward."
Matt and Angie said starting out the season on a course just short of a 5K is a nice change of pace for their runners. It allows them to focus on racing, instead of chasing PRs.
During the summer, the Bulldogs racked up well over 10,000 miles between running and biking, and that commitment is already starting to pay off.
"It reinforces the fact that summer miles matter," Matt said.
The Bulldogs will compete in the 2-mile Post Falls River Run on Thursday at Kiwanis Park.
Results
Pine Street Woods
Sandpoint athletes in bold
GIRLS
Team scores — 1, Sandpoint 21. 2, Lake City 39.
Top 15 — 1, Ara Clark, Sandpoint, 18:00.35. 2, Mackenzie Suhy-Gregoire, Sandpoint, 18:12.23. 3, Clara Stephens, Lake City, 18:26.01. 4, Hazel Kunkel, Lake City, 19:00.27. 5, Grace Rookey, Sandpoint, 19:03.19. 6, Megan Oulman, Sandpoint, 19:13.07. 7, Payton Betz, Sandpoint, 19:36.3. 8, Terra Bode, Sandpoint, 22:00.95. 9, Maya White, Lake City, 22:47.52. 10, Alyssa Fite, Sandpoint, 23:03.64. 11, Tiffany Brown, Sandpoint, 23:14.21. 12, Alexxis Johnson, Lake City, 23:28.3. 13, Madison Hall, Sandpoint, 24:13.68. 14, Ashlynn Taylor, Lake City, 24:26.03. 15, Kaya Hernandez, Lake City, 24:26.46.
BOYS
Team scores — 1, Sandpoint 20. 2, Lake City 39.
Top 15 — 1, Slate Fragoso, Sandpoint, 15:04.32. 2, Maximillian Bazler, Lake City, 15:10.42. 3, Ben Ricks, Sandpoint, 15:22.23. 4, Trey Clark, Sandpoint, 15:34.97. 5, Nathan Roche, Sandpoint, 15:48.19. 6, Logan Anderson, Lake City, 16:11.94. 7, Caleb Roche, Sandpoint, 16:22.09. 8, Aydden Johnson, Lake City, 16:54.15. 9, Klein Fragoso, Sandpoint, 16:59.25. 10, Daniel Ricks, Sandpoint, 16:59.65. 11, Anders Eastley, Sandpoint, 17:07.75. 12, Michael Hall, Sandpoint, 17:10.55. 13, Kasten Grimm, Sandpoint, 17:15.19. 14, Nathan Brillhart, Lake City, 17:18.5. 15, Fletcher Barrett, Sandpoint, 17:20.26.
Recent Headlines
---