Spartans squeak past Clark Fork in scrappy, defensive battle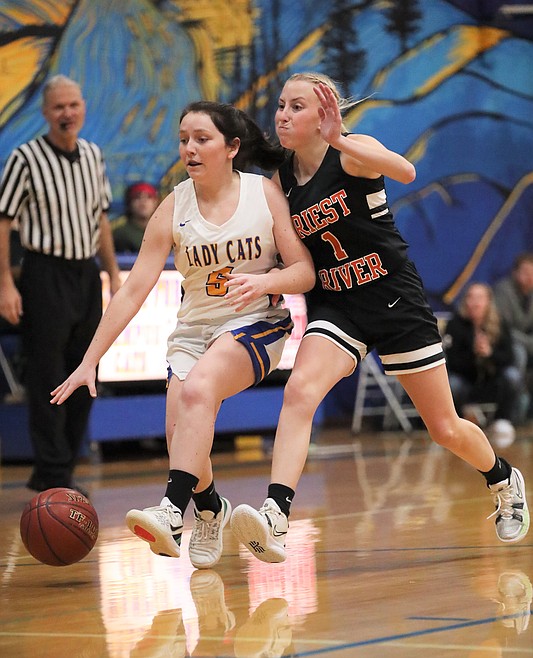 Clark Fork's Lilly Reuter (left) fights off Priest River's Marley Burgess-Duquette while trying to drive toward the basket during Wednesday's game at CFHS.
(Photo by DYLAN GREENE)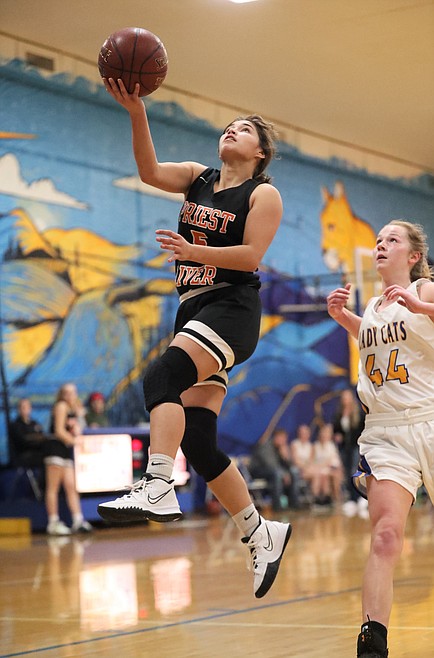 Priest River's Lilly Freitas elevates to attempt a layup.
(Photo by DYLAN GREENE)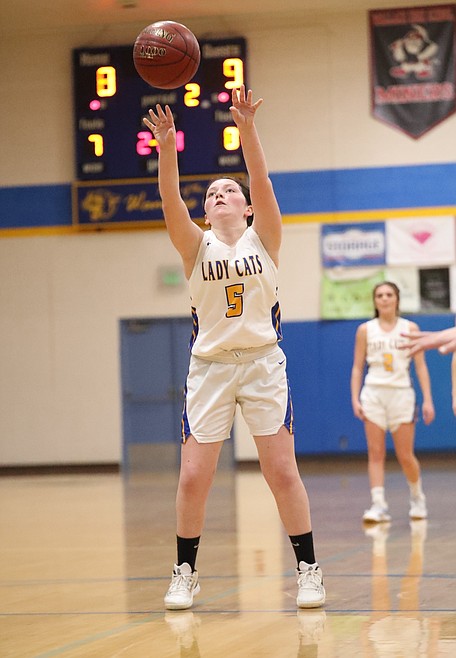 Clark Fork's Lilly Reuter attempts a free throw.
(Photo by DYLAN GREENE)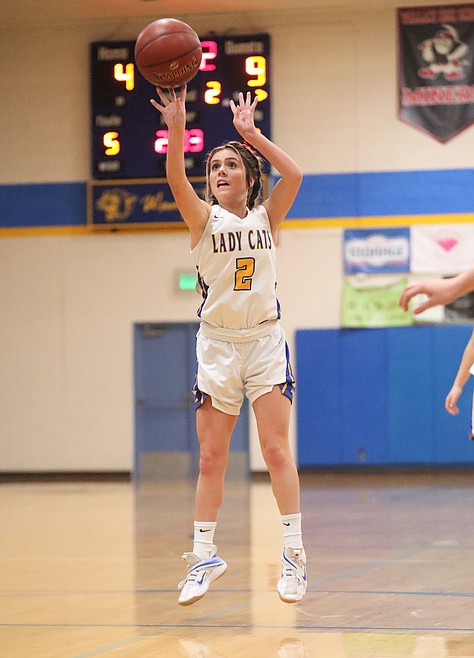 Clark Fork's Paige Valliere attempts a free throw.
(Photo by DYLAN GREENE)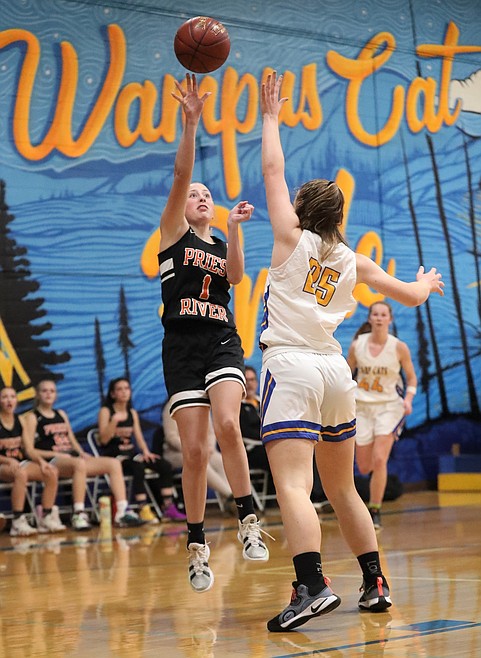 Priest River's Marley Burgess-Duquette elevates for a shot.
(Photo by DYLAN GREENE)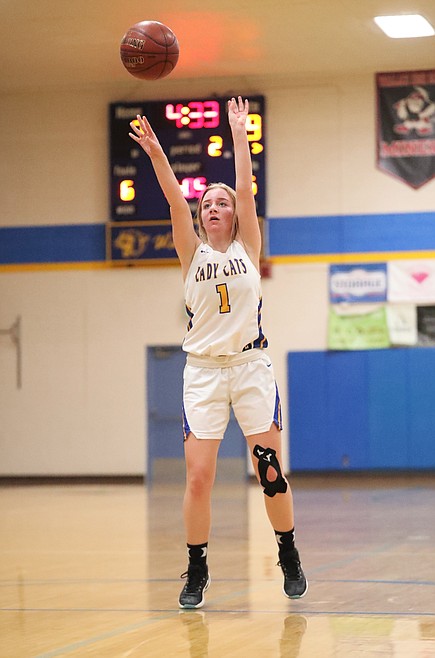 Clark Fork's Katelyn Matteson attempts a free throw.
(Photo by DYLAN GREENE)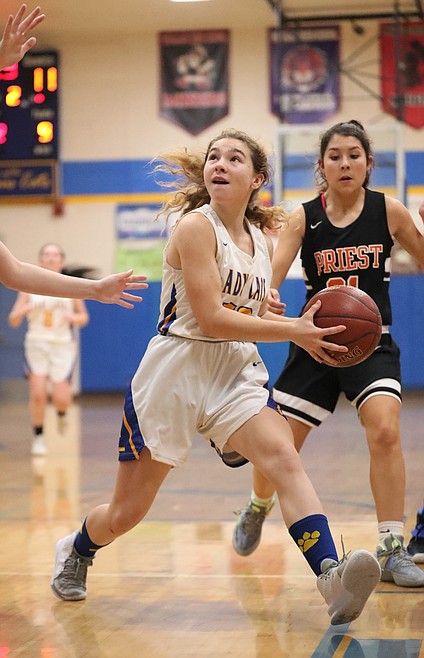 Clark Fork's Hannah Thompson looks to go up for a shot.
(Photo by DYLAN GREENE)
Clark Fork's Grace Yancey fights for a rebound.
(Photo by DYLAN GREENE)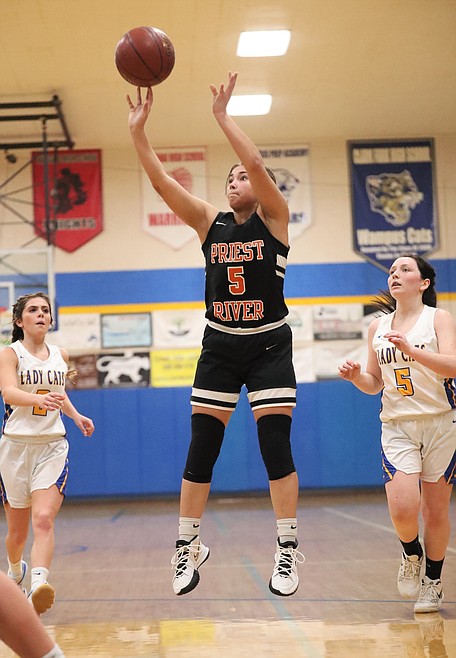 Priest River's Lilly Freitas pulls up for a jumper.
(Photo by DYLAN GREENE)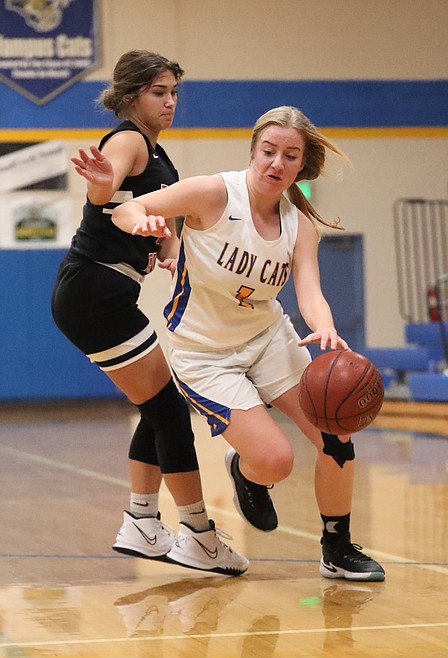 Clark Fork's Katelyn Matteson turns the corner and drives toward the basket.
(Photo by DYLAN GREENE)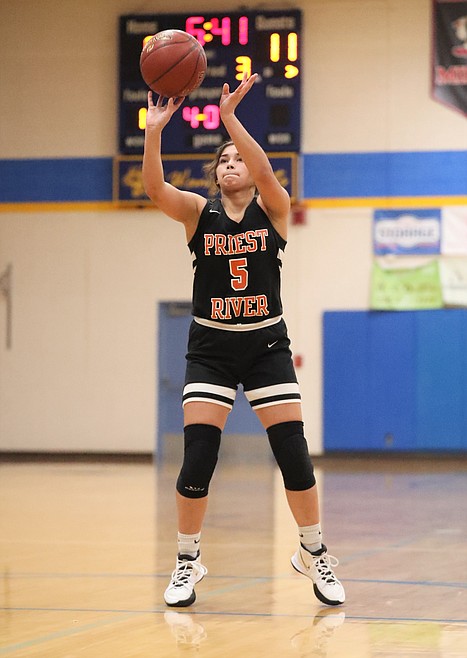 Priest River's Lilly Freitas attempts a free throw.
(Photo by DYLAN GREENE)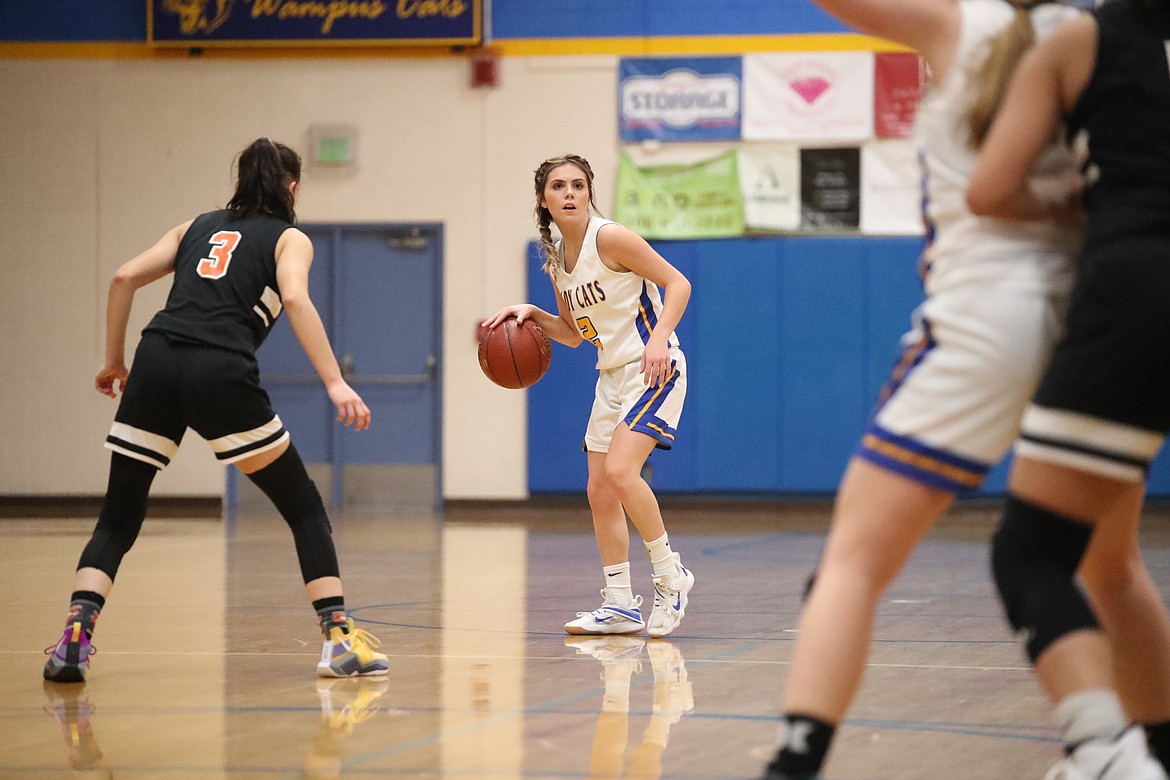 Clark Fork's Paige Valliere assesses the Priest River defense and looks to make a play.
(Photo by DYLAN GREENE)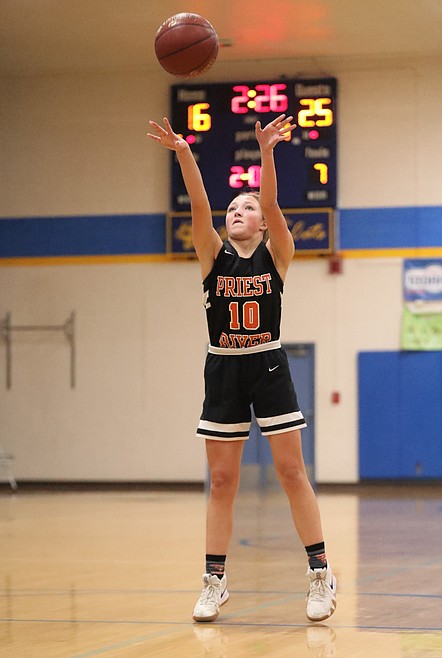 Priest River's Cheyenne Thompson attempts a free throw.
(Photo by DYLAN GREENE)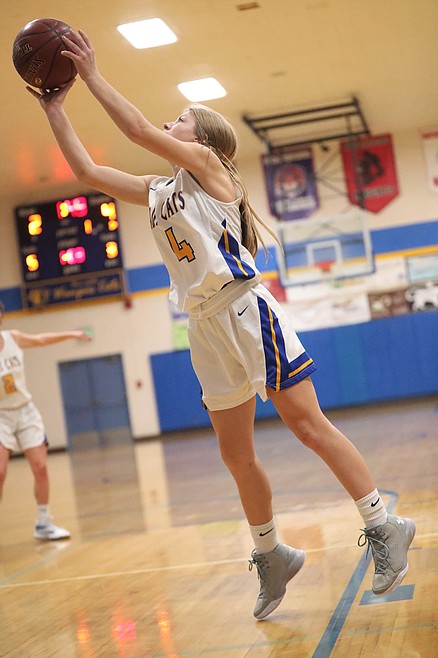 Clark Fork's Eloise Shelton converts a basket.
(Photo by DYLAN GREENE)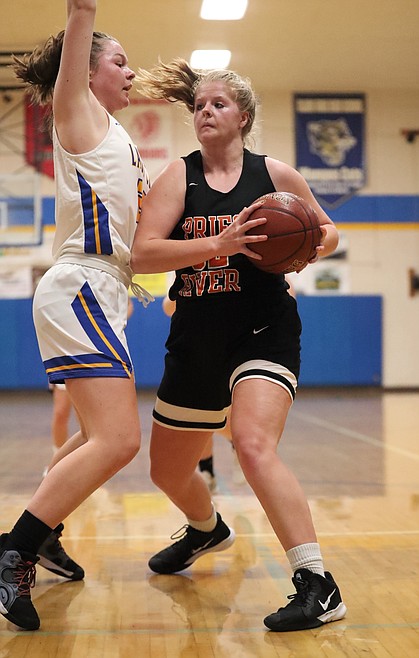 Priest River's Allyson Barton looks to make a move in the post.
(Photo by DYLAN GREENE)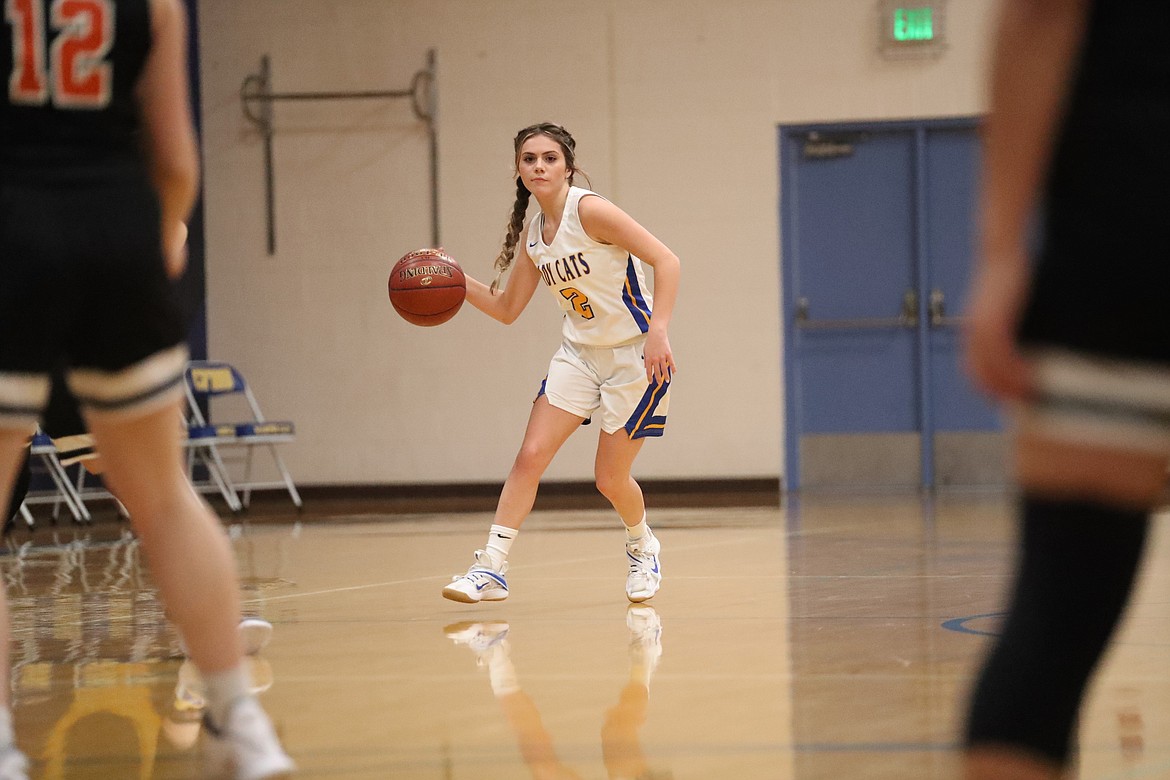 Clark Fork's Paige Valliere brings the ball up the court.
(Photo by DYLAN GREENE)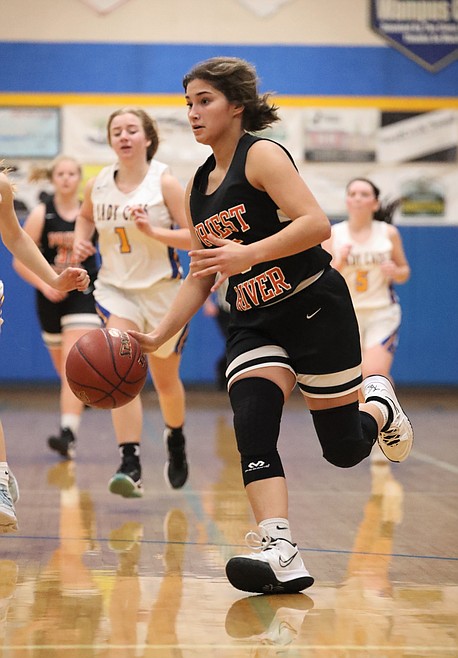 Priest River's Lilly Freitas drives toward the basket.
(Photo by DYLAN GREENE)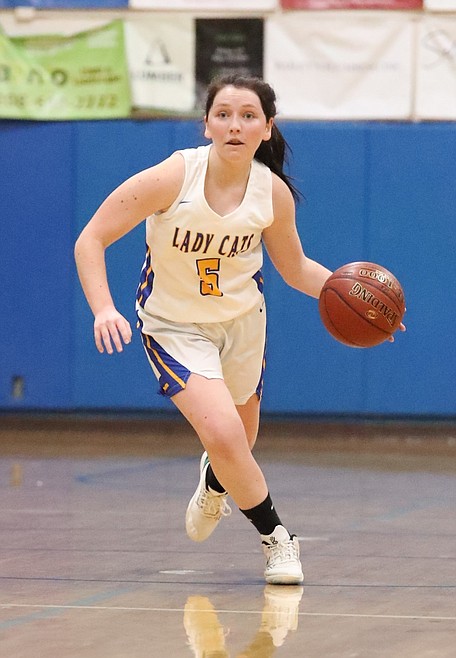 Clark Fork's Lilly Reuter brings the ball up the court.
(Photo by DYLAN GREENE)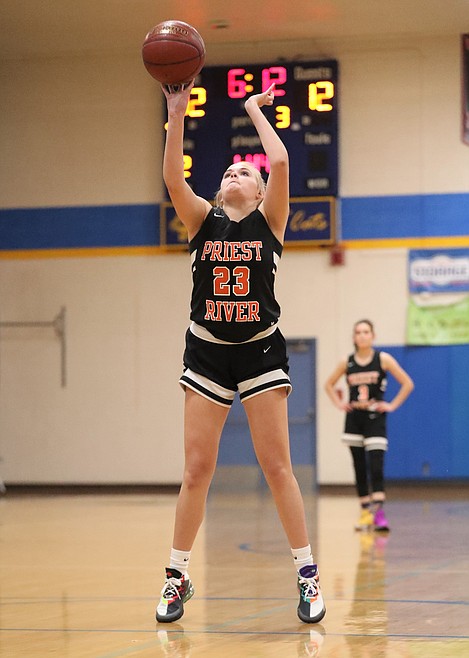 Priest River's Addisen Kingery attempts a free throw.
(Photo by DYLAN GREENE)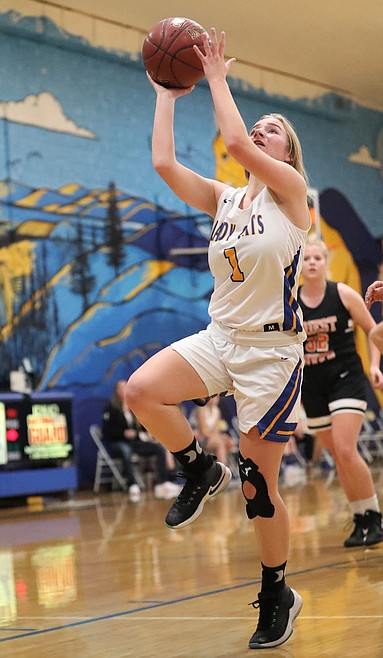 Clark Fork's Katelyn Matteson elevates to attempt a layup.
(Photo by DYLAN GREENE)
Previous
Next
by
DYLAN GREENE
Sports Editor
|
December 1, 2021 11:54 PM
CLARK FORK — Priest River and Clark Fork engaged in a defensive slugfest on Wednesday night at CFHS.
Both teams struggled to put points on the scoreboard, but in the end the Spartans grinded out a 27-19 victory over the Lady Cats.
It was the season opener for Clark Fork and early on they showed some first-game jitters. They committed 10 first-quarter turnovers.
But after that the Lady Cats settled in and gave the 3A Spartans quite the fight. Clark Fork head coach Jordan Adams was proud of her team's effort and execution.
"I told them in the locker room, 'Your first game this year, you're already ahead of where you finished last year without a doubt,'" she said. "They played as a team, they played as a unit."
Relentless, scrappy defense kept the Lady Cats within striking distance of the Spartans all night long. They forced 21 turnovers and guards Paige Valliere, Katelyn Matteson, Eloise Shelton, Lilly Reuter and Hannah Thompson brought the intensity every possession.
"That is just who they are," Adams said. "We kind of thrive on defense. We have a lot of hustle on our team and it comes into play in the long run."
The Spartans led for most of the first half and a steal and bucket from Lilly Freitas allowed Priest River to take a 11-9 lead into the locker room.
Clark Fork continued to keep things close early in the second half as Reuter drilled a 3-pointer with 6:25 left in the third quarter to tie the game at 12-12. Both teams couldn't buy a basket in the frame, but the Spartans were able to build a 17-13 advantage heading into the final quarter.
Reuter hit another 3-pointer, but it wasn't enough to keep up with the Spartans who went on a 8-3 run to pull away from the Lady Cats down the stretch.
Clark Fork had a hard time dealing with Priest River's size in the paint. They were outrebounded 45-24. Adams said the Lady Cats have a lot of youth and inexperience in the post and the Spartans capitalized on their size advantage.
"We really have to depend on every single person on our team to crash the boards," she said, "and when they have 2 feet on us that's easier said than done."
Both teams had a tough night at the free-throw line. Clark Fork was 7 of 21 and Priest River was 3 of 18.
Reuter led the Lady Cats with 7 points and five rebounds. Matteson finished with 5 points, six rebounds and five steals.
Priest River head coach Gary Stewart said he had his best defender — Freitas — defend Matteson most of the night because he knows the senior is a dangerous scorer.
"We knew we had to watch out for Matteson because we've played her two years in a row and she always seems to get double-digits on us just because she's always looking for her shots," he said.
Freitas tallied 13 points, 10 steals and seven rebounds for the Spartans. Samantha Pound and Addisen Kingery each scored 5 and Allyson Barton grabbed a whopping 23 rebounds.
Shelton added 4 points for Clark Fork (0-1), who hosts the Kellogg varsity team at 7 p.m. tonight. Priest River (1-2) hosts Riverside, Wash., at 6 p.m. Tuesday.
Priest River 9 2 6 10 — 27
Clark Fork 4 5 4 6 — 19
PRIEST RIVER — Burgess-Duquette 2, Pound 5, Freitas 13, Thompson 0, Humphrey 0, McCracken 0, Kingery 5, Barton 2.
CLARK FORK — Matteson 5, Valliere 2, Shelton 4, Reuter 7, Yancey 0, Thompson 0, Mace 0, Weymouth 0.
Recent Headlines
---