PHOTO GALLERY: Sandpoint downs Bonners Ferry to reclaim 'B' Cup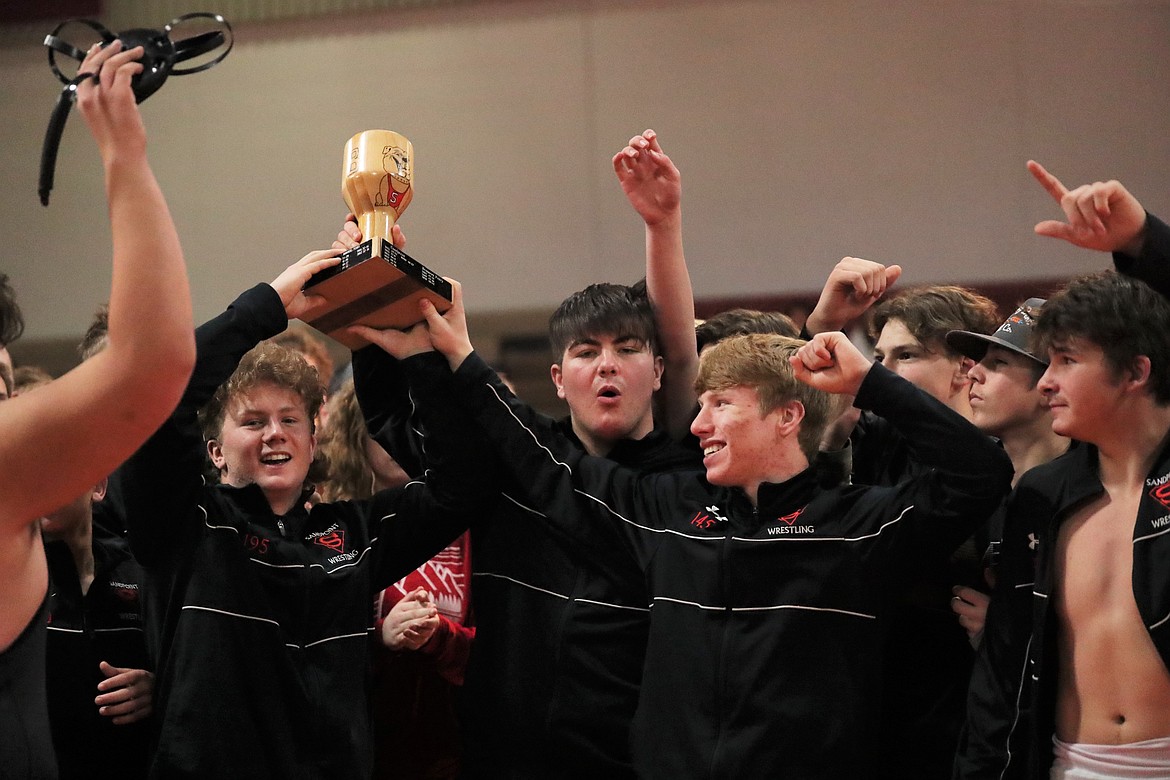 From left: Blake Sherrill, Greg Belgarde and Shane Sherrill raise the "B" Cup following Wednesday's victory.
(Photo by DYLAN GREENE)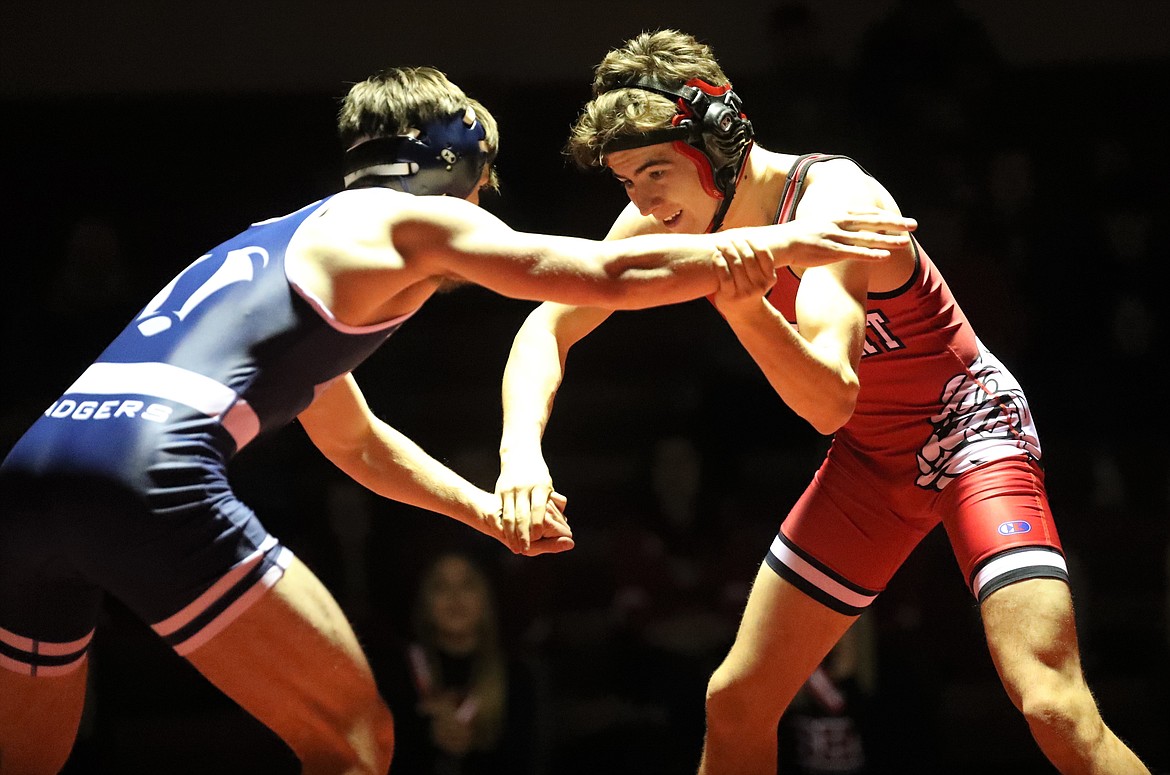 Wyatt Marker (right) battles Tully Reinhardt from Bonners Ferry in an 138-pound bout Wednesday.
(Photo by DYLAN GREENE)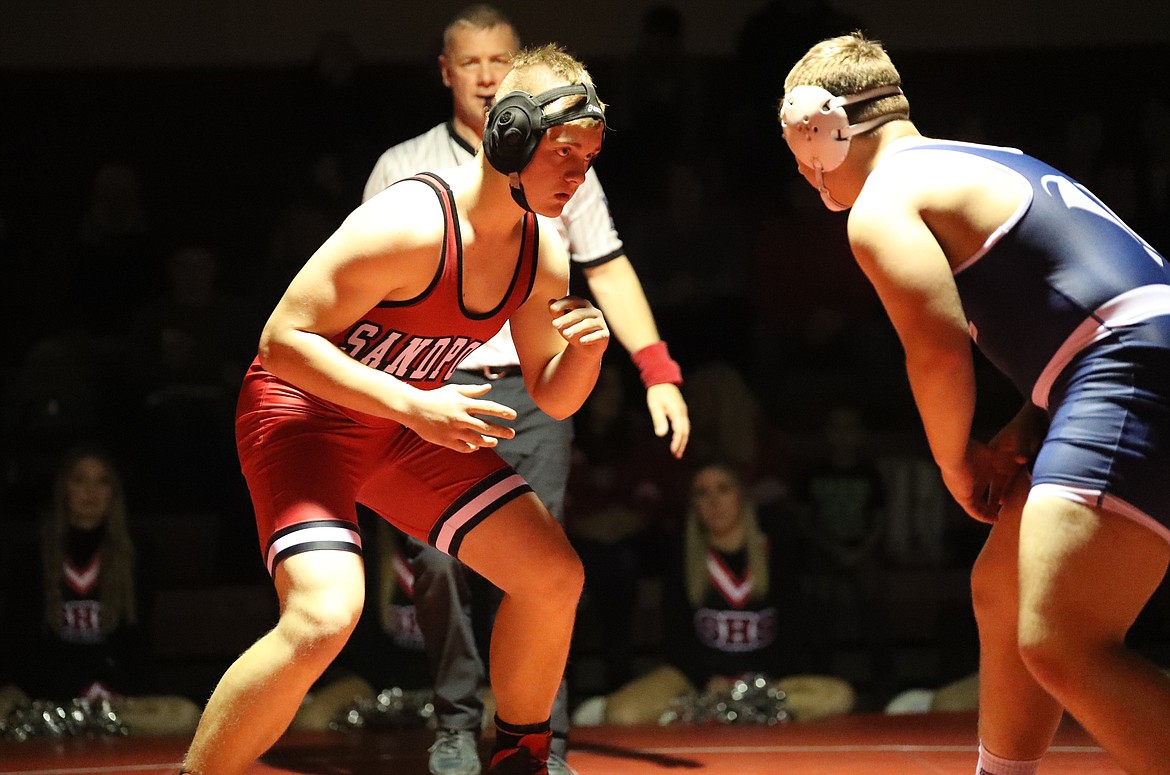 Austin Smith (left) faces off with Jackson Richter from Bonners Ferry on Wednesday.
(Photo by DYLAN GREENE)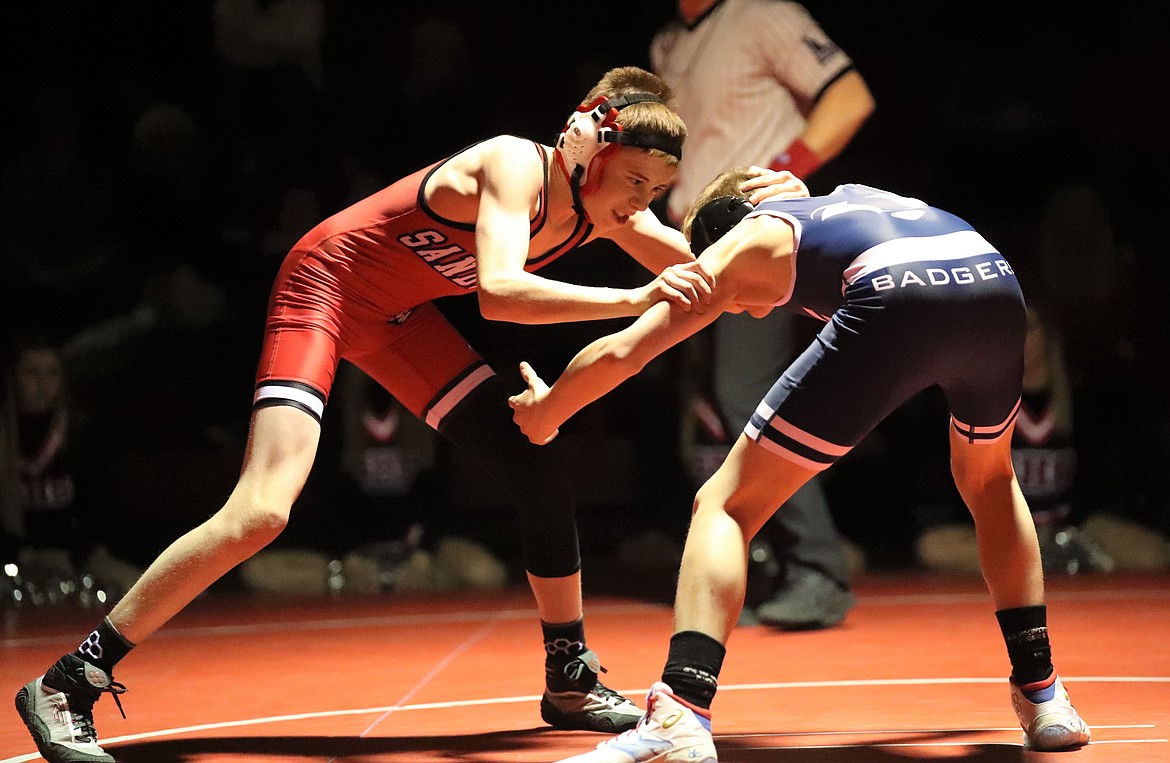 Andrew Duke (left) battles Brandon Williams from Bonners Ferry in a 98-pound bout Wednesday.
(Photo by DYLAN GREENE)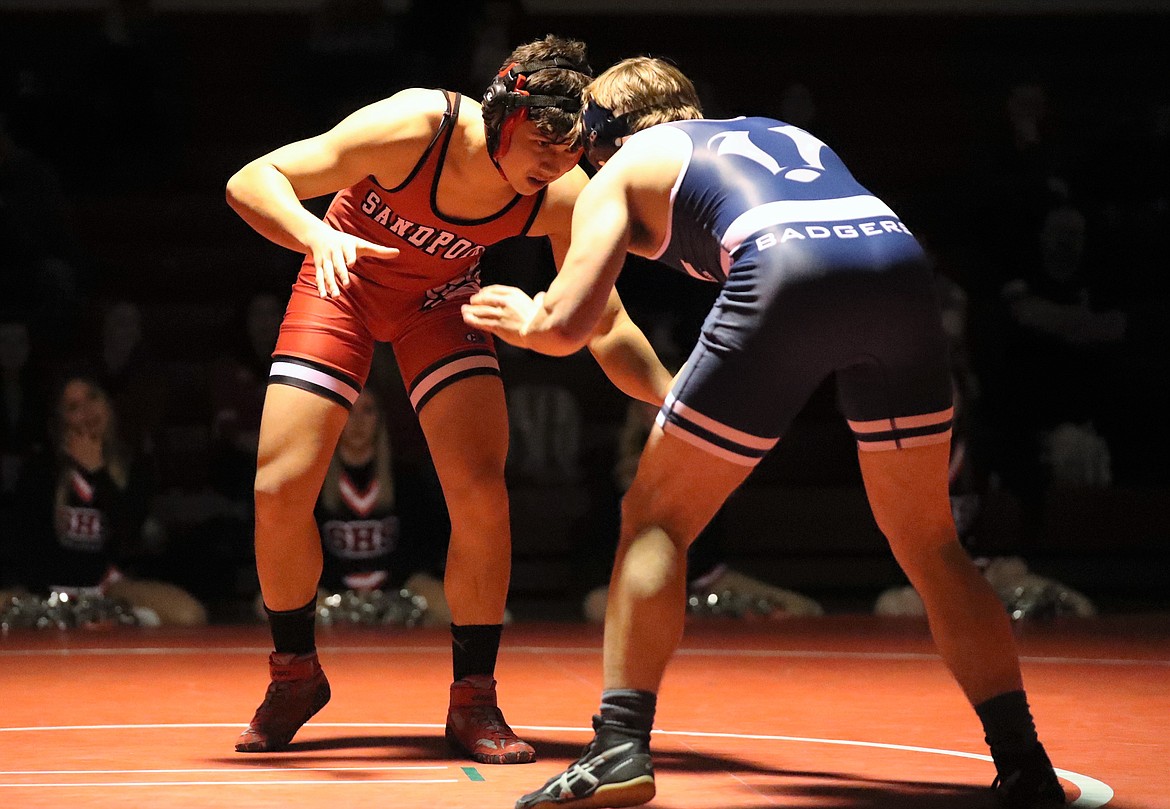 Kai McKinnon takes on Cleo Hensley from Bonners Ferry on Wednesday.
(Photo by DYLAN GREENE)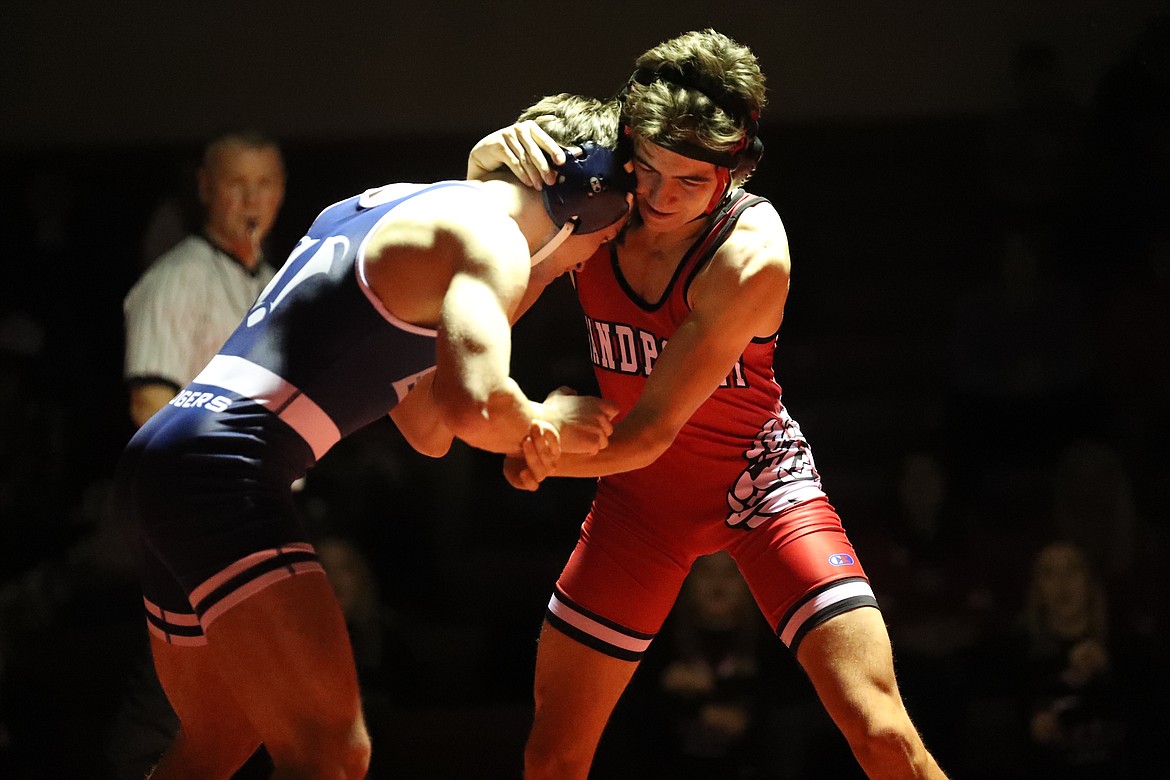 Wyatt Marker (right) battles Tully Reinhardt from Bonners Ferry on Wednesday.
(Photo by DYLAN GREENE)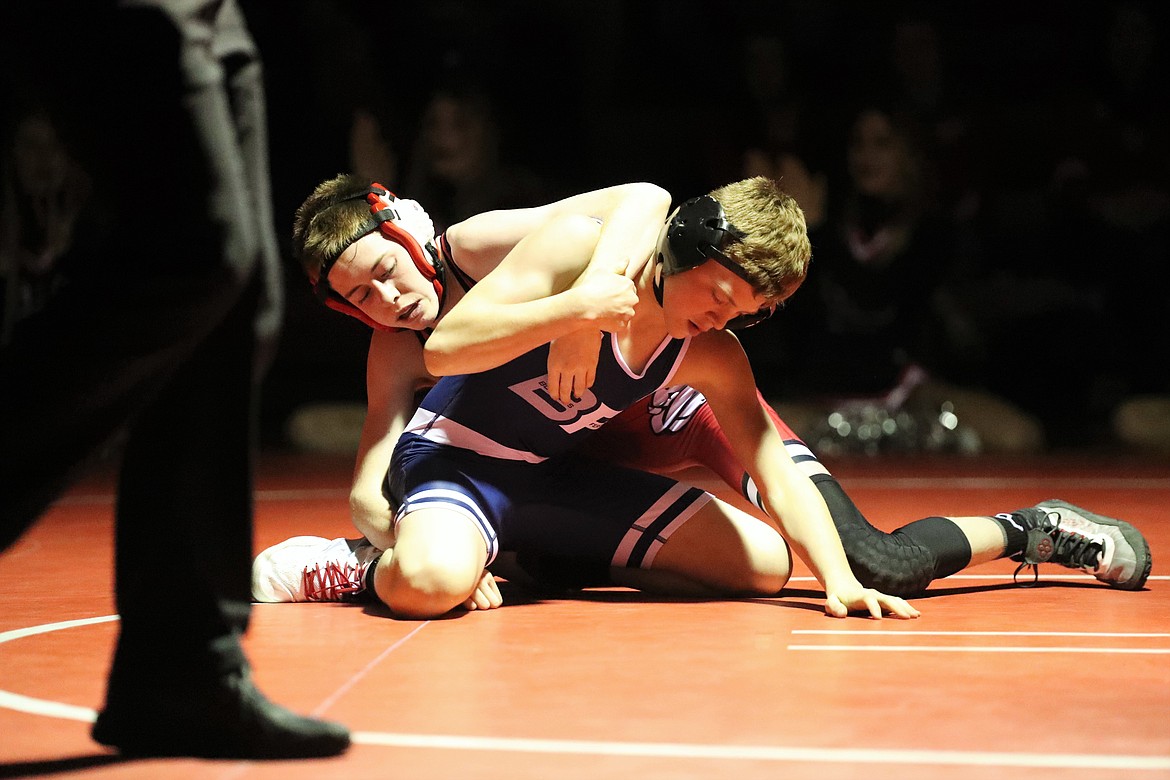 Andrew Duke (top) takes control during his match with Bonners Ferry's Brandon Williams on Wednesday.
(Photo by DYLAN GREENE)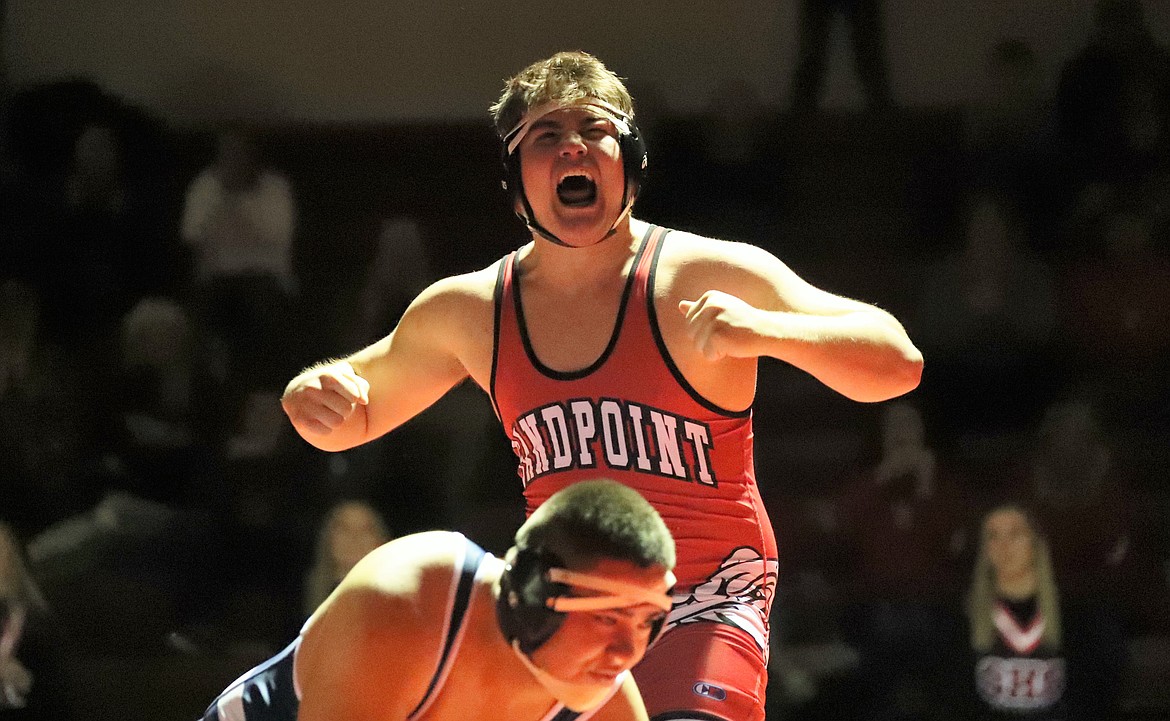 Greg Belgarde celebrates following his victory at heavyweight.
(Photo by DYLAN GREENE)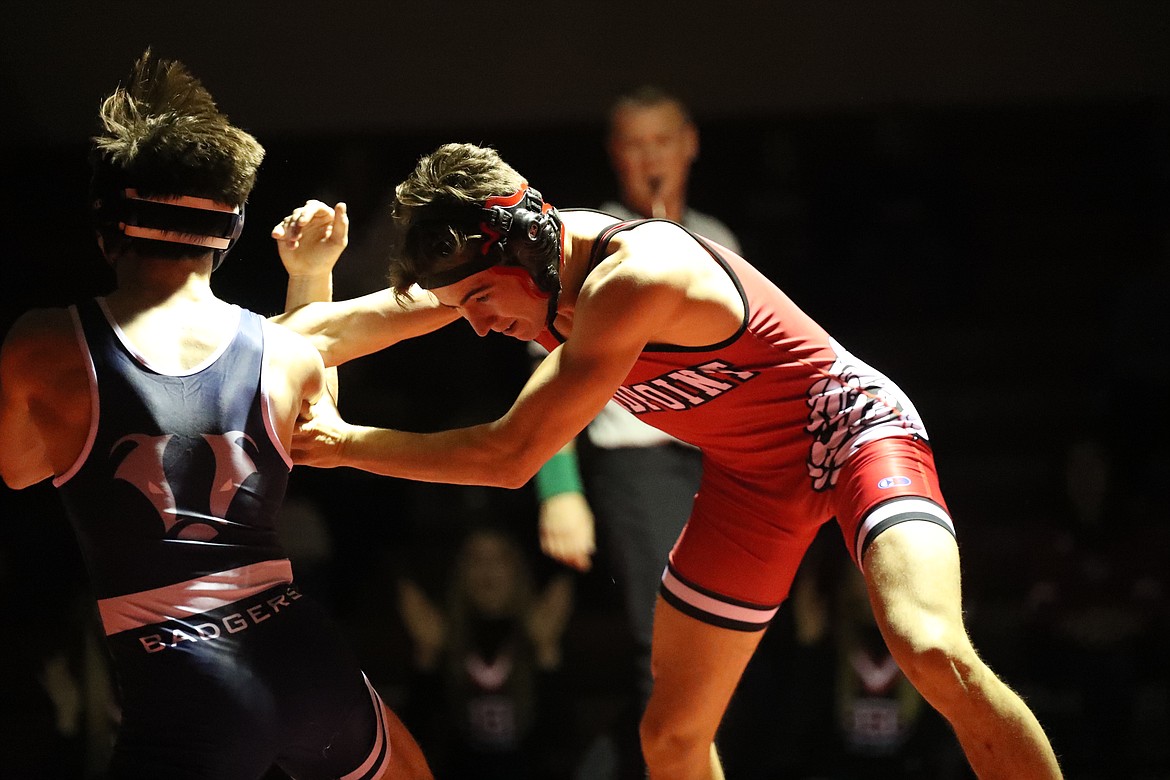 Wyatt Marker attempts to get a takedown during his 138-pound match Wednesday.
(Photo by DYLAN GREENE)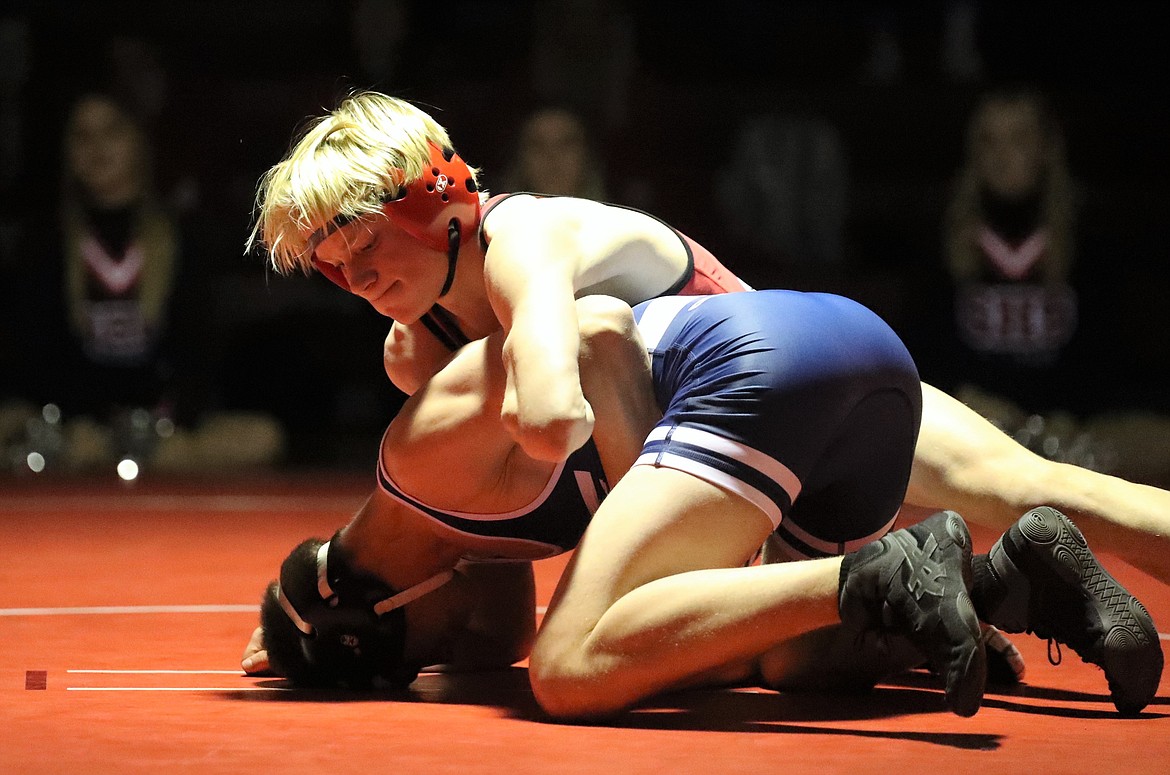 Forrest Ambridge takes control during his match with Bonners Ferry's Porter Blackmore on Wednesday.
(Photo by DYLAN GREENE)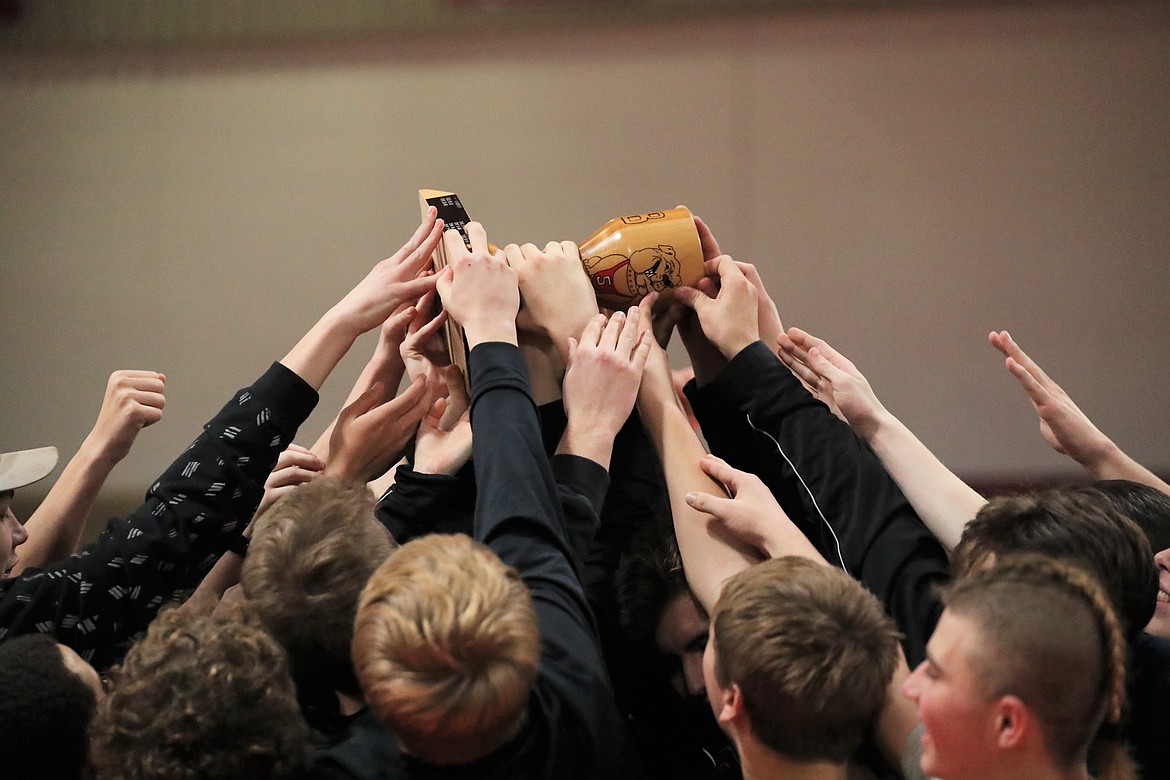 The Bulldogs raise the "B" Cup following Wednesday's victory.
(Photo by DYLAN GREENE)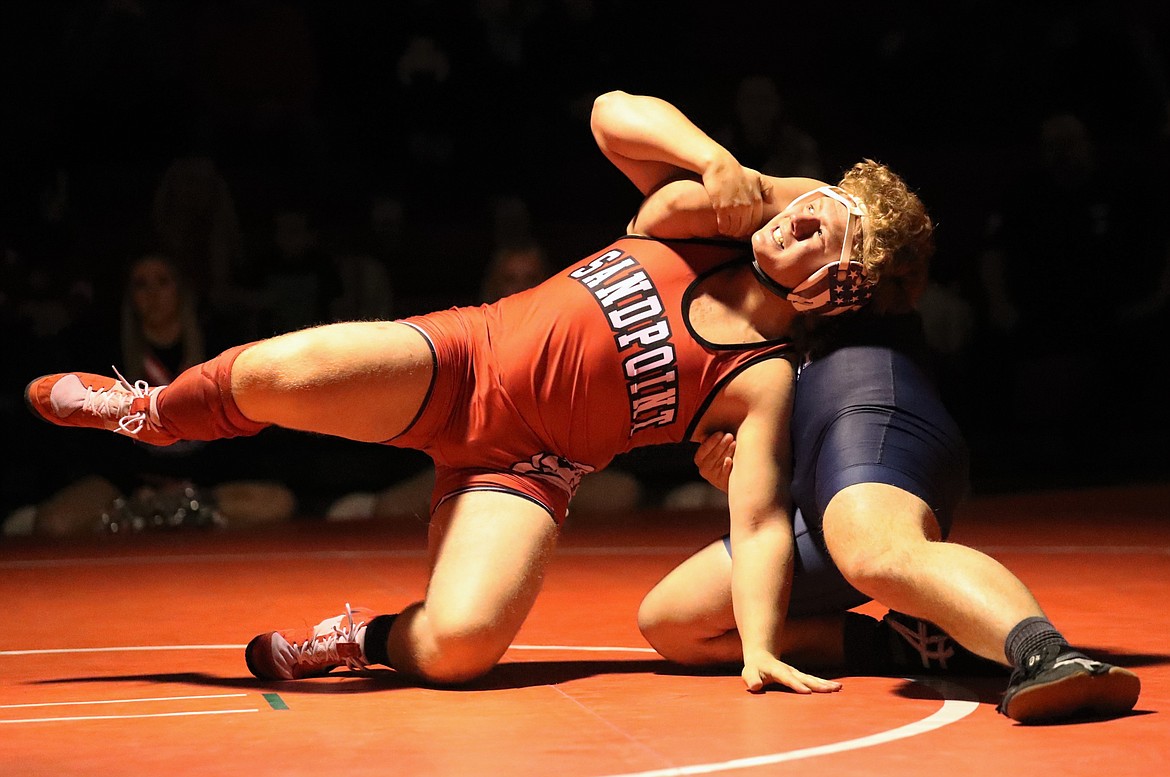 Blake Sherrill prepares to attempt a reversal during his match with Teigan Banning on Dec. 10, 2021.
(Photo by DYLAN GREENE)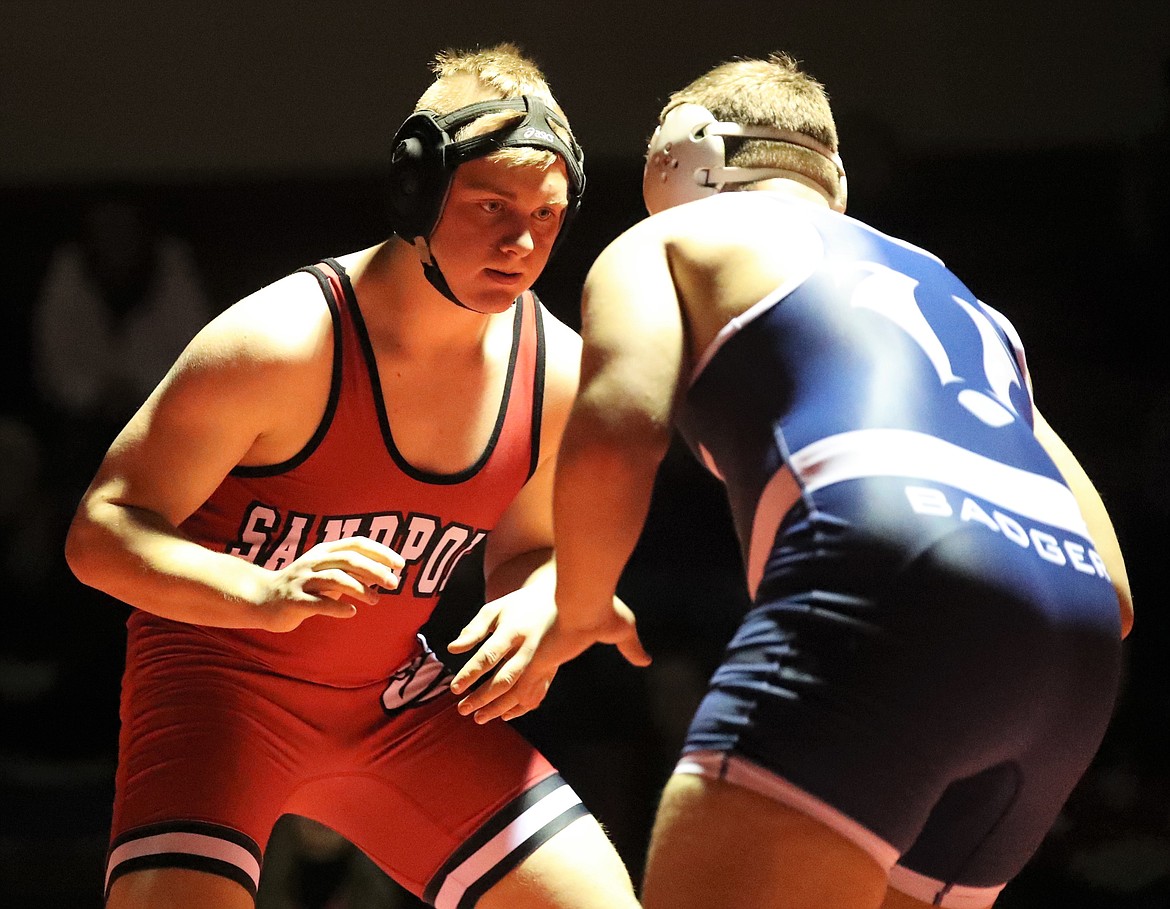 Austin Smith (left) takes on Bonners Ferry's Jackson Richter on Wednesday.
(Photo by DYLAN GREENE)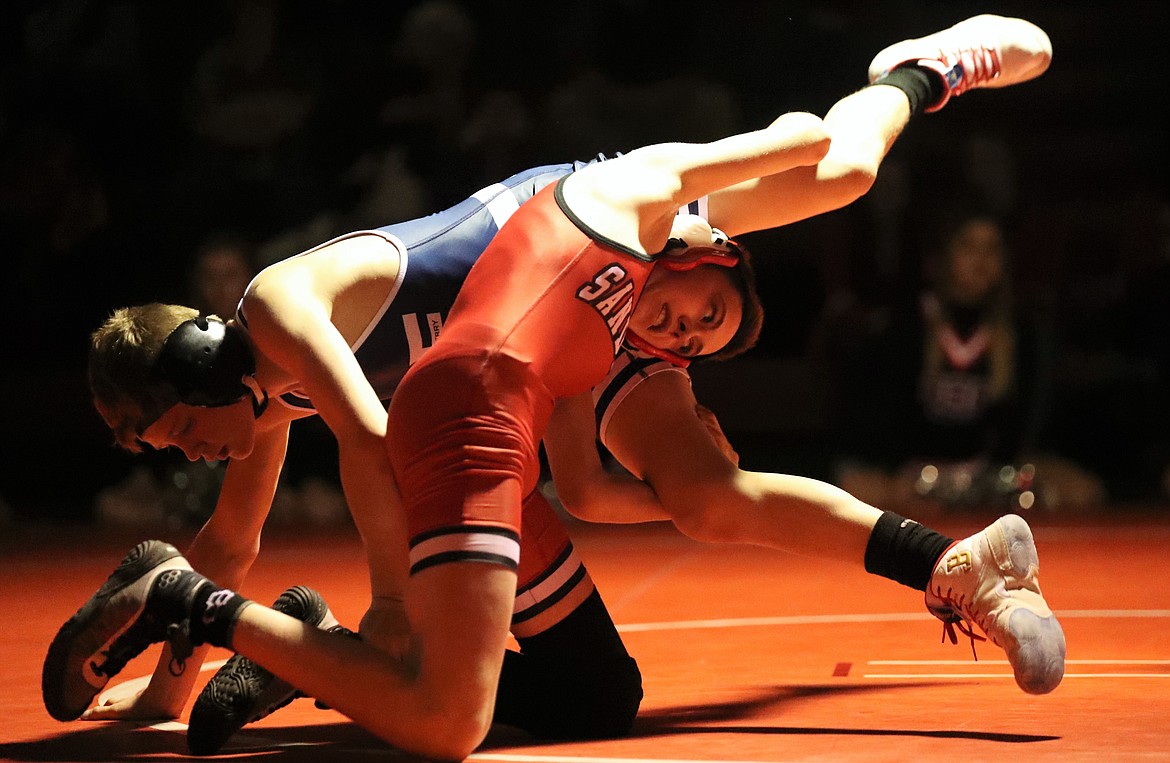 Andrew Duke (bottom) tries to escape the grasp of Bonners Ferry's Brandon Williams during a 98-pound bout Wednesday.
(Photo by DYLAN GREENE)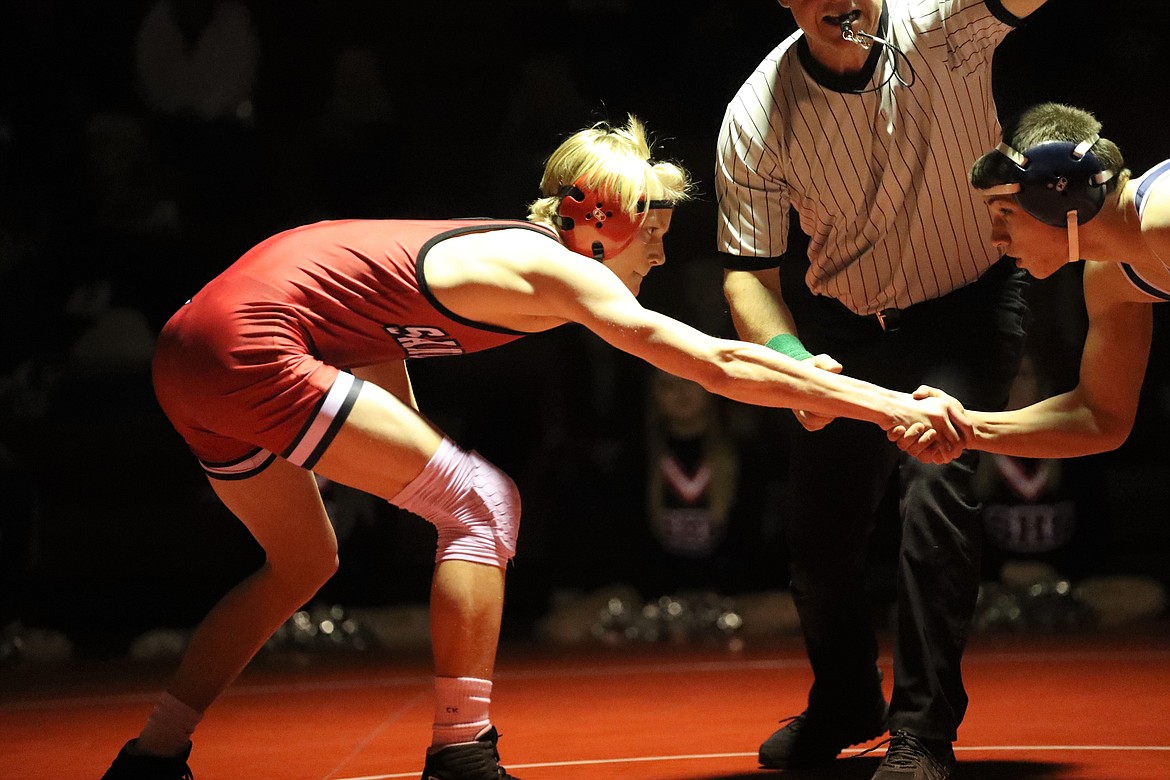 Forrest Ambridge (left) shakes hands with Bonners Ferry's Porter Blackmore prior to their match Wednesday.
(Photo by DYLAN GREENE)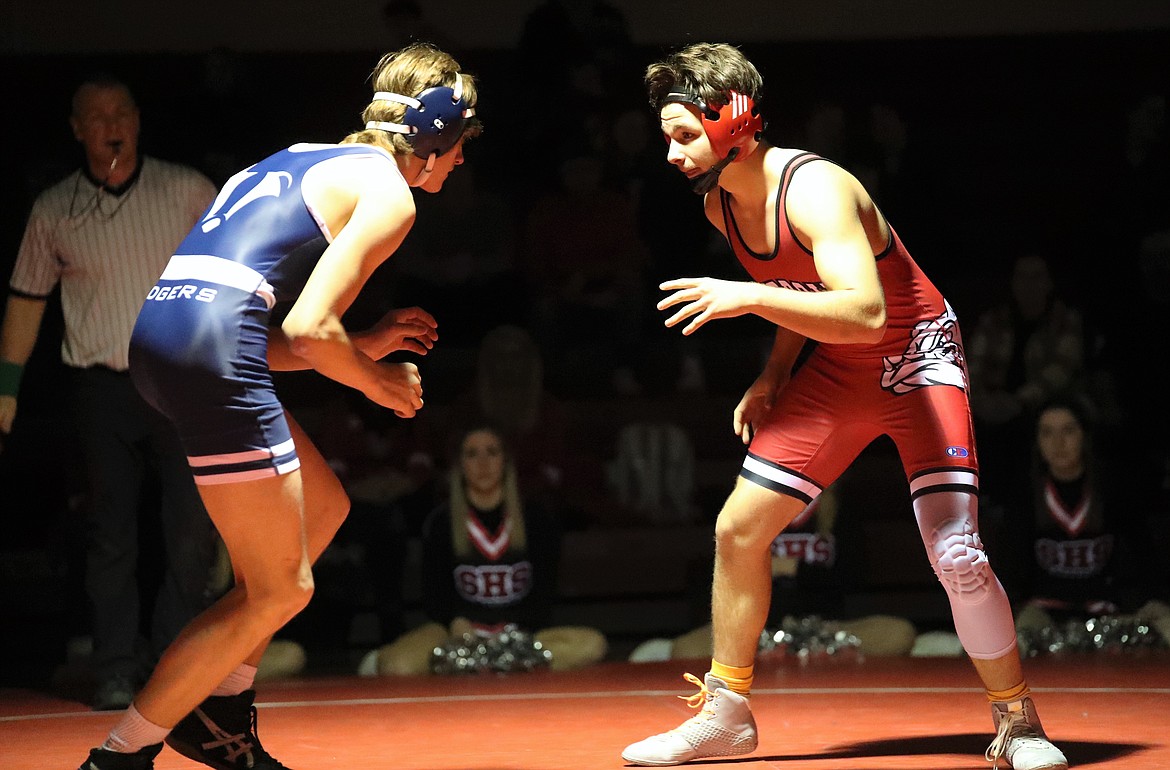 Adam Belgarde (right) faces off with Bonners Ferry's Dakoda Heller during a 152-pound bout Wednesday.
(Photo by DYLAN GREENE)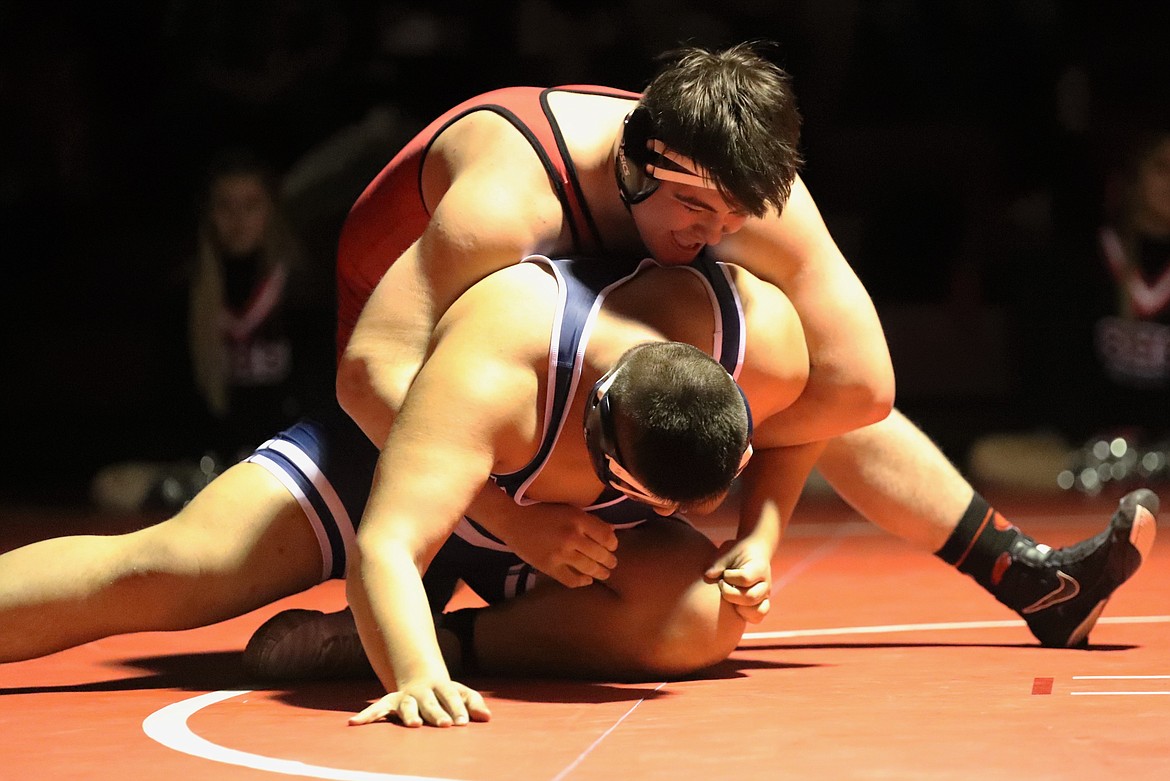 Greg Belgarde (top) wrestles Donald Riess on Wednesday.
(Photo by DYLAN GREENE)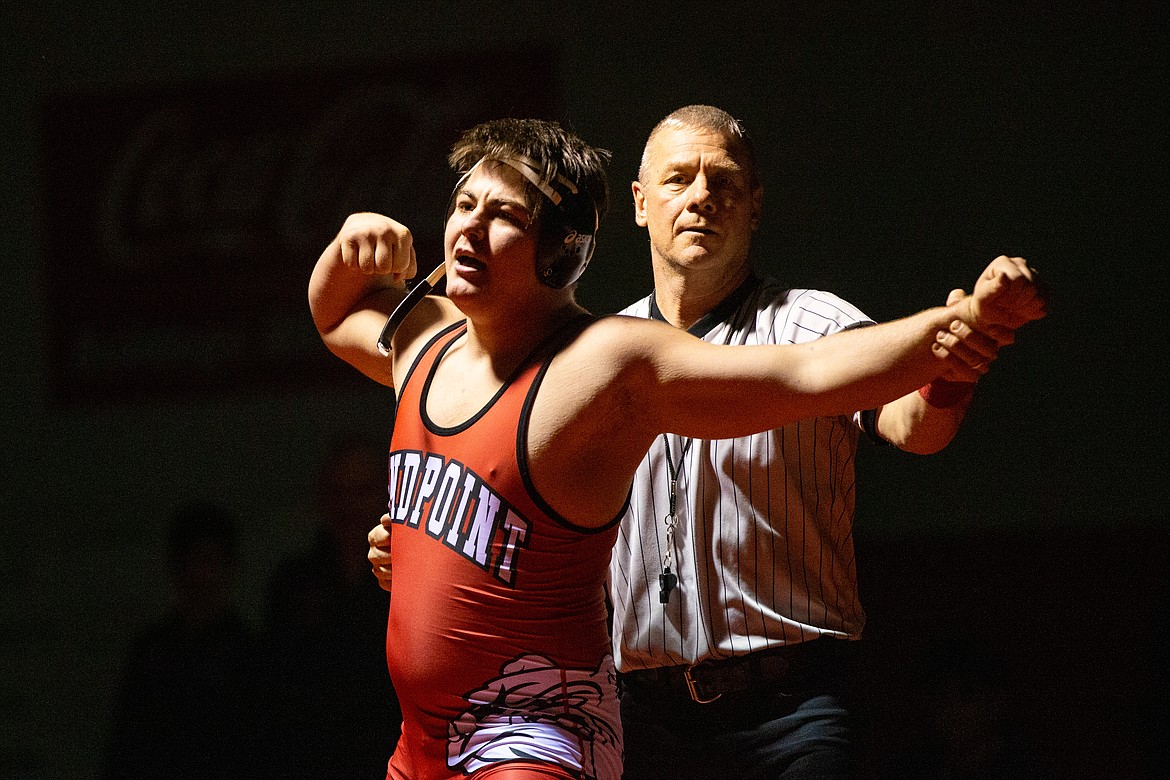 Greg Belgarde shows his emotion after pinning Bonners Ferry's Donald Riess in a heavyweight bout during Wednesday's "B" Cup at Les Rogers Court. Belgarde's victory helped set the tone for the Bulldogs.
(Photo courtesy of JASON DUCHOW PHOTOGRAPHY)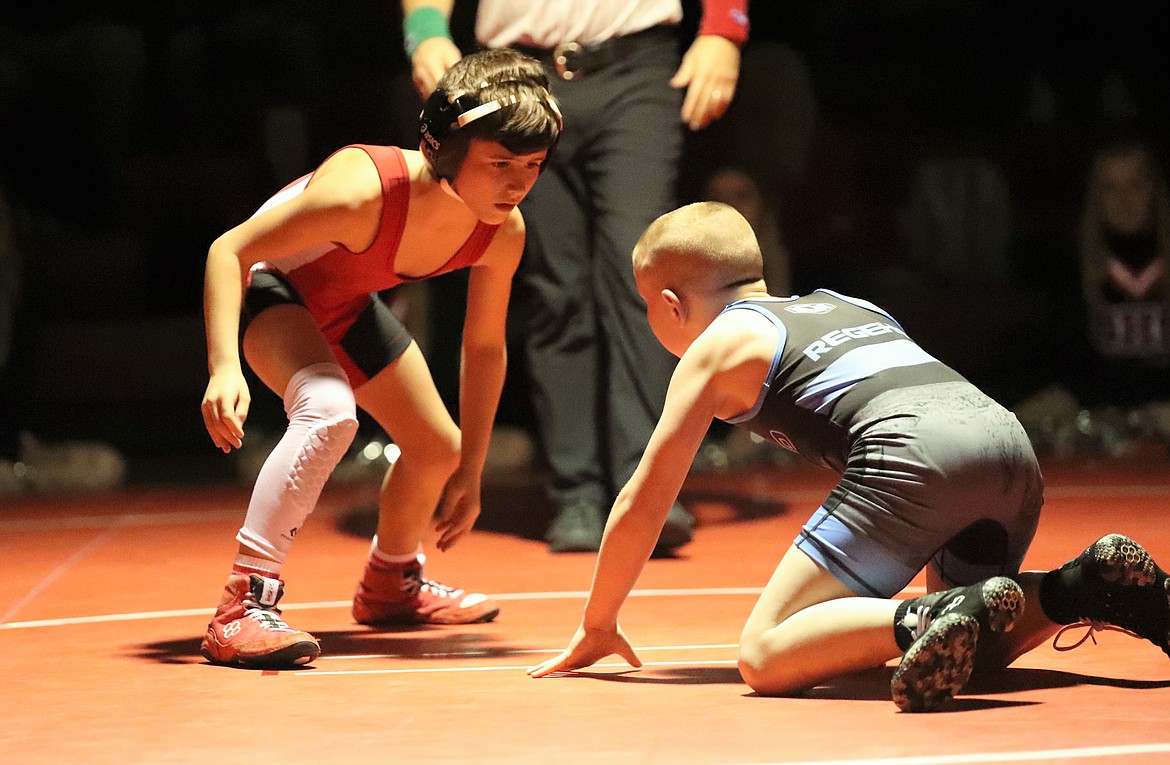 Timmy Stark (left) competes in a 70-pound match with Dalton Regehr prior to the start of Wednesday's "B" Cup.
(Photo by DYLAN GREENE)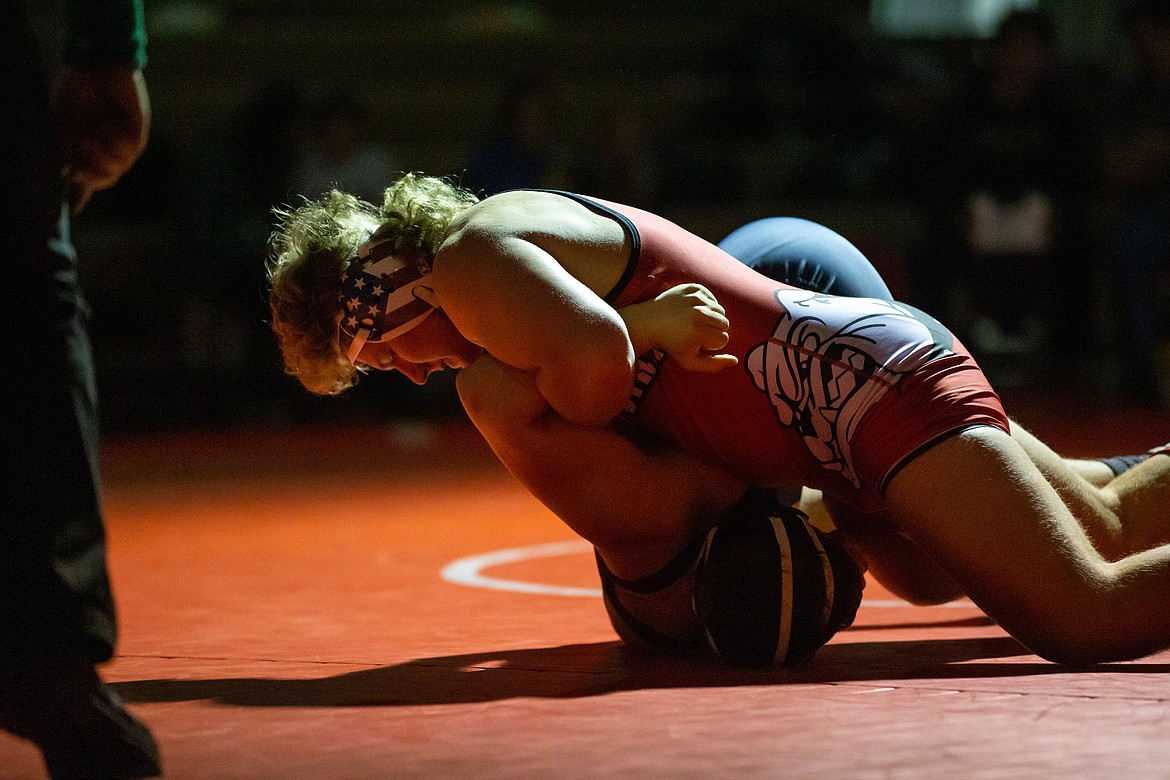 Blake Sherrill pins Teigan Banning on Wednesday.
(Photo courtesy of JASON DUCHOW PHOTOGRAPHY)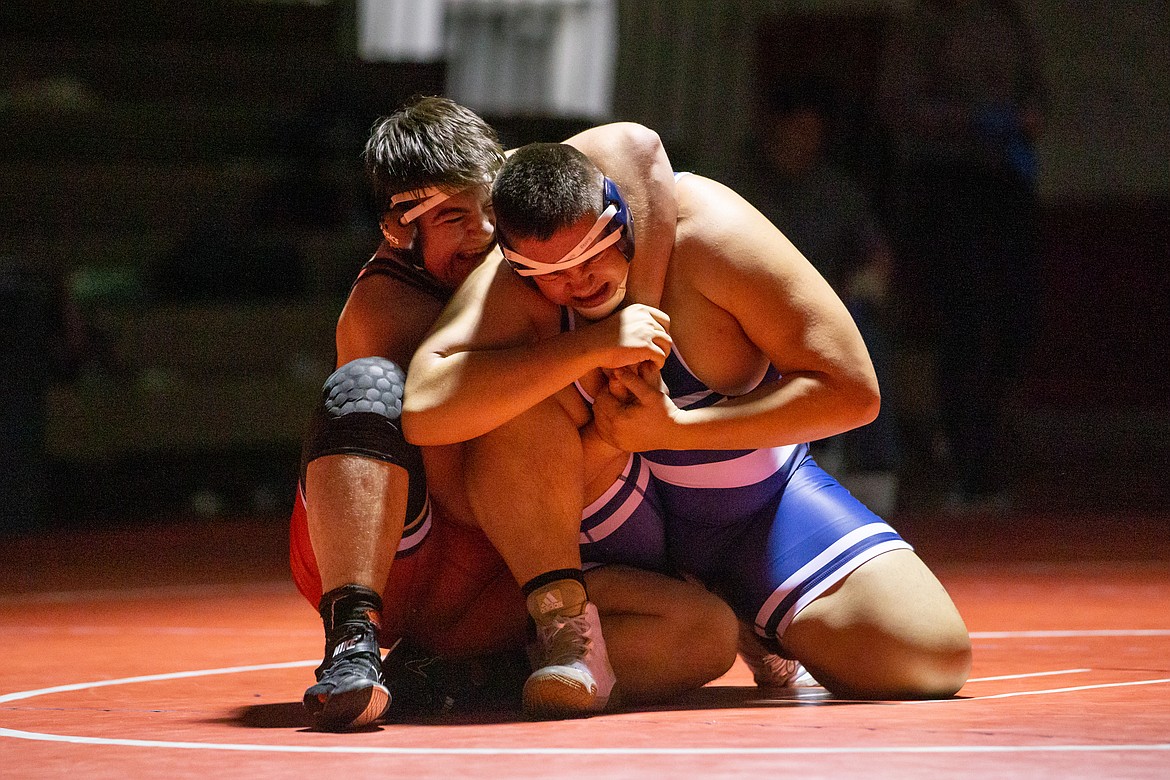 Greg Belgarde battles Donald Riess from Bonners Ferry in a heavyweight match Wednesday.
(Photo courtesy of JASON DUCHOW PHOTOGRAPHY)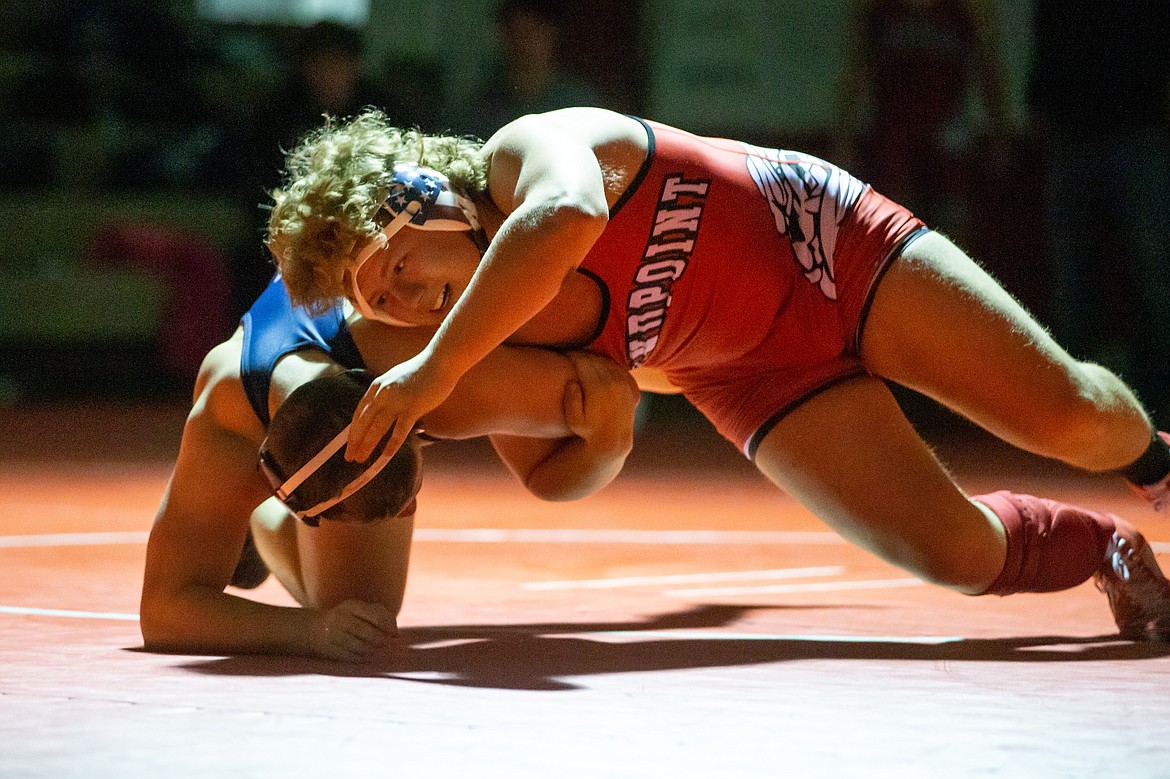 Blake Sherrill takes control during his 195-pound match with Teigan Banning on Wednesday.
(Photo courtesy of JASON DUCHOW PHOTOGRAPHY)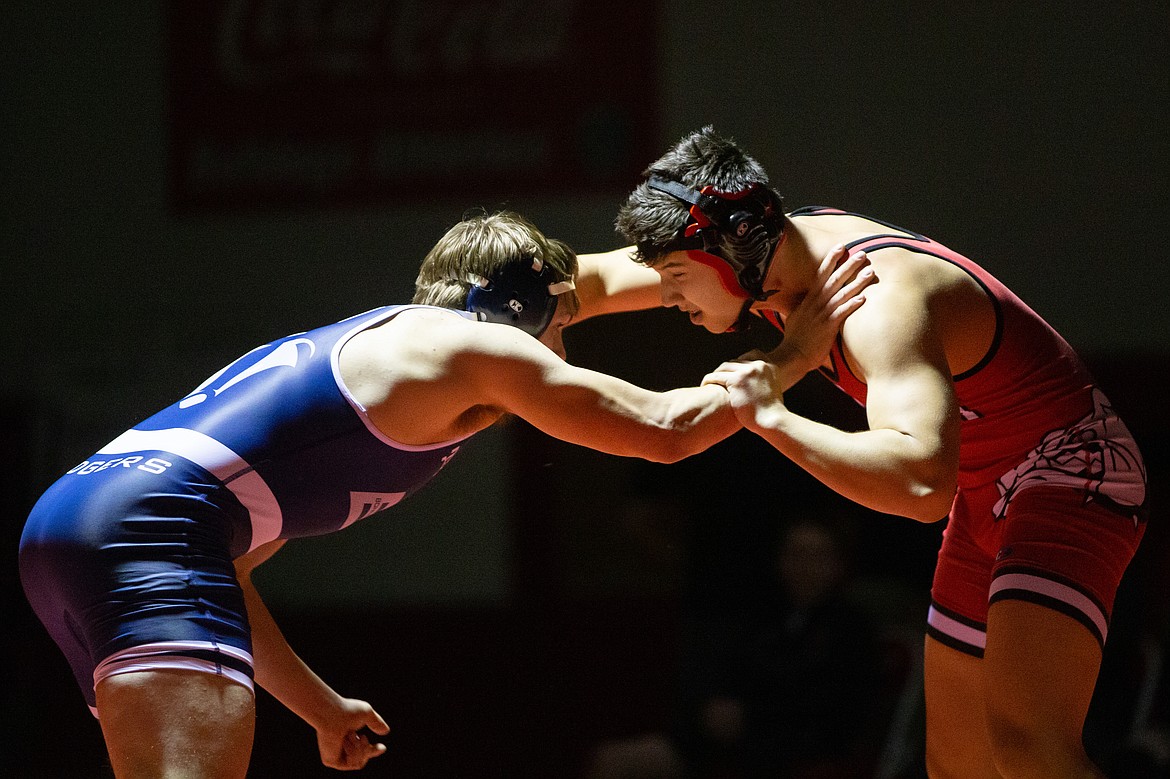 Kai McKinnon (right) battles Bonners Ferry's Cleo Hensley in a 170-pound match Wednesday. McKinnon won the match by pin.
(Photo courtesy of JASON DUCHOW PHOTOGRAPHY)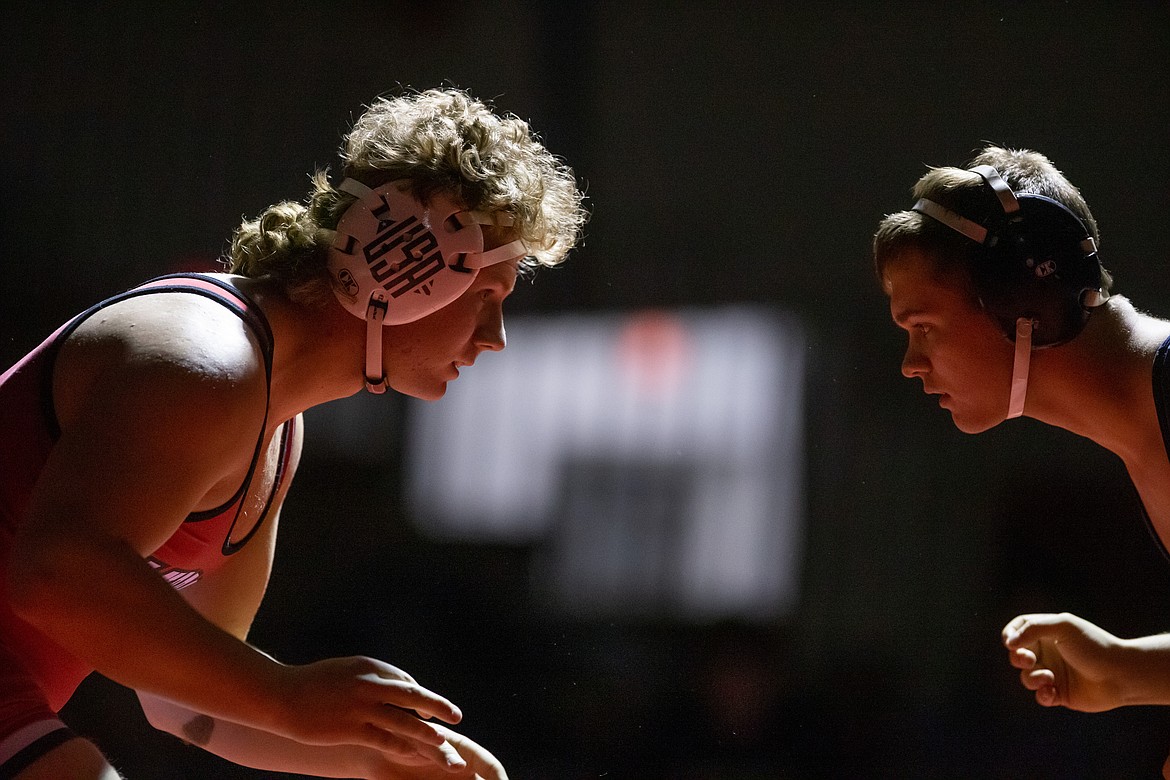 Blake Sherrill (left) faces off with Teigan Banning on Wednesday.
(Photo courtesy of JASON DUCHOW PHOTOGRAPHY)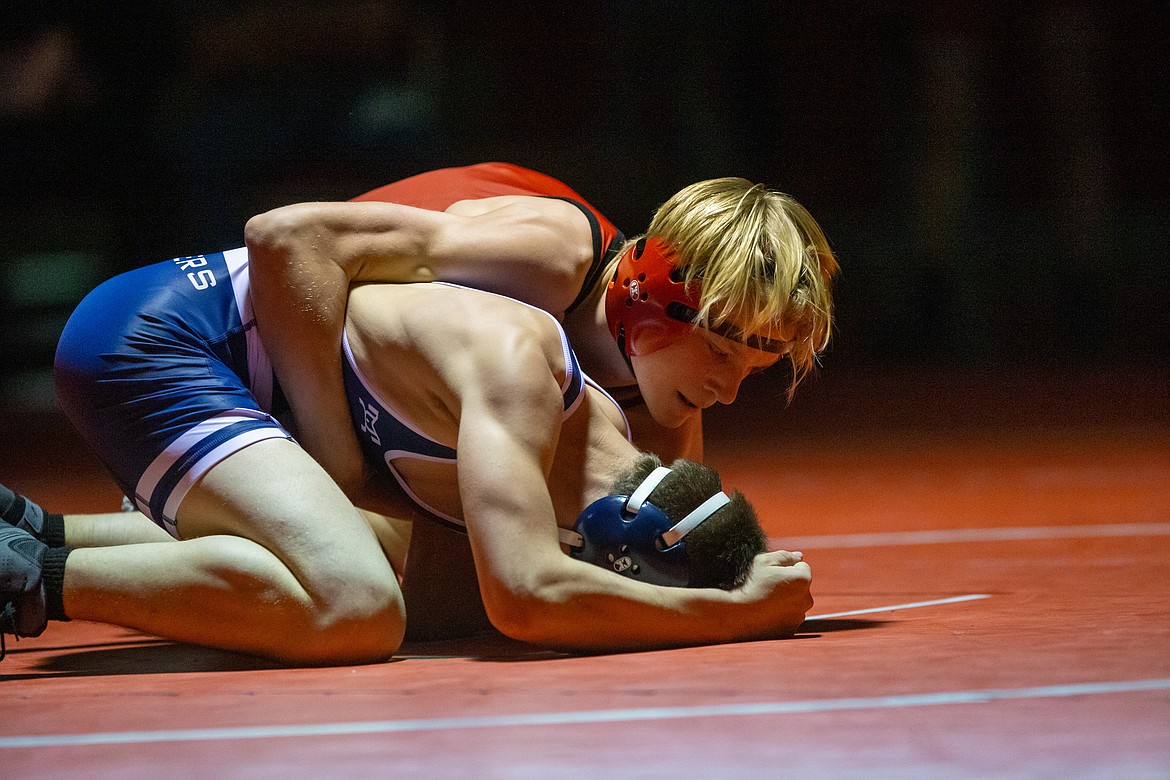 Forrest Ambridge takes control during his 132-pound match with Porter Blackmore on Wednesday. He won the match by pin.
(Photo courtesy of JASON DUCHOW PHOTOGRAPHY)
Previous
Next
by
DYLAN GREENE
Sports Editor
|
December 9, 2021 1:00 PM
SANDPOINT — This year, the "B" Cup is coated in red.
Sandpoint wrestling handled its business Wednesday night, taking down Bonners Ferry 54-36 to bring the trophy back to SHS for the sixth time in the last eight years.
Check out our photo gallery from the dual. Read the full recap here.
Recent Headlines
---