Bulldogs unable to tame Wildcats in home opener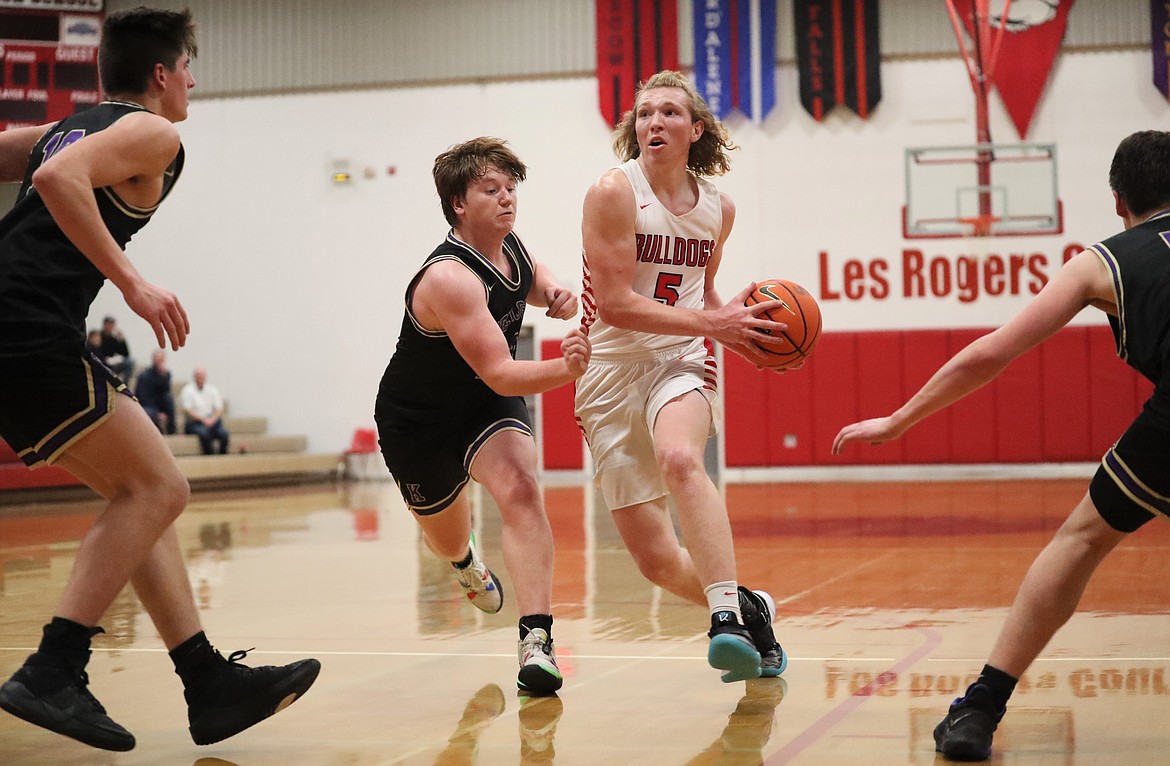 Jacob Eldridge scored 15 points for Sandpoint, but a 31-point night by Medical Lake's Oren Rhimer was the difference in a 66-63 loss late Wednesday in the Eagle Holiday Classic at West Valley High.
(Photo by DYLAN GREENE)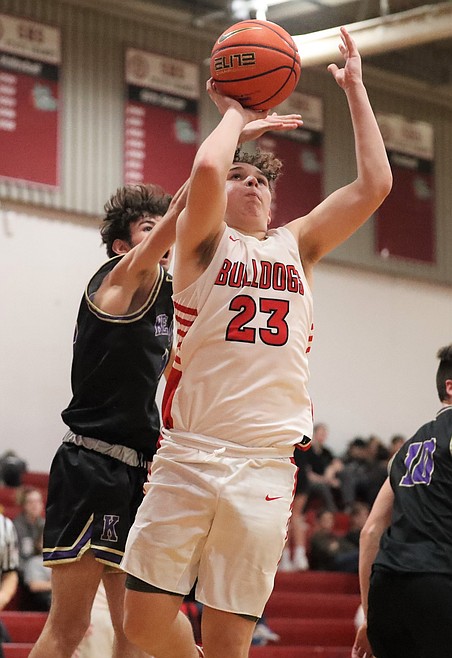 Parker Childs elevates for a shot Thursday.
(Photo by DYLAN GREENE)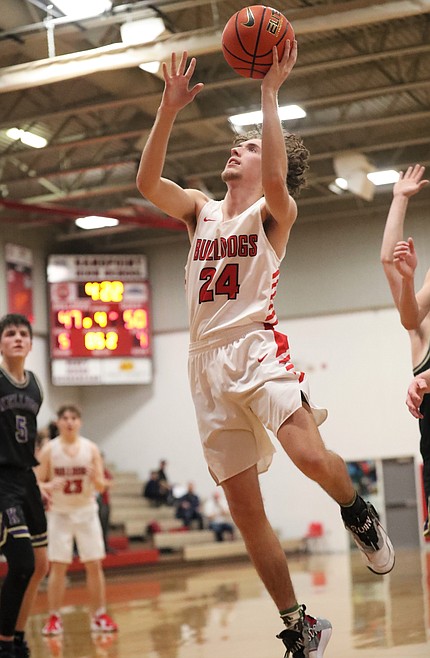 Randy Lane converts a layup in the fourth quarter of Thursday's game.
(Photo by DYLAN GREENE)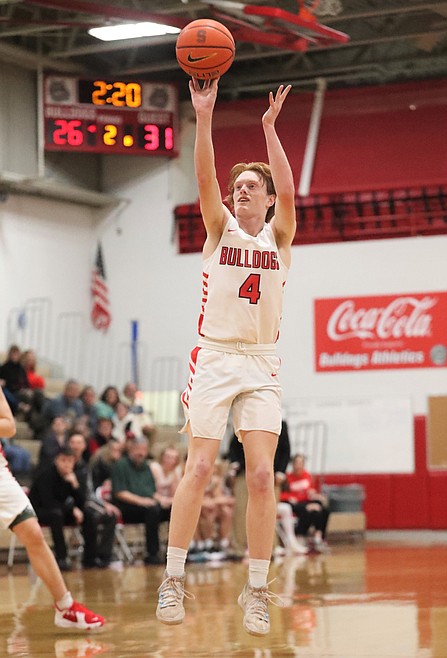 Rusty Lee pulls up for a jump shot
(Photo by DYLAN GREENE)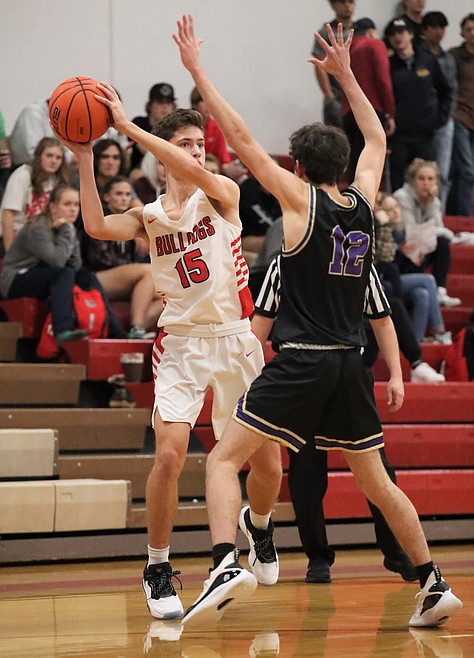 Evan Dickinson looks to pass the ball to an open teammate Thursday.
(Photo by DYLAN GREENE)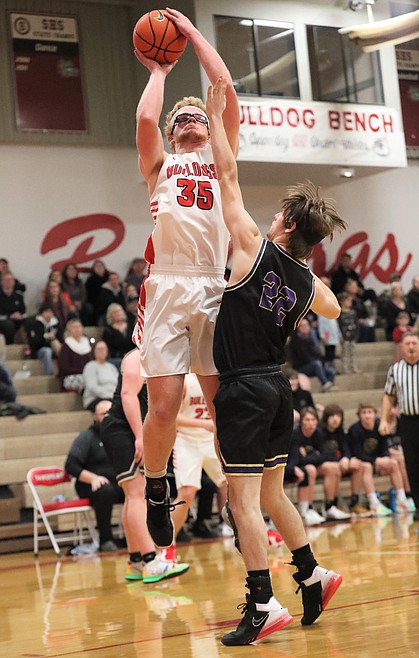 Ethan Butler rises up to hit a shot over a Kellogg defender Thursday.
(Photo by DYLAN GREENE)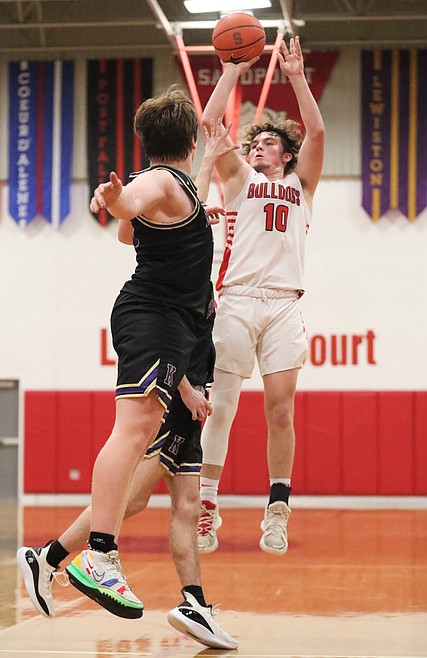 Arie VanDenBerg pulls up to attempt a jumper Thursday.
(Photo by DYLAN GREENE)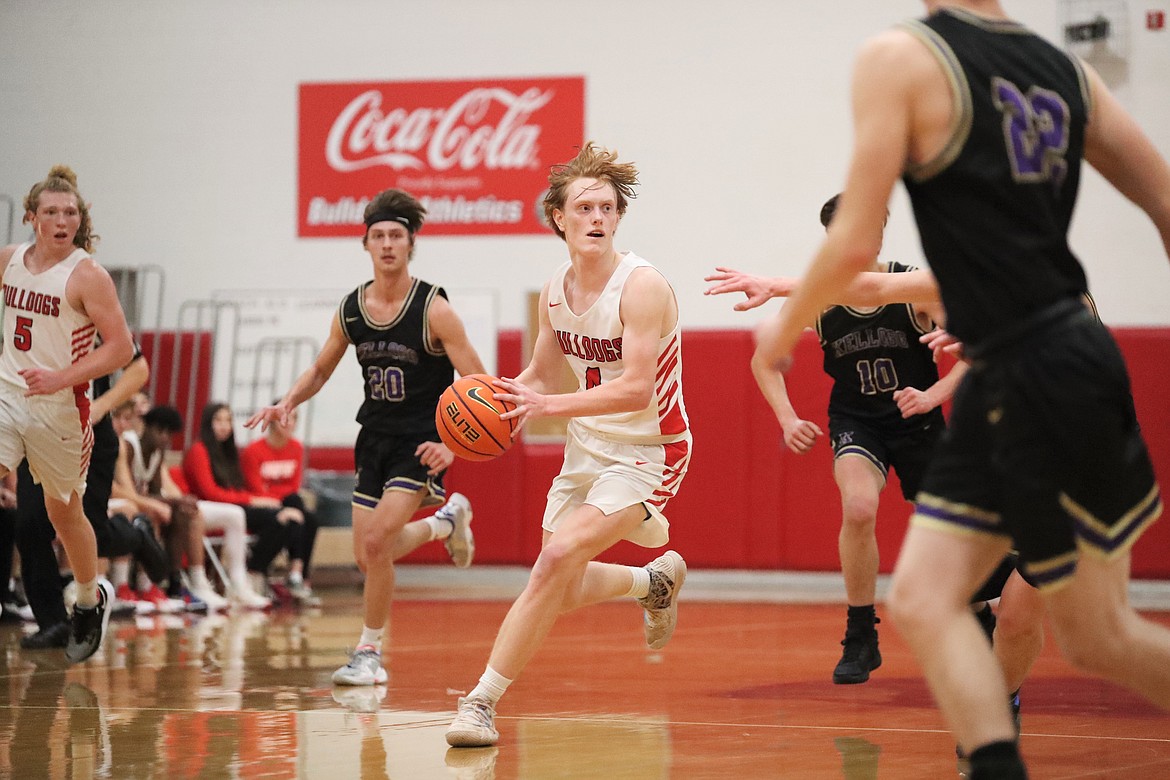 Rusty Lee brings the ball up the court and looks to make a pass Thursday.
(Photo by DYLAN GREENE)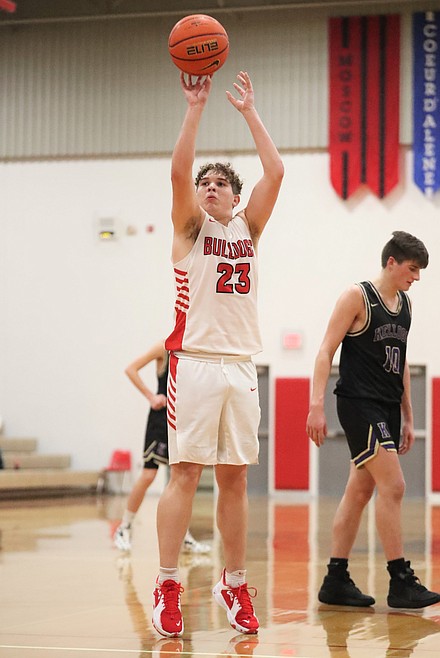 Parker Childs attempts a free throw Thursday.
(Photo by DYLAN GREENE)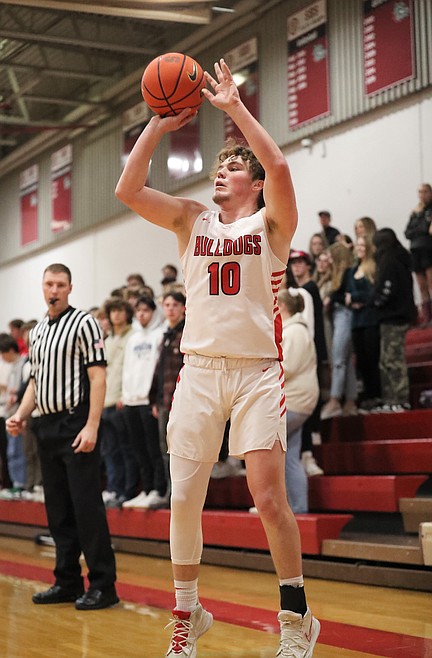 Arie VanDenBerg attempts a 3-pointer Thursday.
(Photo by DYLAN GREENE)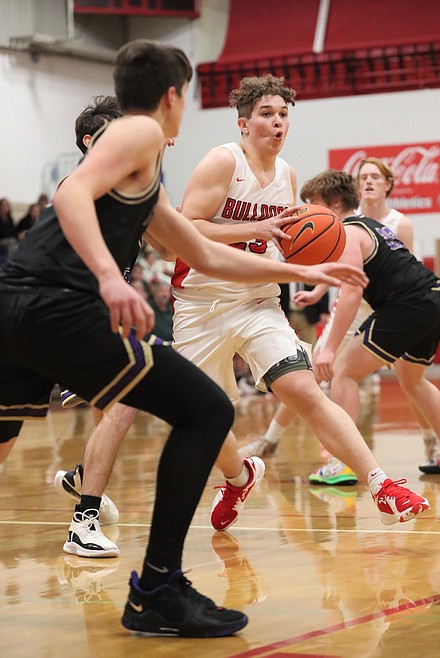 Parker Childs fakes a pass as he drives toward the paint Thursday.
(Photo by DYLAN GREENE)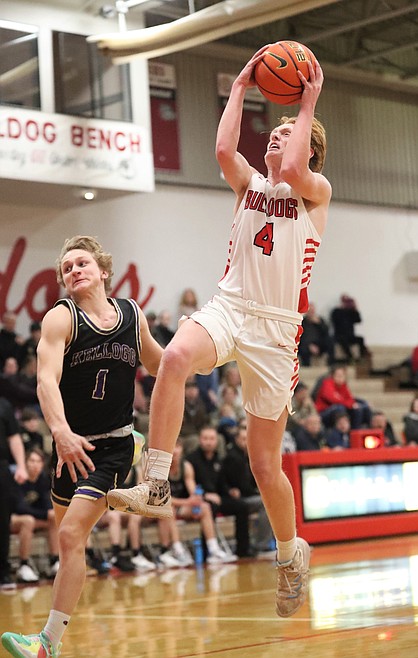 Rusty Lee elevates for a layup.
(Photo by DYLAN GREENE)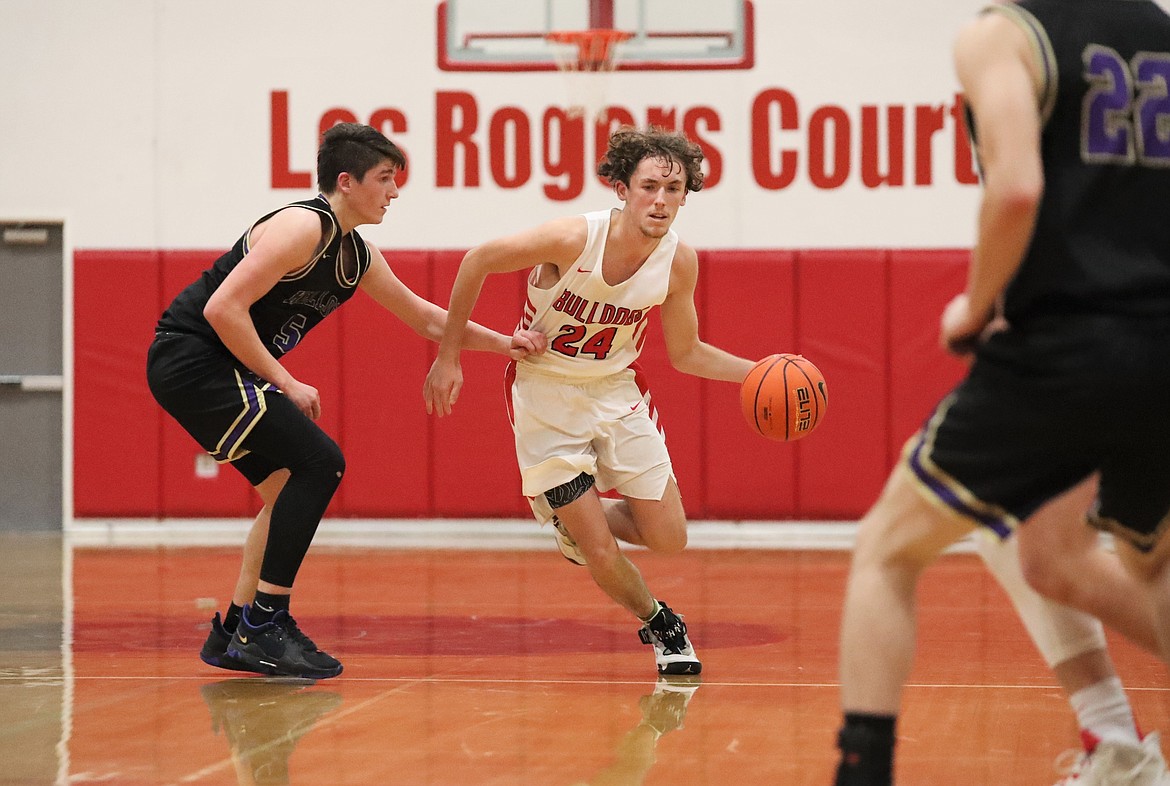 Randy Lane looks to attack the Kellogg defense Thursday.
(Photo by DYLAN GREENE)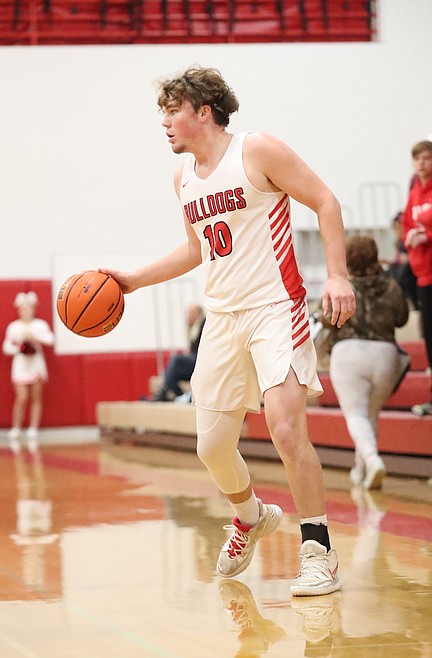 Arie VanDenBerg looks to make a play Thursday.
(Photo by DYLAN GREENE)
Previous
Next
by
DYLAN GREENE
Sports Editor
|
December 10, 2021 12:26 AM
SANDPOINT — Sandpoint and Kellogg went back and forth all night, but a 9-2 run to start the fourth quarter allowed the Wildcats to steal a 58-53 victory from the Bulldogs on Thursday night at Les Rogers Court.
It wasn't the result Sandpoint boys basketball was looking for in its home opener and head coach Brian Childs said the loss was disappointing, but he saw a lot of positives from his squad, particularly early on.
"I thought really from about the second quarter on [Kellogg] got almost every 50-50 ball," Childs said. "They beat us to those loose balls."
Sandpoint came out fired up in the first quarter and fed off the energy from the Bulldog faithful. A 3-pointer from Jacob Eldridge in the opening seconds set the tone and Sandpoint was cruising.
Randy Lane got a steal in the final 10 seconds of the opening quarter that led to a lay-in by Rusty Lee, giving the Bulldogs a 21-11 advantage after eight minutes of action.
Sandpoint couldn't have asked for a better start — everything was clicking. Unfortunately, in the second quarter the momentum completely shifted in the Wildcats' favor.
Kellogg went on a 12-0 run to open the quarter to give them their first lead of the night.
"I thought we got off to a really good start and then just the feel of the game started to swing in the second quarter a little bit," Childs said.
Parker Childs drilled a pair of 3-pointers late in the frame and the Wildcats took a 34-33 advantage into the locker room.
The two teams continued to trade blows in the third quarter and Sandpoint carried a 47-46 lead into the final quarter.
A win was within sight, but the Bulldogs struggled offensively in the fourth quarter — only scoring 6 points — and Kellogg made enough of its free throws down the stretch to secure the nonleague win.
The Luna brothers, Riply and Kolby, were hard to contain all night. They combined for 31 points for the Wildcats.
"I think you got to give them some credit," Childs said. "Those two kids are really, really good basketball players and can play at any level."
Ethan Butler led the Bulldogs with 16 points, six rebounds and a block. Lee finished with 10 points, five assists and five rebounds, Lane tallied 11 points, five rebounds and two steals, Parker Childs grabbed 9 points and four assists and Eldridge added 7 points, seven rebounds, two steals and a block.
Fouls were an issue for the Bulldogs against the Wildcats. Lee, who has taken over a majority of the point-guard duties, picked up his third foul late in the second quarter and never stepped on the court in the third quarter due to the foul trouble.
Lee and Eldridge both fouled out in the final minutes of the game.
"That's just something our kids are going to have to adjust to is playing with fouls," Childs said. "We just don't have the depth to really withstand that kind of foul trouble and I think they've kind of got to learn to play with fouls."
The Bulldogs also struggled from the free-throw line, only converting four of their 11 attempts.
"I thought we competed well and we hung in there," Childs said.
Sandpoint (1-3) hosts Lewiston at 7 p.m. next Thursday at Les Rogers Court.
"Kellogg has a really good tradition there and that culture of expecting to win," Childs said. 'Winning is not easy, it's hard and it's a process and it's kind of what we're going through right now."
Kellogg 11 23 12 12 — 58
Sandpoint 21 12 14 6 — 53
KELLOGG — Miller 0, Whatcott 0, R. Luna 12, K. Luna 19, McLean 0, Groves 13, Frohlich 9, Walker 5.
SANDPOINT — Lee 10, Eldridge 7, VanDenBerg 0, Dickinson 0, Childs 9, Lane 11, Butler 16.
Recent Headlines
---