NIPH announces inaugural concert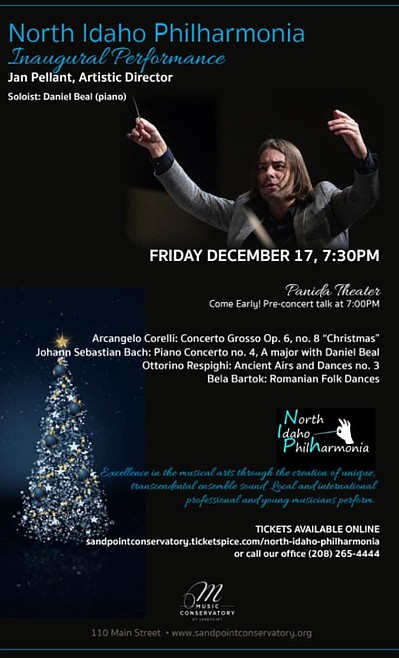 North Idaho Philharmonia will hold its first performance Friday at 7:30 p.m. at the Panida. A pre-concert discussion will be held at 7 p.m.
|
December 17, 2021 1:00 AM
The community is invited to celebrate music at tonight's inaugural performance of the North Idaho Philharmonia.
The performance will begin at 7:30 p.m. at the Panida Theater, 300 N. First Ave.
The concert brings together area professional musicians under the direction of Jan Pellant, artistic director of the Music Conservatory of Sandpoint.
Those attending are invited to arrive early to listen to an introduction about the music with Pellant and pianist Daniel Beal Ottorino.
Among the pieces planned for the performance are Arcangelo Corelli, Concerto Grosso Op. 6, no. 8 "Christmas;" Johann Sebastian Bach, Piano Concerto no. 4, A major, with Daniel Beal Ottorino; Respighi, Ancient Airs and Dances No. 3; and Bela Bartok, Romanian Folk Dance.
The Philharmonia strives for excellence in the musical arts through the creation of unique, transcendental ensemble sound, MCS officials said on their website. Toward that end, NIPH's local and international professional and young musicians will host four to six performances in each concert season.
Information and tickets: bit.ly/3GThmY2
Recent Headlines
---