Hiking in a winter wonderland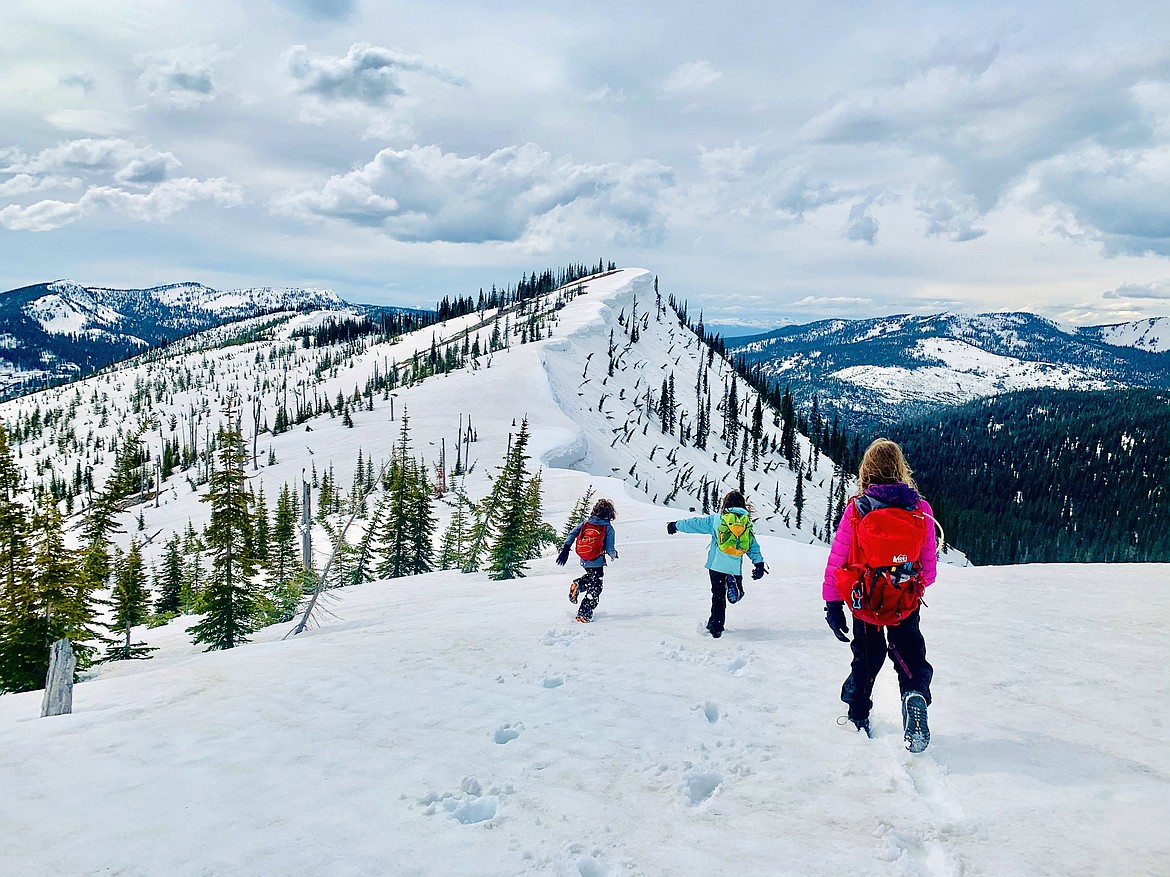 Free and guided hikes help kids get outside in the winter.
(Photo courtesy FRIENDS OF SCOTCHMAN PEAKS WILDERNESS)
|
December 21, 2021 1:00 AM
Snow is quickly accumulating in the mountains! But that doesn't mean you have to give up your outdoor time. The Friends of Scotchman Peaks Wilderness is offering plenty of free guided hikes this winter, so it's time to bust out those snowshoes and cross country skis. Whether you're new to snow hiking or a seasoned alpinist, the Friends have an adventure for you.
Winter hiking and snowshoeing are perfect ways to see another side of our wild backyard. These options are more affordable and accessible than a day at the ski resort. Plus, you can avoid the crowds.
Exploring the Scotchmans in the snow is a beloved tradition among FSPW supporters like Rebecca Sanchez, who first got into snowshoeing as an opportunity to extend the hiking season.
"It definitely feels different than hiking because of the elements, but it's also exciting to get out there in the peace and quiet," Rebecca said.
Indeed, the best part of exploring the Scotchmans in the winter is the tranquility. With no motorized vehicles to watch out for, hikers can truly immerse themselves in the natural world.
"I probably wouldn't take my kids to Trestle Creek on a Saturday because that's a snowmobile highway," Rebecca said.
The Friends are offering a number of family-friendly hikes this winter, including a family snowshoe to the Ross Creek Cedars on Feb. 5. For those looking for more of a challenge, they can sign-up for a snowshoe expedition to the top of Star Peak on Feb. 6 or Feb. 17. Wanting buddies for cross country skiing? Join FSPW for skiing at the Cedars on March 5.
All hikes are led by knowledgeable and experienced volunteers who have a passion for helping people discover their wild backyard. Jamilee Scheiwe, resident of Libby, Montana is a long-time volunteer for the winter hike program.
"I lead hikes for FSPW as my way to help others get out into this amazing wilderness for the first time or the hundredth time," Jamilee said. "Getting to see a fellow hiker experience a new area, new trail or just a new season as a trail leader is the most rewarding thing."
Hiking in the winter can be intimidating. With free and guided hikes, FSPW hopes to get more people comfortable with exploring our wild backyard, every season of the year.
Sign up for a hike at Scotchmanpeaks.org/hikes-events-schedule. Keep an eye on the calendar, as new hikes are frequently added.
Recent Headlines
---