Clark Fork falls to Wallace on Senior Night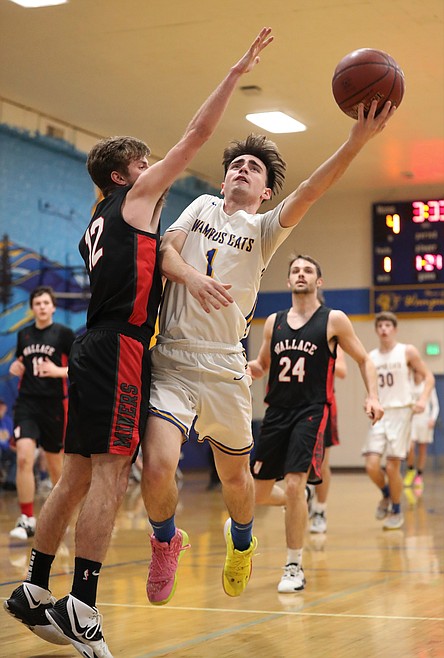 Senior Cameron Garcia (right) fights through contact and attempts a layup during the first quarter of Monday's game against Wallace.
(Photo by DYLAN GREENE)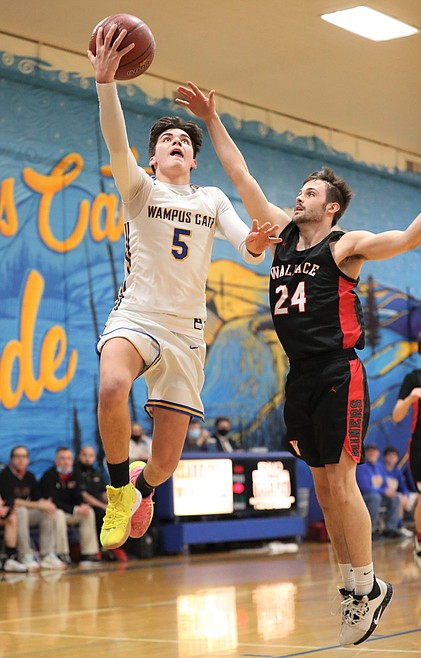 Carter Sanroman goes airborne and attempts a layup on Monday.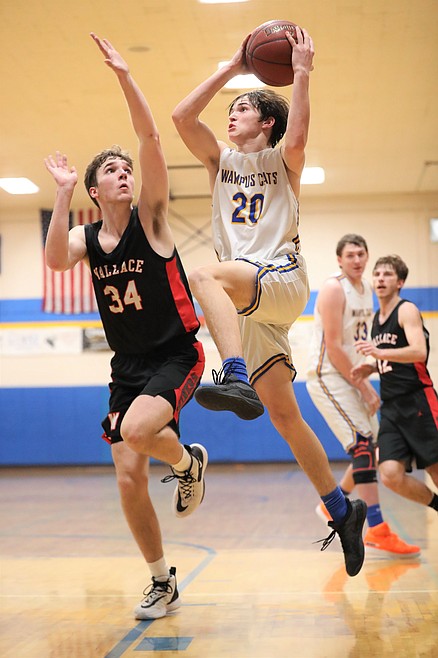 Sam Barnett looks to hit a layup over a Wallace defender on Monday.
(Photo by DYLAN GREENE)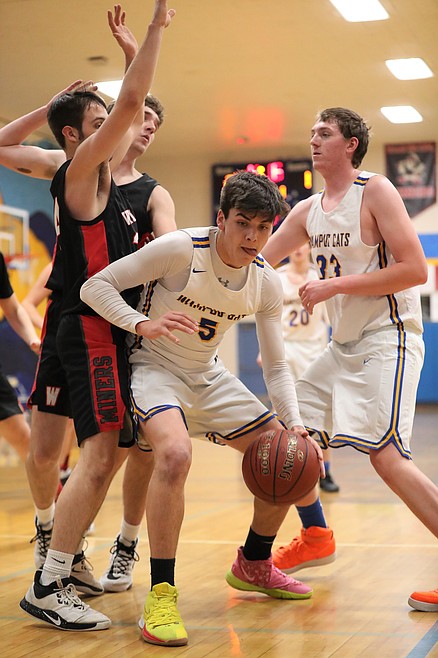 Carter Sanroman (5) attacks the paint on Monday.
(Photo by DYLAN GREENE)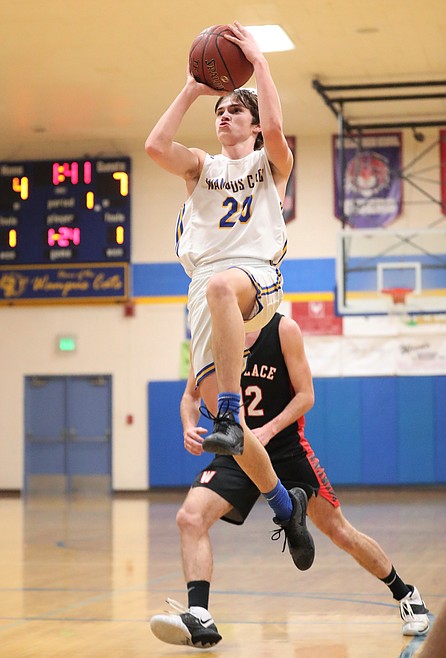 Junior Sam Barnett attempts a floater during the first half of Monday's game against Wallace.
(Photo by DYLAN GREENE)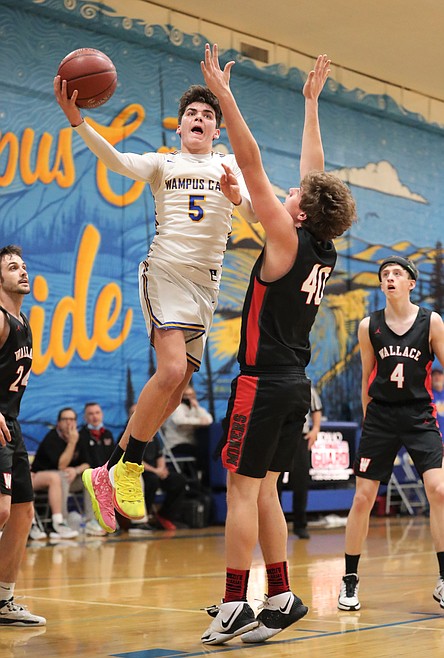 Junior Carter Sanroman elevates for a shot on Monday.
(Photo by DYLAN GREENE)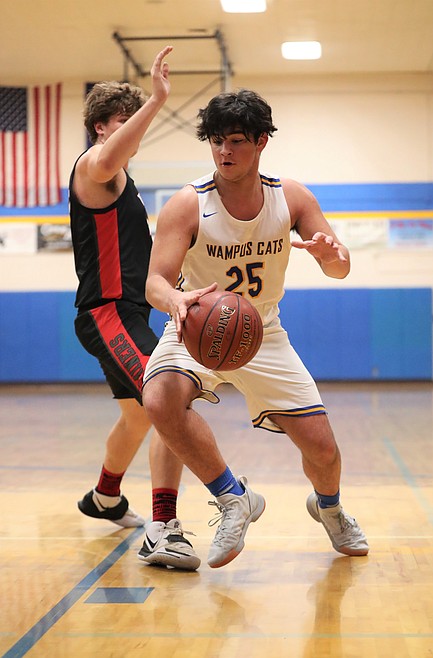 Sophomore Antonio Mayorga gets down low in the paint on Monday.
(Photo by DYLAN GREENE)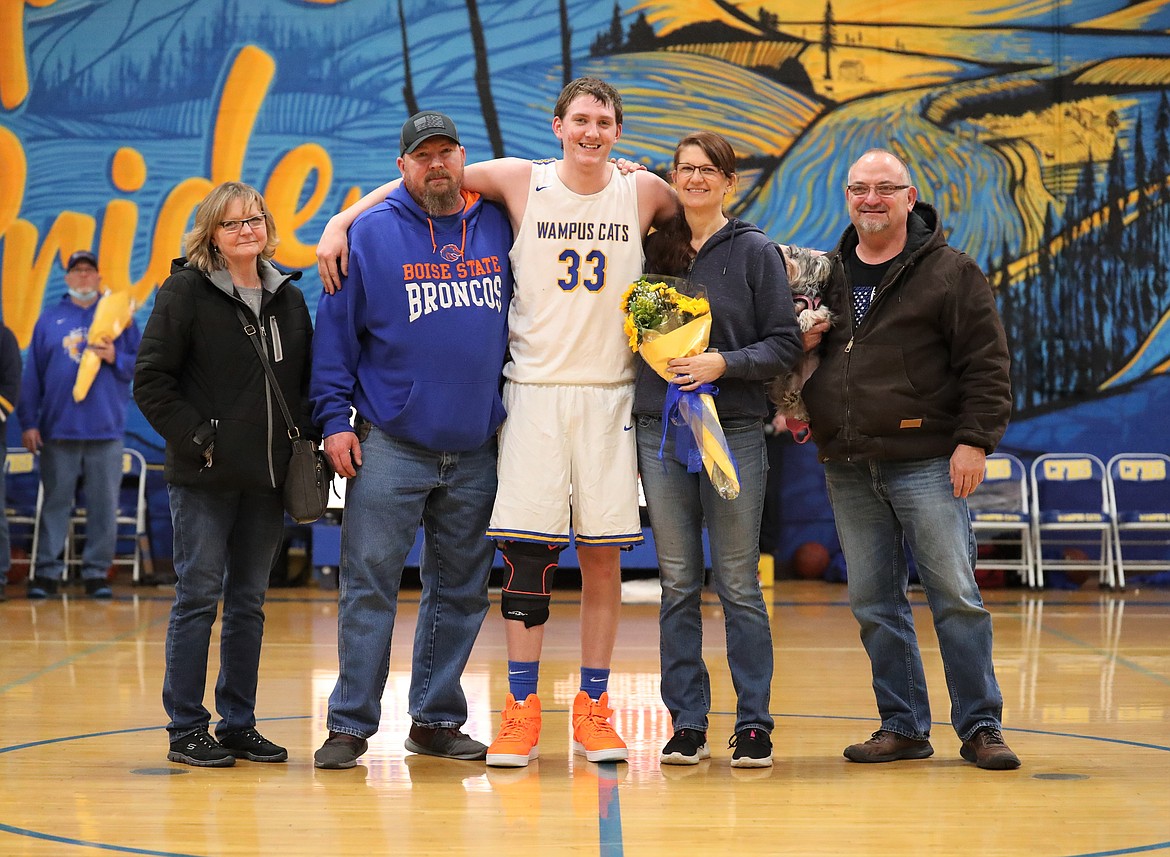 Chris Wade poses for a photo with his family on Senior Night.
(Photo by DYLAN GREENE)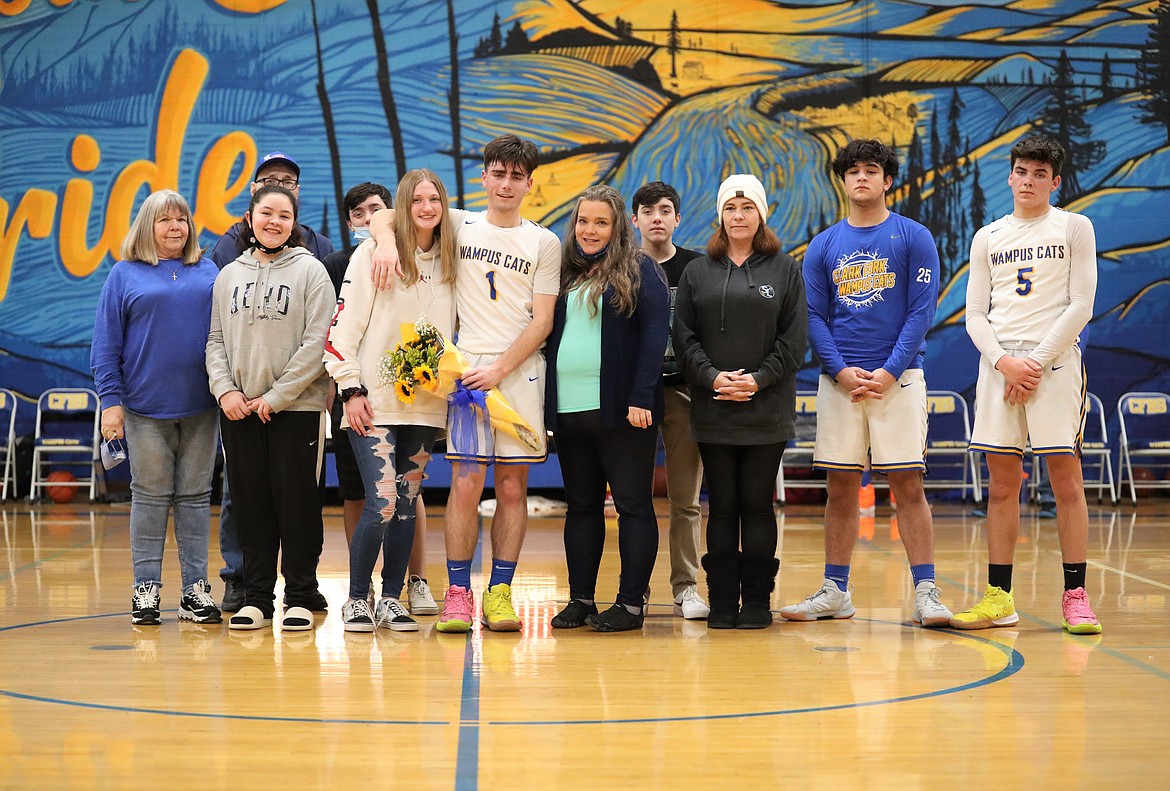 Cameron Garcia poses for a photo with his family on Senior Night.
(Photo by DYLAN GREENE)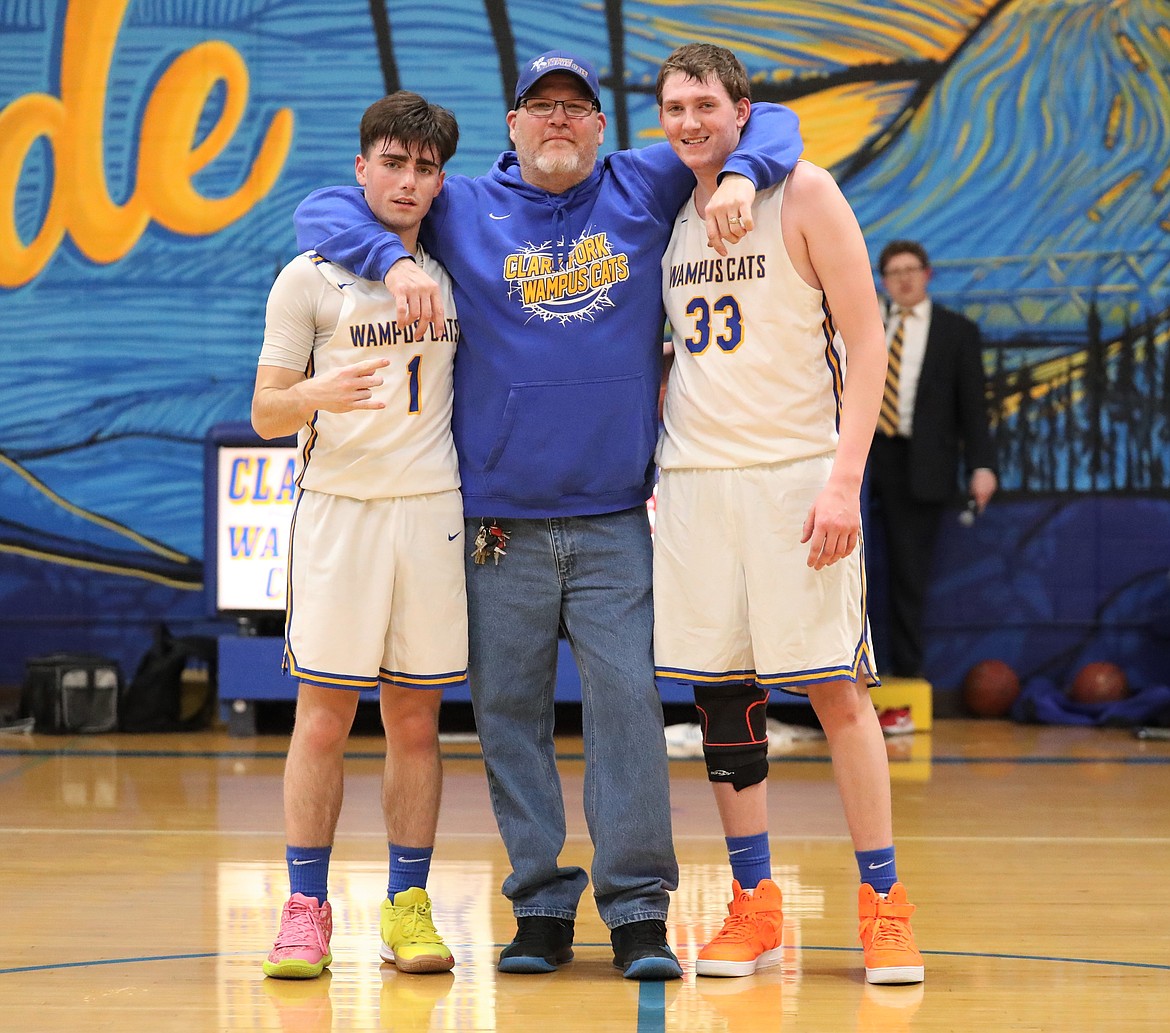 Seniors Cameron Garcia (left) and Chris Wade (right) pose for a photo with head coach Heath Beason.
(Photo by DYLAN GREENE)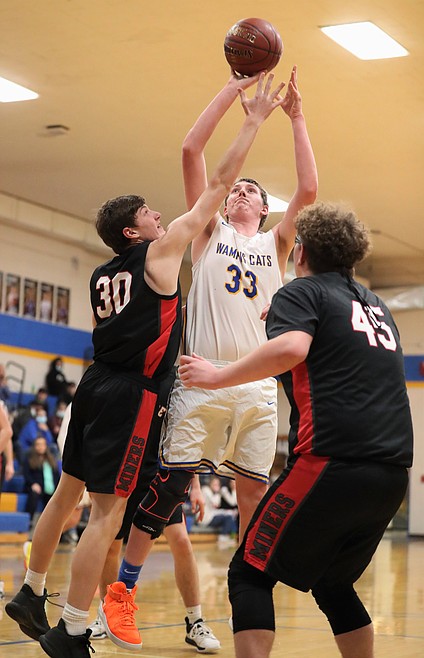 Senior Chris Wade (middle) attempts a shot over a pair of Wallace defenders on Monday.
(Photo by DYLAN GREENE)
Previous
Next
by
DYLAN GREENE
Sports Editor
|
February 1, 2021 10:51 PM
CLARK FORK — Clark Fork boys basketball fell to Wallace 57-32 in its home finale on Monday night.
The Wampus Cats came out strong, but were unable to slow down the Miners after the first quarter.
Head coach Heath Beason said his team struggled defensively, and the 21 turnovers on the other end of the court didn't help either.
"We just weren't ready to play plain and simple," he said. "We had some moments and once we started having moments, their confidence got a little too high and then they just started turning the ball over and they couldn't rein it back in ... and they just started digging themselves a hole and they couldn't get out of it."
Early on, the Clark Fork defense was able to hold the Miners at bay. The Wampus Cats kept Wallace from scoring a basket for more than half of the first quarter.
Eventually though, the Miners found their way and took a 10-8 advantage into the second quarter. Midway through the second, the Wampus Cats were still hanging with Wallace. Then the Miners started feeding off of Clark Fork turnovers and went on a 10-0 run to take a 26-17 lead into the locker room.
At halftime, the Wampus Cats honored their two seniors — Cameron Garcia and Chris Wade.
Garcia stuck with the program all four years of his high school career and Beason said his leadership will be hard to replace.
"Cameron has meant a lot to this team in regards to helping the youngsters get ready for varsity," he said. "I have leaned on him to help with some of the younger players coming in and he has done a very good job of that."
For Wade, this is his first year on the basketball team. Beason said Wade has grown so much on the court this season and has been a great role model for the younger players.
"Chris has really improved," he said. "I wish I would have had him all four years, he'd been an awesome player."
In the second half, Wallace continued to pull away. Clark Fork got within seven, but the Miners used a 16-5 fourth quarter to cruise to a nonleague win.
The Wampus Cats have lost six straight games.
For the most part, Beason felt his team executed well offensively, but they need to be more aggressive defensively and battle for rebounds.
"Our defense killed us," he said.
Sam Barnett had a team-high 10 points. Beason said he wasn't sure if Garcia would play, but the senior fought through injury in his final home game and finished with six points, four assists, four steals and three rebounds. Carter Sanroman added six points and eight rebounds and Nathan Shelton tallied four points.
"I wish for the seniors tonight that they would have been able to leave with a win," Beason said.
Connor Denson led Wallace with 13 points and six rebounds. Hayden Hogamier had 12 points, four steals and three assists and Will Farkas added 10 points, six rebounds and four assists.
Clark Fork (1-10) heads to Priest River at 7 p.m. Tuesday.
Wallace 10 16 15 16 — 57
Clark Fork 8 9 10 5 — 32
WALLACE — Tesky 10, Farkas 3, Hogamier 12, Bailey 8, Morin 4, Denson 13, Hull 6, Hammerberg 1.
CLARK FORK — Garcia 6, Sanroman 6, Reuter 3, Barnett 10, Howard 0, Mayorga 2, Shelton 4, Wade 1.
---