Aviation program helps students learn career skills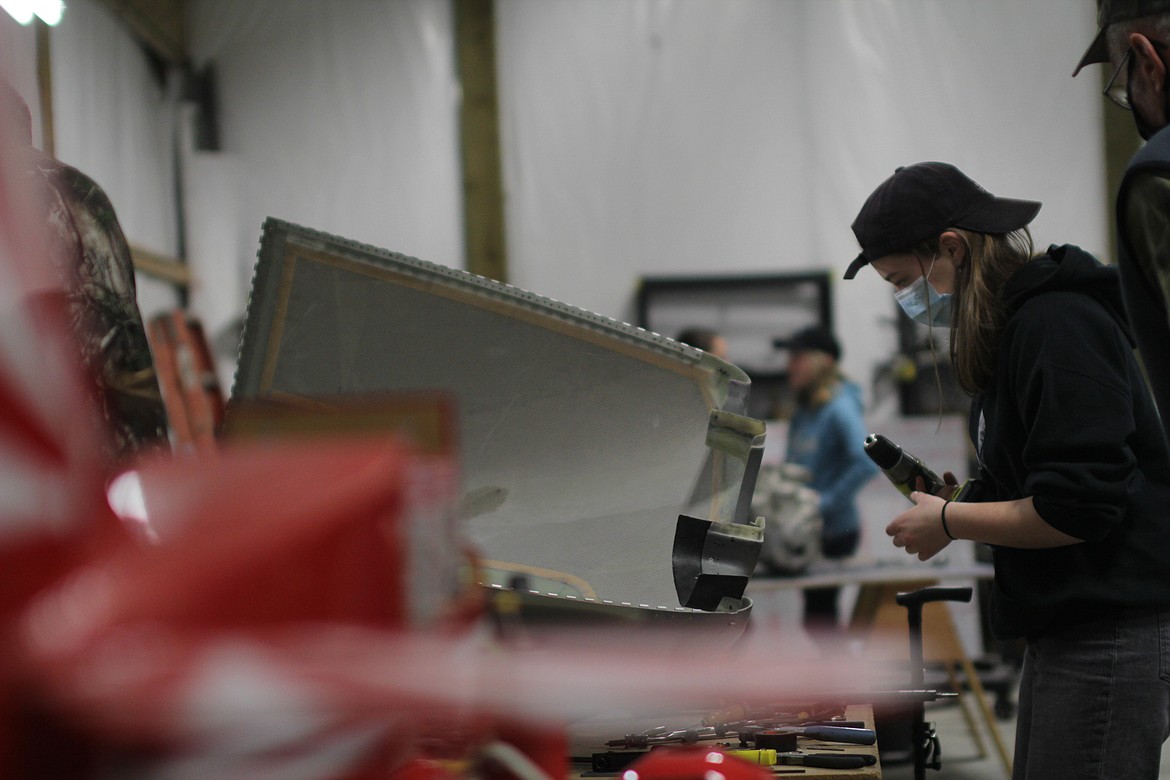 Sophia Dignan, a high school junior, works on a metal covering that will be part of an airplane students in the ACES program are working to build.
Photo by RACHEL SUN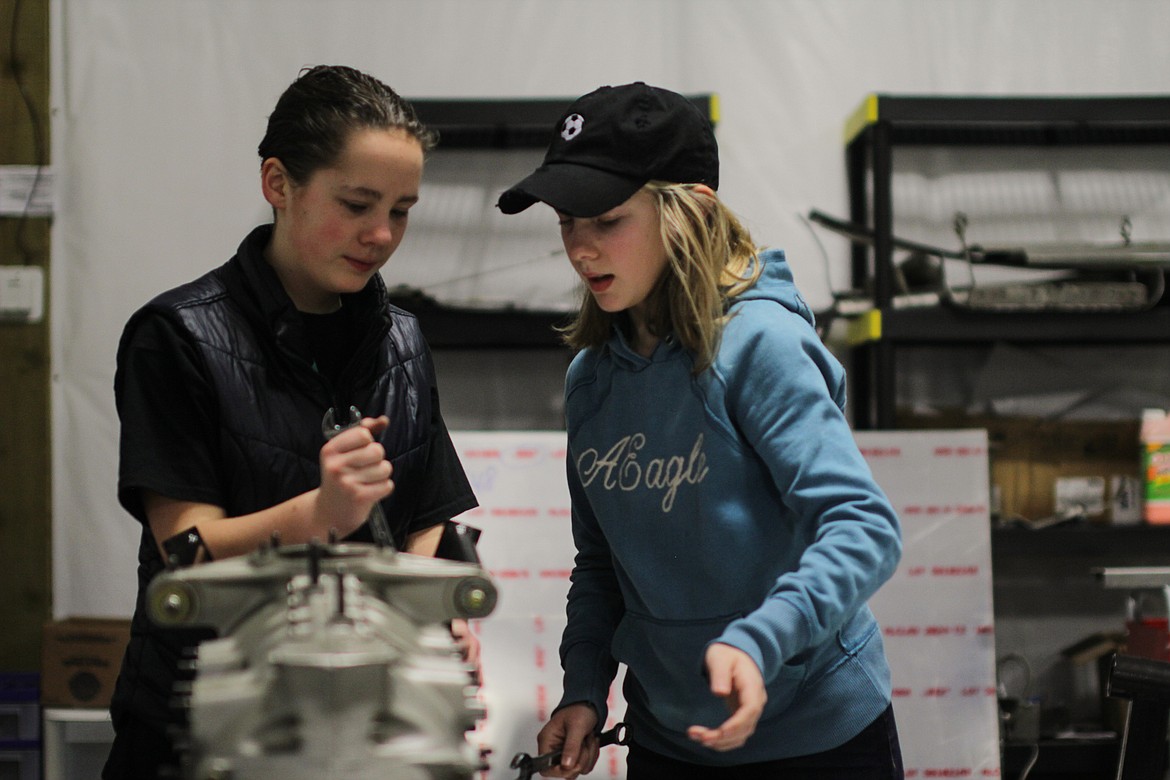 Cecilia and Sadie Dignan work on a model engine on a Saturday morning at the ACES workshop at Sandpoint Airport.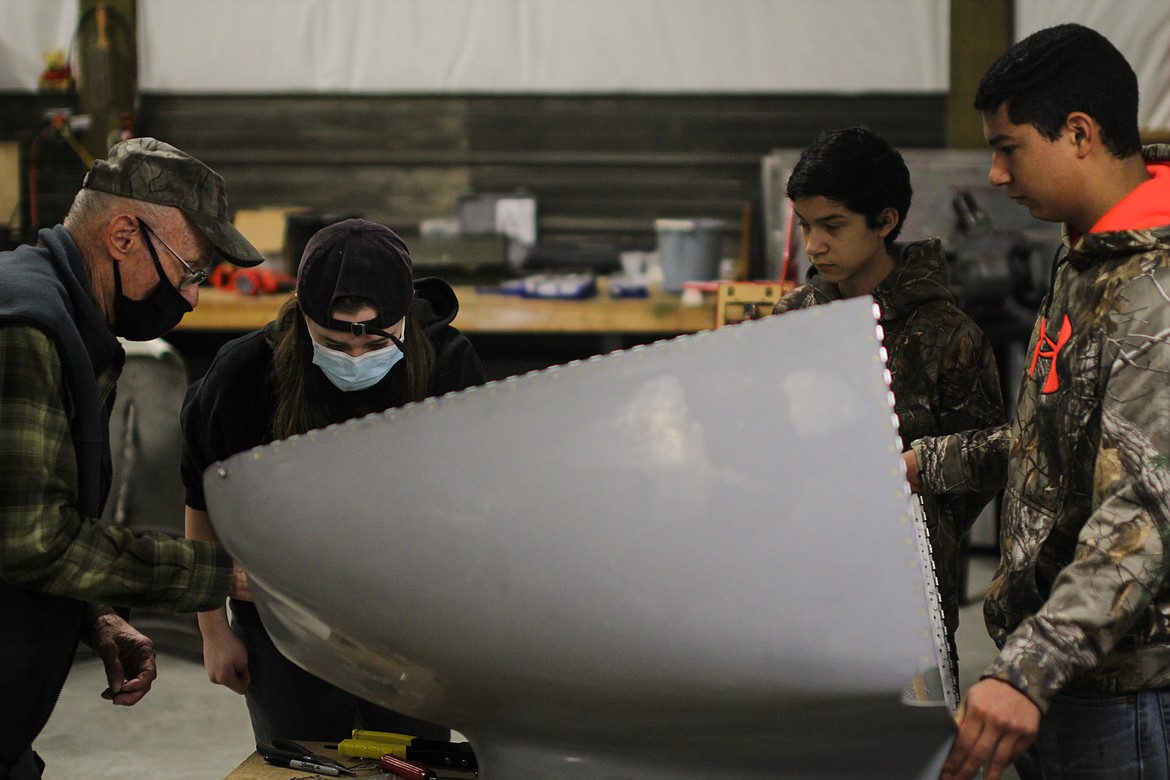 Students at the ACES workshop work on airplane parts under the guidance of volunteer mentors.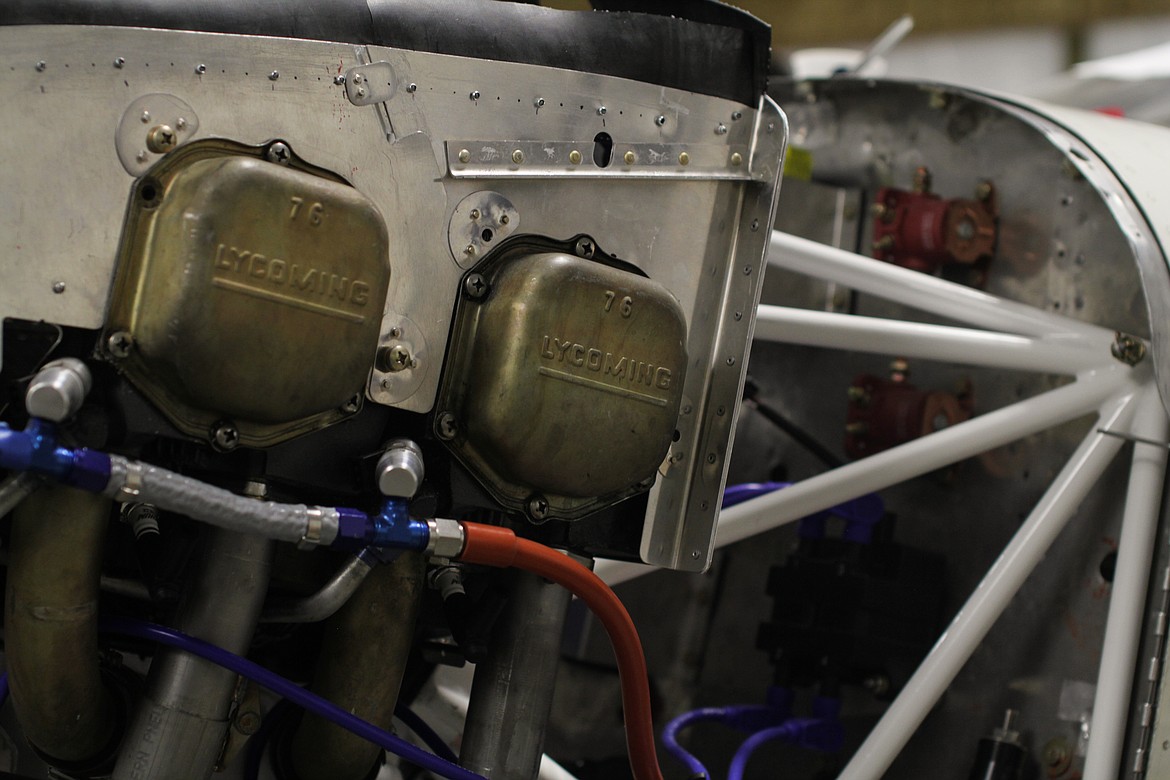 The exposed front of an airplane is shown on full display as students do mechanical work at the ACES workshop.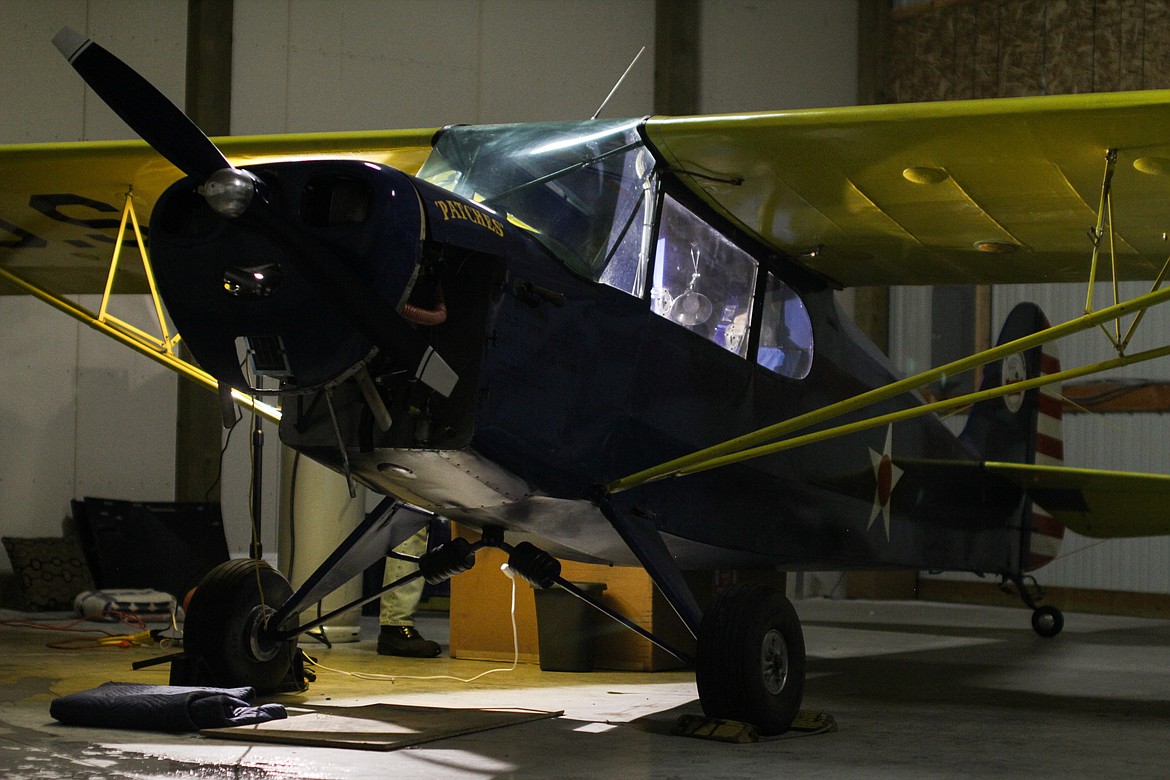 A plane students worked to rebuild, "Patches," is shown in the second of two hangers operated by the North Idaho High School Aerospace Program.
Previous
Next
by
RACHEL SUN
Staff Writer
|
February 9, 2021 1:00 AM
It all started with a girl named Anna Filce.
A few years ago, she was working for Ken Larson helping him take care of his alpacas when she became curious.
"I started to wonder what Ken does for a living because he's, you know, he's away from home or whatnot," she said. "I asked him, and he's like, well, I teach people how to fly for a living. And I thought that was just the coolest thing."
Larson saw Filce's interest, and offered to take her on an introductory flight, she said.
"I was hooked," she said. "I just kept going from there."
Filce earned her license around the same time she was working on her learner's permit to drive a car, she said.
"I would be driving home and I was like, 'why am I driving right now, I could be flying home'" Filce said. "It was just strange."
Filce is now an airport manager, and flies as a hobby. She also met her partner through her job, and now has a little girl, she said.
Although she's long since graduated, her journey in aviation was just the start of many to come. At first, Larson just taught Filce. But after Filce approached him about teaching a class at her school, it wasn't long until Larson had more young students.
After its first year, Larson moved his high school aviation program to Sandpoint High School, where more students joined. 26 now have careers in or related to aviation, he said.
Larson teaches an aviation class through the high school, and also runs a club known as ACES — the Aerospace Center of Excellence Sandpoint, where students as young as 11 years old meet every Saturday at the Sandpoint Airport to learn about aircraft mechanics and even build airplanes.
There are several components to what the program, known broadly as North Idaho High School Aerospace Program, does, he said. One is a class he teaches at the high school. Another is the ACES program, along with field trips to learn about aviation. Another is discounted flight training through pilot training.
Many of the resources provided through the NIHSAP not only provide an introduction into aviation, but also unique STEM training that benefits students even if they never plan to go into aviation professionally, Larson said.
Devin Reider was introduced to Larson in the program's first year at the Forrest Bird Charter School through Filce. Early in his high school career, Reider said, he had wanted to be an archeologist. However, that changed after taking a class with Ken. The turning point, he said, came when he first got to take a ride in an airplane.
Just like Filce, he was hooked. Reider earned his license 11 days after graduating high school, he said, and initially planned to enter the Air Force. However, initial screenings revealed he had color blindness, barring him from flying for the military.
Instead, Reider took a job with the NSA. His training from the aviation program has come in handy on multiple occasions, he said. He still flies as a hobby, often flying with Larson whenever he visits Sandpoint.
Numerous students have also become professional pilots. One of them, Arianna Terry, now works as a helicopter pilot for a global news outlet.
"Eleventh grade, the counselors and teachers start pushing you to figure out [your career options], and I had no idea," she said. "As we started to talk about that, we just happened upon one of the classes that the school offers, which is basic ground school training."
Terry earned her private pilot's license at 17 years old, she said, then continued working to earn a separate helicopter license.
"[Larson] is the best instructor that I've ever had. He was by far the most encouraging, and still pushed me toward my goal," she said.''
Another former student, Maggie Kirscher, works as a commercial airline pilot and was able to earn her private license a year after graduating high school, she said.
"I knew I wanted to fly [when I started], but I had no idea what even the first step was," she said. "[Larson] has this incredible way of believing in you and seeing what you could do."
These days, Larson still does flight instruction but leaves much of the training in the weekly ACES workshop to volunteers, including longtime aviator Ted Farmin, and Larson's former student, Al Leavitt.
Farmin, who started learning to fly when he was around 14 years old, teaches students about airplane mechanics, fiberglassing and welding, he said.
"They just start showing up and all we do is just keep working, keep it going," he said.
Many of their best students are young girls, Leavitt said, and close to half of the students are homeschooled.
One of the reasons he helps is that the program provides a wide range of career opportunities for students who might not have many otherwise, he said.
"I think for some of these kids, too, they don't have great home lives," he said. "This gives them a solid place to go and where it's organized, it's structured. There's expectations, there's demands.
Currently, students in ACES are working on building an aircraft at their weekly Saturday meetings, and have successfully completed plane builds (and rebuilds) before, he said; one from a donated airplane kit, and another that had been donated from a man in Las Vegas.
Sophia Dignan, a high school junior, attends ACES meetings and is working toward a pilot's license. After graduation, she plans to join the military and fly planes there.
When she originally started ACES, she wasn't planning to go into aviation as a career, but thought it would be helpful to get extracurricular experience. It was only after joining that she developed a passion for aviation, she said.
"Because of the instructors, I was able to really discover what aviation is, especially within this community," she said. "That got me into it. So now I'm like, full on into aviation."
Two of her younger sisters, Sadie and Cecilia, also attend ACES. They, under the mentors' guidance, have been working to build a model plane engine that works just like any other, with sections cut out to see the interior to be used as a teaching aid.
Sadie and Cecilia aren't planning to go into aviation right now, Sophia said — but they're still learning valuable skills and gaining mentors.
"One thing that's very impactful about this program is the amount of support that the instructors are giving each student and the generosity of everyone else within the aviation community," she said. "That's something that I'm very grateful to be a part of."
Currently, the aerospace program rents two hangars at the airport thanks to community donations, including Winter Ridge Natural Foods and nonprofits like 101 Women of Sandpoint and the Rotary Club.
The best way to help for anyone who wants to support the program is monetary donations, Larson said.
"Everything we do is based on donations and grants," Larson said, "so [applying for grants] is where I spent a lot of time."
Although Larson isn't paid for his many hours spent training young aviation enthusiasts or searching for and helping students apply to grants, he said he's also gotten a lot out of the community, and doesn't mind paying it forward for the next generation.
"I don't think we can quit because the students won't let us," he said. "The students are so engaged in the program and so interested in pursuing it that, you know, I just feel an obligation to them to keep it growing as much as we can."
Another reason Larson does the work, he said, is to provide opportunities and career options to students who might not otherwise have it.
"I think what I get out of it is that we have a lot of students who I think are in kind of a generational poverty situation, and they don't see a way out," he said. "I think what we're doing is showing them that there's another world out there that they could get into. And I think it's actually working."
To learn more about how the aviation program began, check out Episode 13 of the 7Bee Podcast here.
Editor's note: This story was edited to correct the spelling of Anna Filce's last name and the number of students with a career in or related to aviation.
---