Lakeland escapes Sandpoint with victory, forces winner-take-all Game 3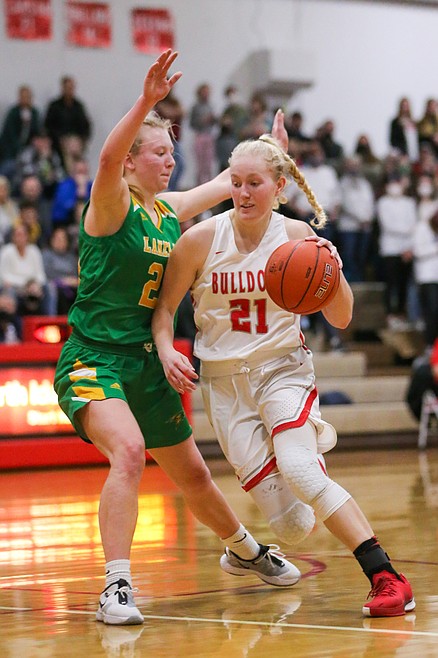 Senior Hattie Larson (right) drives to the basket during Game 2 of the best-of-3 4A Region 1 championship series at Les Rogers Court on Feb. 12.
(Photo courtesy of JASON DUCHOW PHOTOGRAPHY)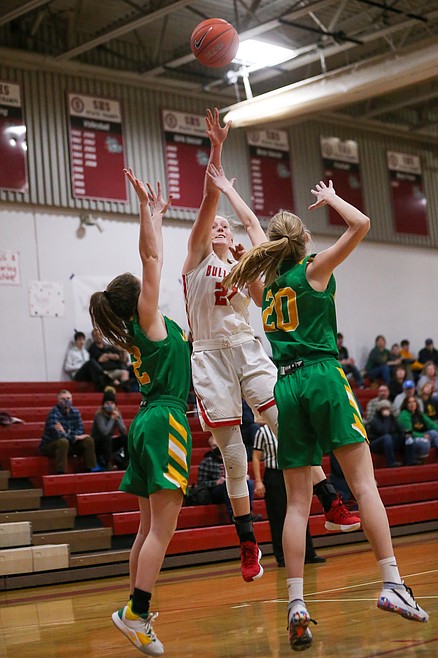 Hattie Larson shoots over a pair of Lakeland defenders on Friday.
(Photo courtesy of JASON DUCHOW PHOTOGRAPHY)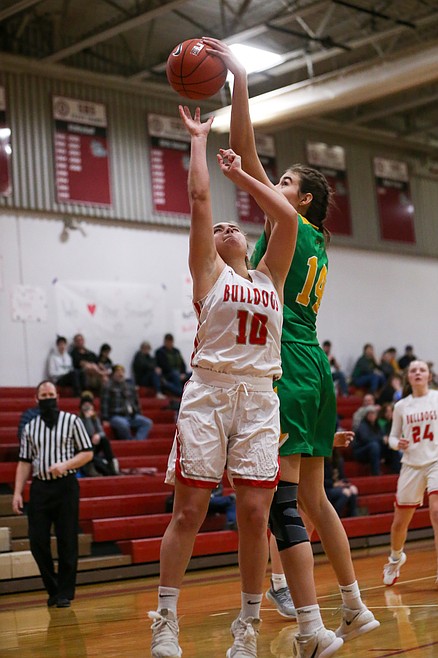 Junior Destiny Lyons (left) has a shot blocked by Lakeland's Katy Ryan on Friday.
(Photo courtesy of JASON DUCHOW PHOTOGRAPHY)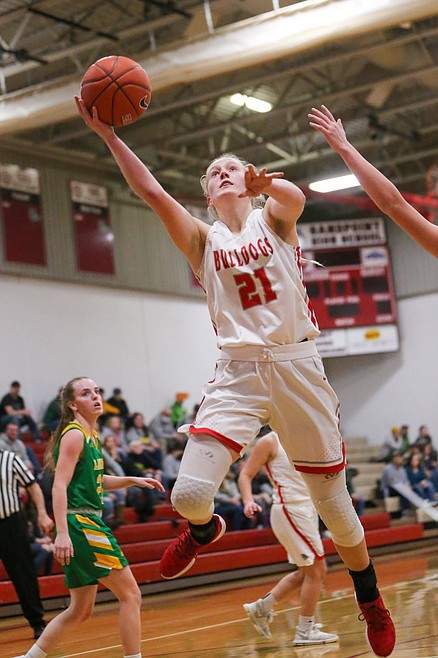 Hattie Larson attacks the basket on Friday.
(Photo courtesy of JASON DUCHOW PHOTOGRAPHY)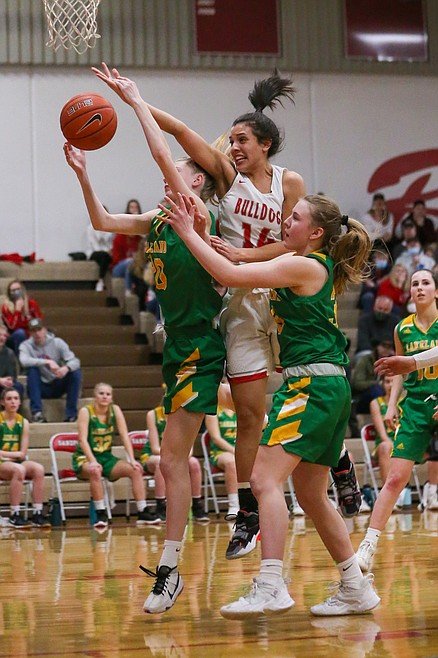 Senior Bella Phillips battles for a rebound with a pair of Lakeland players on Friday at Les Rogers Court.
(Photo courtesy of JASON DUCHOW PHOTOGRAPHY)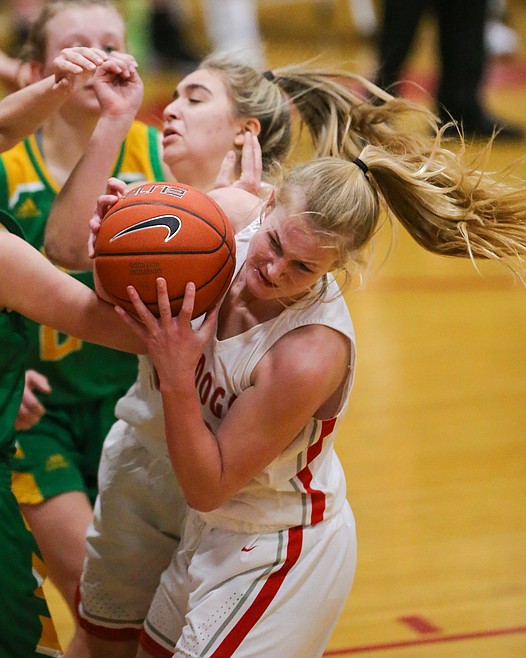 Junior Sofia Platte battles for a rebound on Friday night.
(Photo courtesy of JASON DUCHOW PHOTOGRAPHY)
Previous
Next
by
DYLAN GREENE
Sports Editor
|
February 12, 2021 10:53 PM
SANDPOINT — Games between Lakeland and Sandpoint in girls basketball tend to have a flair for the dramatic. And Friday night at Les Rogers Court was no different.
With 8.7 seconds left in the game and Lakeland leading 40-38, the Bulldogs inbounded the ball looking to tie it up or seal a trip to state for the seventh time in eight years.
On a ball reversal near the top of the key, sophomore Karlie Banks got the ball from teammate Destiny Lyons. She drove right, got down in the paint and fired a shot over 6-foot-5 Lakeland post Katy Ryan. The ball took a kiss off the glass, rolled off the rim and Ryan secured the rebound as time expired to seal the 40-38 victory for the Hawks in Game 2 of the best-of-3 4A Region 1 championship series.
Lakeland staved off elimination and earned the right to host a winner-take-all Game 3 at 6 p.m. Saturday at Lakeland High. The winner of that game will earn a berth to state, the loser will see their season come to a devastating end.

"It was a typical Sandpoint-Lakeland game," Lakeland head coach Steve Seymour said.
"I think it's safe to say the two teams are pretty evenly matched," Sandpoint head Will Love said.
After trailing 4-3 at the end of the first quarter, the Hawks snatched the lead just over two minutes into the second and never relinquished it.
In Game 1 of the series on Wednesday, Daylee Driggs was fouled on a desperation 3-pointer with 0.7 seconds left and hit two free throws to give the Bulldogs a thrilling 44-43 victory. It was a crushing loss for the Hawks who were in control for most of the night.
Seymour gave credit to his team for putting that defeat behind them and getting a win in a hostile environment to keep their season alive.
"It was a difficult loss, the last game and some heartbreak there and so we just wanted to come up here, play four quarters, get a win, bring it back home and play again," he said.

Entering the final quarter, SHS trailed 29-23. But just like Game 1, the Bulldogs mounted a fourth-quarter comeback and Hattie Larson played a major role in the surge.
Larson knocked down a pair of 3-pointers, including one with 47 seconds left to bring Sandpoint within two points. On the ensuing possession, Lakeland turned the ball over following a missed 3-pointer and the Bulldogs got the ball back with 31.7 seconds on the clock. It was the perfect scenario for Sandpoint to complete the comeback.
The Bulldogs got the ball to the hot hand in Larson but her shot clanked off the backboard and the rim, and a scramble for the rebound ensued. Eventually, the ball rolled out of bounds off a Lakeland player with 8.7 seconds left and Love called a timeout to set up a play.
Love said he was hoping to get the ball to Kaylee Banks — who has been clutch for the Bulldogs all season — on the inbounds, but the Hawks denied SHS that opportunity. Instead, her younger sister got the chance to tie things up and came up just short.
"It was a good shot, but when you got a 6-foot-5 girl you got to reach a little bit higher," Love said. "The big thing is we got a shot there at the end, it just didn't go in."
During that final timeout, Seymour didn't want to overwhelm his team with scenarios, so he kept it simple.
"I just put trust in them," he said. "I didn't know what Sandpoint was going to run ... so I didn't want to put too many thoughts in their head other than play great team defense and get a rebound."
In Wednesday's Game 1, Sandpoint managed to hold Ryan to just eight points. Friday night was a much different story. The senior took over the game for the Hawks and scored a game-high 19 points. She also had nine rebounds, three blocks, three assists and two steals.
It was clear early that Lakeland wanted to feed their star in the post and Seymour was glad they were able to find her and let her take over.
"We have all the faith in the world in her and she's a great team leader," Seymour said. "She leads us in assists this year, so she's done a pretty good job of finding everyone else, we just tried to make sure they found her tonight."
Love said the Hawks got some passes from the perimeter into Ryan that the Bulldogs were able to prevent in Game 1.
"The main thing is she was able to get the basketball down on the block and that's a huge advantage for her," he said about Ryan, "so we struggled with keeping her up higher and further away from the basket, especially in that second half ... I knew she was going to come out and look to establish herself."
The first quarter and a half of the game was marred by air balls, rattled rims and missed putbacks. The teams started the game a combined 0-of-7 from the field and the first points of the night didn't come until about midway through the opening quarter.
Neither team could buy a basket, but both defenses were swarming to the ball and making it tough to get many clean shots off.
"We had good shots and good looks, they just didn't fall," Seymour said.
Love couldn't pinpoint one reason why both teams struggled shooting early, but he said it was probably a combination of fatigue, excitement and nerves.
"I think we'll definitely look at the second half because things opened up a lot more," he said. "Credit to Lakeland, they played really good defense so they made it difficult for us to get a lot of easy looks."
Larson scored all 17 of her points in the second half and she did everything she could to spark the Bulldogs after an 11-point first half.
"She got our offense going and that was exciting to see and I hope that it carries over into [Saturday]'s game," Love said. "She is a competitor and she's been in these situations before and I think she saw the opportunity to kind of get us going offensively, so I'm glad that she did because she put us in a position where we were one possession away from tying it or getting the win."
Kaylee Banks finished with seven points, Karlie Banks had six points and eight rebounds and Bella Phillips added six points and two blocks. Abbey Neff and Addie Kiefer each scored eight for Lakeland. Kiefer also had seven rebounds.
Love said his three senior captains really stepped up their game down the stretch to give the Bulldogs a chance, and he said his team will need to limit Lakeland's second-chance points if they want to punch their ticket to state on Saturday.
"The big thing that we will emphasize [Saturday] is rebounding," he said. "That hurt us really bad in the first half."
Lakeland (9-10) will be looking to get back to state for the first time since 2019.
"Let's go," Seymour said. "We're pretty excited."
Sandpoint (10-10) was hoping to close out the season on its home court, but the Bulldogs already have two victories at Hawk Court this season, and they won't be intimidated by the environment.
"It's going to be a battle because they've got confidence now going back home," Love said, "but I know our kids are going to be ready to compete."
Lakeland 3 13 13 11 — 40
Sandpoint 4 7 12 15 — 38
LAKELAND — Sterling 0, Neff 8, Hostetler 2, Ryan 19, Simon 3, Woempner 0, A. Kiefer 8, L. Kiefer 0.
SANDPOINT — Driggs 0, Lyons 2, Cessna 0, Phillips 6, Kar. Banks 6, Larson 17, Platte 0, Kay. Banks 7.
---