Sandpoint takes down Lakeland on the road to secure regional title, trip back to state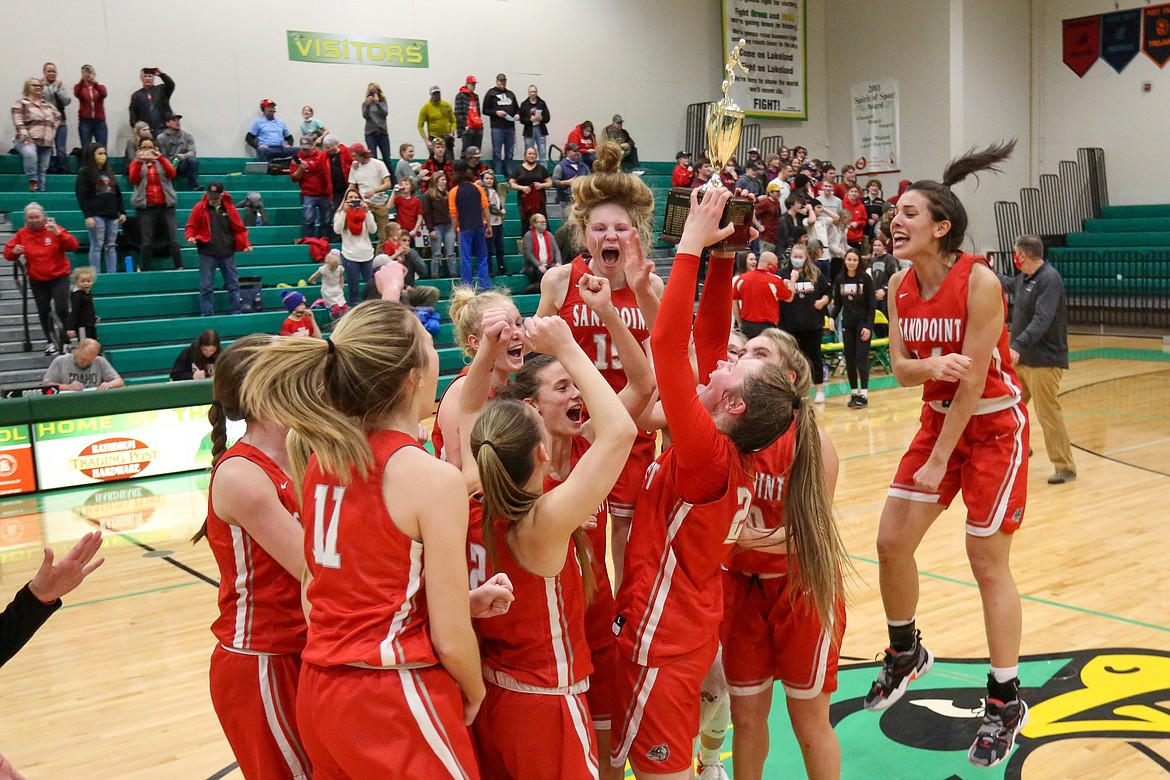 Sandpoint celebrates after taking down Lakeland 40-30 in Game 3 of the 4A Region 1 championship series on Saturday night at Hawk Court. The Bulldogs are now headed to state for the seventh time in eight years.
(Photo courtesy of JASON DUCHOW PHOTOGRAPHY)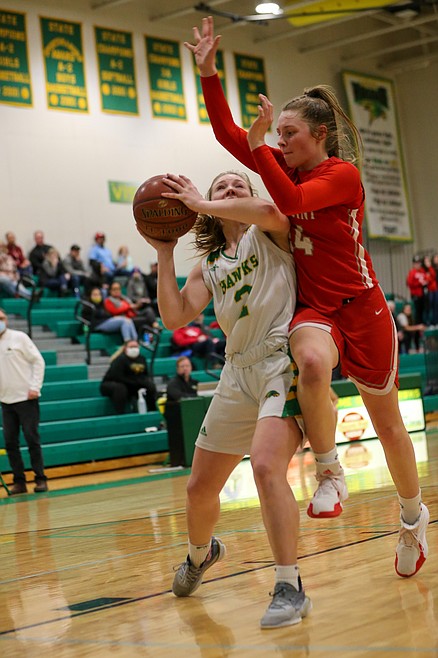 Kaylee Banks (right) defends Lakeland's Payton Sterling on Saturday.
(Photo courtesy of JASON DUCHOW PHOTOGRAPHY)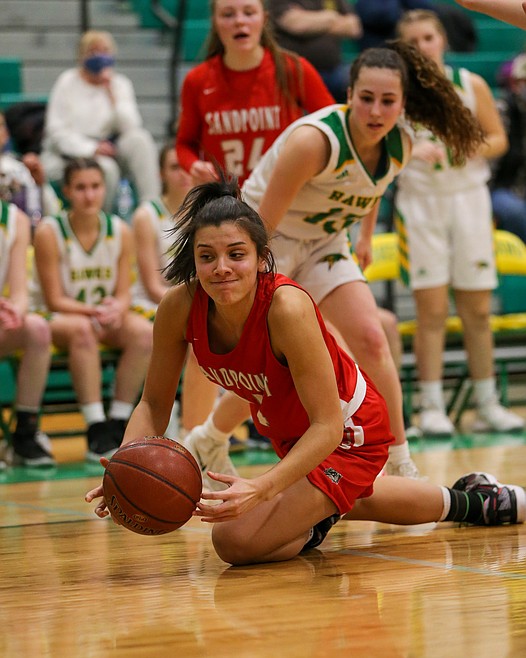 Bella Phillips scrambles for a loose ball on Saturday.
(Photo courtesy of JASON DUCHOW PHOTOGRAPHY)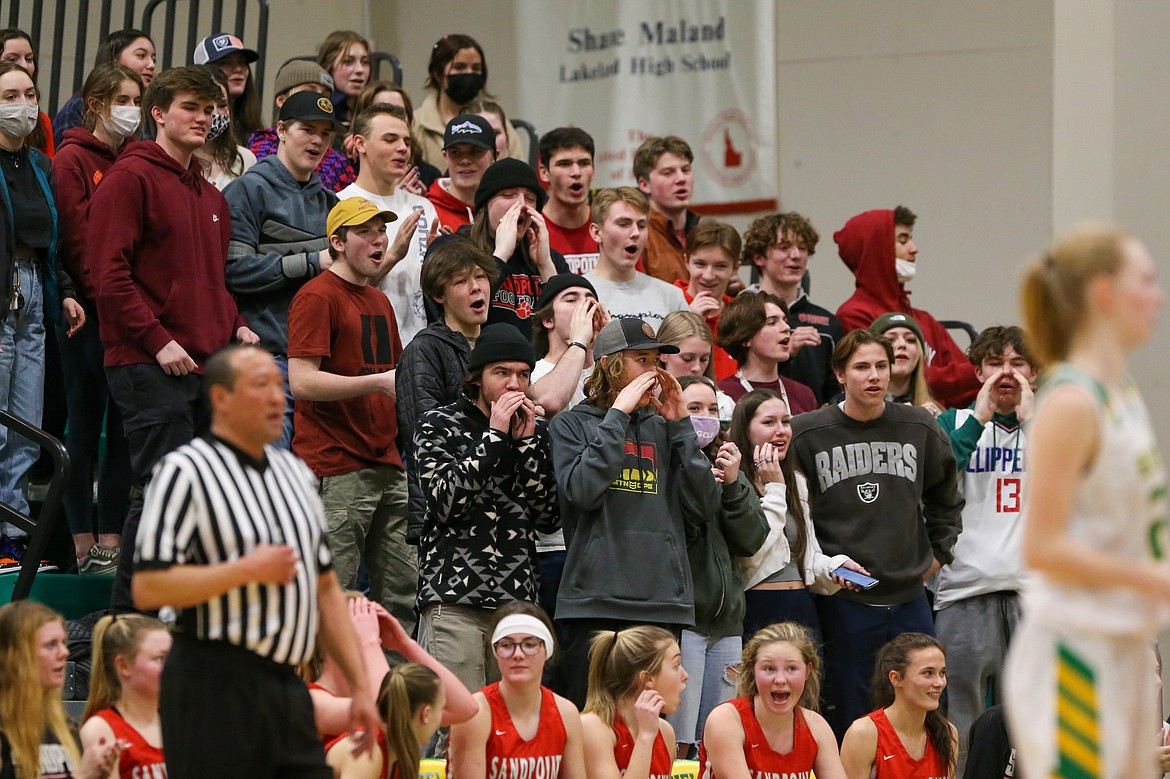 Sandpoint students cheer on the Bulldogs on Saturday.
(Photo courtesy of JASON DUCHOW PHOTOGRAPHY)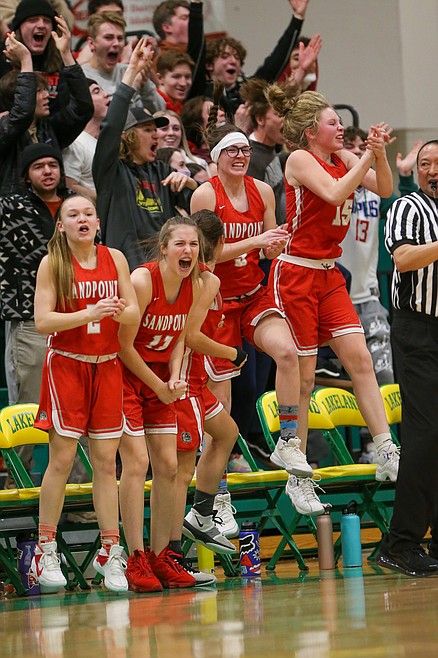 The Sandpoint bench goes nuts during Saturday's game.
(Photo courtesy of JASON DUCHOW PHOTOGRAPHY)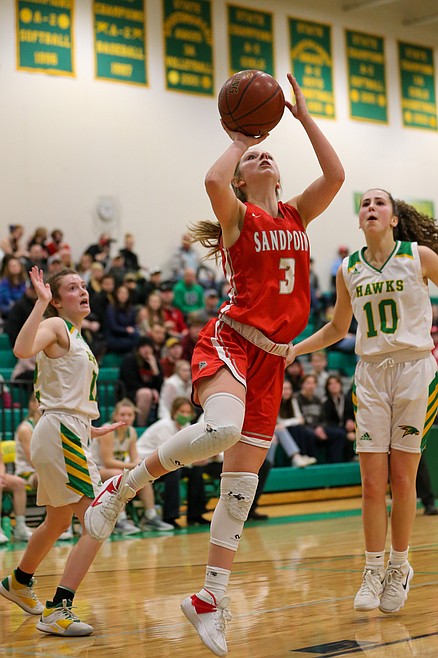 Daylee Driggs elevates for a layup during the first half of Saturday's game.
(Photo courtesy of JASON DUCHOW PHOTOGRAPHY)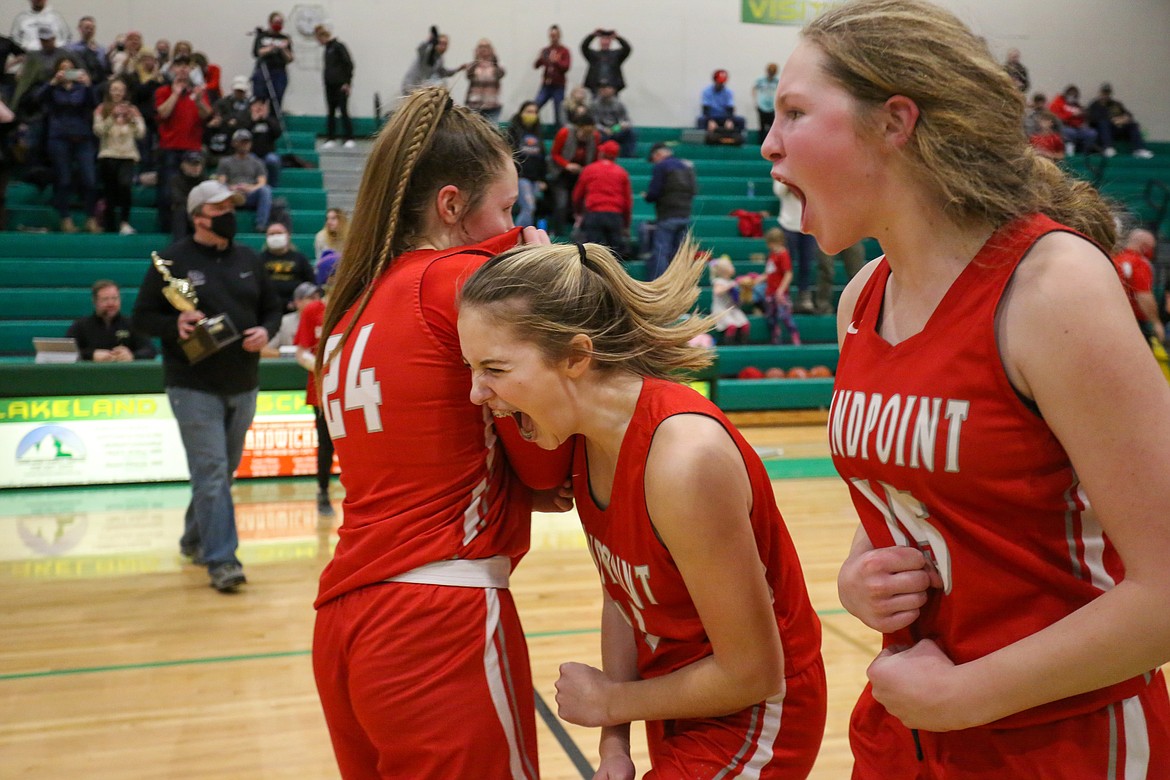 Kaylee Banks (left), Tru Tomco and Karlie Banks celebrate following Saturday's regional win over Lakeland at Hawk Court.
(Photo courtesy of JASON DUCHOW PHOTOGRAPHY)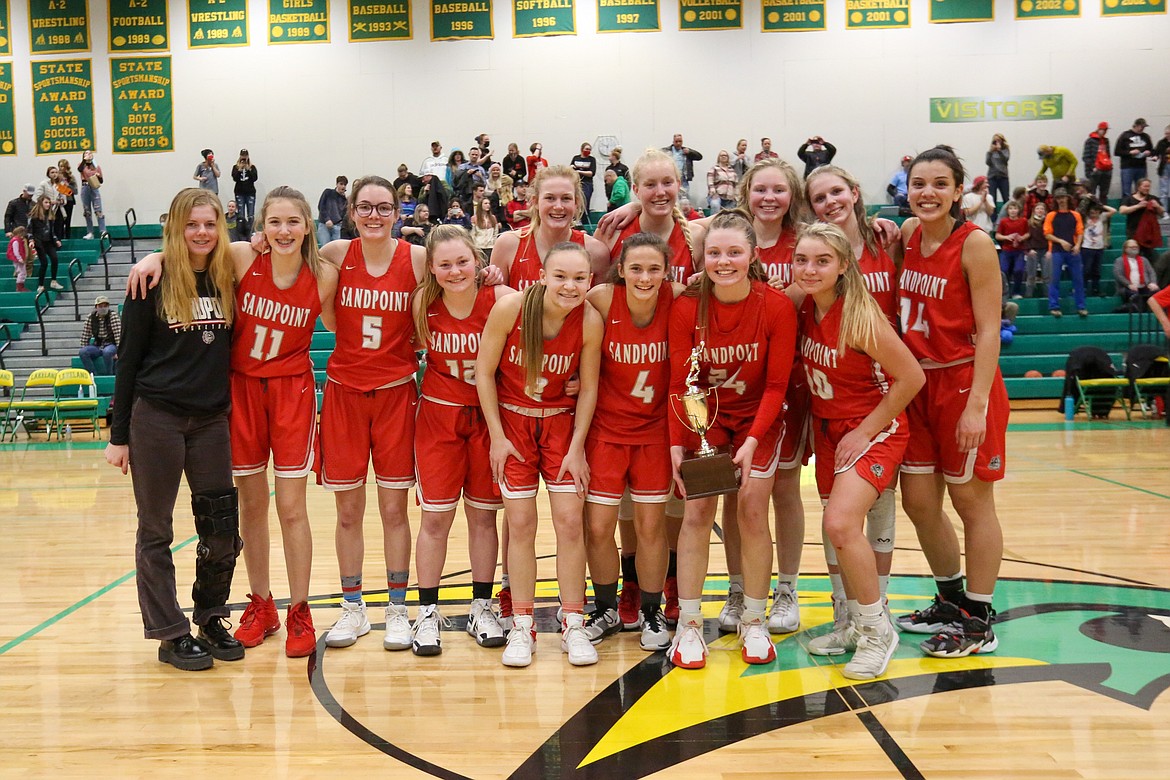 Sandpoint poses for a team photo with the 4A Region 1 trophy on Saturday.
(Photo courtesy of JASON DUCHOW PHOTOGRAPHY)
Previous
Next
by
DYLAN GREENE
Sports Editor
|
February 14, 2021 12:33 AM
RATHDRUM — Every championship game has a hero that rises to the occasion and pushes their side to victory. On Saturday night at Hawk Court, Sandpoint's Kaylee Banks wore that cape.
The senior guard scored 10 of her 15 points in the fourth quarter to propel the Bulldogs past Lakeland 40-30 in the winner-take-all Game 3 of the 4A Region 1 championship series.
The win sent Sandpoint (11-10) back to state for the seventh time in eight years and blocked the Hawks (9-11) from dethroning their rival and earning a berth to state for the first time since 2019.
"It feels amazing," Banks said after the game. "More than anything, I wanted to get back to state this whole season … and it was so awesome to beat them in their house."
With 6:09 left in the game, Lakeland led 27-25. At that point, Banks decided it was time to take over and she scored eight straight points for the Bulldogs to give them a 33-27 advantage.
"I was like, 'OK, we're down by two I really need to get going right now if we want to make it to state,'" Banks said about the fourth quarter outburst, "... so I just looked at the scoreboard and I just thought that I really needed to just take it at Katy Ryan and try and get her in foul trouble."
The final basket of the scoring streak by Banks was the nail in the coffin for the Hawks. With 3:24 left, Banks drilled a 3-pointer that silenced the Lakeland faithful and forced head coach Steve Seymour to call a timeout.
The Hawks were unable to mount a comeback and Sandpoint sealed the game with free throws down the stretch.
"Credit to Sandpoint, they made the big plays at the right time and we didn't recover from them," Seymour said. "We didn't respond in a timely fashion and at that point you're kind of wondering how much time you have to respond."
After being held to seven points in Game 2 on Friday, Banks said it felt really rewarding to break out when her team needed it most.
"We put in so much work in the offseason," she said, "and every day just shooting after practice we all just stay after and get after it. Practices were just so rough, we just all pushed each other and we wanted it so bad."
Sandpoint head coach Will Love said Banks tends to shine when the lights are the brightest.
"She likes those big moments," he said, "she looks for those and she's not intimidated, especially in the fourth quarter."
In the fourth quarter, Sandpoint held Lakeland scoreless for over seven minutes and outscored them 15-3. The Hawks' first point of the quarter didn't come until there was 48 seconds left on the clock.
Love said the Bulldogs' ability to shut down the Hawks down the stretch had a lot to do with familiarity.
"Our kids for the most part have played great defense all year and they played great defense in this series," Love said. "It's been really tight, and I think when you play three games in a row and this is our fifth game this year [against them], you know each other and that's perhaps why we were having some struggles too."
During the most crucial part of the game, the Sandpoint defense ramped up the aggressiveness and forced a handful of Lakeland turnovers.
The Hawks only hit one 3-pointer in Saturday's game and Seymour said that inability to hit from the outside allowed Sandpoint to lock down the paint.
"They extended that pressure," Seymour said, "and tonight we kind of hesitated a little bit again — a little reminiscent of Wednesday (Game 1) — and so we just had a hard time getting inside of 25 feet."
In Friday's Game 2 loss, Sandpoint allowed Ryan and Addie Kiefer to score a combined 27 points. On Saturday, the Bulldogs held the Hawks' duo to just 13.
"The big thing is we talked about how easy it was for them to get the basketball into Katy [on Friday] so that was a big point of emphasis," Love said, "and that was the film that we showed them … but credit to the girls because we can show them the stuff, but they have to go out and execute it, and they did a great job tonight."
Free throws played a big role in the first two games of the series, and that trend continued on Saturday. Sandpoint shot 15-of-25 from the free-throw line and knocked down 8-of-12 in the fourth quarter. Lakeland went 11-of-23 and 1-of-3 in the final quarter.
Love said the Bulldogs' recent streak of state appearances is a result of buy-in from the community.
"It says a lot about the community and how much they've supported us," he said, "and then you also think about the kids that started that and the coaches that started it because before that run there was some lean years for Sandpoint girls basketball, so there's a lot of people that put a bunch of time in."
Daylee Driggs and Hattie Larson each scored 10 points for the Bulldogs, and Larson also grabbed five rebounds. Ryan finished with eight points, eight rebounds and three blocks for Lakeland. Abbey Neff tallied seven points and six rebounds and Addie Kiefer added five points and eight rebounds.
Seymour said this loss hurts, but he was proud of his team for pushing through all the uncertainty caused by the COVID-19 pandemic this season.
"I was really happy that they got a season in," he said. "We wanted the season to continue and we battled, but the ball just didn't go in enough for us tonight. But that doesn't take away from those five seniors that showed up every day, worked hard, practiced, played and gave it their all. Their basketball careers may be over, but lots of good things are ahead of them, there's no doubt."
In the five games between Sandpoint and Lakeland this season, the road team emerged victorious every time.
The Bulldogs head to Mountain View High School in Meridian at 1 p.m. PST Thursday to face Columbia in their opening game of the 4A state tournament.
"We're going to go and place at state," Banks said.
Sandpoint 7 10 8 15 — 40
Lakeland 4 16 7 3 — 30
SANDPOINT — Gammon 0, Driggs 10, Lyons 5, Cessna 0, Phillips 0, Kar. Banks 0, Larson 10, Platte 0, Kay. Banks 15.
LAKELAND — Sterling 0, Thomson 0, Neff 7, Hostetler 2, Ryan 8, Simon 8, Woempner 0, A. Kiefer 5, L. Kiefer 0, Gallus 0, Wiedenhoff 0.
---