Timberwolves silence Bulldogs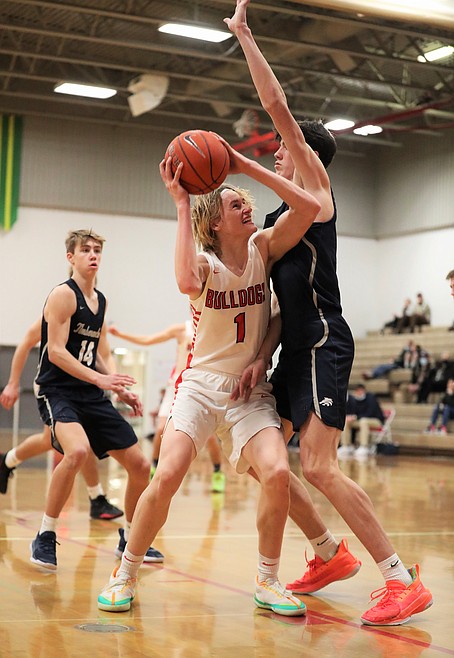 Sophomore Colin Roos (left) fights to put up a shot over Lake City's Blake Buchanan on Tuesday at Les Rogers Court.
(Photo by DYLAN GREENE)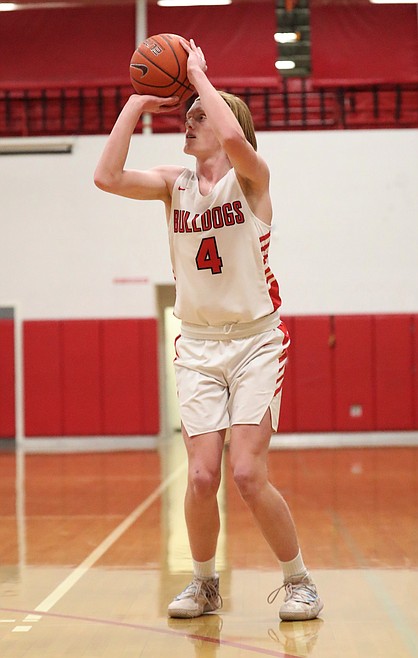 Sophomore Rusty Lee attempts a 3-pointer on Tuesday.
(Photo by DYLAN GREENE)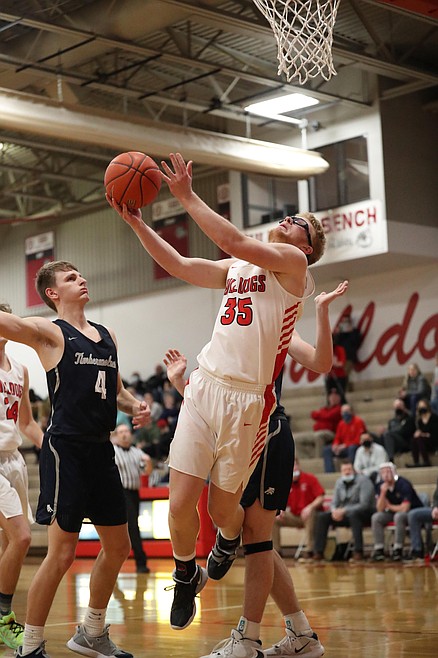 Junior Ethan Butler splits a pair of Lake City defenders and attempts a contested layup on Tuesday.
(Photo by DYLAN GREENE)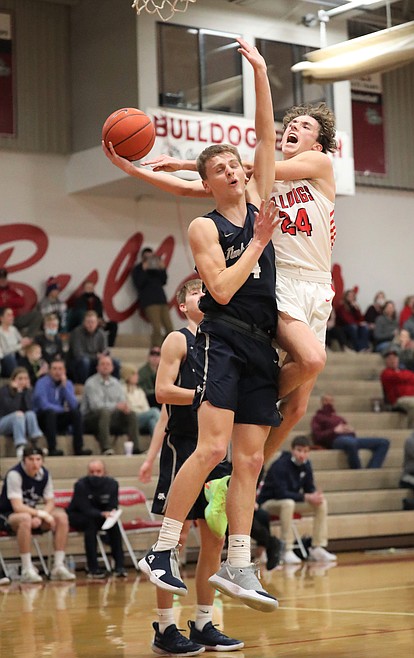 Randy Lane (right) fights through contact to attempt a layup on Tuesday.
(Photo by DYLAN GREENE)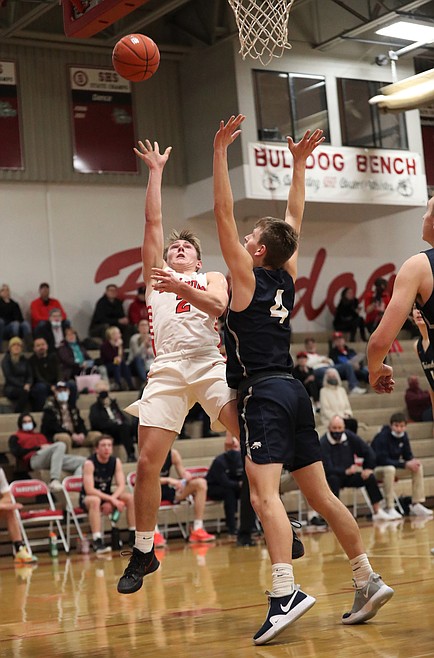 Sophomore Parker Pettit drives and attempts a shot over a Lake City defender on Tuesday.
(Photo by DYLAN GREENE)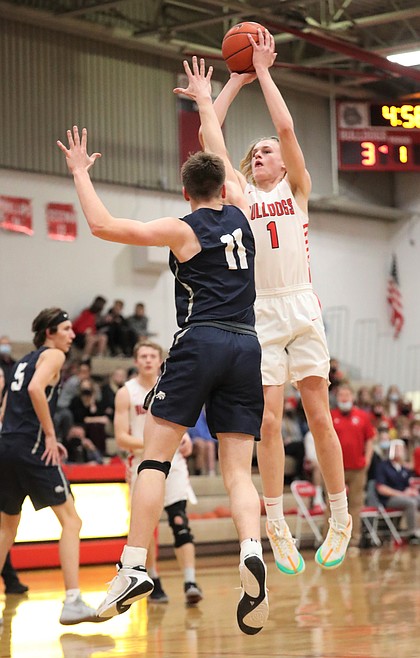 Colin Roos attempts a jumper over a Lake City defender on Tuesday.
(Photo by DYLAN GREENE)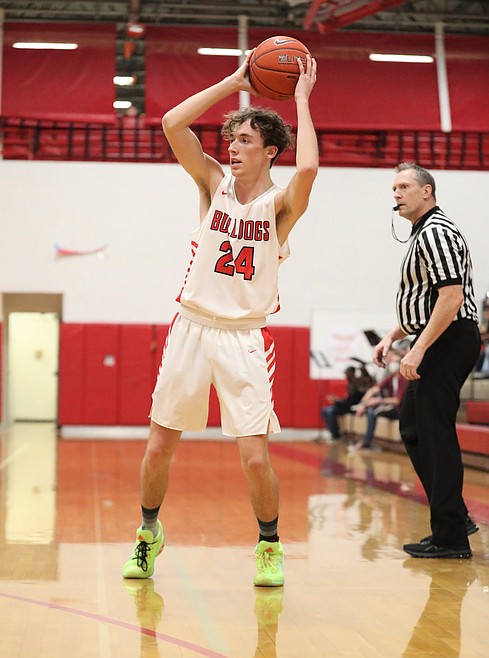 Sophomore Randy Lane looks to pass the ball to a teammate on Tuesday.
(Photo by DYLAN GREENE)
Previous
Next
by
DYLAN GREENE
Sports Editor
|
February 16, 2021 11:19 PM
SANDPOINT — The third time wasn't a charm for the Bulldogs on Tuesday night at Les Rogers Court.
In its final regular season home game, Sandpoint fell to Lake City, one of the top 5A teams in the state, for the third time this season.
The Timberwolves won 66-37.
Lake City used a 19-2 second quarter to runaway with the victory.
Despite the loss, interim head coach Mike Roos was proud of his team for not giving up.
"They're a good team and I was glad there was not one time when they said, 'Oh, let's throw in the towel,' he said. "We kept trying and although the buckets didn't happen, they just kept going and shooting the right shot, the open shot. As long as we're doing that, at some point they're going to fall."
Things got out of hand for the Bulldogs early in Tuesday's game. The Timberwolves jumped out to a 15-3 lead midway through the first quarter. SHS was able to close the gap by the end of the frame, but in the second quarter Lake City was firing on all cylinders and took a 38-12 lead into halftime.
"I think we came out there a little intimidated at times," Roos said. "They're a big, physical, handsy team and we just didn't come out, fire back and match that intensity. I feel like at times we do and then we just let it get away from us, and tonight we didn't run our offense as good. They were filling in the gaps, cutting us off and we just couldn't make quick enough adjustments."
Sandpoint was able to score 25 points in the second half, but the clock started running at the beginning of the fourth quarter.
Lake City's lineup is filled with players well over 6-foot, and Roos said that size prevented the Bulldogs from getting much done in the paint.
"It's very intimidating when you're in there and you get blocked or something, and then that's in your head the whole time," he said. "We needed to do a better job of going with our move and sticking with it. Don't change your shot because someone's there. You start doing that, you don't get the call. If you go up strong and put it on the glass, you usually get the call."
Sandpoint was able to knock down seven 3-pointers in the game and four of those came courtesy of senior guard Darren Bailey, who finished with a team-high 14 points.
"He shot it well," Roos said. "Luckily, he was hitting some shots because it was just like skip it to Darren, he'll shoot it and make it."
Colin Roos had seven points, three rebounds and two steals and Randy Lane added four points, seven rebounds, five assists and two steals.
Zach Johnson had 24 points, nine rebounds and three assists for Lake City, and Blake Buchanan tallied 15 points, seven rebounds, three blocks and two steals.
Sandpoint (4-14) heads to Moscow at 3 p.m. Saturday for its regular season finale. The Bulldogs fell to Moscow 80-63 at home on Jan. 8 and are currently 0-3 in 4A Inland Empire League play.
"I think we are a different team so I think the boys feel good," Roos said about the rematch. "I think they're ready."
Lake City 19 19 17 11 — 66
Sandpoint 10 2 13 12 — 37
LAKE CITY — Buchanan 15, Jones 0, Janke 5, Irvin 0, J. Kiesbuy 8, Spellman 2, Johnson 24, Weaver 0, D. Kiesbuy 2, Mitchell 6, Meredith 4, Bowman 0.
SANDPOINT — Roos 7, Pettit 2, Frank 0, R. Lee 0, VanDenBerg 3, Bailey 14, S. Lee 3, Lane 4, Butler 4.
---