Spartan boys basketball returns tonight against Timberlake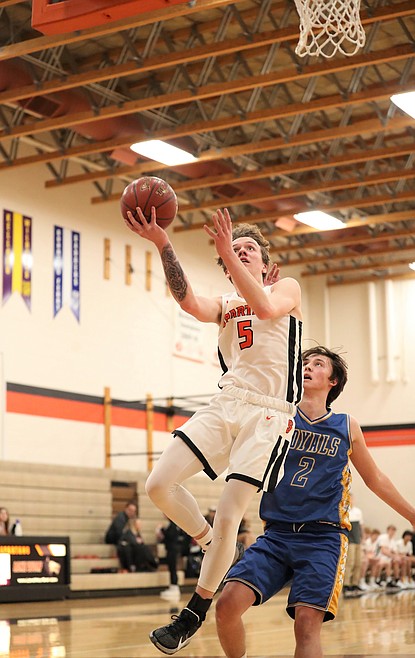 Junior Trentyn Kreager attacks the basket and converts a layup during a game against North Idaho Christian on Jan. 4 at PRLHS.
(File photo by DYLAN GREENE)
by
DYLAN GREENE
Sports Editor
|
February 17, 2021 1:00 AM
PRIEST RIVER — Last Thursday, the Priest River boys basketball team was gearing up for a pivotal Intermountain League rematch with Timberlake.
The team conducted its normal pregame shootaround and everything was going as planned. Then the Spartans received a phone call informing them that they had come in close contact with someone who recently tested positive for COVID-19.
Priest River played at Bonners Ferry on Monday. Feb. 8 and the Badgers had someone within their program test positive.
Just like that the game against Timberlake was postponed and Priest River was thrust into quarantine for the second time this season.
"They were itching to go and then obviously everything comes to a halting stop," head coach Kevin Wylie said.
But fortunately for the Spartans, their absence from the basketball court wouldn't last long.
Per district policy, if everyone on the team tests negative for COVID-19 within the five-to-seven-day testing period, the team can return to practice immediately.
So over Presidents' Day weekend, the whole team got tested and they all came back negative. The Spartans returned to practice Tuesday in preparation for tonight's home game with Timberlake.
During the quarantine, the coaches and players were unable to have any contact. Instead, Wylie said the Spartans conducted a handful of team meetings over Zoom to make sure everyone stayed focused and active during the unexpected break.
"We gave the kids homework," he said, "and we had them watch film over the weekend and study what we can do better."
It's a situation no team wants the deal with, Wylie said, but everyone kept a positive attitude throughout the process.
"We're not going to look at this as a setback and we're not going to be frustrated about it," he said. "We're going to look at it like we're the undefeated team in league and nothing is going to derail us from our goal and our mindset of winning districts and going to state."
The Spartans will need to hold on tight to that mindset if they want to withstand this week's schedule. Priest River will play three games in four days to wrap up regular season play. The compacted schedule is a result of the team going into quarantine.
The Spartans host the Tigers at 7 p.m. tonight, travel to Kellogg at 7 p.m. Friday and welcome the Badgers at 7 p.m. Saturday.
After that brutal schedule, Priest River will open the 3A District 1 tournament on Monday. The Spartans don't know who they will face yet, but the team currently sits at 3-0 in IML play and controls its own destiny in pursuit of the No. 1 seed to districts.
Instead of looking at the rapid succession of games as a negative, Wylie said he wants his team to treat this stretch like a state tournament where back-to-back-to-back games are a reality.
"This is an opportunity for us to get ready for something like that and be prepared," he said.
The sudden stoppage in the season has been tough on the team, but for Wylie the most frustrating part was missing out on an opportunity to build off the momentum of a dominant 82-60 victory at Bonners Ferry before entering quarantine.

"We really felt like that was the turning point where the rest of the season was going to be something special," he said, "and I still think that's there, but any time you have this kind of roadblock you worry that maybe the kids are going to lose a little bit of that attention and focus."
One silver lining of the break is it allowed the Spartans to get fully healthy, Wylie said, as the Spartans gear up for the most important week of their season so far.
Returning to action against a league rival will be a challenge, Wylie said, but he doesn't expect his team to get fatigued.
Priest River (11-6) beat Timberlake 73-71 on Jan. 16 in Spirit Lake.
"We just want everybody to stay healthy and we want to be able to finish this season," Wylie said. "We're so close to the endgame ... we're just hoping that this was just a small little bump and things can go smoothly from here on out."
---