Spartans drop final dual at Bonners Ferry, head to districts Thursday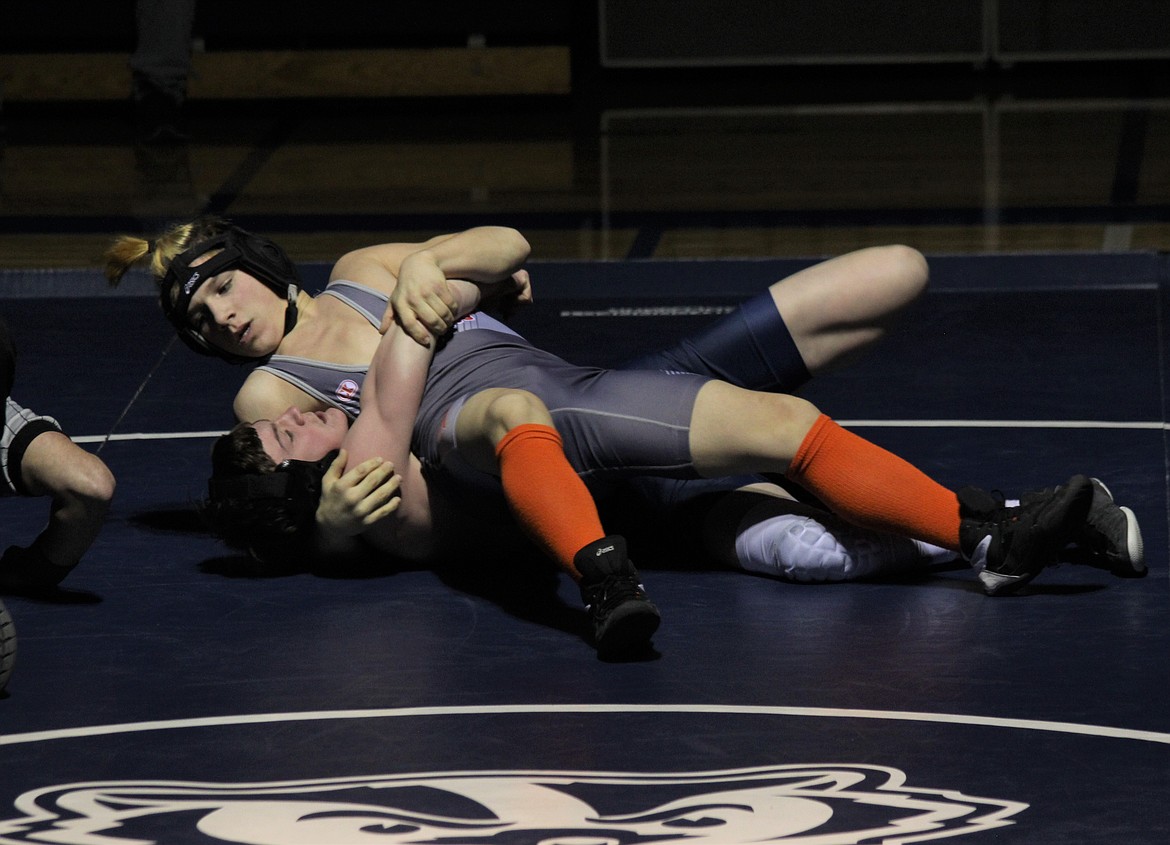 Sophomore Aidan Troumbley (top) pins Dillon McLeish from Bonners Ferry in a 126-pound bout last Thursday at BFHS.
(Photo by VICTOR CORRAL MARTINEZ/BONNERS FERRY HERALD)
by
DYLAN GREENE
Sports Editor
|
February 17, 2021 1:00 AM
BONNERS FERRY — The Priest River wrestling team fell to Bonners Ferry in its final event of the regular season last Thursday.
The Spartans lost 54-16 in a dual with the Badgers.
Priest River started the match strong by winning the first three bouts. After the team's double forfeited at 98 and 106, sophomore Hayden Sorbel stepped on the mat and dominated Michael Stindt from Bonners Ferry at 113 pounds. He earned a 12-4 major decision.
Junior Keith Poirier kept things rolling for the Spartans at 120, pinning his opponent in 1:21. Then sophomore Aidan Troumbley pinned Dillion McLeish from Bonners Ferry in just 47 seconds to give Priest River a 16-0 lead.
But after that the Spartans' lack of depth started to show, allowing Bonners Ferry to take over the dual. The Badgers won five bouts by forfeit and four by pin to cruise to victory.
Shayd Wong-Yuen, Egil Williams, Bradley Bennett and Matyus McLain all lost their matches by pin.
Following the varsity dual, a handful of JV matches were contested and four Spartans walked away with wins. Collin Magers and Caeden McLaimtaig picked up victories in 120-pound bouts. Magers pinned his opponent in 4:22 and McLaimtaig earned one in 2:28.
At 126, Dylan Lord secured a pin in just 51 seconds and Charles Bennett capped the night with a pin over Nicholas Somers at 160.
The Spartans head to Bonners Ferry High School at 4 p.m. Thursday for the 3A District 1 championships. The top three wrestlers in each weight class at the event will qualify for the state tournament on Feb. 27.
Head coach Quinton Holbrook is feeling pretty confident about his group and believes Priest River could send six or seven wrestlers down to state.
98 — Double forfeit. 106 — Double forfeit. 113 — Hayden Sorbel, PR, md. Michael Stindt, 12-4. 120 — Keith Poirier, PR, p. Ravi Neumeyer, 1:21. 126 — Aidan Troumbley, PR, p. Dillon McLeish, 0:47. 132 — Evan Barajas, BF, d. Shayd Wong-Yuen, TF 20-5 2:23. 138 — Spencer Eby, BF, p. Egil Williams, 0:17. 145 — Double forfeit. 152 — Bryan Durette, BF, by forfeit. 160 — Kyle Smith, BF, p. Bradley Bennett, 1:05. 170 — Eli Richards, BF, by forfeit. 182 — Nathaniel Varelman, BF, p. Matyus McLain, 2:36. 195 — Jackson Richter, BF, by forfeit. 220 — Andrew Sandelin-Macintosh, BF, by forfeit. 285 — Isaiah Shottanana, BF, by forfeit.
Extra Matches
120 — Collin Magers, PR, p. Michael Stindt, 4:22. 120 — Caeden McLaimtaig, PR, p. Ravi Neumeyer, 2:28. 126 — Dylan Lord, PR, p. Dillon McLeish, 0:51. 132 — Jake Summerfield, BF, p. Egil Williams, 0:39. 138 — Dakoda Heller, BF, p. Shay Wong-Yuen, 3:12. 160 — Charles Bennett, PR, p. Nicholas Somers, 1:08.
---