Fire guts Larch Street trailer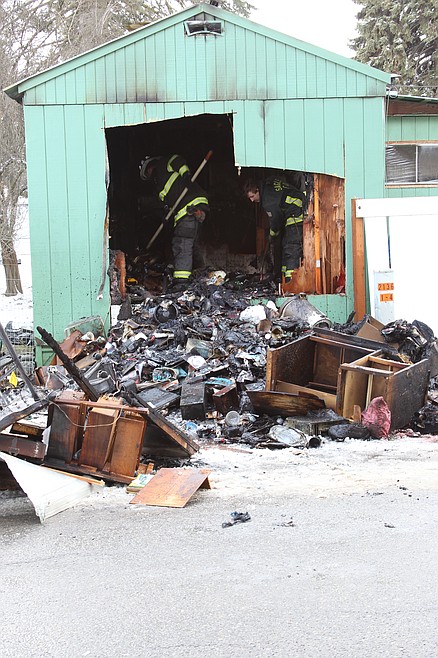 Selkirk Fire Rescue & EMS personnel mop up a structure fire that gutted a single-wide trailer at Larch and Florence on Wednesday.
(Photo by KEITH KINNAIRD)
|
February 18, 2021 1:00 AM
SANDPOINT — A structure fire gutted a single-wide trailer at the corner of Larch Street and Florence Avenue on Wednesday.
There were no reports of injuries.
The fire is the third in the past few days with two fires reported on Tuesday, Feb. 16.
Selkirk Fire Rescue & EMS reported on its Facebook page that the first fire on Tuesday was in the Sagle area, with crews joined by Bonner County EMS, Northside Fire and Bonner County Sheriff's deputies.
"Thankfully the homeowner was able to get out and call 911," Selkirk Fire officials said in the post. "When crews arrived on scene they found heavy fire in the garage with several vehicles on fire."
While the fire was quickly contained, officials reminded residents to batteries in their smoke detectors and keep the doors shut between the garage and the living area of a home.
"It can save your life and your personal belongings," officials added.
The second fire on Tuesday involved a small single-wide trailer. Thankfull, officials said the woman living the trailer was assisted from the residence by Sandpoint Police officers after experiencing difficulty in getting out the front steps.
"We appreciate the officers assistance," Selkirk officials said, noting that crews were able to extinguish the fire.
They added that no injuries were reported due to the cold temperatures.
---