Sandpoint tames Wildcats, advances to state semis for second straight year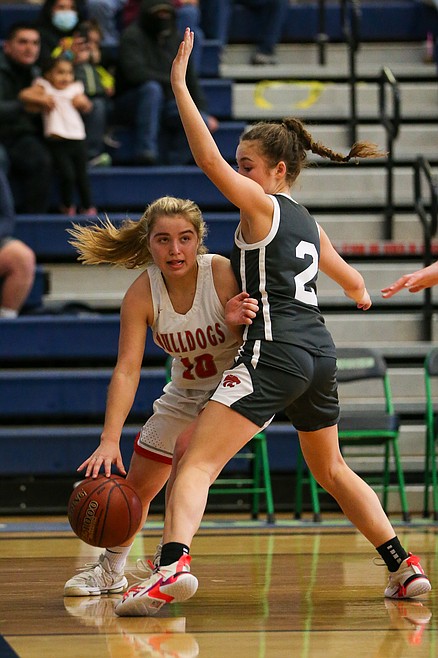 Destiny Lyons attempts to drive baseline during Thursday's 4A state opener against Columbia at Mountain View High School.
(Photo courtesy of JASON DUCHOW PHOTOGRAPHY)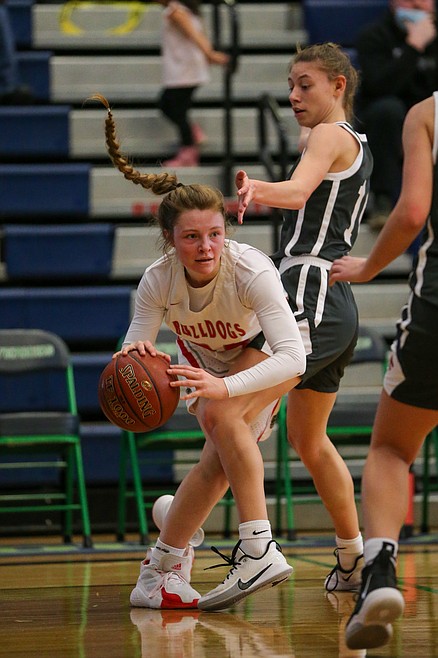 Kaylee Banks tries to weave through the Columbia defense and find an open teammate on Thursday.
(Photo courtesy of JASON DUCHOW PHOTOGRAPHY)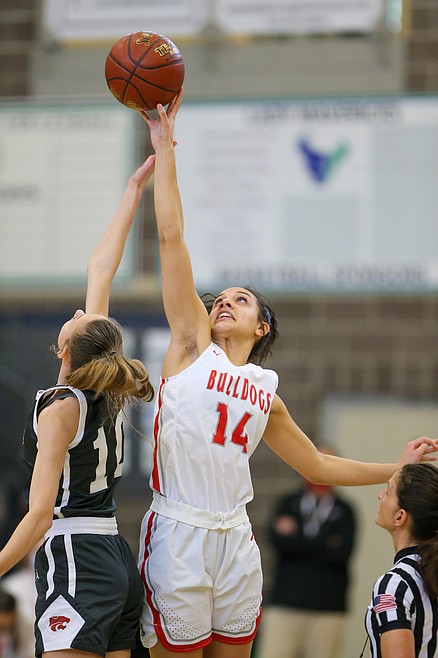 Senior Bella Phillips wins the opening tip of Sandpoint's 4A state opener against Columbia on Feb. 18.
(Photo courtesy of JASON DUCHOW PHOTOGRAPHY)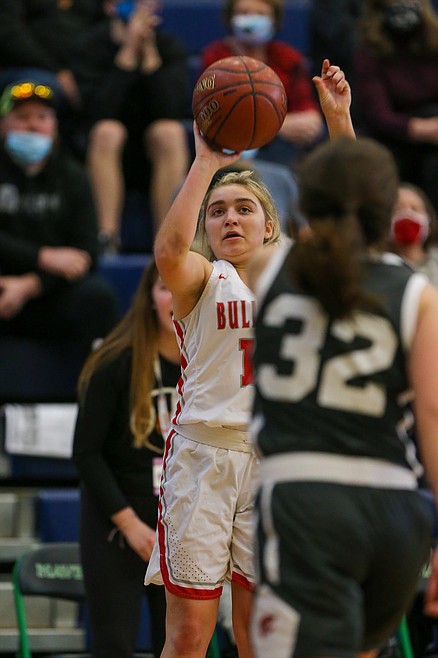 Destiny Lyons pulls up for a shot on Thursday.
(Photo courtesy of JASON DUCHOW PHOTOGRAPHY)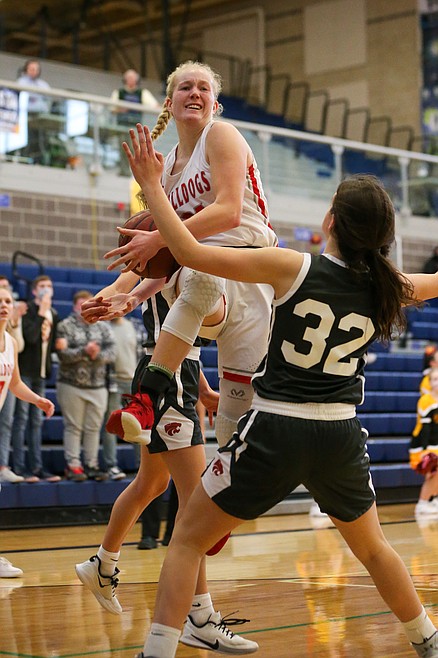 Hattie Larson goes airborne while attacking the basket on Thursday.
(Photo courtesy of JASON DUCHOW PHOTOGRAPHY)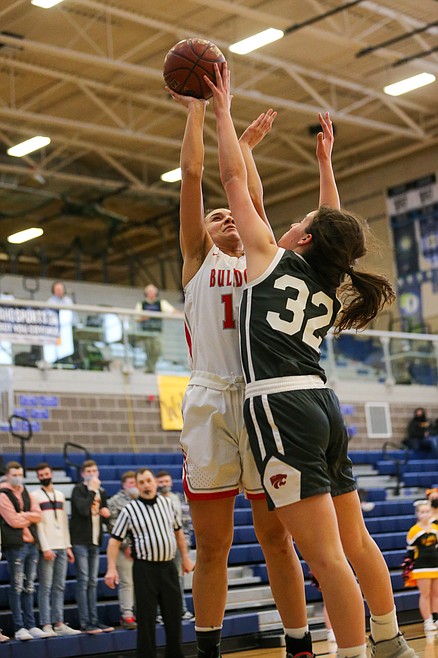 Bella Phillips elevates for a shot on Thursday.
(Photo courtesy of JASON DUCHOW PHOTOGRAPHY)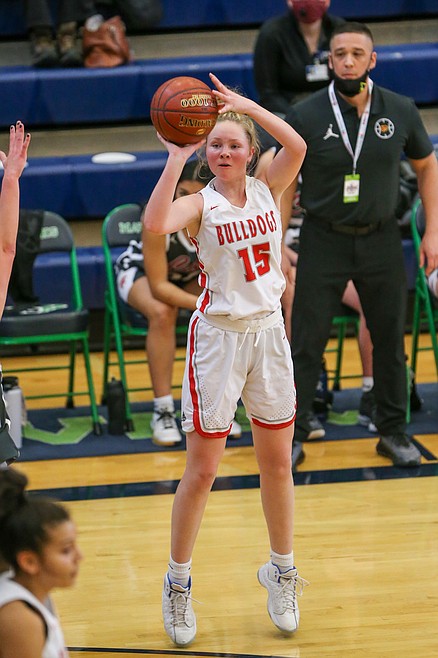 Karlie Banks attempts a 3-pointer on Thursday,
(Photo courtesy of JASON DUCHOW PHOTOGRAPHY)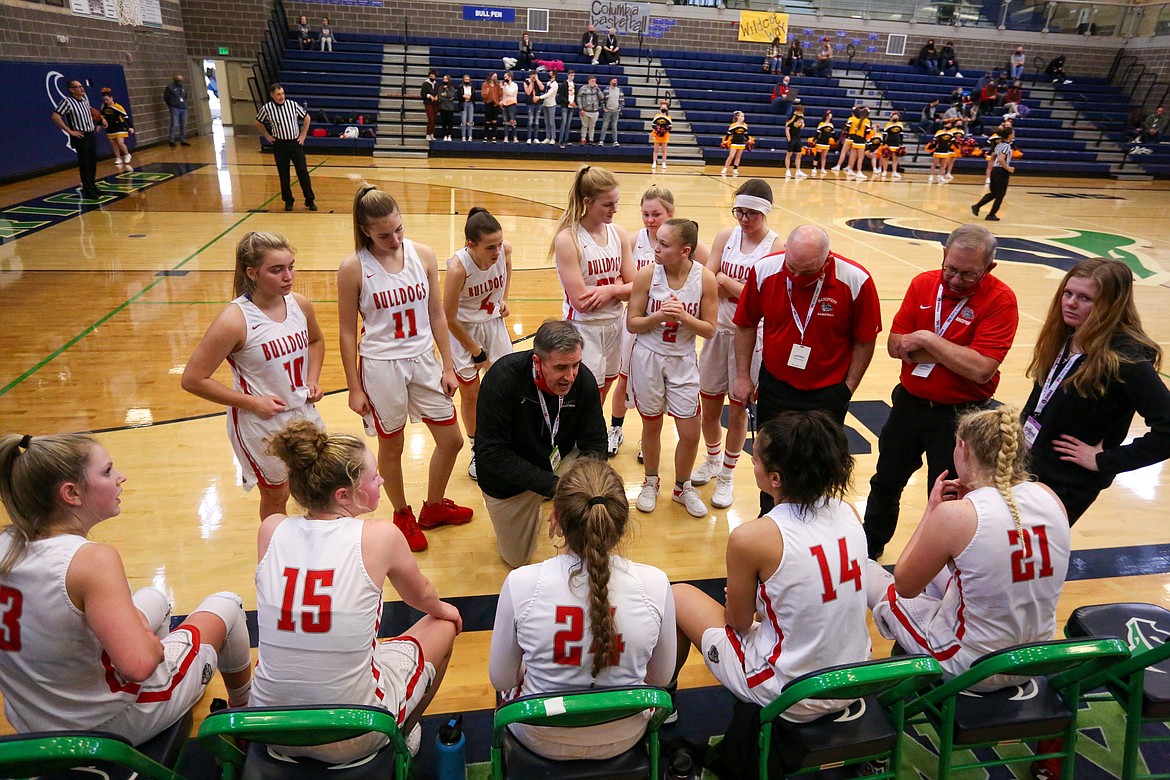 Head coach Will Love talks to the team during a timeout on Thursday.
(Photo courtesy of JASON DUCHOW PHOTOGRAPHY)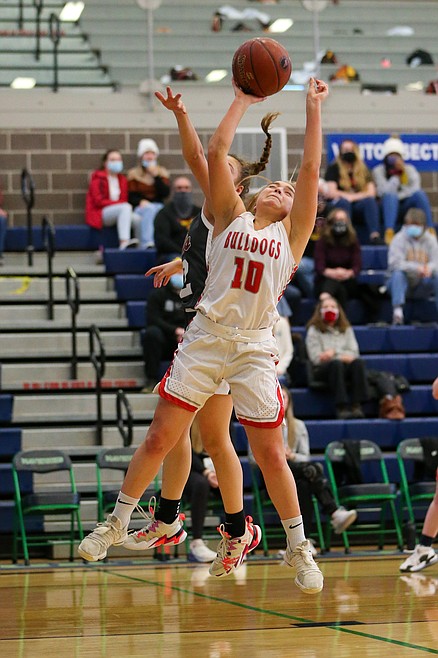 Destiny Lyons is fouled on a shot attempt on Thursday.
(Photo courtesy of JASON DUCHOW PHOTOGRAPHY)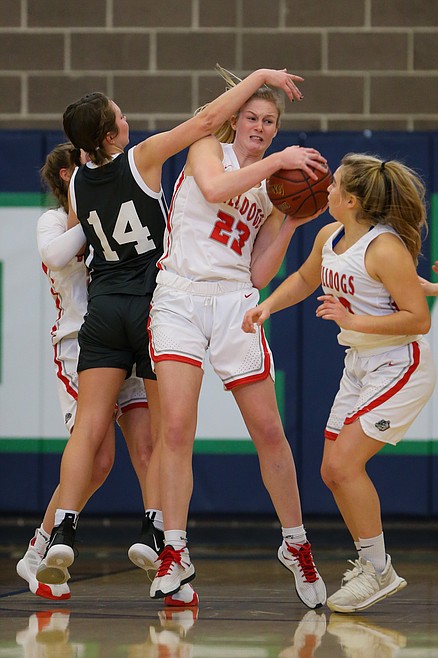 Sofia Platte fights for a rebound on Thursday.
(Photo courtesy of JASON DUCHOW PHOTOGRAPHY)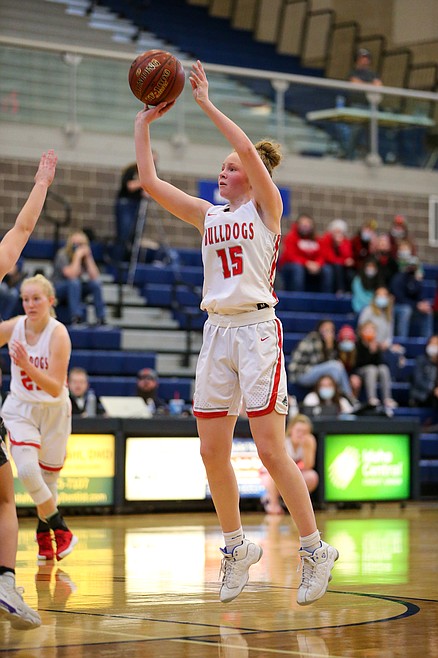 Karlie Banks hits a jumper on Thursday.
(Photo courtesy of JASON DUCHOW PHOTOGRAPHY)
Previous
Next
by
JASON ELLIOTT
Hagadone News Network
|
February 18, 2021 7:18 PM
MERIDIAN — Any coach will tell you that's it's a tough road to the state tournament.
The one that Sandpoint took might blow them all away.
"We had a breakdown in the Tri-Cities, so we were cruising along well and ended up spending an extra hour there," Sandpoint coach Will Love said. "Then we get back on the bus, and it wouldn't get into gear, so the bus company had to call another bus company to pick us up to take us to La Grande, and getting over the Blues (Blue Mountain Pass in Oregon) took forever, so we got there and had another bus take us to Boise. As soon as they dropped us off and we got to go to dinner, they had to get another bus."
As for Thursday's state 4A opener, senior Kaylee Banks hit a jumper with 14.9 seconds remaining in the first quarter to give the Bulldogs their first lead of the game, one they did not give back in a 44-36 win over the Columbia Wildcats at Mountain View High.
The win allowed Sandpoint to advance to the state semifinals for the second straight year, and the fourth time in the last seven years.
As a result of Wednesday's delays, Sandpoint was unable to practice before their state opener like previously planned.
"We had some stuff scheduled, but at that point, we were going to get dinner and go to bed," Love said. "I expected us to struggle a bit offensively because they were out of their rhythm, but defensively the girls did a good job."
Sandpoint advanced to state with a best-of-3 game series win over Lakeland in the 4A Region 1 tournament that featured two one possession games. Love said those tightly-contested games got his team ready for the spotlight at state and helped them against Columbia on Thursday.
"Lakeland really got us prepared for this tournament," Love said. "That was a grind-it-out series and an opening round, or better because of the atmosphere up there. So I give credit to Lakeland for really challenging us and getting ready. The kids have to be ready and execute at this point. If they do that, you've got a chance."
Sandpoint (12-10) will face Century (17-5) of Pocatello in a 4A semifinal at 4 p.m. PST Friday at Mountain View High. Century was the state runner-up last season.
Sandpoint held Columbia to 14 of 41 shooting and forced the Wildcats (13-11) to commit a number of turnovers.
"Defense can travel," Love said, "... and I give credit to the kids because they missed some shots early on that they worked hard to get, but they didn't give up and they didn't get down just because those shots weren't going in. They just kept playing tougher and tougher defense, and so it was nice to have that in our first game at state."
Kaylee Banks finished with 16 points and four rebounds and shot 6 of 14 from the field.
"All my teammates push me to do my hardest," Banks said after the game. "Hattie (Larson) looked at me and told me that I needed to push myself, so I tried to go and change the momentum of the game. Columbia's a scrappy team and tries to push that high-post action. It's harder for us to defend that because we don't have a lot of teams that do that kind of stuff."
Love said he has come to expect performances like this from Banks.
"She did a tremendous job, especially in that first half," Love said of Banks. "She did a great job of getting us going, especially when we were struggling. She's a gamer and likes the spotlight like this. She prepares herself and I know she watches a lot of film to get us ready."
Larson had nine points and six rebounds, Karlie Banks tallied five points and Destiny Lyons added four.
Mia Nottingham had 13 points and 12 rebounds for Columbia in its first appearance at state since the school opened in Nampa 15 years ago.
The Bulldogs' semifinal opponent, Century, advanced to the next round with a dominant 55-25 victory over Mountain Home. The Diamondbacks have reached the state title game the last three years and took home all the glory in 2015, 2016 and 2019.
"Century is an excellent team and I've known that all season," Love said. "There's a reason why they've won the three state titles and have been playing regularly in the state championship game."
With a victory over Century, the Bulldogs would advance to the state title game for the first time since 1996 when Sandpoint legend Alli Nieman led the team to a second-place trophy. Love said the Bulldogs won't go down without a fight.
"Century is really, really big so it's going to be a challenge for us," he said, "but we'll put together a game plan and we're going to give it the old Bulldog try and do our best, and I know the kids are anxious to play Century and see where they stand."
Columbia 5 9 12 10 — 36
Sandpoint 7 16 8 13 — 44
COLUMBIA — Robertson 5, Fone 2, Nottingham 13, Myers 10, Davis 0, Stephens 0, My. Mills 6, Soto 0. Totals 14-41 5-12 36.
SANDPOINT — Driggs 2, Lyons 4, R. Cessna 3, Phillips 3, Kar. Banks 5, Larson 9, Platte 2, Kay. Banks 16. Totals 15-46 11-23 44.
Dylan Greene contributed to this report.
---