Spartans suffer first IML defeat to Tigers on Senior Night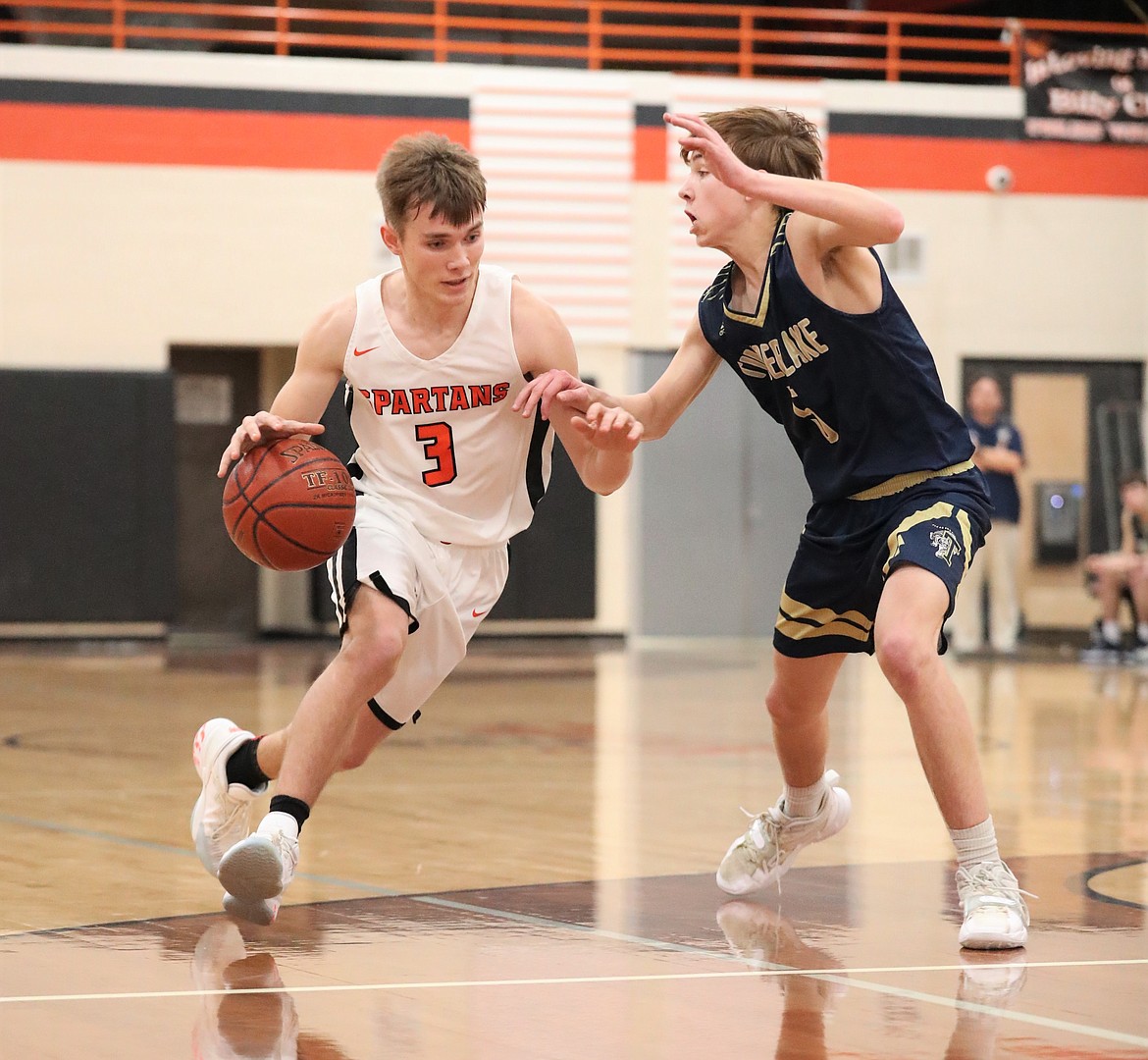 Junior Jordan Nortz drives toward the paint during Wednesday's game against Timberlake on PRLHS. He led the team with 18 points.
(Photo by DYLAN GREENE)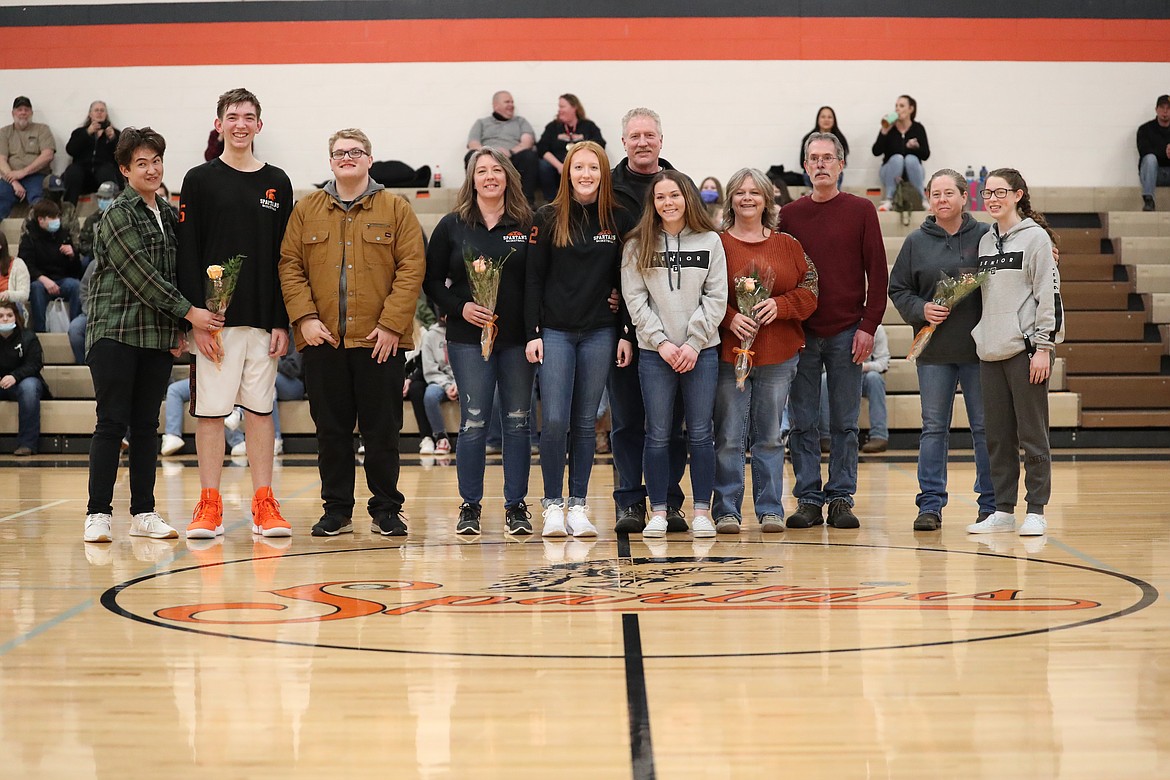 The four seniors honored prior to Wednesday's game, and their friends and family pose for a photo.
(Photo by DYLAN GREENE)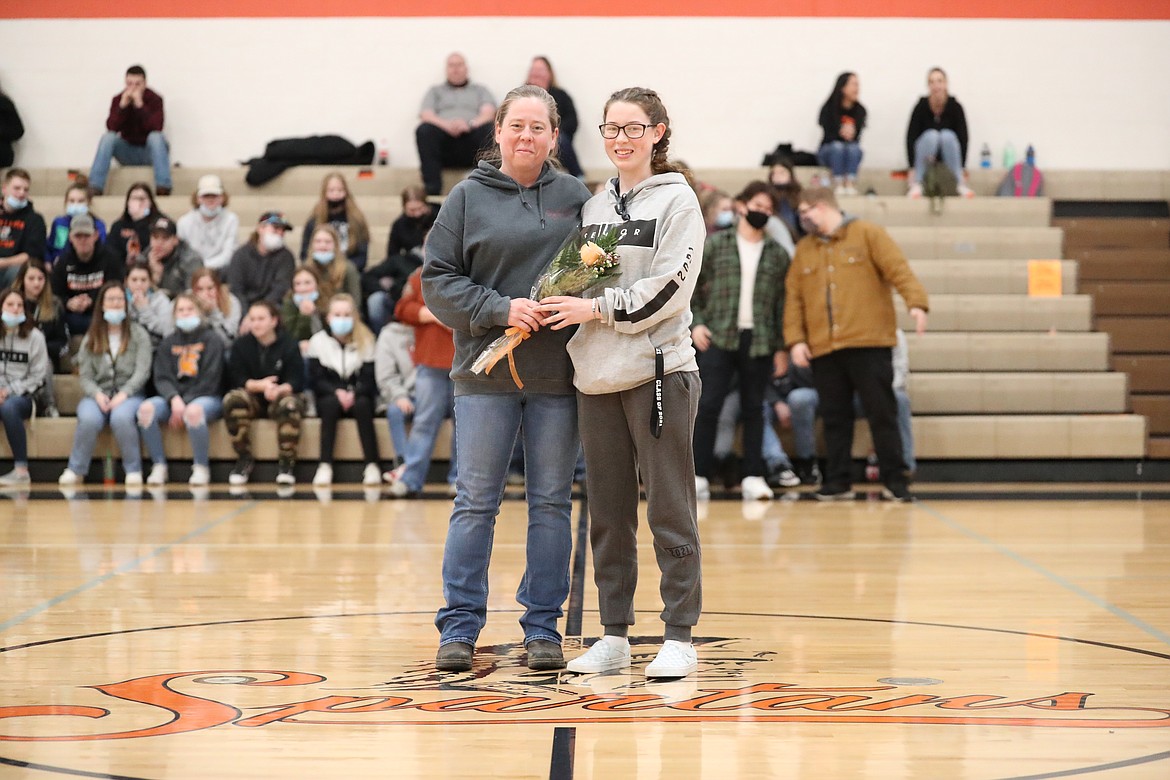 Annika Rantala poses for a photo with her mom on Senior Night.
(Photo by DYLAN GREENE)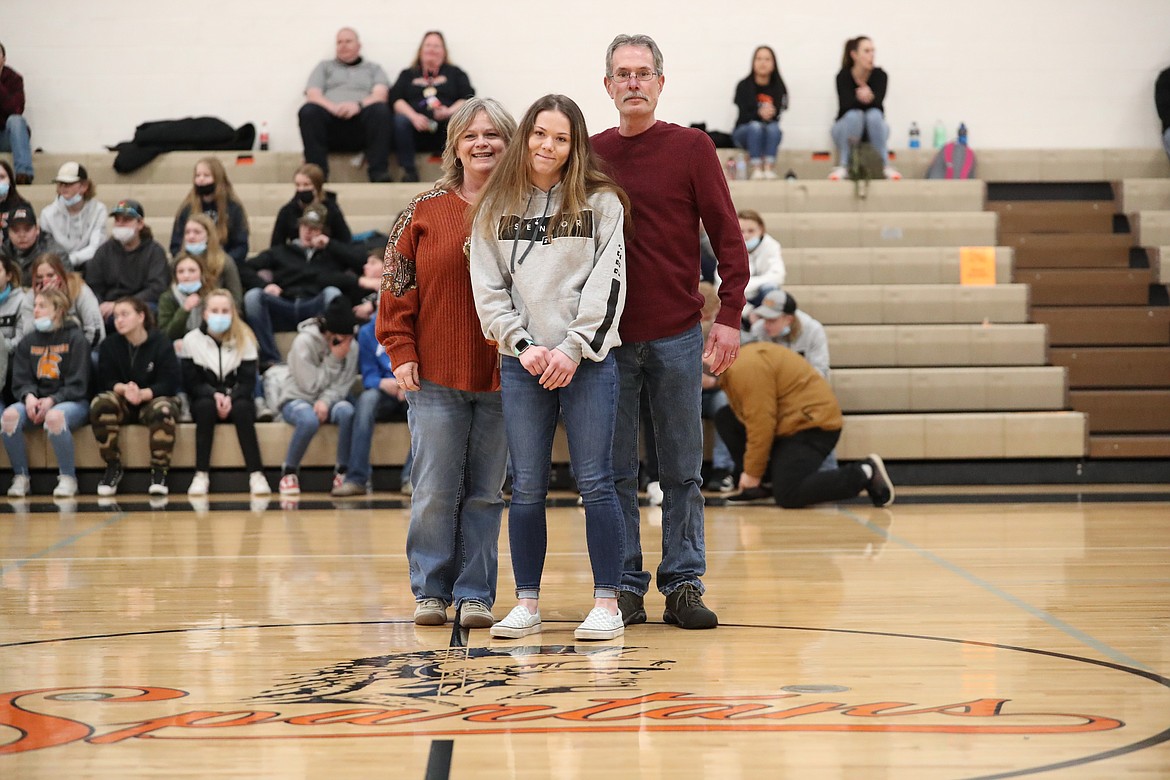 Hannah Palfrey poses for a photo with her family on Senior Night.
(Photo by DYLAN GREENE)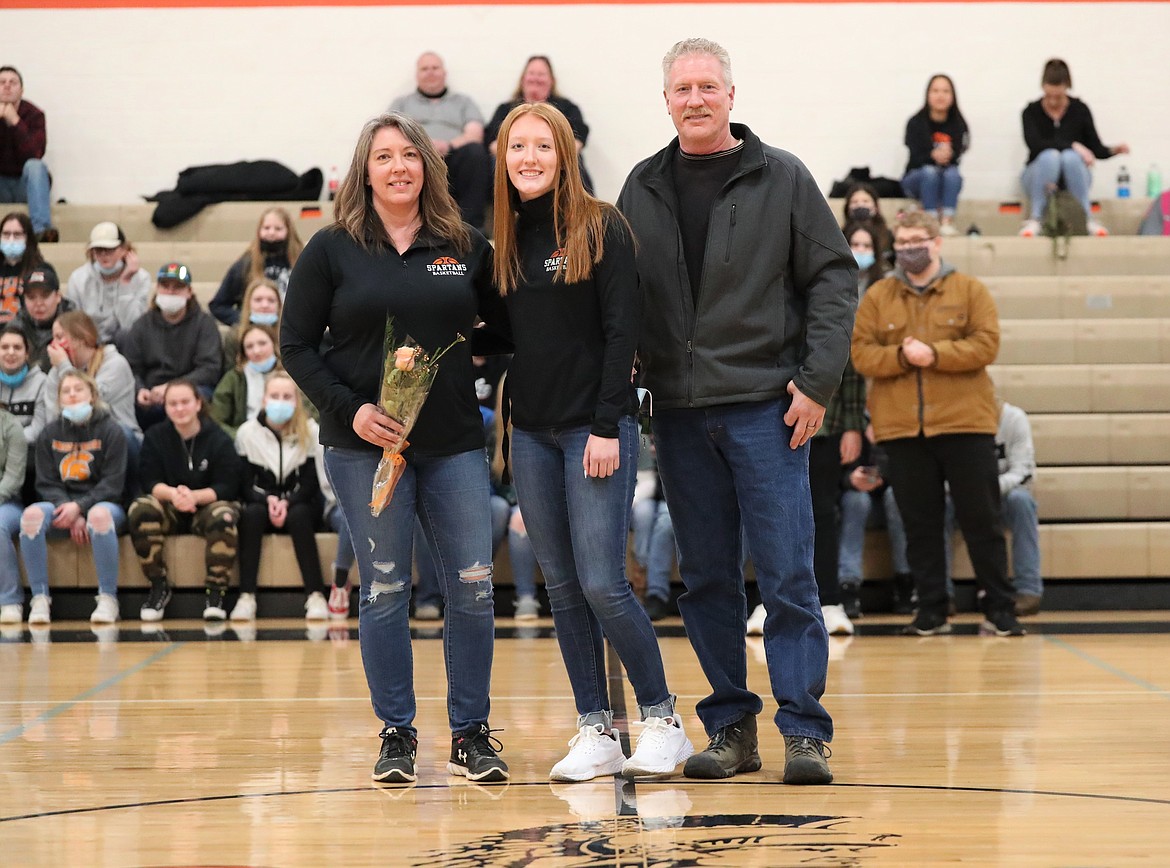 Makia Fitzmorris poses for a photo with her family on Senior Night.
(Photo by DYLAN GREENE)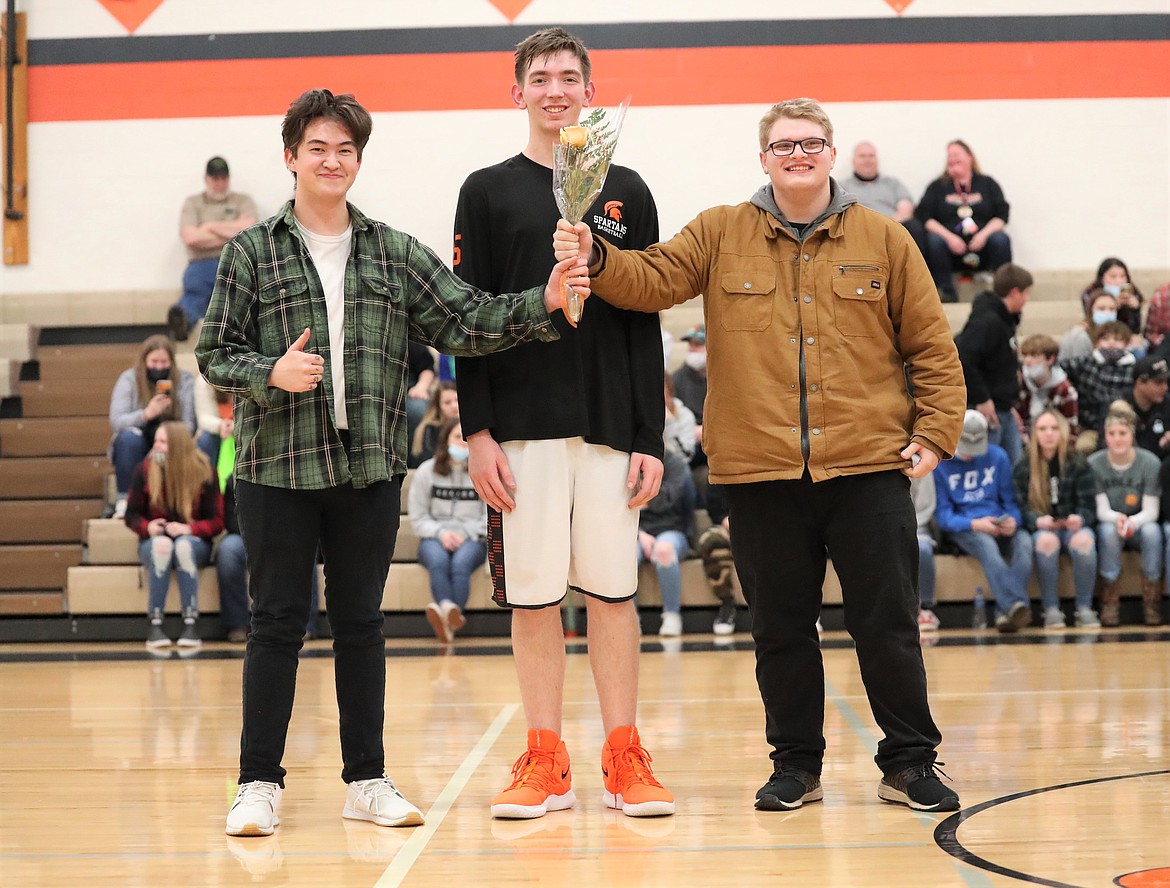 Terry Janssen poses for a photo with friends on Senior Night.
(Photo by DYLAN GREENE)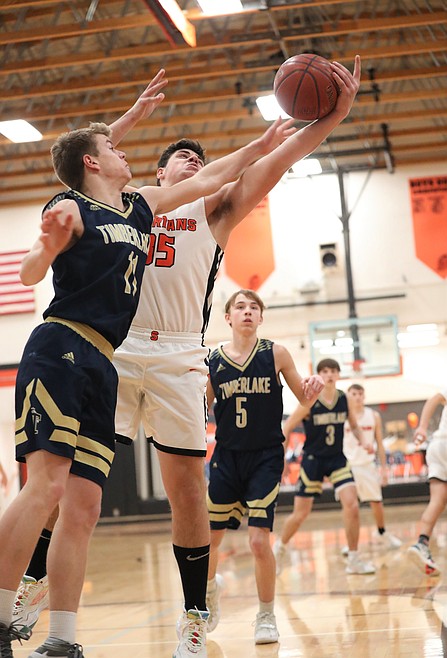 Jace Yount reaches out for a rebound on Wednesday.
(Photo by DYLAN GREENE)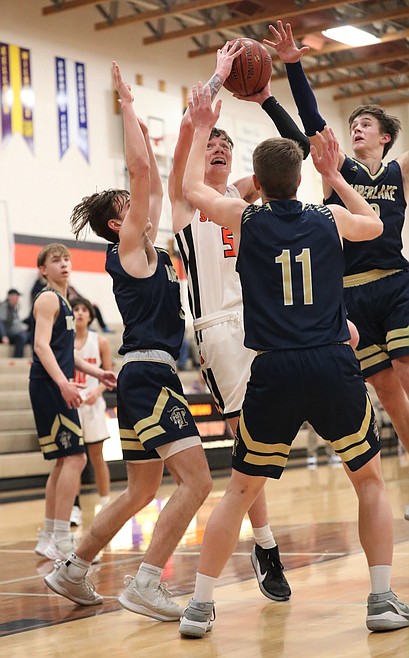 Trentyn Kreager shoots over a swarm of Timberlake defenders on Wednesday.
(Photo by DYLAN GREENE)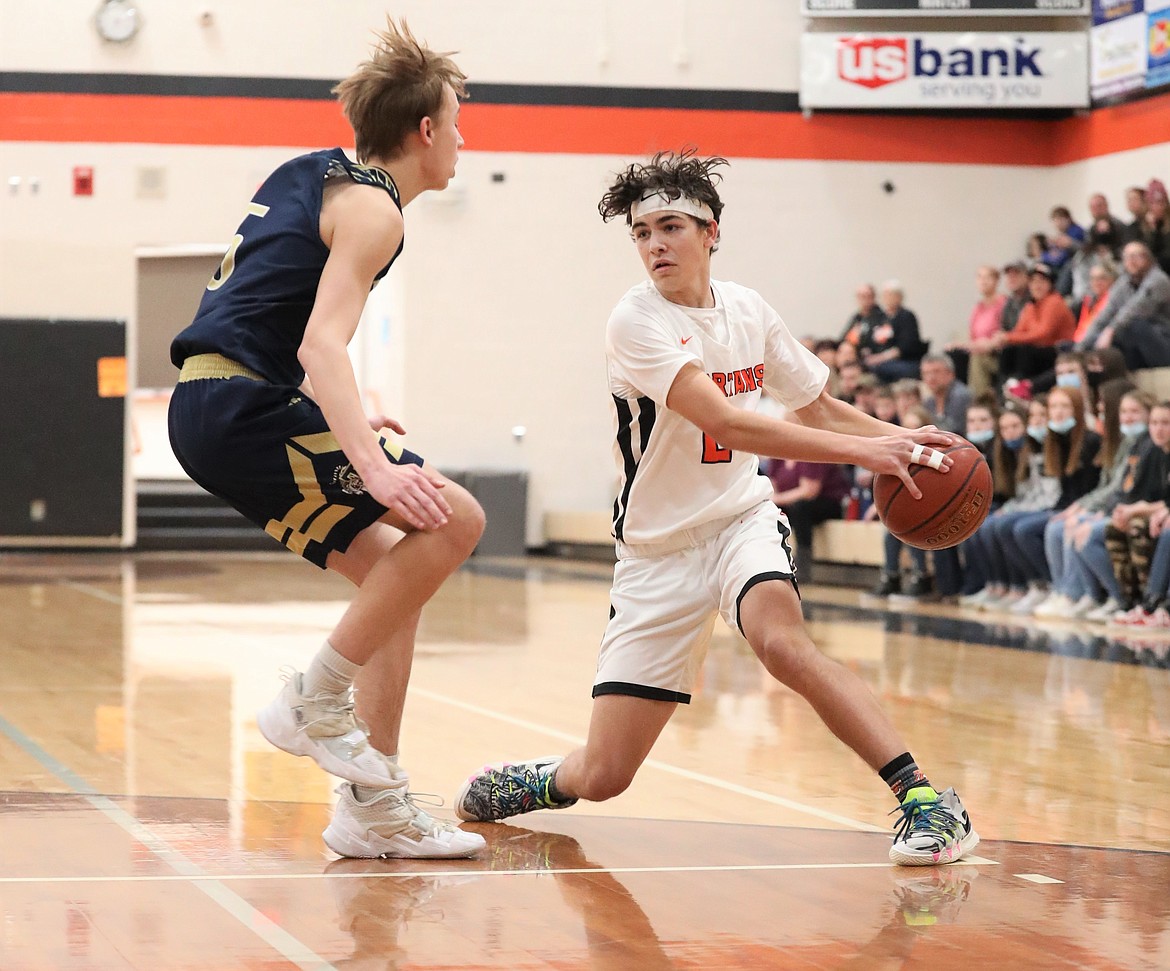 Luke Butler makes a move to try and get past a Timberlake defender on Wednesday.
(Photo by DYLAN GREENE)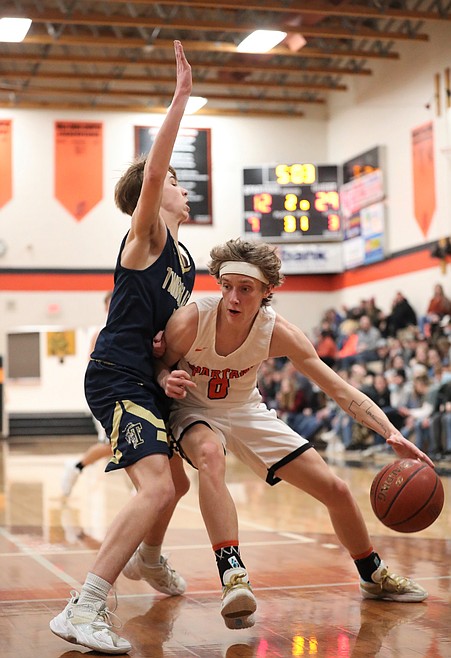 Travis Mathews attempts to get down low in the paint on Wednesday.
(Photo by DYLAN GREENE)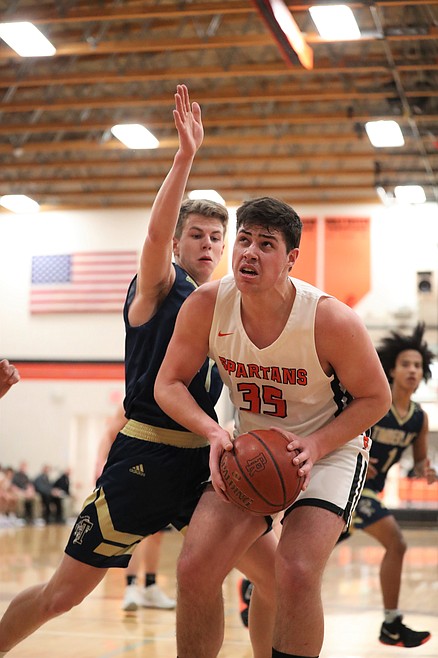 Jace Yount fights for position in the paint and looks to go up for a shot on Wednesday at PRLHS.
(Photo by DYLAN GREENE)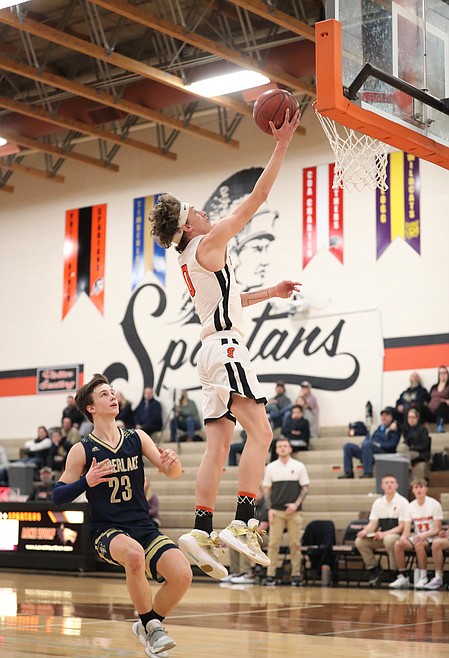 Travis Mathews converts a steal into a layup during the third quarter of Wednesday's game.
(Photo by DYLAN GREENE)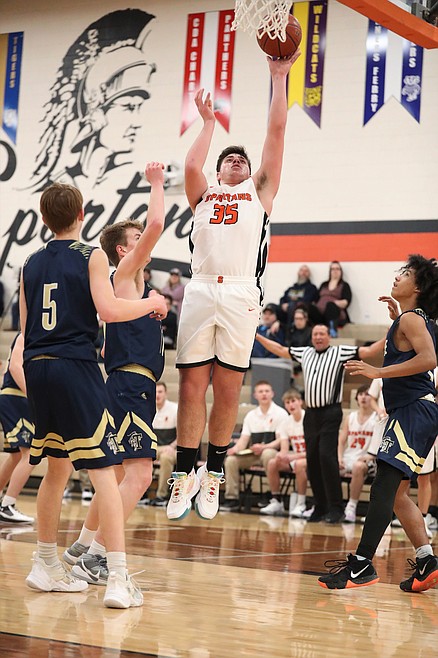 Jace Yount converts a shot on Wednesday.
(Photo by DYLAN GREENE)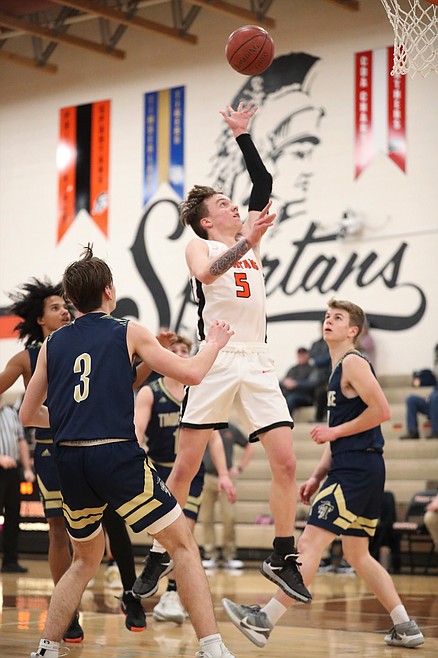 Trentyn Kreager converts a floater during the second half of Wednesday's game.
(Photo by DYLAN GREENE)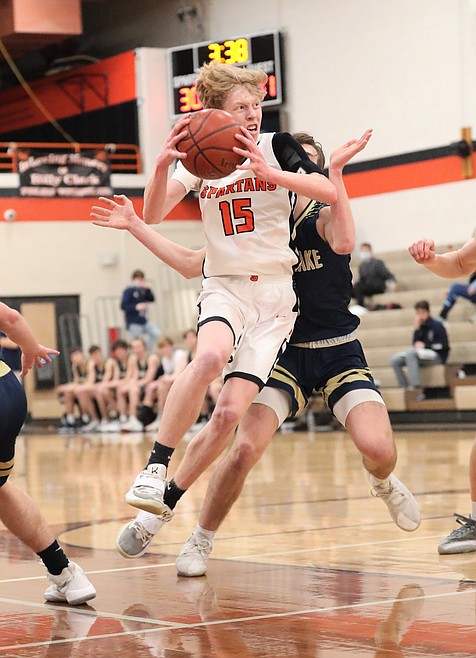 Blake Barrett fights through the Timberlake defense and drives toward the hoop on Wednesday.
(Photo by DYLAN GREENE)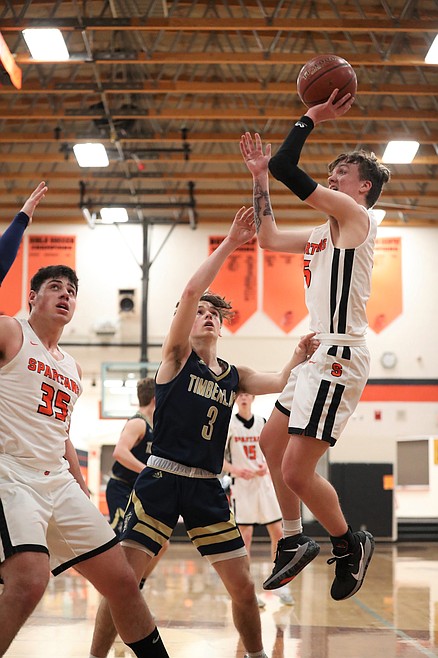 Trentyn Kreager pulls up for a jumper on Wednesday.
(Photo by DYLAN GREENE)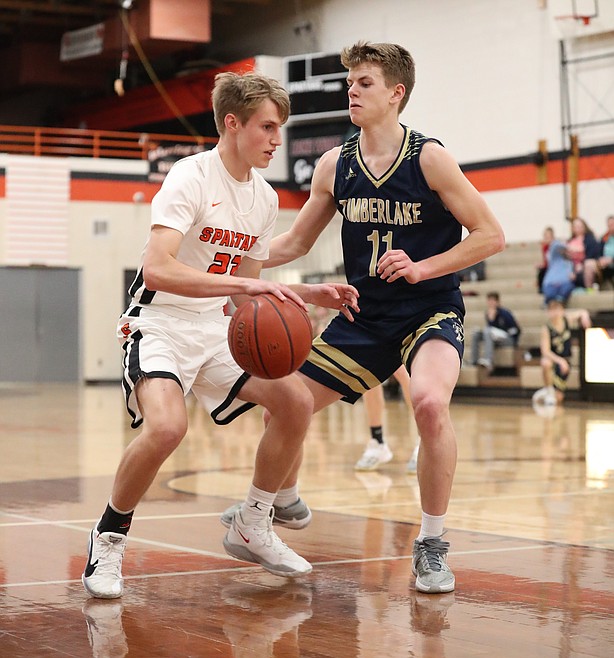 Dylan Nortz looks to drive toward the paint on Wednesday.
(Photo by DYLAN GREENE)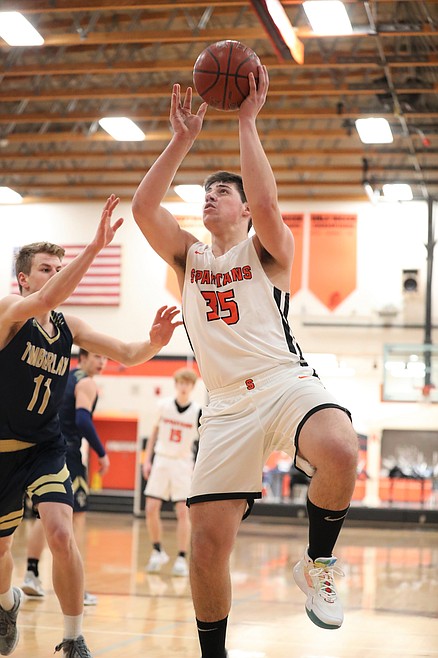 Jace Yount hits a layup on Wednesday.
(Photo by DYLAN GREENE)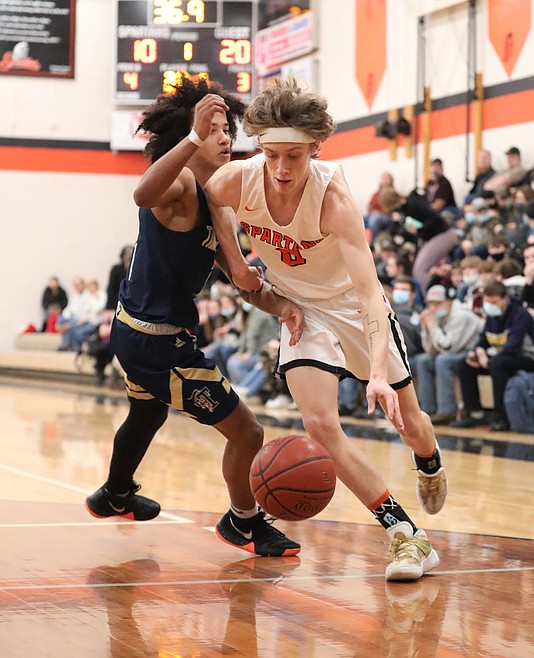 Travis Mathews bends the corner and drives toward the basket on Wednesday.
(Photo by DYLAN GREENE)
Previous
Next
by
DYLAN GREENE
Sports Editor
|
February 18, 2021 7:00 AM
PRIEST RIVER — Priest River boys basketball saw its bid for an undefeated season in Intermountain League play come to an abrupt end on Wednesday night.
The Spartans fell 66-55 to Timberlake on Senior Night.
It was Priest River's first game since knocking off Bonners Ferry on the road on Feb. 8 and the rust showed. After coming in contact with someone who had tested positive for COVID-19 last week, the team went into quarantine last Thursday and didn't return to practice until Tuesday.
Despite the limited practice time, head coach Kevin Wylie said his team still should have been able to bring more energy to the court against the Tigers.
"From a coaching standpoint, you really don't think that should be a factor, and it shouldn't," he said about the quarantine. "You should not find excuses why you can't come out and play. Good teams overcome that."
The Tigers pounced on the opportunity to put Priest River in an early hole and built a 20-10 lead after the first quarter. Timberlake's advantage swelled to as many as 17 points in the second quarter, but the Spartans were able to cut into the deficit and they trailed 33-24 at the half.
In the third quarter, Priest River made its charge at the Tigers and it looked like they were going to flip the game in their favor. Late in the frame, the Spartans went on a 9-0 run to cut the deficit to two points with about 40 seconds left. But Timberlake responded and stretched its lead to 46-39 by the end of the quarter.
"We definitely gained some momentum and we got some stops," Wylie said about the third quarter run. "When we brought it within [two] it was like, 'OK, there's some light, we're going to pull away,' but then we missed assignments and gave up some points, and again it was just little mental errors that normally we're not doing."
Junior Jordan Nortz buried a 3-pointer to bring the Spartans within three points in the fourth quarter, but that would be as close as Priest River would get down the stretch.
Wylie said his team was just off all night on both ends of the court and may have overlooked the Tigers (6-13, 1-4 IML) a bit, who picked up their first IML win of the season.
"This is a season and an opportunity where you can not just play terrible, you got to be able to play," he said. "Hats off to Timberlake, they played great, but we just did not play well."
Prior to the game, the school honored the three seniors from the girls basketball team — Annika Rantala, Makia Fitzmorris and Hannah Palfrey — and Terry Janssen, the only senior on the boys basketball team.
Nortz led Priest River with 18 points and three steals and Trentyn Kreager tallied 15 points and six rebounds. Jace Yount grabbed eight points and five rebounds, Travis Mathews racked up six points, five assists and two steals and Blake Barrett added six points.
Even with the loss, the Spartans still can lock up the league title and the No. 1 seed to the district tournament with victories over Kellogg (9-6, 3-2 IML) on Friday and Bonners Ferry (7-6, 2-2 IML) on Saturday.
Following Wednesday's game, Wylie told the team in the locker room to clear the defeat from their minds and focus on bouncing back.
"It's going to be, 'How bad do you want to win?'" Wylie said about the team's final two games.
Priest River (11-7, 3-1 IML) heads to Kellogg at 7 p.m. Friday.
Timberlake 20 13 13 20 — 66
Priest River 10 14 15 16 — 55
TIMBERLAKE — Olivieri 6, Riley 16, Tay. Menti 3, Paslay 11, Yetter 19, Millsap 0, Higgins 8, Tan. Menti 3.
PRIEST RIVER — Mathews 6, Butler 0, J. Nortz 18, Kreager 15, Marinello 2, Barrett 6, D. Nortz 0, Thompson 0, Yount 8.
---