State preview: Bulldogs shooting for hardware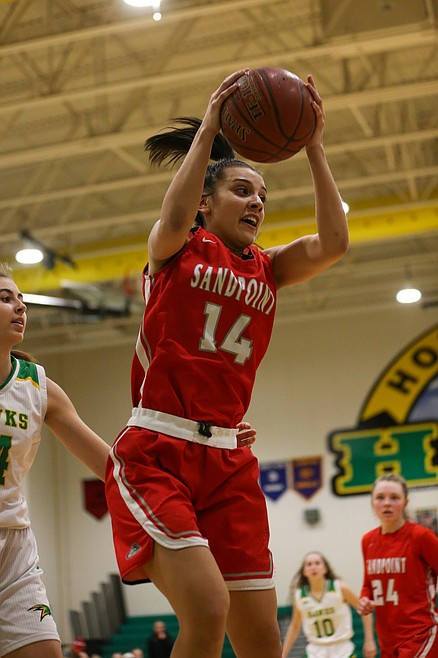 Senior Bella Phillips secures a rebound during Saturday's regional championship game against Lakeland at Hawk Court. Phillips and the Bulldogs' two other senior captains are hoping to end their careers with a piece of state hardware.
(Photo courtesy of JASON DUCHOW PHOTOGRAPHY)
Senior Hattie Larson attacks the basket during the 4A Region 1 championship game at Lakeland on Saturday. Regardless of the finish at state, Larson wants the Bulldogs final game at the tournament this week to end with a victory. "I just want to feel like we gave it our all until the very end," she said.
(Photo courtesy of JASON DUCHOW PHOTOGRAPHY)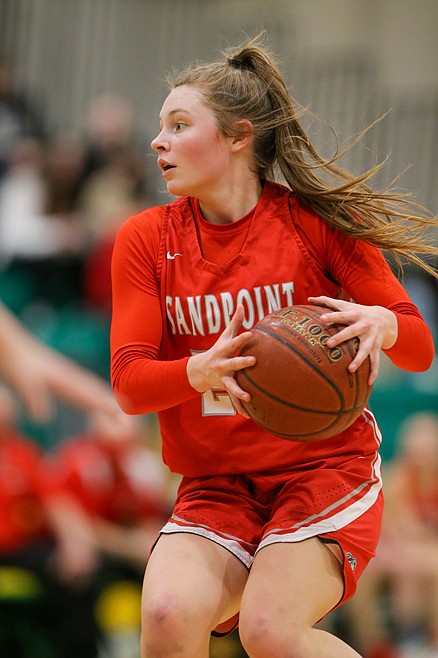 Senior Kaylee Banks would love to end her career as a Bulldog with a state trophy. "I just want to play in a championship," she said. "I don't want to lose."
(Photo courtesy of JASON DUCHOW PHOTOGRAPHY)
Previous
Next
by
DYLAN GREENE
Sports Editor
|
February 18, 2021 12:48 AM
MERIDIAN — When a team makes it to this point in the season, it's always worth looking back at the journey and cherishing every moment that got you there.
For Sandpoint girls basketball, that journey was filled with its fair share of highs and lows. From an early season injury to a starter to a team-wide quarantine to a thrilling regional championship series victory over a bitter rival, the Bulldogs went through it all to earn their seventh trip to state in the last eight years.
Sandpoint has accomplished every team goal they set prior to this season, except for one — a trophy at state.
The Bulldogs (11-10) begin that pursuit at 1 p.m. PST Thursday against Columbia in the first round of the 4A state tournament at Mountain View High School in Meridian.
For the team's five seniors, this is a moment they've been waiting for since last February when the Bulldogs lost to Caldwell in the third-place game at state.
"I just want to play in a championship," senior guard Kaylee Banks said. "I don't want to lose."
To punch a ticket to state, Sandpoint had to outlast Lakeland in an emotional three-game series. The Bulldogs trailed at the end of eight of 12 quarters in that regional bout, but somehow found a way to pull off a pair of fourth-quarter comeback victories over the Hawks.
In Game 1, SHS overcame a 35-26 fourth-quarter deficit that was sealed by a pair of free throws from Daylee Driggs with 0.7 seconds left. On Saturday in a winner-take-all Game 3, a 15-3 fourth quarter and an 8-0 run courtesy of Kaylee herself propelled the Bulldogs to their second straight regional title.
Senior Hattie Larson said that victory on Saturday couldn't have been any sweeter.
"It felt amazing, especially on their home court," she said. "I would have loved getting it over in two and winning [at Les Rogers Court], but just that little extra rubbing it in their face kind of was really nice."
Tight games have become part of Sandpoint's normal routine this season, but those down-to-the-wire contests could give the Bulldogs an upper-hand at state.
"I think that's it going to help us a lot because we've been through a lot just in the past two weeks," Kaylee said.
"We're more prepared for those stressful situations because we've had so many of them this season," senior Bella Phillips said.
The regional championship series could have swung either way with only a handful of plays deciding each game. Larson admitted that the emotional roller coaster wasn't easy to handle, but she blocked out all thoughts of missing out on state in her final season.
"It maybe would creep into my mind, but then I would push it away and come back with confidence that, 'Yeah, we got this,' she said.
Confidence is something the Bulldogs certainly won't be lacking when they take the court at state today. Eight players on this year's squad made the trip down to state last winter and Sandpoint will draw on that experience this week.
"I think just having so many people that have already been to state, that's going to help calm everybody else's nerves and we're going to have more of a positive mindset," Phillips said.
For the team's three captains and the rest of the Bulldogs, one thing became clear last year at state — they can go toe-to-toe with anyone.
After escaping with a 40-39 victory against Burley in the first round in 2020, Sandpoint faced undefeated Bonneville in the semifinals and stuck with the Bees for a half before the eventual state champions pulled away for a 48-26 win.
When Sandpoint makes it to state, they face unfamiliar schools from hundreds of miles away, and sometimes that reality can be overwhelming.
But now the Bulldogs believe they have overcome that hurdle.
"We learned that we can compete with teams down there," Larson said. "We kind of have maybe a fear a little bit and like to put teams down south on a pedestal like they're automatically better than us, but if we just play our game we can compete with them."
Sure the Bulldogs only faced two other 4A schools during the regular season, but head coach Will Love makes sure to remind his players that their schedule this winter was just as rugged as any other team they will see at state.
"That's one of the things that we identify to the girls is that you have played a tough schedule … and you've competed against some really good teams that might be playing at the Ford Idaho Center on Saturday in state championships in their respective classifications," he said.
Sandpoint played four teams this winter that made it to state: Post Falls and Coeur d'Alene in 5A and Timberlake and Bonners Ferry in 3A. SHS went 1-6 in those games, but Coeur d'Alene and Timberlake could both walk away with titles this weekend. The point is, the Bulldogs are battle-tested.
"With that experience, they don't get intimidated easily," Love said about his team.
Most teams at state wrapped up their district tournaments early last week, but not the Bulldogs. Despite the quick turnaround, Love doesn't expect his team to have a letdown in their opening game.
"They've done a good job of focusing on what's next and being able to move on when something doesn't go our way," he said, "and I think that's something that I've seen from this team throughout the season."
Something that may have been forgotten in Sandpoint's run back to state is the adversity they faced in the first few weeks of the season. The Bulldogs lost starter Kelsey Cessna to a season-ending injury at Lewiston on Dec. 5.
It took some time for the Bulldogs to adjust, but once they figured out the rotation roles were filled and players like Destiny Lyons, Riley Cessna, Karlie Banks and Sofia Platte really started to shine.
Love said he was amazed at his team's flexibility after losing a potential all-league player in Kelsey.
"I think it speaks to the depth we're starting to create in the program as a whole that we can lose a starter and be able to overcome that and get to state," Love said.
And those efforts from some of the younger players haven't gone unnoticed by the seniors.
Karlie, Kaylee's younger sister, was inserted into the starting lineup permanently after Kelsey went down, and Phillips had plenty of good things to say about the budding sophomore.
"She's just really aggressive and I'm just really impressed with her stepping up after Kelsey went down," Phillips said. "I feel like she filled that spot pretty well."
Lyons has emerged as a pivotal spark off the bench for the Bulldogs over the past month and a half, and Kaylee said Lyons' effort is contagious.
"I've been really impressed by Destiny because it's hard to sit on the bench and watch everyone play and then try and keep up the energy, but she's been doing a really good job," she said. "She comes out there and just goes balls to the wall and just goes right at Katy Ryan in a game. It's just that kind of stuff us starters see. We just see someone like Destiny working their butt off out there, and it's something that gives me more want to get out there and work hard."
At state, every player on the court leaves an imprint on every game and Love knows his role players will need to continue to show up.
"If we're going to be successful, it's got to be a team thing," he said. "You need players up and down the roster to step up."
One player the Bulldogs have leaned on heavily this season is Kaylee. As the team's leading scorer, Kaylee has come up big in crunch time for SHS and dropped 20 points a handful of times.
In recent weeks, team's have tried slowing her down, but she's still found a way to impact the game even when her shots aren't falling.
Love said he expects teams at state to target Kaylee and throw extra defenders her way, but that's a challenge she welcomes.
"That's something that happens when you have a great season," he said. "However, Kaylee likes moments like this and she's a competitor and I know that she's not going to back down when she sees different defenses, and sees some kids try to be physical with her and deny her the basketball."
Kaylee said she plans on being aggressive on both ends of the court to ensure the Bulldogs avoid missing out on a state trophy for the second straight year.
"I think for me I just have to focus on having a mindset to go to the basket and try and create opportunities for my team and for myself," she said.
In Thursday's opening game, SHS will face Columbia (13-10), who is playing in state for the first time in school history.
Love said the Wildcats have an eerily similar style to the Bulldogs and run nearly the same offensive scheme. Columbia likes to mix up their defense like SHS, Love said, but runs a little more man, and throws a zone and man full-court press at their opponents.
"I got a lot of respect for what they do," Love said. "Columbia plays hard and they're aggressive, and so we need to be ready to match that."
With a victory, Sandpoint would advance to the state semifinals on Friday and face the winner of Century-Mountain Home.
Unlike any other team at the tourney, the Bulldogs had to travel through two different states to reach the host site. SHS began that trip at 6 a.m. Wednesday and despite a few bumps in the road, made it to their hotel in Meridian safely.
The eight-hour journey isn't easy and Kaylee admitted "it really takes a lot of energy to nap on the bus," but Phillips doesn't see it as a disadvantage.
"It's good bonding for all of us," she said. "Even though it's long and tiring it brings us together and I feel that's going to help prep us for our game, too."
All the Bulldogs are gunning for a trophy at state, but the seniors also want their final game at the tournament and of their careers to end with a victory.
"As long as we go out and play our best and give it our all, for me personally, that would be successful," Phillips said about her aspirations. "Win or lose, as long as we're playing hard and together, I count that as a win."
"I just want to feel like we gave it our all until the very end," Larson said.
A trophy at state would be the ultimate reward for making it through an unprecedented season, Love said.
Love was an assistant coach for the Bulldogs when they claimed back-to-back third place trophies at state in 2015 and 2016, and he would love to bring back some more hardware this weekend.
"I've experienced that … but for me it would just be great because those girls would get to experience the thrill of having a trophy and being able to hoist it," he said, "and always being able to come to Sandpoint High School and know that they were involved with that."
Regardless of the outcome, Love said this team will always be special in his eyes.
"I just have so much respect for this group," he said. "They have been working real hard … and it's been fun to see them get to compete when there's millions of kids in the United States that aren't having that opportunity right now. It's been great to see them as individuals and players overcome things. I've been telling them all week how proud I am of them."
You can watch today's game and the rest of the Bulldogs' games at the 4A state tournament at nfhsnetwork.com. The cost is $10.99 per month. You can also listen to live gamestreams on idahosports.com.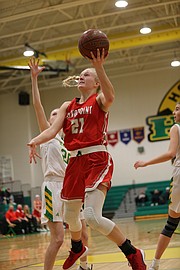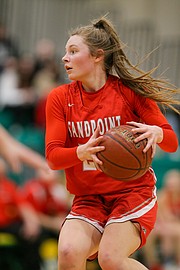 ---