Inside Edge: Sandpoint Nordic racers battle tough competition in McCall
by
SHEP SNOW
|
February 19, 2021 1:00 AM
Intermountain Division McCall XC Junior Qualifier – The Sandpoint Nordic race team traveled to McCall, Idaho, this past weekend for two races hosted by the U.S. Ski and Snowboard Intermountain XC Division.
This highly competitive division includes XC powerhouse teams from Bozeman, Park City, Jackson Hole, McCall and Sun Valley. Several PNSA (Pacific Northwest) skiers were invited to participate in this competition as COVID-19 restrictions in Washington have prevented many athletes from competing in races in that state this year.
The team skied a skate race on Saturday, followed by a classic distance race on Sunday. Distances were 5K and 3K, depending on racer age.
Jett Longanecker, 15, and Fletcher Barrett, 14, raced in the 5K skate race Saturday. Longanecker finished the race in 16:22 to place 13th out of 31 U16 racers. Barrett captured 24th with a time of 17:27.
In the 3K skate race, Fiona Macdonald, 13, finished seventh out of 25 skiers in 13:32 and Isabella Waters, 11, secured 12th with a 14:42. Jonas Benson, 12, took 13th out of 20 U14 boys with a 13:47.
In the classic race Sunday, Longanecker came in 16th with a time of 16:38 and Barrett finished in 17:20 to place 25th. In the 3K, Macdonald and Waters, placed ninth and 15th respectively, finishing in 14:40 and 15:21. Jonas Benson, finished the 3K in 15:42.
World Championships at Cortina — Mikaela Shiffrin has won the alpine combined gold and super-G bronze medals so far at the World Championships. Interestingly, she has only trained for super-G for four days over the past year — a league of her own. She was followed in super-G by Breezy Johnson in 15th, Bella Wright in 22nd and AJ Hurt in 30th.
Wright also took home 14th in the combined. Johnson placed ninth in downhill, followed by Wright in 21st, Jackie Wiles in 24th and Laurenne Ross in 26th.
On the men's side, Travis Ganong was eighth in super-G followed by Jared Goldberg in 15th and Bryce Bennett in 27th. Bennett led the men in the downhill by placing 10th. Ganong was 12th and Goldberg took 20th. Bennett was also 16th in alpine combined.
The World Championships continue this week and a full report will be available in next week's Inside Edge.
Northwest Cup No. 1 — Crosby Schmidt was the only local male racer who competed in the Northwest Cup qualifiers at Mt. Spokane last week. Crosby made big strides, moving from the 62nd start position to finishes of 25th and 33rd in giant slalom. This lowered his points by more than 100.
The second day, Schmidt threw down a solid first slalom, moving up to 14th place. He hooked a gate in the second race and was disqualified, but all-in-all it was a huge weekend for the young man.
Potpourri – Watch for USSS and FIS speed racing on Zip Down later this week. Any comments, recommendations or contributions to this column may be sent to Shep Snow by email at shep@thesnowschool.com. Negative feedback should be sent to someone else.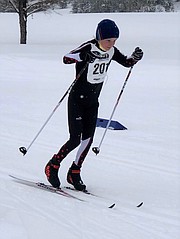 ---