Priest River claims first league title since 2011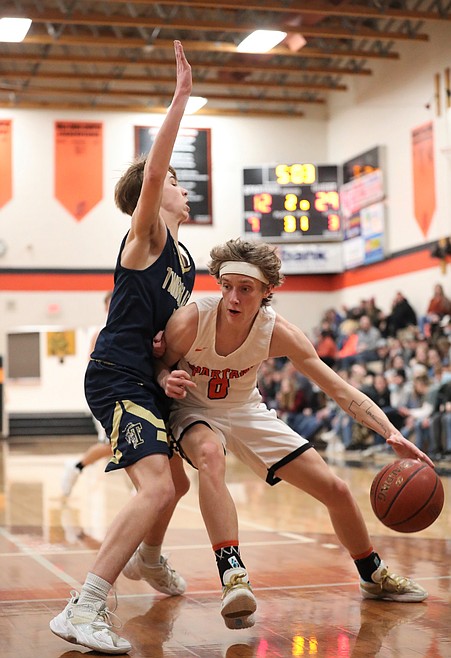 Junior Travis Mathews (right) tries to get down low in the paint during Wednesday's game against Timberlake at PRLHS.
(File photo by DYLAN GREENE)
by
DYLAN GREENE
Sports Editor
|
February 19, 2021 11:26 PM
KELLOGG — The Spartans are Intermountain League champions.
The Priest River boys basketball team took down Kellogg 61-55 on Friday night to clinch the league crown and the No. 1 seed to the 3A District 1 tournament, which starts Monday.
It's the Spartans first IML title since 2011.
Head coach Kevin Wylie said the title means a lot to this program.
"It feels really good to have that title as league champions," he said. "It's something that for myself, ever since I took over this program, that was always the goal was to get us to this position. It took a few years to build the program up ... and this group definitely put everything in they had. All their hard work in the offseason got us to where we're at right now."
The Spartans outscored the Wildcats 35-16 in the second and third quarters to gain a stranglehold on the game. However, Kellogg clawed their way back in the fourth quarter and made things interesting down the stretch.
But a pair of free throws from sophomore Teigan Marinello with 7.6 seconds left sealed the victory for Priest River.
"Guys just stepped up tonight, and the team did a great job of sticking together and finishing out the game to get the win," Wylie said.
The Wildcats outscored the Spartans 28-16 in the fourth quarter. Wylie said you never want to let a team back into a game, but this was a great learning opportunity for his squad.
"I think it was actually good fur us to actually experience this and grit out this win," he said. "Obviously, it puts a lot of stress on us and everything, but the kids knew what was on the line ... and so for them to see that run that Kellogg made and then stay composed enough to finish it off says a lot about what they're trying to accomplish."
Blake Barrett had himself a night. He scored a game-high 26 points. Jace Yount poured in 10, Travis Mathews and Jordan Nortz each had eight and Trentyn Kreager added five.
Priest River (12-7, 4-1 IML) hosts Bonners Ferry at 7 p.m. Saturday in its regular season finale.
Priest River 10 17 18 16 — 61
Kellogg 11 7 9 28 — 55
PRIEST RIVER — Mathews 8, Butler 0, J. Nortz 8, Kreager 5, Marinello 4, Barrett 26, D. Nortz 0, Thompson 0, Yount 10.
KELLOGG — Miller 0, R. Whatcott 0, R. Luna 20, K. Luna 20, Groves 5, Frohlich 0, Walker 3, Jerome 7, Lonn 0.
---