MickDuff's Brewing Co., Green team up to help animals in need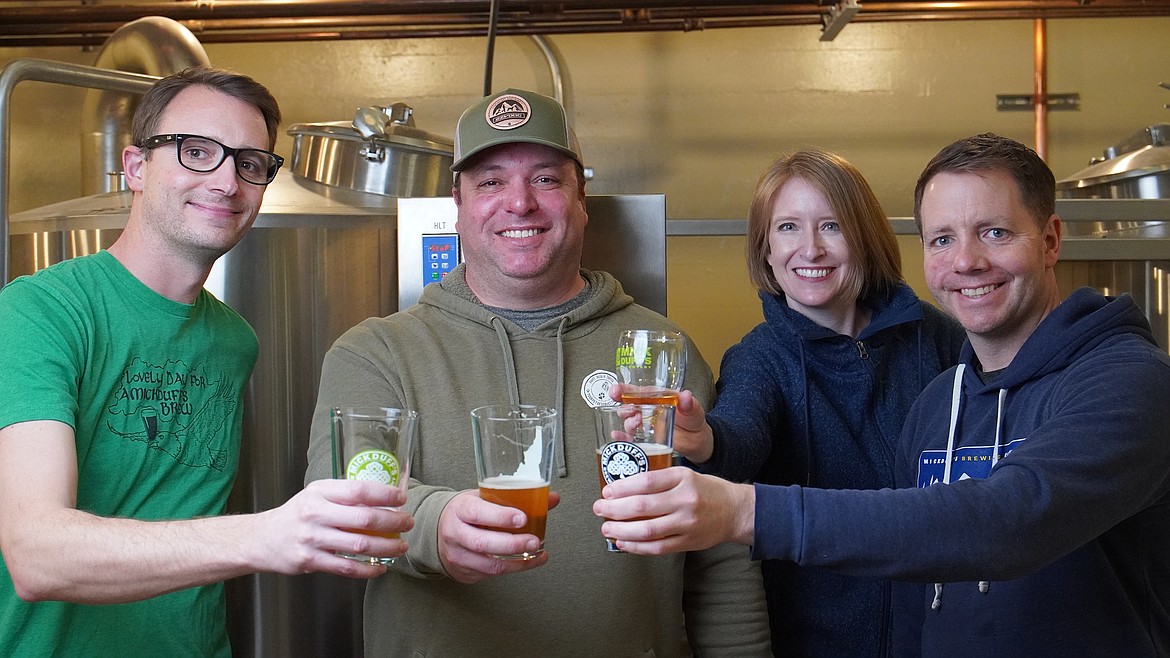 MickDuff's Brewing Company owners Mickey and Duffy Mahoney, Mandy Evans, executive director of the Better Together Animal Alliance, and Mike Green, owner of Happy Tails N Trails, raise their glass as they cheer the new beer.
(Photo courtesy BETTER TOGETHER ANIMAL ALLIANCE)
|
February 20, 2021 1:00 AM
SANDPOINT — Raising your glass never felt (or tasted) so good.
Local brewpub MickDuff's Brewing Company is teaming up with local animal-loving philanthropist Michael Green, who owns Happy Tails N Trails Pet Adventures and Farm Care, to raise money for animals in need.
Both businesses are putting $500 on the table hoping to sell beer with one matching the other.
For every beer sold, MickDuff's will donate $1, up to $500. Happy Tails N Trails will match the beer sales up to $500, which has the potential to raise $1,000 for Better Together Animal Alliance (formerly Panhandle Animal Shelter).
The match is the result of generosity from both sides, BTAA officials said in a press release. The rights to name a beer was donated by MickDuff's to BTAA's annual auction in August 2020. Happy Tails N Trails was the lucky winner, and worked with MickDuff's on the brew and the name. The result? A west coast IPA named Happy Tails N Hoppy Trails. At 7.7% abv, it's hoppy, bitter, and dry featuring Strata Amarillo, ID 7.
Thanks to community support BTAA helps thousands of animals each year with everything from providing free pet food, helping with medical needs of sick or injured pets,and providing low cost spay and neuter services to sheltering and temporary boarding for pets in need. With the cancelation of events due to the Covid-19 pandemic, partnerships with local businesses are helping to make up for lost donations.
Better Together Animal Alliance is an animal welfare organization dedicated to enhancing the lives of dogs, cats, and the people who love them. BTAA is a 501(c)3 nonprofit organization that is not affiliated with the county or city and receives no tax support.
Located in Ponderay, BTAA serves Bonner, Boundary, and Kootenai counties. Programs focus on supporting people and their pets to prevent unnecessary owner surrenders, sheltering lost pets, and providing a safe and enriching environment for pets to stay while they wait to find new homes. BTAA assists approximately 2400 stray or surrendered animals every year and over 6000 pets through it's community-based programs.
Information: bettertogetheranimalalliance.org
---