Sandpoint ends season with loss to Burley in 3rd-place game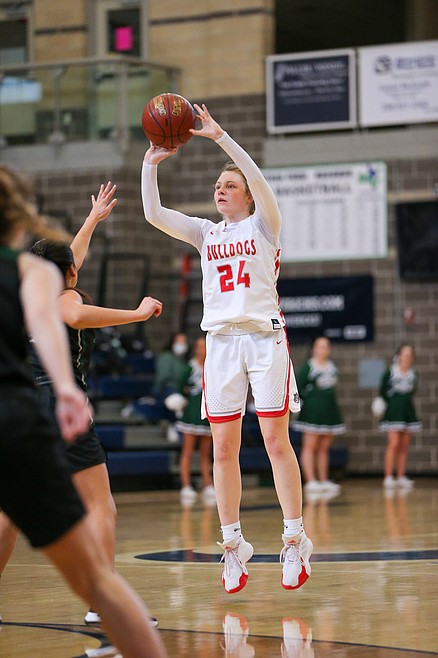 Senior Kaylee Banks attempts a 3-pointer during Saturday's 4A third place game against Burley at Mountain View High School. She led the team with 10 points.
(Photo courtesy of JASON DUCHOW PHOTOGRAPHY)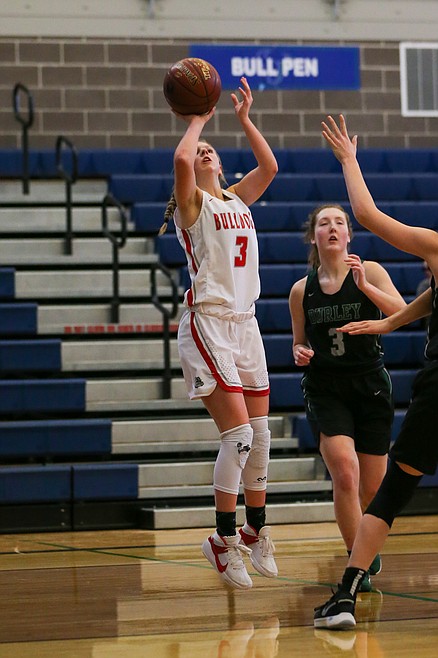 Daylee Driggs pulls up for a jumper on Saturday.
(Photo courtesy of JASON DUCHOW PHOTOGRAPHY)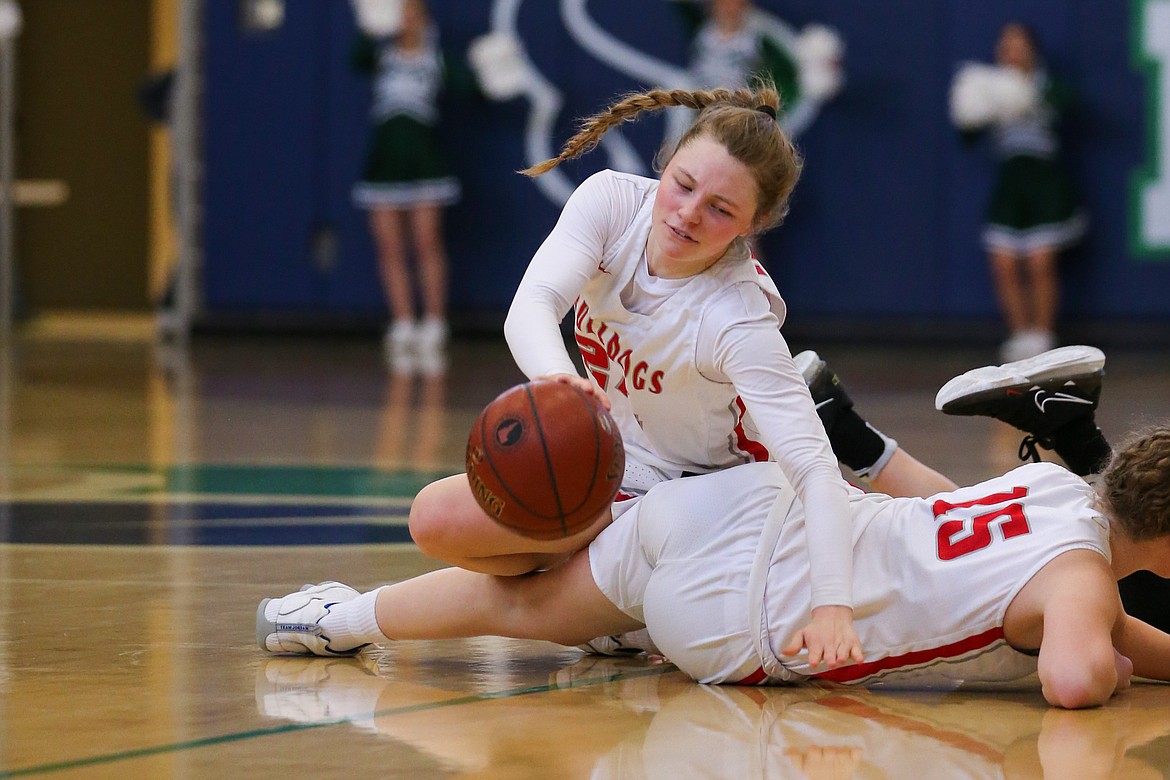 Kaylee Banks scrambles for a loose ball on Saturday.
(Photo courtesy of JASON DUCHOW PHOTOGRAPHY)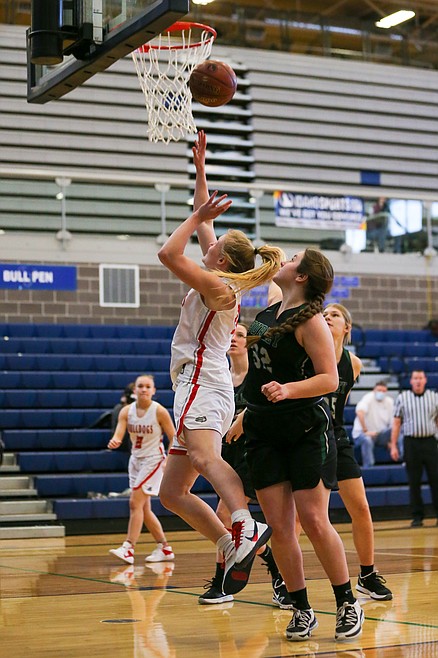 Sophomore Sofia Platte converts a layup in the closing seconds of Saturday's game.
(Photo courtesy of JASON DUCHOW PHOTOGRAPHY)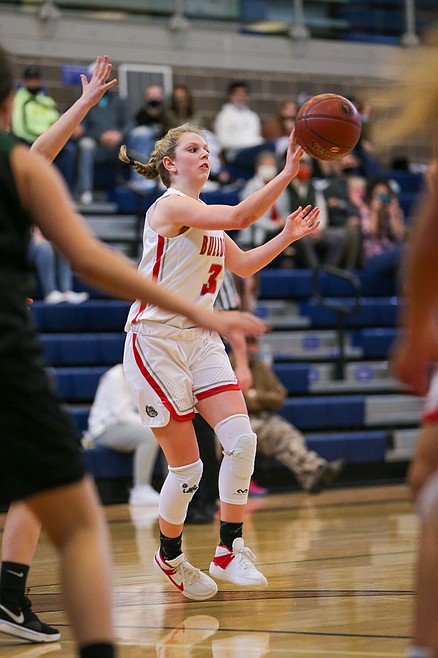 Sophomore Daylee Driggs passes the ball to a teammate on Saturday.
(Photo courtesy of JASON DUCHOW PHOTOGRAPHY)
Previous
Next
by
DYLAN GREENE
Sports Editor
|
February 20, 2021 4:35 PM
MERIDIAN — The Sandpoint girls basketball team saw its season come to a close Saturday with a 45-32 loss to Burley in the third-place game at the 4A state tournament at Mountain View High School.
Coming into the season, the Bulldogs had state trophy aspirations and fell 14 points shy of attaining that goal, but they aren't returning home empty-handed.
That's because Sandpoint received the 4A state tournament Sportsmanship Award. Head coach Will Love said the honor is a testament to the way his players carry themselves and respect others.
"It means people respect your program and that's voted on by the people there at Mountain View, and it's a real honor to get that," he said. "One of the things that we talked about at the beginning of the year was we wanted to play like champions and we wanted to act like champions and this group, they did that."
The Bulldogs trailed Burley for nearly the entire game, but didn't go down without a fight.
Trailing 31-18 entering the fourth quarter, the game seemed out of reach for SHS. However, the Bulldogs mounted a surge early in the frame to nearly cut the deficit in half. With 5:25 left, Kaylee Banks buried a 3-pointer to bring SHS within nine and then Destiny Lyons got a steal and a score to shrink the Burley lead to seven points.
Unfortunately, the Bobcats (19-6) responded with a 8-0 run to close out the game.
One thing that could never be questioned this season was the Bulldogs' effort, Love said, and they showed that in their final few minutes at state.
"It's a testament to these kids and this group," he said. "I'm really proud of them because they never gave up ... We had some shots that were right there and had they have fallen, maybe it would have been a little bit different."
On Saturday, the Bulldogs fell victim to a record-breaking performance from Burley's Amari Whiting. The sophomore point guard shattered the 4A record books and set a new mark for points scored during the tournament.
Whiting poured in 31 against Sandpoint, adding to the 51 she scored in the Bobcats first two games at state. The point total (82) eclipsed the record set by former Sandpoint star Madi Schoening. The current University of Montana player scored 67 points in 2015 to lead the Bulldogs to a third-place trophy.
Whiting also broke Schoening's points per game record at the tourney.
Last year, Sandpoint faced Burley in the opening game at state and pulled out a 40-39 victory. In that game, the Bulldogs held Whiting to 13 points.
"We knew that she was a really good player," Love said about Whiting. "We battled against her last year and we came out on top, so I know that she — probably like all great athletes — remembered a lot of details about that game and wanted to get back at us."
Love said the Bulldogs were hoping to attack Whiting on the defensive end and get her in foul trouble, but once she got in a rhythm she was hard to slow down.
"She is a tremendous basketball player, but I thought she did a really great job of just letting the game play out and picking her spots to attack," Love said. "She's played a lot of basketball, so when you try to think about how to defend her, you know that she's probably seen everything that there is."
Banks led the team with 10 points, Bella Phillips tallied seven points and six rebounds, Karlie Banks finished with five points and four rebounds, and Hattie Larson added eight rebounds and three steals.
The Bulldogs had 16 turnovers in the game and Burley finished with 10.
Once again, shooting proved to be an issue for Sandpoint against the Bobcats. The team shot just over 28 percent from the field and Love said that is something they will work on during the offseason.
"The thing that ended up hurting us (at the tournament) was not being able to put the ball in the basket consistently," Love said.
The Bulldogs went 1-2 at state for the second straight year. The team finishes with a 12-12 record after winning the 4A Region 1 title and advancing to state for the seventh time in the last eight years.
Love said this was a special group and he will miss the team's five seniors — Lily Gammon, Riley Cessna, Bella Phillips, Hattie Larson and Kaylee Banks.
"They gave a lot to this program," he said, "and I really appreciate all the hard work they put in, and all the time and dedication."
Eight players that took the court at state and Kelsey Cessna, a sophomore guard who suffered a season-ending injury in December, will all return next season, and Love said the program will continue to strive to bring a state trophy back to Sandpoint.
"I'm very optimistic about what we'll look like next year and well into the future," he said. "They've learned a lot from this year about what you got to do to prepare and how you have to lead from our senior class. The future is really bright."
Burley 9 10 12 14 — 45
Sandpoint 8 6 4 14 — 32
BURLEY — Whiting 31, Robinson 0, A. Hege 2, Gonzales 0, Pope 4, L. Searle 3, S. Searle 5, B. Hege 0, Hill 0, Ontiveros 0, Chapa 0.
SANDPOINT — Gammon 0, Driggs 4, Strock 0, Reinink 0, Lyons 2, Tomco 0, Cessna 0, Phillips 7, Kar. Banks 5, Larson 2, Platte 2, Kay. Banks 10.
---