Ponderay City Council to consider rezone near Kootenai Cutoff Road
by
RACHEL SUN
Staff Writer
|
February 21, 2021 1:00 AM
▶️ Listen to this article now.
PONDERAY — Proposed zoning changes in the McNearney neighborhood would allow for more residential zoning and create greater consistency in land use and zoning for commercial and industrial use.
The McNearney neighborhood is defined as being north of Kootenai Cutoff Road and south of the north end of McNearney road, between U.S. Highway 95 and the Union Pacific Railroad tracks and McGhee Road.
The changes were proposed by the Ponderay Planning and Zoning Commission in response to feedback from property owners, said KayLeigh Miller, city planner.
Some areas, she said, are currently zoned as rural and would be changed to residential to allow for a higher population density.
McNearney Park would be changed from zoning as commercial to recreational to better fit its use. Areas across from McNearney Park were also changed from industrial to residential zoning in the proposal, she said, as it made more sense for that area.
Certain areas near the Union Pacific Railway track would be zoned for industrial use, while properties farther from it in the northeastern corner of the area would be zoned for residential use.
No current residential properties would be affected, Miller said. Rather, the changes are being made as the city looks ahead to expected land use in the future.
Many of the proposed rezone would be on currently vacant or areas that are zoned industrial but functioning in a commercial capacity, Miller said.
"There are no changes in the residential area to their zoning," she said. "Anyone within 300 feet received notice."
The Ponderay City Council will hold a public hearing on the proposed rezone at 6 p.m. Monday, March 1, at the council chambers in Ponderay City Hall, 288 Fourth Street.
Written comments can be submitted to P.O. Box 500, Ponderay, ID, 83852, or emailed to klmiller@ponderay.org.
More information is available on the city of Ponderay website at cityofponderay.org/zc20-020-mcnearney-neighborhood-zoning-map-update. The council will be considering the "Alternate Option 1" as recommended by the Planning and Zoning Commission.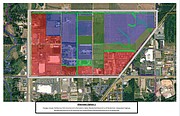 ---